Teaching children how to read can be challenging; this is especially true for individuals with special needs.  If you're looking for a fun tool to help them learn how to read, check out the Teach Your Monster to Read app!  It is an "award-winning phonics and reading game that's helped millions of children learn to read."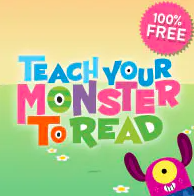 The Teach Your Monster to Read app teaches children how to read by taking them on a magical journey, meeting colorful characters along the way and collecting fantastic rewards.  As their website says, "When children are engaged, they are motivated to learn."
The app is completely free to play on desktop and laptop computers.  It is also available for download on Android and iOS devices.
Overview of the Teach Your Monster to Read app:
Children create a monster and take it on a magical journey over three extensive games – "meeting a host of colorful characters along the way and improving their reading skills as they progress"
Covers the first two years of learning to read, from matching letters and sounds to enjoying little books
Designed in collaboration with leading academics and game designers
Suitable for school and home use
Three educational games:

First Steps
Fun With Words
Champion Reader

For children ages three and up
No in-app purchases, hidden costs, or in-game advertisements
Check out the app's website to learn more!