Podcast: Play in new window | Download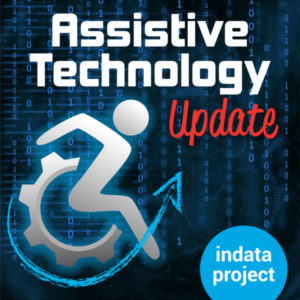 Your weekly dose of information that keeps you up to date on the latest developments in the field of technology designed to assist people with disabilities and special needs.
Show Notes:
————Transcript Starts Here——————————–
Jonathan Webb:
Hi, this is Jonathan Webb, and I'm the Director of Pro-Study, and this is your Assistive Technology Update.Josh Anderson:
Hello and welcome to your Assistive Technology Update, a weekly dose of information that keeps you up to date on the latest developments in the field of technology designed to assist individuals with disabilities and special needs. I'm your host, Josh Anderson with the Indata Project at Easterseals Crossroads in beautiful Indianapolis, Indiana. Welcome to episode 467 of Assistive Technology Update. It's scheduled to be released on May 8, 2020. On today's show we're very excited to have Jonathan Webb on to tell us all about Pro-Study and how it can help individuals with disabilities.Josh Anderson:
Hello listeners. So as I referenced on last week show, a lot of our shows are recorded weeks, sometimes months in advance, edited, posted, and put together as quickly as possible so that they can be ready as I do have quite a few other job duties not related to the podcast. Today's show was actually recorded on March 11, and I am in the studio right now posting it. It is April 7. The world's probably a little bit different by the time this comes out almost a month from now. As of right now, we're still big on the social distancing. Indiana has a stay at home order, so only essential personnel are really to get out. I am in the office today, not because putting this together is so much essential, but I did have to come in and check on equipment for consumers.
Josh Anderson:
Luckily, my team is still actually able to work. We've moved a lot of our work to remote, meeting with folks over zoom and any other way that they might be able to, still trying to assist them with their needs. Of course, a lot of folks are working from home and while they might have their assistive set up there at the office, they do not have that at home. So doing all that we can to be able to assist folks. When needed, we are still meeting with folks in person, but of course taking all the precautions, the social distancing, all the PPE available in order to make sure that we can still provide services and still be useful to people as they kind of go through this time. Hopefully by the time this comes out, a lot of this stuff has changed. Maybe we're kind of back to work and things are getting back to some semblance of normal.
Josh Anderson:
I do know that I have a lot of friends who unfortunately have lost their positions just because of the industries that they are in are just not really open right now. I think back to the days as a waiter, a bartender, and other jobs that I've had like that, and I'm very thankful that I am no longer in that position. I really do feel for individuals who are in those jobs, especially that rely on tips, rely on rears in the seats and bodies through the door. Unfortunately, there's really nothing that can be done at this time until all this social distancing and stay at home orders go away.
Josh Anderson:
But I did find a story that got me thinking a little bit about the social distancing and maybe trying to look at some of the bright side. Now, if you really want to look at a few things on the bright side, one is, it's a beautiful day today in Indiana. It's in the 70s, we're just coming out of winter. Of course, I think it will be below freezing later in the week, but we're not going to think about that at the moment. And I'm sitting here in the studio, there's really no one in the offices. We're only open a few hours a day just for employees to come and grab things as they need so that they'll be able to actually do their work, but I'm sitting here in the studio in a pair of shorts and a pair of Tevas just because A) no consumers, no anyone else really sees me today. So I suppose that could be kind of seen as a plus.
Josh Anderson:
But I found a story and this was over a Muscular Dystrophy News. It says self-quarantine has leveled the social playing field. It's written by Hawkin Miller. Mr. Miller goes on to talk about that he is a power-chair user and how this can complicate social interactions. It's kind of bulky, never really at the right eye level, and it's a broken toe just waiting to happen is what he says in there. But when looking through a screen those problems no longer exist. He talks about using Zoom, FaceTime, and all these in order to talk to his friends and everything else. He really didn't have any fear of having to get stuck in a weird situation with a 400 pound power chair. Also, he talks about getting in and out of a wheelchair-accessible vehicle takes a lot of time so he's cut hours of travel and hassle out of his day. He says all those social activities that he wasn't able to participate in because of his power-chair are now completely gone because everything's kind of went to online gaming and just kind of doing things with friends completely on a remote basis.
Josh Anderson:
It also says that it's also helped out with his family relationship, being isolated with his family, whom he's always actually enjoyed, but now they actually get to be together and not have to worry about all the errands, driving here and there, getting this done, getting that done. And it really just says that, of course much like all of us, he hopes this doesn't go on forever, but he's just trying to make the best of it as he can, as we all kind of try to stay in place and lower the death rate and really just help out folks as much as we can. I think that's the whole thing with staying in place, with trying to slow the spread, flatten the curve, however you want to talk about it. It's really and truly just, that's not just for you to keep yourself well, it's to make sure you don't infect others and get other people sick.
Josh Anderson:
But in reading Mr. Miller's story here, it got me really thinking. I have a young daughter and my wife actually at this time, at least at the time of this recording does have to go in to the office most days, just because of the kind of job that she has. Now, there aren't many other people there, she's not having much social contact, there's a few other employees, their social distanced so I mean, that's not too bad, but it does present the challenge of having a daughter who was only 16 months old at home and the different things that that can kind of change. For one thing, I have to pause many of my Zoom meetings, especially if I'm running the meeting if she wakes up from a nap or needs a diaper change, or if perhaps she's eating and she's done and needs down.
Josh Anderson:
The other day on a Zoom meeting with the managers, directors, vice presidents, and presidents of Easterseals Crossroads, I was holding the baby, a giant unicorn, and a smaller unicorn. If you would have looked at me in the picture, you see one of my eyes, Penelope in one arm, and these unicorns in the other. I was pretty much completely obstructed. Not sure if anyone was looking at me during that, because again, I could only see the screen with the one eye. But I do get to spend more time with her, which is really a blessing even if it does present its challenges. A lot of good hopefully will eventually come out of this. For one thing, us being able to telecommute and provide some services remotely I think will help us get to more folks, as far as my team and clinical assistive technology and make sure that folks get the services they need in hopefully an even quicker manner. I think that'll be a really great thing.
Josh Anderson:
I do know I've got to connect with a lot of folks in the organization and work on projects to try to, when we come out of this, be stronger and better as an organization and be able to provide even better services. I've also heard from some consumers and folks that I haven't heard from in years, not even with questions or anything, but just with a, "How are you doing?" And I know I've been able to talk to friends and family even more than I used to because when work's done, I no longer have to worry about driving back and forth to work or going picking up the baby from daycare or anything like that. My time becomes my own after I can kind of log off and get out of work. I'm just trying to find some of the good things that are going on and hopefully will come out of this. So stay well, be well, and I hope the world's an even little bit better place to May 8th.
Josh Anderson:
Organizing research materials, keeping up with sources, keeping all your thoughts together for projects is really a challenge for anyone, but for an individual with a cognitive impairment or a disability, it can seem downright impossible. Jonathan Webb is our guest today, and he's here to talk about Pro-Study and how it can help with some of these tasks. Jonathan, welcome to the show.
Jonathan Webb:
Thank you. It's a pleasure to be here.
Josh Anderson:
I'm excited to get into talking about Pro-Study, but before we do that, could you tell our listeners a little bit about yourself and your background?
Jonathan Webb:
Yes, certainly. My name is Jonathan Webb. I'm from the UK. I have a business degree from Leeds back at university and I'm the managing director at Pro-Study. I'm also the managing director of a assistive technology training company, which has been running for around 12 years, and that's where the idea of Pro-Study came from.
Josh Anderson:
Well, you led right into it. What is Pro-Study?
Jonathan Webb:
Pro-Study is a piece of assistive technology. It's a piece of software that students download onto their computers, and it's to help the student collect and organize all of their research or other information you need together for the assignments and it stores it all in a centralized database. It helps the student get started with their assignments, and it's really easy to use, simple to use. It's just a great way to organize and categorize multiple items of research into one central location. We call it the Pro-Study database but some people call it a library of information, and all the students documents, bookmarks, and any other guided media can be categorized in a project and it'll assist you to work on multiple projects at once.
Jonathan Webb:
It works quickly, and that helps reduce the stress of collecting research, storing it, knowing it's safe and it helps you with a little bit of concentration or focus, especially when academic organization can be quite demanding. And that's it really in a nutshell.
Josh Anderson:
Well, we're going a little bit more in depth into that. Jonathan, you said that you do some AT training and that's what kind of gave you the idea. So where kind of did that idea come from, what did you see the need for that made you create Pro-Study?
Jonathan Webb:
Well, the idea itself actually came from students themselves. I worked on a one to one basis with students whilst we taught them their old them their AT, and they kept having some difficulties of losing their research. So I eventually just decided that perhaps I could design a piece of software that would help combat the everyday issues that these students were experiencing. What I was finding they were doing was having far to an internet tabs open at once. I think we can all be guilty of that, and storing that research across kind of multiple word documents so they could never kind of find it the next day or the next week when we'd have on that training session.
Jonathan Webb:
So I had Pro-Study developed, and the first thing I did after having it developed was hand it out to all the students for free and just gathered their feedback on it, trying to make it as easy to use as possible. That took around 12 months, gathering feedback, making improvements, and then we ready to launch. Basically it's continued to grow from there, really. The main thing for me is, whenever we develop a new feature, we get the students involved. We get their feedback or their opinions. They're the ones who are going to be using it so they're the best people to ask. They're our end users. So it's really great to be in that unique position to be able to gain their kind of experiences and their feedback.
Josh Anderson:
Jonathan, what kind of information can I capture with Pro-Study? I mean, I know you said kind of not having all the browsers open and everything, but what all kind of information can I capture and gather and keep together?
Jonathan Webb:
Pretty much anything you'll need. What it allows you to do is you could open up an internet page, and once you've made your categories of what you need to research for your assignment, you can simply go onto the internet page, highlight the text you want, click on the category and it'll save that text. But it'll save the author, the web link back to where it came from, the title of the article, it'll timestamp it, everything you need about it you'll know that it's any source ready for referencing. So any of that kind of, e-learning kind of e-sources. The other place you get information from is journals, PDFs, word documents, and anything electronic again. Works exactly the same, just load it up, highlight what you want, and click on your country. And a really cool new feature that we've just launched last month is the ability to use your webcam.
Jonathan Webb:
So what it'll allows you to do is capture text and images straight from your textbook. If you've got a course textbook or you're in the library, you can just capture that text and they'll use a powerful OCR feature to turn that text into accessible text so you can edit it. And then the great thing you can do is flip the book around and scan the barcode and it'll grab all the information, reference information you need from a book, and attach it to that text so you know exactly where that text has come from. Of course, textbooks as well, and it can do other things like you can bookmark whole files, drag folders into the categories, you can snapshot images, graphs, charts, whatever you need. We tried to make it as accessible as possible so you can pretty much get everything you need for that assignment. There's no point really doing it if you've got to store a piece of information elsewhere.
Josh Anderson:
That's a good point. When you said it can grab the author and all that stuff, so can it export the bibliography for me and my work cited so I don't have to find all that information on my own?
Jonathan Webb:
Yeah, absolutely. What it'll do is, it's got a powerful integration Microsoft word so you can, once you finish your projects, you press the export button. It'll send it in to where there's a full report, and it'll have all the information you captured, the titles, page numbers, contents page, headers, footers, but also the bibliography. So all the referencing will be completed. You can edit that into any style you need. So it's all there, and it's all been done automatically. So it is completed. You've got then ready to tackle your assignment and you know exactly where all our research is coming from as well.
Josh Anderson:
Well, Jonathan, my only complaint is that you didn't have this ready 10 years ago when I had to write reports and papers because just finding stuff for the bibliography I swear it took me longer than writing the report. I was afraid I'd do it wrong.
Jonathan Webb:
We still advise students to leave a day or two to write just the bibliography, and then they're having to literally take quotes out of their work because they can't remember where they got it from. So there is a little bit of myself and my degree and remembering back to what I struggled with. So there was a little bit of that as well. I kind of made it for myself, I suppose, as well.
Josh Anderson:
Well, good, good. You kind of touched on this a little bit, but can you describe the toolbar to our listeners? I know it's very easy to use, but just kind of what all is up there and, and how does it work?
Jonathan Webb:
Yeah, absolutely. The place where the toolbar sits across the top of your screen, so it doesn't get in the way of anything. It docks anything you put in there and then opens up underneath it. And what it allows you to do is make up to 20 color-coded categories across our toolbar with what you have labeled earlier. So if you're doing a project on psychology, for example, you might have theories in green, cognitive research in purple, social pressures in red, and so forth. You can add categories as you're researching. Well, they just sit across the top of your screen so you just highlight what you want and click straight onto the color tab. The color is really good to help with memory as well so you know exactly where to click.
Josh Anderson:
I believe I read that this can actually work with mind mapping software as well. Is that true?
Jonathan Webb:
Yeah. So we've tried to make it again as accessible as possible, so it will work with screen readers, text to speech, and you can also export into Word, but as well as that, you can then import into a mind map. So there's various my maps. It works as long as the mind map has an import button, it will work because Pro-Study uses proper titles for each capture. So they use the title to make the mind map branch and then the information would be sorted within the text note of that branch. So if the student wants to kind of transition from research straight into completing their coursework, they can send it into a mind map as needed.
Josh Anderson:
Excellent. I see how that can definitely help. And is this available on windows and Mac?
Jonathan Webb:
Yes. So windows and Mac, we're a little bit ahead on the windows version, but we're always catching up with the Mac just to kind of rebuild speed with the windows. So the windows tends to get the obvious first and then Mac will follow.
Josh Anderson:
Very nice. I'm glad you didn't forget about it. Usually people start off like that and then just kind of forget about Mac and keep on version one or two. So I'm glad you kept that going. And then tell me about the cloud storage.
Jonathan Webb:
So again, it's just coming back to this idea when we were working with the students in our focus groups they kept saying that they need to be able to access this research anywhere. So what we did, rather than relying on their own cloud storage, which we can still do, of course, we made our own. It's completely free and it's unlimited to all users. And instead of exporting to a Word document, you can press export and choose to send it to the Pro-Study cloud. This will send it into our website, then you can log onto our website. You'll have pre-made an account. Once you log in, you can download your project, but it'll download in a word document, so it should be available on all devices, and we've made it mobile and tablet friendly. So they could use an iPad or another tablet or another computer or if they're on a university computer they could use that, and even a mobile smartphone.
Jonathan Webb:
So it's just made it that little bit more accessible. So if they suddenly need to access a project or previous project they can, because it's really important that all of the research is available. So past projects, even maybe from a past year, they can quickly access that if it's going to be something that's useful for that present assignment.
Josh Anderson:
Jonathan, what kind of disabilities can you see Pro-Study assisting?
Jonathan Webb:
Pro-Study helps with a whole range of students. We mainly find that it supports students with specific learning difficulties, dyslexia and dyspraxia, those with ADHD, autism spectrum conditions, brain injuries, any kind of condition which might impact on the student's ability to organize that information. Anyone who finds the amount of work overwhelming, again, specific learning difficulties. We're finding recently is a big push for mental health conditions as well, which is really great to see, especially anxiety or anything a little bit more complex where anxiety is a factor, any concentration or fatigue factors that may affect the student because it's so quick and easy to use. A student can keep having breaks, just use it for 10 minutes, come back to it. They're not then spending the next 10 minutes trying to work out what we were just doing, they can just carry on with their work. There is a whole range, but we do find our kind of core is dyslexia, mainly, specific learning difficulties or like I say, we've seen a big turnaround for mental health conditions on the main.
Josh Anderson:
Jonathan, can you tell me a story about someone who's used Pro-Study and how it's assisted them?
Jonathan Webb:
Yes, certainly. My favorite story to tell is when I was supporting a student as an assistive technology trainer and they have been given posts for me through the disabled student allowances we have in the UK. Pro-Study is mainly used for gathering research, but this student was trying to do a critical analysis, and they were just getting really stuck. They've been sent this critical analysis where they had to answer three questions about three different journals. So they had to go through each journal, and every time they found an answer to one of the questions, they had to make a note of it, or put it all together and then hand that in. This was causing them a lot of stress as they were trying to remember the question whilst reading. They tried using a screen reader but even with that they were still struggling to remember the question and they were just ending up in a bit of a mess over it.
Jonathan Webb:
They'd been advised to try highlighting the journals with different colored highlighter pens. That's obviously normally a really good strategy, but this wasn't helping this particular student. What we did when I went to see them the following week is, they held up these three journals and they'd literally colored every word in with the highlighter pen. They were laughing about it and said, "I've done this, but now I've just got multicolor paper." So we thought, "Well, this is why you've been given Pro-Study, so let's it a go." This is a really simple project for us to make. We just made three categories, color-coded them, and then whenever we found a bit of information they wanted, we just highlighted it, clicked on the part highlighted on the journal, clicked on the category, and that saved that text within the category. They didn't need any reference information or anything, they just needed to pull out the information.
Jonathan Webb:
Right at the end, we use the export feature, sent it into a word document. It went from around 100 pages of these three journals into about four pages. Now there's a four-page report with a contents page, titles for each section, headers, footers, absolutely everything we needed. Well, it took us less than an hour to really kind of whiz through it and just grab out about four pieces of information from each journal. They could then open up a new Word document and then transition into actually using that information to write up their critical analysis. I'll always remember that because that was one of our first students to have been given Pro-Study, and we used it in a way that I hadn't envisaged using it. So it was great to see straight away the other ways it could be used. I remember then they sent us a thank-you card and they would never stop using it, it said, so that was just a great story straight from the kind of very start of Pro-Study's life really. I always think that's a great story.
Josh Anderson:
It really is. So what's next for Pro-Study? What are you working on to integrate now or change or kind of… Well, just what's on the horizon?
Jonathan Webb:
Well, we just finished the webcam feature, so we just kind of would like to give it a few months just to kind of leave the features alone for a little bit and let people get used to that, but we're always developing. We probably have two or three updates a year. Like I said earlier, we try to be really simple to use, so nothing will majorly change, but we've always got a bit of list of development features that we want to get included in. I think there's always room to make everything more accessible, make the toolbar more accessible, just slight improvements like that. We will be looking at more integration with Microsoft Word and pulling information out automatically without even having to highlight it. So we're just trying a few different ideas. We've always got something working in the background.
Jonathan Webb:
We tend to go to a lot of exhibitions. We've got a lot booked in across the UK, in Scotland, Ireland, England, and Wales, but we're kind of trying to head out to the US a lot more. So kind of, that's our next plan. We're ready to go to the rest of the world. So that's what the plan is. If we can get a bit of a roadshow going so we can visit a few places while we're across in the US that would be fantastic. So if anyone does want to get in touch, please do. We'll add them to our list of people we're going to see. We recently went to the ATIA, which was absolutely fantastic. And we're just venturing out into Europe as well at the moment. So there's a lot happening really. Most universities in the UK now use Pro-Study, so we're just kind of, yeah, the rest of the world is the next target.
Josh Anderson:
Well, Jonathan, if folks would want to find out more or reach out to you, how would they do that?
Jonathan Webb:
The best place is going to be directly on our website at www.pro-study.co.uk, or they could email info@pro-study.co.uk. We're on all the main social media platforms, Facebook, Twitter, LinkedIn. We have a YouTube channel with lots of tutorials, so they can kind of reach out in any way they want to really.
Josh Anderson:
Excellent. We'll put links to all that over in our show notes. Well, Jonathan, thank you so much for coming on the show today and telling us all about Pro-Study.
Jonathan Webb:
No, thank you very much for having me.
Josh Anderson:
Do you have a question about assistive technology? Do you have a suggestion for someone we should interview on assistive technology update? If you do call our listener line at (317) 721-7124. Shoot us a note on Twitter, @Indataproject, or check us out on Facebook. Are you looking for a transcript or show notes? Head on over to our website at www.Eastersealstech.com. Assistive Technology Update is a proud member of the Accessibility Channel. For more shows like this, plus so much more head over to accessibilitychannel.com. The views expressed by our guests are not necessarily that, of this host or the Indata Project. This has been your Assistive Technology Update. I'm Josh Anderson with the Indata Project at Easterseals Crossroads in Indianapolis, Indiana. Thank you so much for listening and we'll see you next time.