Are you looking for a new app to help you relax, while training your brain?  One of my favorite ways to unwind is by doing a crossword, word search, or other word game.  The Words Master app is a game-based app that encourages users to improve their vocabulary by continually trying to beat their top score each time they play.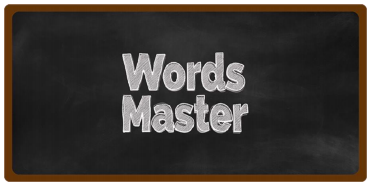 The app's developer, Small Bedroom Studios, explains the premise of the game: 
"Simply make as many words as you can that begin with the randomly selected starting letters (e.g. Starting letters: ST. Words: Stamp/Stop/Stay etc.)

This game is a great time killer for all situations as well as being an educational game that will help to improve your mental sharpness, spelling and expand your vocabulary."
 Overview of the Words Master App:
The premise of the game is to make as many words as you can within a time limit

You'll be given two starting letters to create words out of.  For example:

Starting letters: RE
Word examples:  reply, review, replay, repay, etc.

It is a brain training word game and vocabulary builder
According to the app's description, it can help increase both the recall speed of your vocabulary AND your active memory usage of vocabulary
Check it out on Google Play or the App Store to learn more!