Do you have an artist in your household?  If you're looking for a mobile drawing application, check out the Sketch Tree Pro App!  According to its description on the App Store, the app's "painting and drawing function is very groundbreaking, with breakthrough watercolors and realistic brushes."  After downloading the app, you can easily create sketches and illustrations anywhere, anytime!
The app, which is available on iPads, has a canvas that can be enlarged 64 times with a "high-precision" grid display, and the artwork is accurate to the pixel level.  Other painting tools include 80 brushes, erasers, smearing tools, ruler, cutter, color picker, and so much more.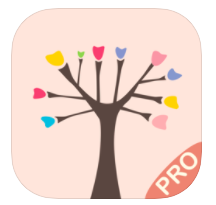 It also features a layering system that allows users to import background images.  In addition to having dozens of cool tools, the Pro version of the app allows individuals to adjust brush sizes and transparency.  It also automatically saves your work continuously so you never lose your work.
Overview of Sketch Tree Pro App:
The easy-to-use interface makes it simple to paint and sketch anywhere, anytime
Features over 80 fine brushes and watercolor brushes
Smear, roller, ruler, filling, cutter auxiliary tools
You can undo and redo actions an indefinite amount of times
Advanced layers system allows you to import background images
64x magnification with a high-precision grid display
Check it out on the App Store to learn more!