Looking for a way to organize your keys?  KeySmart Pro allows you to do that and so much more!  The KeySmart Pro pairs with Tile so you not only organize your keys, you'll never lose them again either!
I wrote about Tile a while back.  If you're unfamiliar with it, in sum it's a compact product that you attach to items you often lose (e.g. keys, wallet, etc.)  The KeySmart Pro makes your keys compact and comfortable to carry.  (But wait!  That's not all!)  The device pairs with the free Tile app available on your smart device – so you'll never lose your keys again!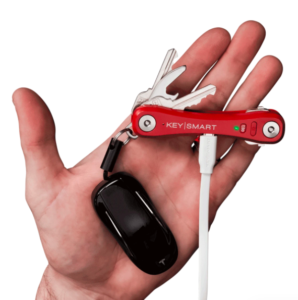 With the Tile app, you're not only able to find your keys on a map, but you can also make them ring to find them faster.  You can even make your lost phone ring, even if it's on silent!
Other features of the KeySmart Pro include:
Ultra-bright LED flashlight is built into the device so you can easily find keyholes at night
It is rechargeable (comes with Micro-USB cable) so you never have to replace batteries
The KeySmart is easy to assemble – no tools necessary

Comes with easy setup instructions

Available in a variety of colors:

Black, white, red, gray, rose gold, and multiple designs

Organizes up to fourteen of your existing keys
Two-year warranty
Click here to learn more!