Peter Berg has been working in the field of disabilities almost as long as the Americans with Disabilities Act (ADA) has been in effect. For the past 20 years, he has worked for the Great Lakes ADA Center, providing education and training on various aspects of the ADA for people with disabilities across six states.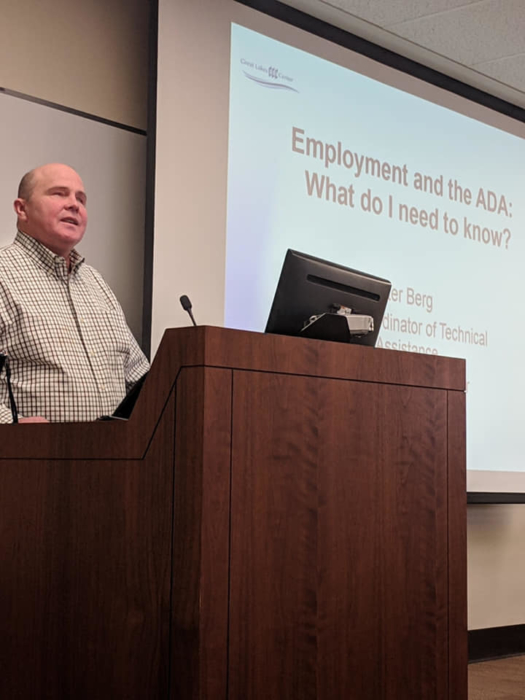 Berg knows firsthand what it's like to navigate toward a more accessible world. In his 20s, he lost his vision from diabetic retinopathy. Subsequently, this led him to learn about the ADA and seek help from the State of Illinois Division of Rehabilitation Services. He worked on independent cane travel, using a computer, typing — a skill he never learned as a sighted person.
Berg thought passing on his knowledge and helping people like him would be "a great fit." Thus started his journey with the Great Lakes ADA Center. He currently serves as project coordinator for technical assistance and employer outreach.
A Fight for Civil Rights 
For Berg, it's important to note the ADA not only fights for accessibility but for fundamental human equality.
Introduced in 1990, the ADA "prohibits discrimination and ensures equal opportunity for persons with disabilities in employment, state and local government services, public accommodations, commercial facilities and transportation."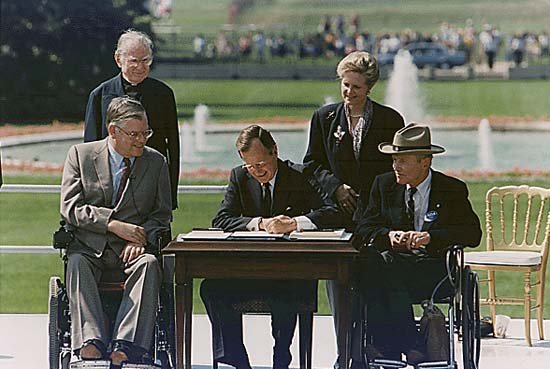 "I love that the act creates an obligation to remove barriers," Berg said. "I tell architects there's no such thing as a grandfather clause when it comes to constructing buildings. They must be accessible to people of all levels of physical ability. Then, I see the light click on in their heads, and they approach architecture and construction differently. Getting people to reach that level of understanding and move toward accessibility is really rewarding."
As someone who has had to overcome people's preconceptions and doubts about his abilities, Berg appreciates how the ADA fights against discrimination and aims to put everyone on the same playing field. Working alongside design professionals, architects and engineers is one of his favorite parts of his job.
The Evolution of the ADA
Berg has had the pleasure of seeing the world grow more accessible due to the ADA. In honor of its 30th anniversary, he recalled some of the most significant advancements. For example, one of his favorite fields — architecture — instantly sprung to his mind.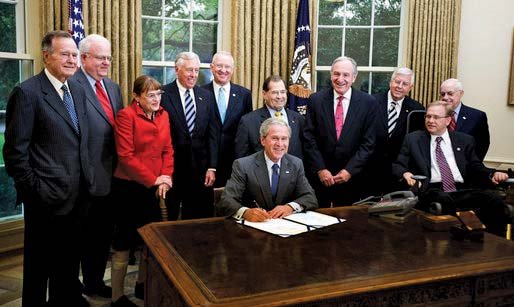 "The built environment is more accessible than ever before due to new construction, alterations, etc.," Berg said. "Revised regulations in 2010 improved access to such recreational establishments as parks, pools, playgrounds, golf courses, movie theaters and stadiums. The 2010 Standards for Accessible Design were required as of March 15, 2012."
Additionally, the Department of Justice published four ADA proposals calling for website accessibility, captioning and video descriptions in movie theaters, accessible equipment and furniture, and the requirement of 9-1-1 call centers to receive text and video calls from people with disabilities.
"Technology is integral to everything we do — from education to employment, paying bills, communicating via social media and mobile devices," Berg said.
In short, accessible technology makes life easier for people of all abilities, reinforcing the importance of the ADA as an act of equality.
Future of the ADA
Berg's life continues improving because of this act. After years of cane use, he now enjoys the company and assistance of a guide dog. In addition, he appreciates that the door of opportunities for people with disabilities like him remains wide open. The ADA ensures that the world grows more and more accessible, providing all sorts of accommodations and tools to help people with disabilities navigate it.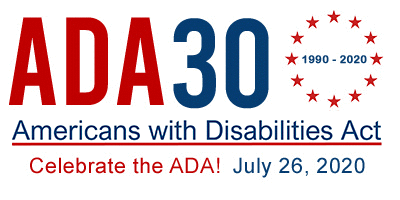 Of course, like most things, the ADA is still far from perfect and has a long way to go.
"Unfortunately, the ADA lacks enforceable standards in some areas as well as explicit website accessibility requirements," Berg said. "However, the pros far outweigh the cons. For 30 years, this act has fought against discrimination, promoted equality, improved accessibility and advanced technology. I wouldn't be where I am today without the ADA. Certainly, I can't wait for what the future has in store because of it."