Have you or someone you know ever been distracted while cooking on the stove?  It happens more often than you think.  Leaving the stove unattended or forgetting to turn off the burners can be disastrous.  If you're looking for a solution to make cooking safer for you or a loved one, check out Toch Smarturns Intelligent Stove Knobs.
Before diving into the features of Toch Smarturns, here are a few facts (from TochTech Technologies):
There are over 170,200 house fires in the US each year
94% of house fires are a result of fires starting in the kitchen (usually from unattended stoves)
Further, there are over 510 injuries and deaths each year from house fires
Risk of injury and death increases significantly for those 70 years and older
Property damage from house fires is about $1.2 billion in the US alone
TochTech Technologies developed Toch Smarturns Intelligent Stove Knobs to help make cooking safer.  They are easy to install and operate: simply replace your stove knobs with the Smarturns, mount motion sensor, connect the hub, and voila – you now have a "smart stove"!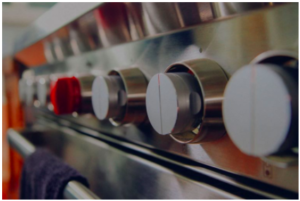 Once the smart knobs are installed and the burners are turned on, a sensor monitors the stove user's movements.  If the stove is left unattended for a while, Smarturns will alert the stove users via a local alarm.  In addition to alerting the user, it can also notify caregiver(s) via mobile phone notifications.
Here's more on the product's development:
Overview of Toch Smarturns Intelligent Stove Knobs:
Easily transform your stove into a smart, safer stove
Installation and setup is easy
Superior designed knobs fit most electrical and gas stoves
4-year battery life on knobs
Mobile app features that include:

Stove status – On/Off
Cooking activity status – Start/Complete
Local alerts and mobile phone notifications to multiple devices
User presence information
Stove usage records
Multiple stove monitoring

You do NOT need to have internet or a smartphone to use the smart knobs

If you have neither, the Hub will work as an automatic, local alarm, alerting the user when he or she is away from the stove for 5 minutes
Click here to learn more!
You can also check out our Tech Tip on the Toch Smarturns by clicking here.