Hydration is essential to one's overall wellbeing.  However, staying properly hydrated may not always be easy for some individuals with different mobility impairments.  School Health (formerly known as EnableMart) offers a potential solution with their Giraffe Bottle with Holder Hands-Free Drinking System!
The Giraffe Bottle is a hydration system built specifically for individuals with special needs.  According to School Health's description, "The system is designed to be adaptive to the user, flexible, and easy to use."  It is ideal for individuals with cerebral palsy, multiple sclerosis, spinal cord injuries, and more.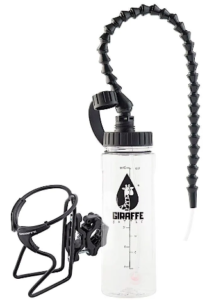 One of the unique features of the Giraffe Bottle is its inclusion of a check valve:
"With the check valve in place, liquid won't retreat back into the bottle after taking a sip. For those with limited lung function, keeping liquid primed and at-the-ready makes staying hydrated a breeze. If the check valve isn't necessary for user's application, simply unscrew the neck, remove the check valve, and it's that easy."
Overview of the Giraffe Bottle Hands-Free Hydration System:
It is a clear 25 oz. Trian bottle with both ml and oz markings ideal for hydration monitoring, keeping track of liquid levels, and obviously makes it easy to see when bottle needs refilled
Plastic neck assembly is flexible, durable, and dependable

The length of the neck can be adjusted to fit a specific need

The drinking tube is FDA-compliant, BPA-free, and phthalates free
Cap, neck, and tube are removable to make it into a standard water bottle
Bottle holder easily attaches to round tubing on wheelchairs, powerchairs, bed railings, desks, and more!
All components are dishwasher safe, but handwashing is recommended for the bottle's drinking tube and modular hose neck
Click here to learn more about the Giraffe Bottle Hands-Free Hydration System!