Learning Resources offers so many educational hands-on tools to help your child or student with or without special needs.  One of their available products is the Learn-A-Lot Avocados.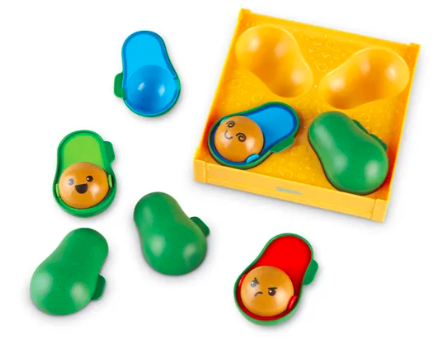 According to the website's description, "These avocados have feelings, and they're not afraid to show it!"  These cute avocados help children build early fine motor, color, and social-emotional learning (SEL) skills.
Here's more from Learning Resources:
The set features four avocados that pop apart and click shut with ease; this helps children build hand strength, coordination, and other essentials of fine motor skill development.  The inside of each avocado features a different colored interior, as well as a spinning pit with two emoji-style faces that change with every roll.
Overview of Learning Resources Learn-A-Lot Avocados:
Help build new skills with these fun-loving avocado friends
Ideal size for little hands

Pop-apart avocados help strengthen fine motor skills

Introduce social-emotional development with the avocados' spinning emoji-style faces
Learn color identification and matching skills with the avocado's vibrant interiors
For ages 18 months and older
Once you're done playing, these avocados fit snugly inside their included crate for easy storage and cleanup
Comes with 1 tray and 4 two-piece avocados in 4 colors featuring spinning faces depicting the following emotions:

Happy
Sad
Mad
Surprised
Silly
Frustrated
Tired
Scared
Check out the Learning Resources website to learn more!