Podcast: Play in new window | Download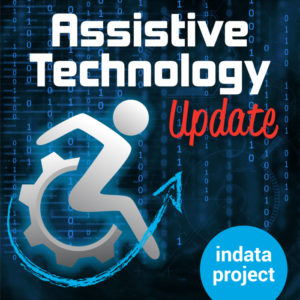 Your weekly dose of information that keeps you up to date on the latest developments in the field of technology designed to assist people with disabilities and special needs.
Special Guest:
Catherine Holloway – Academic Director of the Global Disability Innovation Hub
Twitter – @gdihub
————— Transcript Starts Here ———————–
Catherine Holloway:
Hi, I'm Cathy Holloway. I'm the academic director of the Global Disability Innovation Hub and a professor of interaction, design and innovation at UCL's Interaction Centre. And this is your assistive technology update.Josh Anderson:
Hello, and welcome to Your Assistive Technology Update, a weekly dose of information that keeps you up to date on the latest developments in the field of technology designed to assist individuals with disabilities and special needs. I'm your host, Josh Anderson with the INDATA Project at Easterseals Crossroads in beautiful Indianapolis Indiana. Welcome to episode 511 of assistive technology update. It's scheduled to be released on March 12th, 2021.
Josh Anderson:
On today's show we're super excited to have professor Catherine Holloway, the academic director at GDI Hub on to talk about all the great things they do as well as their AT2030 Initiative. We have a story about Zoom opening up automatic captions to all users, and we're lucky enough to have Amy Fuchs from Bridging Apps on to tell us all about an app worth mentioning.
Josh Anderson:
Don't forget, if you ever do want to reach us, perhaps you have a question or someone who'd make a great guest on our show or a comment. We can always take those as well. Don't forget there's plenty of ways to reach us. You can call our listener line at (317) 721-7124, hit us up on Twitter @ENDATAProject, or shoot us an email at tech@Eastersealscrossroads.org. We thank you so much for listening today, and let's go ahead and get on with the show.
Josh Anderson:
If you're interested in learning more about the accessibility features of virtual meeting tools, individuals with disabilities, educators, parents, students, and professionals can benefit from our accessible tele-health webinar training. This free assistive technology training will educate participants about the accessibility features used in online meeting tools that can be used for tele-health. We'll put a link to the registration over in our show notes for the training, which will take place on Thursday, April 8th from 10:00 AM to 12:00 PM Eastern and will be hosted by our own Brian Norton. Please join us for our accessible tele-health webinar.
Josh Anderson:
After all these months of lockdown, maybe you're looking for some new podcast to listen to. Well make sure to check out our sister podcast, Accessibility Minute and ATFAQ, or assistive technology frequently asked questions. If you're super busy and don't have time to listen to a full podcast, be sure to check out Accessibility Minute, our one minute long podcast that gives you just a little taste of something assistive technology based so that you're able to get your assistive technology fix without taking up the whole day. Hosted by Tracy Castillo, this show comes out weekly.
Josh Anderson:
Our other show is Assistive Technology Frequently Asked Questions or ATFAQ on Assistive Technology Frequently Asked Questions. Brian Norton leads our panel of experts, including myself, Belva Smith and our own Tracy Castillo, as we try to answer your assistive technology questions. This show does rely on you, so we're always looking for new questions, comments, or even your answers on assistive technology questions. So remember, if you're looking for more assistive technology podcast to check out, you can check out our sister shows Accessibility Minute and ATFAQ wherever you get your podcasts, now including Spotify and Amazon Music.
Josh Anderson:
So here at AT Update, we've been using Zoom for a long time. That's how we do most of our interviews, even before the pandemic made us do all of our interviews that way. Also in the clinical team, we had a few of our team members who are not here locally. So we've been using Zoom to meet with them for quite a while, but then the pandemic hit and everyone moved to Zoom, which really caused some issues, especially for folks with hearing impairments. Zoom does allow for captions and many times on webinars and things like that. Most of the time you'd have to hire a captioning, but Zoom does have automatic closed captions that are built in there.
Josh Anderson:
But if you had a free account, you weren't able to use them. They were behind the paywall and without a paid account, you did not have access to this feature. Well, I found a story over at Engadget and it's titled Zoom's Automatic Closed Captions Will Roll Out to Everyone in the Fall. This is written by M. Moon, and it talks about Zoom's plan to allow these automatic captions to anyone coming in fall of 2021.
Josh Anderson:
Now, have you ever used automatic captions? They are not quite as good as a captioner because you do not have that human element. You're relying on artificial intelligence, which can mess some things up here and there, but they're a whole lot better than nothing. So they are a great accommodation that folks can use, especially if they have a free account and are going to be in tons of different meetings with different organizations, with different folks and with people who maybe don't hire a captioner or are unable to incur that cost.
Josh Anderson:
It also says in this story that if you're someone who would benefit from this feature, so someone with hearing loss or someone that benefit from captions, you can fill out a form in order to get Zoom to go ahead and give you access to those now. For anyone else who may not qualify for that, these should be available to all Zoom users in the fall. It did not have an actual date, but I'll put a link to the story over in the show notes so you can check it out. It's really great that Zoom does have this accommodation built in, and that they're opening it up to anyone who could benefit from it and not just those that are able or willing to pay.
Josh Anderson:
Next up on the show. We're very excited to welcome back Amy Fuchs from Bridging Apps with an app worth mentioning. Amy, take it away.
Amy Fuchs:
This is Amy Fuchs with Bridging Apps, and this is an app worth mentioning. This week's featured app is called Ava 24/7 Accessible Life. Ava provides real time captioning on your mobile device. Keep your phone or tablet out and read what the other person is saying in live time, or sync multiple devices and keep track of who said what in a meeting or over the phone. You can tap on incorrect words to help Ava learn how to translate them more accurately.
Amy Fuchs:
Ava will transcribe multiple languages, even in the same conversation. Type out what you want to say, and Ava will speak it for you. We have used this feature with clients that can read and type that have difficulty speaking after a TBI or stroke. This app was designed so that people who are deaf and hard of hearing can more easily participate in their daily community and family lives.
Amy Fuchs:
This app is free to download with an optional monthly subscription of $14.99 a month. The free plan allows you to transcribe five hours of conversation each month. This is great for occasional users that need captions for conversations while they are out in the community. You can also buy an additional five hours for $4.99. The premium plan, $14.99 a month or $119.99 a year allows for unlimited captioning time and has translation features. Ava 24/7 Accessible Life is available for free at the iTunes store and Google Play stores and is compatible with iOS and Android devices. For more information on this app and others like it, visit BridgingApps.org.
Josh Anderson:
Access and information about assistive technology really varies around the world. In some nations, AT is not well known and very inaccessible. Many individuals with disabilities do not even know about the tools that can assist them in all aspects of their lives, and those who are aware of such accommodations rarely have any way to access them.
Josh Anderson:
Well our guest today is Catherine Holloway from GDI Hub. And she's here to talk about the AT 2030 Initiative and how it's working to change this. Cathy, welcome to the show.
Catherine Holloway:
Thanks so much, Joshua.
Josh Anderson:
Well, I'm really excited to get into talking about GDI Hub and the AT2030 Initiative. But before we get into that, could you tell our listeners a little bit about yourself?
Catherine Holloway:
Sure. My name is Cathy Holloway. So I said in the introduction, I'm the academic director of the Global Disability Innovation Hub. And what that means is that for most of my time I am an academic, so I do work like research and teaching. We're developing some new technologies and we deliver a master's course in disability design and innovation. And then in the other half of my life, I spend time at a community interest company, which is a not-for-profit organization.
Catherine Holloway:
I suppose the reason I got into this was partly because I grew up in nursing homes. My parents had nursing homes where people who are older and coming towards the end of their life stayed, and I was always interested in why some people fight and some people didn't and why some people couldn't do things. So if they had a stroke, why it was so difficult for people to be helped.
Catherine Holloway:
That stayed with me for many years. I also always wanted to, I suppose, try and make a small difference in the world. And so I was lucky enough to come to UCL to do my PhD, and there became a lecturer. And then we got the great opportunity to set up GDI Hub as part of the Paralympic Legacy, which has really helped me, I think, to grow into the person I am or have always wants to be or something like that.
Josh Anderson:
Or one of those I always love learning about folks' motivation and what gets them into to these kinds of fields and into assistive technology and other things. Well, let's start off by learning a little bit about GDI Hub. What is it?
Catherine Holloway:
Well, good question. We are two things. As I've just said, we are a Academic Research Centre, which is led by University College London, but with other academic partners who are coming to or work on the Queen Elizabeth Olympic Park. So the Queen Elizabeth Olympic Park is where London 2012 happened, the Paralympic games. I would say it's probably definitely since I've been living in the UK, it's one of the proudest moments of the country. I think it helped to change attitudes around disability. And of course, assistive technology was a key part of that.
Catherine Holloway:
So we're one thing in the Academic Research Centre. And the reason that came about was because London 2012 had the legacy program and as part of that legacy program, they wanted to make sure there was substantive change for East London. And he said in the introduction that the different parts of the world are different, but I would argue even within countries, different parts of countries are different and then even within cities. And within London, East London was the poor relation to West London and the London 2012 games was dedicated to make sure that that was turned around, and it became the most inclusive place within London.
Catherine Holloway:
As part of that, UCL decided to be an anchor tenant for the cultural and educational district, which has bringing together people that normally would be very different parts of the world. So it left for university in the Midlands of the UK, University College London, obviously in London, London College of Fashion previously had sites scattered across London and we were all moving to one place. So it's an opportunity to do things differently. And I got the opportunity to put forward an idea of what would go into the new building, which is about £600 million investments, it's quite a lot of money and approaching half a million dollars.
Catherine Holloway:
And I had a small idea to co-create an assistive technology space, but also inclusive design of products and inclusive design of digital technologies and the built environment, and I was lucky enough to be introduced to Victoria Austin and Ian McKinnon who were delivering the Paralympic Legacy. And we got together an infamous cup of coffee in Cafe Nero, which is a coffee shop in Stratford, and realized we had a lot to offer.
Catherine Holloway:
They did huge amounts and practice actually making [inaudible 00:11:25] accessible and also policy, and of course UCL could bring to the table expertise in research and teaching. And we thought, let's just invite everybody who was moving to the park. So we did. Yeah, and GDI Hub was born. And shortly after we set up GDI Hub, we realized that academic centers are brilliant at many things, but not particularly good at other things. And one of the things that maybe we're not so good at is being able to engage with local communities at a small level, like small amounts of funding and things are difficult to get into universities now, if universities sometimes consultancy could be hard, spinning out assistive technologies are not going to scale massively. It's difficult. So we set up the not-for-profit arm of GDI Hub, which is called a community interest company in the UK. And so I run the Academic Research Centre, and Victoria Austin runs the community interest company.
Josh Anderson:
That's excellent. And I would love to unpack all that, but we only have a small show. So I know one of the main reasons that we had you on the show today was to talk about the AT2030 Initiative. So start off by just telling us when was this started?
Catherine Holloway:
Good question. The Assistive Technology 2030 program, which is about understanding what works to get assistive technology to people globally started in 2018, I believe. The Global Disability Summit occurred in London on the Queen Elizabeth Olympic Park, and it was co-hosted by the government of Kenya and the UK government. The idea was to bring together governments and countries and stakeholders from around the world and try to shift the agenda on disability and inclusion. Of course, a key part of that was assistive technology, and I think what was kind of understood at the time was that assistive technology had fallen between multiple cracks. Sometimes it's a healthcare product, sometimes an educational product, sometimes it's part of the digital inclusion agenda, sometimes the part of an inclusive city agenda.
Catherine Holloway:
So there was a need for a focus just on assistive technology and to put assistive technology first for once. Within the international development space, I should say, because it is put forward by others in maybe high income countries. So in the international development space, when we're looking at low and middle income countries, you said that people, there's different levels of access. I've just realized you only asked me the question about when it started. So I've answered that so I'll let you-
Josh Anderson:
Keep on going. Nope. You can just keep on going. Yeah.
Catherine Holloway:
Okay. So the global disability summit happened in 2018 and at that time we, as GDI Hub, had just started and we voted a short scoping report for what was then called DFID, Department for International Development, which is now called the FCDO, which is part of UK Aid. And we put forward what we thought was necessary to transform the space for assistive technology globally. And obviously we're a small center. So we couldn't do that alone. We exist to accelerate disability innovation for a fairer world and accelerate means to make sure that we work with all of our partners and try and, I suppose, amplify the great work that is happening, but also better coordinate it and maybe give a better voice to it, as well as doing our own small part.
Catherine Holloway:
So we were working with the World Health Organization, the Clinton Health Access Initiative, as well as smaller organizations like Motivation, who provide wheelchairs and low middle-income countries, Empower, who have a new device for a prosthetic lens. And so we developed a vision for the future based around changing policy, changing supply and demand practices, and also helping to home grow innovation within Africa in particular.
Catherine Holloway:
So yeah, AT2030 came into existence in 2018. And then within a year there was initially a 10 million pound program. And within a year, a CTO decided to double the investment because they believed we were doing a good job and we've currently reached 4 million people, I believe, working in 38 countries with 35 live projects. So it's quite a lot to manage.
Josh Anderson:
Wow. It really is. I know not all of the programs are AT related and you kind of touched on a little bit with the Paralympics earlier, but you also have an Overcoming Stigma through Paralympic Sports program. How does that work?
Catherine Holloway:
So the Overcoming Stigma comes up actually in about three different places within the program. So it comes up in that space but but it's three significant places. The one that you say is trying to overcome stigma. So the Global Disability Innovation Hub, along with one of our founding partners Loughborough University and the International Paralympic Committee are looking to develop a research practice, but also roll out free media rights for the Paralympics. So one of the blessings, I suppose, for want of a better word, but one of the things I've always been really grateful for is that we have a lot of really great partnerships. So one of them is Hogan Lovells, our legal team, as well as the International Paralympic Committee.
Catherine Holloway:
Together with Loughborough University, we have developed a program where for the first time in Africa, we will stream the Paralympics for Tokyo 2021 now, and people will get access to that. But through the Agitos Foundation, which is the foundation arm of the IPC, there would also be a program rolled out in schools so that the young children in primary education get to learn about Paralympians and about the Paralympics, and we're hoping to have a similar shift in attitudes as we've seen in London by doing this.
Josh Anderson:
Oh, definitely. I know stigma is a big thing in a lot of countries that disability is kind of hidden away or stigmatized. Even here in the States until the, I don't know, '80s really integration was barely even thought of. So that's great that you're even using the sports, something that everyone knows and loves to be able to get that word out and really get rid of some of that stigma. Cathy, you have a lot of other kind of programs under this initiative. Could you highlight a few more of them for me?
Catherine Holloway:
Okay, Joshua, so you're hearing Bonnie, who's my little puppy. Who's also the mental health officer for the Global Disability Innovation grants.
Josh Anderson:
And that's totally fine. Luckily in the world we live in crying, babies, dogs, leaf blowers, and trucks going by are no longer [crosstalk 00:17:24]
Catherine Holloway:
But Bonnie has an opinion on stigma and on AT2030. So the other programs in AT2030 I think are worth maybe exploring with your listeners. The first is the innovation [inaudible 00:17:36]. So within Innovation, we are about to launch £4 million pound Assistive Technology Impact Fund. So by the time this goes live, it will be launched. And the Assistive Technology Impact Fund is set to try and transform the landscape of investment into assistive technology in Africa.
Catherine Holloway:
So as you probably know, 90% of people who need assistive technology globally do not have access. And that's from really simple devices like the eyeglasses I'm wearing right now to hearing aids, prosthetic devices, but also walking sticks, pill organizers, devices that would allow people to access the internet accessibly. So we are trying to change that. And what we've realized in the first few years of working on AT2030 is there's not really a problem with ideas. Everyone's got great ideas, but trying to scale them in countries within Africa is quite difficult. And there's two difficulties.
Catherine Holloway:
The first you highlighted in your introduction is the demand. So if people aren't aware that an assistive technology or device can help them, then how are they ever going to know to purchase it? And then if somebody does want to purchase it, but they don't have any money, and we know there's a huge link between disability and poverty, especially in low to middle income countries, then they are dependent upon either the state, so maybe universal health care or some kind of health insurance or education assistance, or they're dependent upon family or charity of some kind.
Catherine Holloway:
And so what you end up with is a strange mix of charities and NGOs, and a lot of what charities and NGOs do is brilliant. However, it's free and therefore, if you're an innovator and you're going into a place, people clearly either get free product, which you can't really argue against free, it's quite difficult to innovate against free.
Catherine Holloway:
And the governments, there's no awareness in the governments either, or even within say banks to lend to disabled people or persons with disability in order to get a loan, to buy an assistive technology, which would then open the door for employment opportunities. There's also a lack of awareness within employers. So people don't understand the value that a diverse workforce gives and therefore they don't understand the benefit and therefore they only see the cost. So we have these huge demand problems, but then even if you fix the demand problems, you've got supply problems.
Catherine Holloway:
So often the assistive technology, isn't fit for purpose in the country. So then time and time again, you see ridiculous things like people whose skin color is black or brown being asked to wear limbs which are white, which seems ludicrous, or they break. So the assistive technology will break, wheelchair casters often fall off and there's no means by which to fix those. And so we have designs that are not fit for purpose. We have distribution channels which don't work, and we have demand that doesn't exist.
Catherine Holloway:
So we've been trying to overcome that by on the one hand, the country by a whole cluster of activity, looking at systems strengthening and country. So working with the World Health Organization, UNICEF, the Clinton Health Access Initiative to really develop systems that will work. And then I've been leading the work on innovation clusters with all of the partners to begin to develop innovation pipeline.
Catherine Holloway:
So we've started right from the proof of concept, then we've built an accelerator program in Nairobi, which is led by Bernard Chiira with our colleagues in the [inaudible 00:21:04]. And that now is on its third cohort with 15 graduates soon, well 10 graduates, 10 companies have graduated and five can't cohort, there's five in there. We've had initiatives from new types of wheelchairs that are fit for purpose in low middle-income countries, right through to new ways of delivering eyeglasses using the unemployed Kenyan youth workforce to sign language interpretation for deaf learners to remote learning.
Catherine Holloway:
So and all of these innovators are African. So they are either from Kenya or normally from East Africa at the moment. And they are being supported to grow their enterprise within Africa. And then we realized that that sort of wasn't enough. And we went back to FCDO and said, we need some more money because the Valley of Death, as we call it, where innovations die, it is wider and deeper for assistive technology than say for healthcare products, and it's more difficult in low middle-income countries. And so adventures need more support. So they need support in trying to find business models that will scale in that space.
Catherine Holloway:
And that's what we're doing now with the Assistive Technology Impact Fund with our friends and colleagues at Brink and the Catalyst Fund and GDI Hub, we've partnered together. We're launching an impact fund that gives both venture support, so by that we mean specific expertise in the area, so if you need expertise in hearing or eyesight loss or mobility, then we've got people. We make sure we can match people to local locations to test things. And we also give business support and finance support. So yeah, that's what we're doing at the moment.
Josh Anderson:
Nice. You're kind of touching it on all aspects there. Well Cathy, as the AT community, our listeners and myself included, what can we do to help?
Catherine Holloway:
Oh, wow. Great question, Joshua. Well, we're overworked.
Josh Anderson:
It sounds like it, I was like-
Catherine Holloway:
So I think what anything anybody wants to do. I think one of the things actually is we're always looking for people who are able to give some time to benches. So if any of your listeners are AT users who would be willing to join a pool of testers of new innovations, that would be great. If there were people with specific expertise in certain areas that would be able to give a few hours.
Catherine Holloway:
So we often hear from innovators, they just need one or two hours of somebody's time on certain things. And it's not a huge commitment and we're always happy to shout and champion the people that help. So we're beginning to think about formalizing that process because at the moment we kind of adhocly reach out to people that have got in contact with us, but the number of requests are increasing dramatically recently. So we will be keeping an eye on the GDI health website in the coming months.
Catherine Holloway:
There will be something probably more formal on that, but in the meantime, just reach out to me and the GDI help team. We'd love to have you support us. And at the moment, actually the biggest thing, I don't know if any of your listeners have any ideas to help innovators in the time of COVID crisis. So a lot of innovations and the innovators are really struggling at the moment because there isn't access to finance that's quick.
Catherine Holloway:
And if you think about, say the prosthetic services, they've all closed. So therefore demand has dropped for prosthetic services. So therefore orders have dropped. To me it's the same with eyeglasses, hearing AIDS. And so the world over we're looking for opportunities to help more innovators stay alive during COVID so that we can bounce back and maybe connect them to opportunities that were in the COVID space to keep them alive whilst the pandemic happens.
Josh Anderson:
Cathy, if our listeners do want to reach out and get involved and everything, or even just find out more about GDI Hub or the Assistive Technology 2030 Initiative, what's the best way for them to do that?
Catherine Holloway:
So the best way to reach out to us is to go to … Well, I would also suggest you go to disabilityinnovation.com and follow us maybe on Twitter, we're @GDIHub on Twitter and look at our programs and then just reach out through the contact us. You can join our mailing list through the website. You can sign up to all our social media channels, and then there's a link to be able to reach out to us. I'd always recommend going through the hello@GDIhealth email address, because then that comes to a number of people. It will get stuck or lost if you email me for example, and I've had a busy couple of days, I might not see it, or it might end up in my junk folder. Whereas the hello@GDIHub always gets answered.
Catherine Holloway:
So yeah, just reach out to us, follow us on Twitter, start a conversation. If you think there's something we should be doing, let us know. We're limited in capacity, but we are always looking to try and do more, especially for good ideas. And I'm always looking for new partnerships to help bring things forward. So if you've got an idea for a new partnership, let us know.
Josh Anderson:
Well excellent, and we can't wait to hear more about it. We'll put links to all that stuff down in the show notes so that folks can easily get in touch with you if they have time to volunteer, ideas, want to get involved or whatever they'd like to do. Well Cathy, thank you so much for coming on the show today and talking about this amazing initiative and all the great things that you guys do at GDI Hub.
Catherine Holloway:
Thank you so much, Joshua. It's been an absolute pleasure.
Josh Anderson:
Do you have a question about assistive technology? Do you have a suggestion for someone we should interview on Assistive Technology Update? If you do call our listener line at (317) 721-7124. Shoot us a note on Twitter @ENDATAProject, or check us out on Facebook.
Josh Anderson:
Are you looking for a transcript or show notes? Head on over to our website at www.EasterSealsTech.com. Assistive Technology Update is a proud member of the Accessibility Channel. For more shows like this, plus so much more, head over to AccessibilityChannel.com.
Josh Anderson:
The views expressed by our guests are not necessarily that of this host or the ENDATA Project. This has been your Assistive Technology Update. I'm Josh Anderson with the ENDATA Project at Easterseals Crossroads in Indianapolis, Indiana. Thank you so much for listening, and we'll see you next time.