Podcast: Play in new window | Download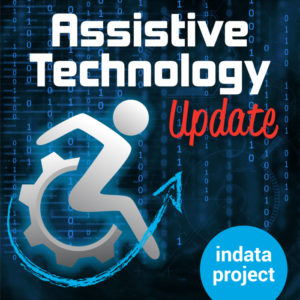 Your weekly dose of information that keeps you up to date on the latest developments in the field of technology designed to assist people with disabilities and special needs.
Special Guests: Julie Lineberger – Founder and President and RJ Adler – Business Development Director – Wheelpad
—————– Transcript Starts Here —————-
RJ Adler:
Hi, this is RJ Adler and I'm the Business Development Director here at Wheel Pad.
Julie Lineberger:
I'm Julie Lineberger, Founder and President of Wheel Pad L3C, and this is your Assistive Technology Update.
Josh Anderson:
Hello and welcome to your Assistive Technology Update, a weekly dose of information that keeps you up to date on the latest developments in the field of technology designed to assist individuals with disabilities and special needs. I'm your host, Josh Anderson, with the INDATA Project at Easterseals Crossroads in beautiful Indianapolis, Indiana. Welcome to Episode 514 of Assistive Technology Update. It's scheduled to be released on April 2nd, 2021.
Josh Anderson:
On today's show, we're super excited to have Julie Lineberger and RJ Adler on from Wheel Pad to talk about their solution for accessible homes and accessible spaces. We also have a story about Magical I Am, a mobile game being developed to help individuals with dyslexia address some of their reading and learning barriers. Don't forget, if you'd ever like to reach us, you can send us an email at tech@eastersealscrossroads.org. Call our listener line at (317) 721-7124 or drop us a line on Twitter @INDATAproject. We want to thank you so much for listening today. Let's go ahead and get on with the show.
Josh Anderson:
Are you a developer interested in learning more about web accessibility? Well, join renowned web accessibility professional Dennis Lembree for a full day of training. This webinar is put on by the INDATA Project in Indianapolis, Indiana and will take place on May 12th, 2021 beginning at 11:00 AM Eastern Time. So again, if you're a developer or involved in web design or development, don't miss out on this wonderful training to learn how to make sure that everything you create is a little bit more accessible. We'll put a link to the webinar registration over in the show notes.
Josh Anderson:
After all these months of lockdown, maybe you're looking for some new podcast to listen to. Well, make sure to check out our sister podcasts, Accessibility Minute and ATFAQ or Assistive Technology Frequently Asked Questions. If you're super busy and don't have time to listen to a full podcast, be sure to check out Accessibility Minute, our one minute-long podcast that gives you just a little taste of something assistive technology-based so that you're able to get your assistive technology fixed without taking up the whole day. Hosted by Tracy Castillo, this show comes out weekly.
Josh Anderson:
Our other show is Assistive Technology Frequently Asked Questions, or ATFAQ. On Assistive Technology Frequently Asked Questions, Brian Norton leads our panel of experts including myself, Belva Smith and our own Tracy Castillo, as we try to answer your assistive technology questions. This show does rely on you so we're always looking for new questions, comments or even your answers on assistive technology questions. So remember if you're looking for more assistive technology podcast to check out, you can check out our sister shows Accessibility Minute and ATFAQ wherever you get your podcasts, now including Spotify and Amazon music.
Josh Anderson:
I thought we'd start off today with a story from over at PRWeb and it's titled," Magical I Am Launches Indiegogo Campaign To Raise Funds For Industry Disruptive Game That Corrects Reading Issues Of Dyslexia For Less Than $200." That is one heck of a title that tells you what the whole story is about. But the story is about Magical I Am Inc. And Magical I Am Inc. are developers of a game-based app to help dyslexic children with their reading and learning challenges. So what they're doing is they're developing a 3D mobile game that essentially can help individuals with dyslexia address the key challenge of abstract words and symbols.
Josh Anderson:
So it looks like, just from a little bit I can find of the game itself, looks like a magical village that you explore and things like that and maybe don't realize the whole time that you're actually learning. And the story itself here actually talks about them launching this Indiegogo campaign to try to raise money so that they can make this very affordable for everyone. As you go down the story, it has an interview with Bill Allen who was the founder of Magical I Am. So he was actually diagnosed with dyslexia in 1963 and spent seven years in the mid-nineties as a facilitator for the Davis Dyslexia Association International in Burlingame, California.
Josh Anderson:
But he talks about how a lot of times, programs and other things that can help individuals overcome dyslexia are just too expensive. And about 99% of families who could benefit from it really can't afford that kind of intervention. So really the goal with the Indiegogo campaign is to make sure that after all the development of this game, after all the time spent making it not just fun, not just usable but also beneficial to the user, that they can actually lower the price enough so that these families who could really benefit from this for their children or even adults who've never been able to address reading or learning issues and make sure that they can get it.
Josh Anderson:
So, as we've talked on here many times about different technologies and some other things in the assistive technology space, sometimes access is almost impossible just because of cost. And that's just something that happens especially as you develop these things and really make them usable for more users. Sometimes the cost can just really knock a lot of folks out of the market. So we'll put a link to not only the story, but also to Magical I Am's website so that you can go and check these both out for yourself.
Josh Anderson:
It looks like the game's not quite ready yet, but they have tested it with quite a few folks as they're doing alpha testing with more than 1000 parents, reading challenge children and special education professionals from all 50 states in order to find out exactly what's working great, what's not working great and really, before they offer it to the public, make sure that they have it completely and totally ready. We'll put a link to both the story and their website in the show notes.
Josh Anderson:
A person's home is their castle. I think that really all of us have learned the importance of home as we were all made to stay in them for the better part of the last year. But what if your home was not accessible to meet your needs? What if an age-related mobility challenge, injury or other events suddenly made your bedroom or bathroom or other areas of the home inaccessible to you or a loved one? Well, our guests today are Julie Lineberger and RJ Adler from Wheel Pad. And they're here to tell us about their very unique solution to the challenge of accessible homes. Julie, RJ, welcome to the show.
Julie Lineberger:
Thank you.
RJ Adler:
Thanks Josh.
Josh Anderson:
I'm really excited to talk about this technology, but before we do that, could you tell our listeners a little bit about yourselves?
Julie Lineberger:
I live in Vermont. I'm a transplanted Los Angelian. My husband's from New York city and somehow Vermont became our compromise. It's beautiful, we love it and we've had our architecture practice here for 35 years. And now we're starting, over the last three years, this new business, Wheel Pad, using our architecture in ways that we had started but really making it more accessible to help keep families together.
RJ Adler:
And I'm also a transplanted Vermonter. I grew up in Connecticut. I found my way to Wheel Pad through the solar industry and the beginnings of what is now, I think, the Accessory Dwelling Unit industry. And I was lucky to find a great team with a great product that I feel good about getting up every morning and talking to folks about.
Josh Anderson:
Excellent. RJ, I definitely know what that feels like. And I do feel like that maybe the transplant from Connecticut isn't quite as big of a move as the transplant from LA, but that's okay. We don't have to get into that. That's not why we're here today. Why we're really here today is to talk about Wheel Pad. So start off by just telling us, what is Wheel Pad?
Julie Lineberger:
Well, Wheel Pad provides accessible spaces for people to work, play, and live. We have numerous models that can help people stay where they want to be, either in their own home or if they want to be with others, but not take over the whole house. Our most favorite model is the +Add PAD which is a 200 square foot accessible bedroom and bathroom that can attach to an existing home. So the person can, and we call it Wheel PAD because it was designed originally for people with spinal cord injuries and other mobility issues who are using a wheelchair.
Julie Lineberger:
So you can, through the connector, roll in to be with the family for dinner, help someone with their homework, still be part of the family completely. And through the other door, you build a ramp. So if the person needs caregivers or whatever, the caregiver can come right into the Wheel PAD, the +Add PAD and do their work and not disrupt the entire family. It gives someone with mobility issues their own little independence, their own entrance and exits, a little privacy, a little bit more dignity while maintaining inclusion in family activities. And maybe RJ, you want to talk about some of our other models?
RJ Adler:
So, from the +Add PAD which is that small, 200 square foot model, we grow bigger. We invented the first accessible Tiny House which is slightly longer and it has a kitchen in it as well. So, that can make any property universally accessible rapidly. Our units are built offsite and then can be installed very quickly by marrying that offsite building and stick-built construction onsite. So if you get in an accident and you rapidly need to find a place to live, Wheel Pad can work within that timeline. We're able to deliver all across the country because our main models, the +Add PAD that Julie was talking about and the PAD, which is that longer one with the kitchen, are eight and a half feet wide.
RJ Adler:
And that's the legal size to be bold behind a regular old pickup truck. You don't need to have a commercial driver's license in order to do it. But what that also means is that we can put it on a train and send it across the country really easily. So those are our two main models, but we've also developed both the XL PAD and the Multi PAD which are larger models for folks that are looking for either a slightly wider home attachment or a backyard accessory dwelling unit Tiny House, or the Multi PAD, which what it basically is it's three of our +Add PAD models or more that are built onto one connecting structure.
RJ Adler:
And again, that marriage between modular home building and stick-built construction gives you the speed and the budget predictability of modular manufacturing, but also the flexibility of stick-built construction. So we think it's got really big implications for affordable housing up here in Vermont. So because we're born out of an architecture firm that Julie started with Joseph who is the inventor of the Wheel PAD, we were able to grow any of our products into a greater design that works best for the person that needs it, works best for the client.
Josh Anderson:
Very nice. That sounds like you got a lot of different models and sizes. Are they pretty customizable as far as what's actually inside them?
Julie Lineberger:
We don't include furnishings because we found that every single customer we have has different needs. So we have placed all of the electrical outlets for wheelchair accessibility. We have room for whatever needs that someone wants. Some people put in drawers, other people don't want drawers. Some people put on hooks instead, some people put in television. So we have the coaxial, we have the hookups for all that, but the interior is designed to be very, very flexible.
Josh Anderson:
This is something we had to put on later, but I think of a lift system, anything like that. Can you guys actually put that in? Or is that something we would put in later just to make sure that we have those things?
Julie Lineberger:
Thanks for reminding me of that. Every single PAD has a track for a hoist lift.
Josh Anderson:
Excellent.
Julie Lineberger:
They're compatible with Hoyer lifts. With the Hoyer, you have to add a little bit to it, but they're compatible with almost all the systems that we've run across. So the functions and the kind of details with which the PAD's are designed are that there's a hoist track from the bed to the bathroom, whether you're with a caregiver or not, either way for ease of transfers. The bathroom is a complete wet room with accessibility. It is something that you can just hose everything down, the walls, the floor and it's sloped to go right out.
Julie Lineberger:
There's a sink, of course, that has accessible for wheelchairs underneath. So it's all designed to meet or actually exceed ADA standards. But as it was developed first for my godson, not the one who was RJ's [inaudible 00:13:31], but another godson who became quadriplegic shortly before his 26th birthday, we designed it to be the coolest room in the house. It does not look like a hospital room. It's got some really nice features that are still generic enough that it just brings light into the room and people can watch whatever's best view from where they put it on. And it's just supposed to be a beautiful room.
Josh Anderson:
Definitely. I can see how that's a lot easier. I do like the way that you said that you can still get to the common areas and those places that are probably accessible anyway, but then have your own space to be yourself that's fully accessible. And my next question was going to be how the idea came about, but I'm pretty sure you just told me that. So, that's great, I love it whenever you answer the questions before I can even get to them. So let's say that I do decide this is something that I need, what does the purchase process look like? Do I work with a designer or how does that all go about?
RJ Adler:
So if you were looking to get an +Add PAD attached to your house, first step is to get in touch with us here at Wheel Pad. You can sign up on our website, wheelpad.com, and then we would reach out and we'd have a conversation with you about where's the best place to put the Wheel PAD on your house. You would send us pictures of all four sides of your house and a plan of the property, a plot plan. And then we would have a conversation with you and a general contractor in your area that's worked ideally on building projects either at your house or in your town before that has a good relationship with the zoning administrators in your town.
RJ Adler:
As long as we can work out there what the simple connection is going to look like, Wheel Pad will then send the +Add PAD out to your house. And with the +Add PAD comes drawings for a simple connector to your house. And once it's delivered, as long as we're putting together something simple, it can be installed within about one to two weeks. There's definitely folks that have decided to build larger connectors. One of the projects that we just did in Burlington, the mother is a painter and she wanted some studio space. So we made the connector a little bit bigger so she had a spot for her to do her painting.
Josh Anderson:
RJ, I know you said you came from the solar industry and you guys actually have a green commitment with the things that you're doing. What are some of the features of the PAD that help you keep this promise?
Julie Lineberger:
That's interesting. As I said, our godson Riley Poor was a videographer for extreme sports people and he was doing a documentary on Simon Dumont when he had his accident. So what we found out with initially designing this for spinal cord injuries is that many, many people with such injuries have toxic sensitivities strongly. So all finishes are non-toxic as possible. And we just try to completely make things greener and greener as we go along. The wood is local and we just have a commitment for safe products. We have a commitment to being as green and as socially responsible as possible.
RJ Adler:
I don't know if you want to hear the R-value and it's all electric and it's built solar-ready, but also there's this greater re usability aspect of it, which is that if you only need this for a short period of time, it means that the world only has to create one accessible bathroom that can be used multiple times over as opposed to the entire carbon footprint of that bathroom being stamped again and again and again in different homes.
Josh Anderson:
And I don't know if this is possible, but let's say I don't need a permanent structure. It's an injury or something that eventually… Maybe I'm not going to need this forever, I just need it for a limited amount of time. Are there options for that kind of situation?
RJ Adler:
Yeah. So the Wheel PAD is not only for people who use wheels to get around but it's also built on wheels itself, and it's made for temporary or semi-permanent installation as well as permanent installation. It can remain on its trailer when it's connected to your house. So if you need to recover from an injury for eight months, a year and a half, and you're only going to need this space for that period of time, you can lease the unit for $3,000 a month. Or if you purchase the unit, you can then sell it back to Wheel Pad at the back end of it. So that's one of the conversations that we have with every client is," What is the end goal that you're trying to meet here and how can we best help you reach that?"
Josh Anderson:
Excellent. That's great that there're options in there because I know some folks, surgeries and other things, it may be a couple of years or 18 months recovery time. So being able to actually have something accessible for that amount of time would be really great. So guys, I figured this could probably serve a lot of different folks, but who's the Wheel PAD best suited to be able to help out?
RJ Adler:
Well, the thing about a universally accessible space is that it is accessible by everybody all the time. And when I talk about Wheel Pad, I say that it's for people who want to age in place in their community, recover at home after an accident or quickly add more square footage for a growing and changing family. I use that term family broadly. It could mean a friend, it doesn't have to mean a blood relation because you never know what life is going to throw at you. And we've had customers that have come to us because they want to stay in their home. We've had customers that have come to us because they want to create more space for a loved one to move in with them.
RJ Adler:
And we've had customers that have come to us because of an injury. Customers that have come to us because they're trying to create more space for their adult child who may never be able to live on their own, but they want to be able to give that child a little bit more independence. So the breadth of customers is really anybody that's looking to have more space on their property, which is why we're part of the accessory dwelling unit movement. But with that focus on universal accessibility, there's one good story of a man who was in a bad car accident. I believe it was on July 8th, and we were contacted by his partner a couple of weeks later. And I went over to visit their site on July 28th.
RJ Adler:
We had a conversation, and at the time Keith was still in the rehabilitation hospital. And we chatted with the workers' comp that was handling the case because Keith was driving for work when he had his accident and workers' comp said," It's actually less expensive for us to install a Wheel PAD and have Keith remain at home with his family than it is for Keith to remain in the rehab hospital or go to a rehab home for a certain number of months." So that's just one example of the breadth of customers. Keith ended up moving into his Wheel PAD, I think, 18 or 19 days after my initial visit.
Josh Anderson:
Nice.
RJ Adler:
So it was a rapid deployment again.
Josh Anderson:
You both touched on this a little bit, but can you tell us a story about someone whose life was made more accessible via Wheel Pad?
Julie Lineberger:
We have one that's very interesting that's fairly recent with the pandemic tying into it. So I had met a woman probably two years ago and presented the idea of an +Add PAD. And she thought that was well and good. And they had just recently built a cottage on their property for her husband's mother to live with them. So then that was going well, it was caregiving. And then two years later, I was actually visiting my daughter in Oregon.
Julie Lineberger:
And I get a call from this woman, her name's Jennifer, to say," Hey, Bob's dad, he can't live on his own anymore. We have to bring him in and we don't want to bring him to a nursing home, but we had to because we didn't know what to do and we were trying to get him in somewhere else, but we couldn't. And then I remembered about your +Add PAD. Can you get one? How soon…?" She was just all a flutter. So I was flying home the next day. We looked at her property. We talked to the zoning administrator and luckily in their area, there was no zoning issues. That day was a Wednesday. Saturday, they took their father-in-law out of the nursing home that had just had a COVID outbreak into their living room.
Julie Lineberger:
Within one week later, +Add PAD was installed on their property. So now they're caregiving, not only for… Well, the mother-in-law caregiving isn't as great, but they have their father-in-law. But they're so happy, they said, because he likes to stay up all night and watch TV. And they were a little bit worried about how would the sound insulation be, but it's no problem. He's safe. He's out of COVID harm. And they're with the family. And now Bob's mother and father who've been divorced for years come together every night for dinner with the family. And everyone is maybe a little tired and exhausted some days, but very happy that they're all together.
Josh Anderson:
That's awesome. And I didn't even think about the COVID part with the nursing homes and everything, but that's just great. And for so many folks, they want to keep those family members at home and be able to stay with them, but there just isn't space because there's still kids involved. There's just not space in the home and trying to do it in an entire house and make it accessible can be, well in some cases, impossible depending on how things are built.
Julie Lineberger:
One of the pluses of +Add PAD is it can be installed within two weeks depending on zoning permits and things like that. And if say, Bob and Jennifer were going to build an addition, that's six to nine months. All kinds of decisions when you're already dealing with someone who has some medical issues and medical appointments and things like that. So our rapid deployment has come to help quite a few people.
Julie Lineberger:
We have clients from worker comp injuries. We had a man who wanted to live at home but had ALS and he knew he was going to be dying in the next few years, but he said until then he wanted to sleep next to his wife. And it was for that man that we developed the XL which cannot come on wheels. It comes on a flatbed and is trained in, but it fits a queen size bed. Whereas our +Add PAD fits either a hospital bed or a double bed.
Josh Anderson:
Nice. RJ, Julie, if our listeners want to find out more about Wheel Pad, what's the best way for them to do that?
RJ Adler:
Check out wheelpad.com or send me an email at rj@wheelpad.com.
Julie Lineberger:
And if you'd like to hear a little bit more about the origin story which is actually quite amazing, it's a TEDx called Wheel Pad: Keeping Families Together. And if you google that, you'll be able to find it.
Josh Anderson:
Excellent. We will put links to all that over in the show notes so that folks can easily find that. Well, Julie, RJ, thank you so much for coming on today so that we could learn more about Wheel Pad, which is just great accommodation for individuals, especially as we all look to try to stay in the home a whole lot longer.
RJ Adler:
Thanks so much for putting the podcast together. This is great.
Julie Lineberger:
Thank you, Joshua. Sometimes it's nice to string the stories together in different ways.
Josh Anderson:
It really is. It really is. Thanks again.
Josh Anderson:
Do you have a question about assistive technology? Do you have a suggestion for someone we should interview on Assistive Technology Update? If you do call our listener line at (317) 721-7124. Shoot us a note on Twitter @INDATAproject, or check us out on Facebook. Are you looking for a transcript or show notes? Head on over to our website at www.eastersealstech.com.
Josh Anderson:
Assistive Technology Update is a proud member of the Accessibility Channel. For more shows like this, plus so much more, head over to accessibilitychannel.com. The views expressed by our guests are not necessarily that of this host or the INDATA Project. This has been your Assistive Technology Update. I'm Josh Anderson with the INDATA Project at Easterseals Crossroads in Indianapolis, Indiana. Thank you so much for listening, and we will see you next time.