Podcast: Play in new window | Download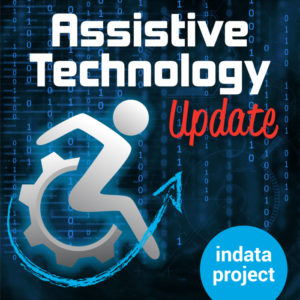 Your weekly dose of information that keeps you up to date on the latest developments in the field of technology designed to assist people with disabilities and special needs.
Special Guest: Brian Kyler President and CEO of Be Adaptive Equipment LLC
Phone: 260-244-7031
———– Transcript Starts Here ————
Brian Kyler:
Hi, this is Brian Kyler. I'm the owner of Be Adaptive Equipment, and this is your Assistive Technology Update.
Josh Anderson:
Hello and welcome to your Assistive Technology Update a weekly dose of information that keeps you up to date on the latest developments in the field of technology designed to assist individuals with disabilities and special needs. I'm your host, Josh Anderson with the INDATA Project at Easter Seals Crossroads in beautiful Indianapolis, Indiana. Welcome to episode 519 of Assistive Technology Update. It's scheduled to be released on May 7th, 2021. On today's show we're excited to have Brian Kyler, president and CEO of Be Adaptive Equipment, LLC, on to talk about some of the adaptations that they've created to help individuals with disabilities participate in hunting, fishing, and other activities.
Josh Anderson:
We have a story about some things Microsoft is doing to make things more accessible for all, and a story out of Australia about an accessible home and all the different adaptations built into it to help individuals with disabilities be more independent. Don't forget. We always love to hear from you, be it a question, a comment, or perhaps someone we should have on the show. Don't hesitate to get those to us. You can give us a call on our listener line at (317) 721-7124. Drop us a line on Twitter @INDATAproject, or send us an email at tech@eastersealscrossroads.org. We can't wait to hear from you. Thank you so much for listening today, and let's go ahead and get on with the show.
Josh Anderson:
You find yourself with a little bit more time on your hands. Maybe you're really busy and only have a little bit of time to listen to podcasts? Or maybe listening to this has you thinking, "What about this? What about that?" Well, if you're short on time, or if you have questions about assistive technology, we have other podcasts that might just fit your needs. The first one is Accessibility Minute. This one minute long podcast gives you a little taste of assistive technology and really wets your whistle to have you go out and find out more about a piece of technology and how it might help those you work with, yourself, or maybe a friend or family member.
Josh Anderson:
If you happen to have questions about assistive technology, we have Assistive Technology Frequently Asked Questions, or ATFAQ. The show is hosted by Brian Norton and features yours truly, along with Belva Smith and Tracy Castillo, as we all talk about assistive technology with questions that come in from email, phone calls, and other means. We also don't always know the answer, so it's very important that we have listeners that can help us out with some of those questions, because while we like to think every once in a while that we may know everything, we're proven wrong almost daily on that one. So if you're looking for more podcasts to listen to, if you're short on time and need a really quick podcast, or if you have questions about assistive technology, make sure to check out Accessibility Minute and Assistive Technology Frequently Asked Questions wherever you get your podcasts.
Josh Anderson:
Listeners, our first story today comes from Microsoft's Official Microsoft Blog, and it's titled Doubling Down on Accessibility: Microsoft's Next Steps to Expand Accessibility in Technology, the Workforce and the Workplace. It's written by Brad Smith. And it starts off with just some demographic information about how many people live with a disability, how many folks can have a disability at different times. It talks about the employment and education rates and higher poverty rates for individuals with disability. So a lot of stuff that listeners to this show probably know in some way, shape, or form. But it talks about some of the moves that Microsoft has of course made in the past in order to make things a little bit more accessible for all the way back to sticky keys, which, I mean, I still use with quite a few folks. That was made back in the 90s. And then seeing AI, the Xbox Adaptive Controller, and other things that they've done over the last few years to really help make things more accessible.
Josh Anderson:
But it goes down and talks about some steps that they're making now, and I was really impressed by some of the things that they're doing with technology. One of the biggest things that they're doing with their technology is trying to do accessible by design. So just making things fully accessible out of the box. A couple of the things that it does have marked here that it mentions is a new background accessibility checker, which provides a prompt to fixed accessibility issues and content across all Office apps and Outlook. AI in Microsoft Word will detect and convert to heading styles crucial for blind and low vision readers. Because I know especially for those of us who maybe don't work anywhere in the accessibility world, you don't realize how important those headers and things are. Yeah, they might make your paper look a little bit better, but they really make it a whole lot more accessible for individuals who might be using a screen reader.
Josh Anderson:
There's a new XL navigation pane designed for screen reader users that'll help people easily discover and navigate objects in a spreadsheet. They're expanding Immersive Reader, which has been in some of their programs, but they're actually doing it to help folks comprehend PowerPoint slides and notes. In Teams, they have a high contrast mode which can be used to access shared content using PowerPoint Live, which will reduce eye strain and accommodate light sensitivity with dark mode in Word. It also says new LinkedIn features that include auto captioning for LinkedIn Live broadcasts, captions for enterprise content, and dark mode coming later this year. It says something else they're doing is empowering software developers by embedding accessibility tools, prompts, and AI driven automation so that accessibility is included at the start.
Josh Anderson:
So if you really think a lot of folks probably maybe don't build accessibility in because they don't know about it, or even if they do, they may not actually know how to do it. So building some of this stuff in and embedding it can really help. For one thing, it can give you that little nudge, so say, "Hey, are you really making this accessible?" But then also to be able to give you ways to make it accessible can really, I don't know, make it to where folks just think about it more and build it in there from the start. It goes into some other things they're doing, including research and data, but also increasing access and affordability. So as we all know, assistive technology can get expensive. So it says here that Microsoft is creating a new low cost assistive technology fund as part of the AI for Accessibility program. And this is made to spark innovation aimed at driving down the cost of assistive digital technology and increasing access to it.
Josh Anderson:
Also says in the US they'll be working with internet providers, city governments, and community organizations to offer affordable broadband, hardware, software, and digital skills resources to individuals with disabilities. So I know that can make a huge difference. I mean, especially if we look at the pandemic and how many folks didn't have broadband access, weren't able to do some things. This could really make a huge change. And it also says that the Microsoft stores are going to announce ASL video call capability to enable deaf consumers to explore Microsoft products with a member of their deaf support staff. They're also making investments in the workforce. So one thing that they are trying to do is make a concerted effort to ensure that people with disabilities have the same access as everyone to education and job opportunities.
Josh Anderson:
They're doing this by a couple of different things. They're doing some work in LinkedIn with LinkedIn Learning, an accessible university initiative, and other pieces and parts. So this is actually a pretty long blog post that talks about the workplace, connecting skilled workers with jobs. I don't want to just read the whole darn thing to you, although I probably could. So it's a very good that Microsoft is actually taking all of these different steps. They're not just picking one thing, running with it, and hoping that that helps to solve a problem. They're actually attacking this from all angles. So we'll put a link to this blog post over in our show notes that you can go and check it out yourself, but very cool that Microsoft continues to make accessibility front of mind and are really doubling down their efforts to ensure that all folks have access regardless of their abilities.
Josh Anderson:
So our next story comes to us from healthcareglobal.com, and this is a story that we've, I guess, had before, but this is a little bit of a different take on it. So we've had a lot of stories about smart homes and accessible homes and different ways that these are being made. But I found this one interesting. It's written by Leila Hawkins. It's titled ABB's Automation Delivers First of its Kind Disability Home. It talks about a multinational firm specializing in robotics and automation called ABB Group, and they provided some technology to a home for individuals with disabilities in Australia. So basically the idea behind this whole home is enabling the residents of it to live completely independently thanks to its automation technology. So there's a lot of different kinds of things built into these home. It says there are currently two dwellings, each with six bedrooms, the homes are fully compliant with NDIS design requirements, and that is Australia's National Disability Insurance Scheme, which includes oversized doors, oversized corridors, open plan spaces, and all these other things to allow for mobility devices such as wheelchairs.
Josh Anderson:
They also have customizable fittings such as supports in ceilings to accommodate hoists and adjustable kitchen benches, sinks, and basins for wheelchair usage. Then as far as automation, there's electric doors, lights, blinds, heating and cooling in each room. So you basically use this automation to adjust the height of benches, raise the blinds, switch on the lights, change the TV, do all these different things. All this stuff is controllable via an app, can be voice activated through Siri, or just put on a resident's device. Some of the things I really liked about this that we don't always think about… We've talked about the smart home things and being able to turn on the lights and all that, but with this, all the doors are actually automated. So you can open the doors independently.
Josh Anderson:
Also almost all the bench tops, or what they call bench tops, what here in the States we'd probably call countertops in the kitchen and laundry are completely accessible, so they can move from a sitting position to a standing position so that no matter whether I'm in a wheelchair or not, I can still access everything completely independently. They also have an accessible garden, which it says a 600 millimeters high, making gardening from a wheelchair completely possible. So not getting down and digging in the dirt, but actually having these raised up. So the individuals that live there can participate in gardening and in other things as well.
Josh Anderson:
So I put a link to this quick little story over in our show notes. I find it very interesting and really great the way that a lot of this technology is being built into homes, and individuals can really live very independently these days without the need for as much assistance. If you think, "If I can cook my own meals, do my own laundry, even go ahead and do gardening and things on my own, or just open the doors and do some other stuff," it really cuts down on the need for staff and just really gives us all that feeling of independence that we all love and all really want to have. So again, I'll put a link to the story over in the show notes, so you can go and check it out for yourself.
Josh Anderson:
So listeners, we talk on this show a lot about AT that can help folks with work, at home, and at school, but we don't devote nearly enough time to AT that can help with leisure activities and hobbies. Well, today is different, as we're lucky enough to have Brian Kyler, president and CEO of Be Adaptive Equipment, LLC, on to talk about some of the great adaptations that they've created to help visuals of all abilities participate in hunting and other field sports. Brian, welcome to the show.
Brian Kyler:
Hi, how you doing?
Josh Anderson:
I am doing great and I can't wait to learn a little bit more about just some of the really cool things that y'all have made. But before we get into that, could you tell our listeners a little bit about yourself and your background?
Brian Kyler:
Well, my name is Brian Kyler. I am 51 years old. I grew up basically as a… My family background was fabrication. My dad was a fabricator. My grandpa were both welders and fabricators, and I actually went straight from high school into employment in an automation company, and we built inventory feeder bulls, which are parts orientation devices for a special machines. So they feed and orient artists into assembly machines. All stainless steel fabrication. And I met a gentleman named Eric Derek, who was a C3-4 complete quad and fixed some stuff on his chair afterwards, just became friends with him, and built a gun mount for him to use. That was back in 2001, where everything started from.
Josh Anderson:
Well excellent. And that leads me to my next question. What is Be Adaptive Equipment, LLC?
Brian Kyler:
We are primarily a manufacturer of… We do a lot of shooting equipment. We do do some fishing. We basically do anything to support anybody's pastime, hobbies that really aren't covered by anyone else. We manufacture primarily shooting and fishing and anything to do with outdoor activities.
Josh Anderson:
Very cool. And can you elaborate on that a little bit? What do some of those accommodations look like?
Brian Kyler:
Well, all the equipments that we ever build, we try to make sure that we don't have to modify anybody else's equipment as far as wheelchairs or guns, crossbows, compound bows, any of that kind of stuff. None of the guns or the bows or anything get modified themselves. The equipment is built around the normal piece so that nothing has to be modified. So we build a limited mobility mount for what we consider C5-6 individuals that basically makes the gun or crossbow weightless. It compensates the weight of the weapon itself. And we do a high quad mount for complete quads that you put the gun into, you use a chin operated or hand operated joystick, whichever they prefer to move the gun or crossbow left right up down, and then a sip-and-puff fire, so they sip on a tube that fires an actuator that fires the gun.
Josh Anderson:
You kind of talked that you do have those, if someone needed a specific a custom accommodation, are you able to do that as well?
Brian Kyler:
Sure. Most of the time we have, like I had mentioned, those two pieces of equipment. We have other equipment also, but we usually are able to accommodate about any situation with one of those pieces of equipment and just doing slight modifications to that to accommodate for a specific individual's ability.
Josh Anderson:
Very cool. And you talked about how you got into this and when. When did that light go off? As you helped one individual, when did you decide to turn this into a whole business?
Brian Kyler:
I guess it was the American way, where a lot of things don't really start out to be a business. I never looked and said, "Well, I'm going to turn this into a business." It was more, I just became friends with Eric and it was a science fair project type thing. It was something he was interested in. It was something that I was interested in because I was never around somebody in his situation. And neither one of us really went looking for the other to try to do something like this. He just had a problem with his chair. I fixed a piece on the chair, which I had no idea what I was doing there. I was just welding and fabricating. So I fixed what was wrong with it.
Brian Kyler:
And then after being around him a little bit, the first thing I actually had made for him before I made the gun mount was I had made a trade to hold his remote control for the TV. He had a button open the door, back door of his house, and a cordless telephone. And he was trying to hold all… And his mouth stick, I guess. He was trying to hold all this stuff just hot gluing it fast to things and all kinds of stuff. So I made a tray to go on his chair, a mouth stick holder to go on his chair, and Velcroed everything fast to it so that he had accessibility, he be able to get in and out of the house, because he was there a couple of hours a day by himself. So that was what really started out. So then it started to get a little more in tune to his life and the things that he was struggling with, so it was just fun for me to try to solve the problems that were plugging him every day.
Josh Anderson:
Sure. And then it just grew from there as you realized, "Hey, I can help this one individual. I bet there's other folks out there that could use these kinds of accommodations."
Brian Kyler:
Yeah, absolutely. When we started playing around with building the gun mount and I would bring him home with me after work and he'd come over on weekends and we just did this in the garage in my house. So then once we actually got that worked out and he was happy with it, then I decided, "Well, there's probably other people out there that we could try to help." And again, it hadn't really dawned on me that it was going to be a business eventually. So we started doing some… Building some of that stuff up a little bit and trying to contact some people and went through some groups that he had dealt with, like Buckmasters and some of the hunting groups in the country, and that's basically how it all started. We started providing equipment to people and then we essentially just built more and more equipment by trying to address things that other people needed as we met people.
Josh Anderson:
Sure. As you see their specific needs, then you find out other folks have those same kind of needs and want to be part of the hunting community as well. An, I'm sure that you probably met some folks that had made their own little accommodations that you could definitely improve upon.
Brian Kyler:
Oh, absolutely. We deal with a lot of people all the time that have their own devices that they're very happy with, but a lot of times they get stuck on the firing mechanism, the actual sip-and-puff trigger mechanism, or we make a rubber… We also make what we call a bite trigger, which is a table activated device that has a mouthpiece that you actually bite and then transfers that movement to the trigger guard and moves and pulls the trigger by via a cable. So a lot of people struggle with some of the finer stuff like that, but they may be happy with a mount that somebody in their family or them have put together, but they need something to help fire it. So we provide a lot of trigger mechanisms and bite triggers to people who have setups that they're very happy with already.
Josh Anderson:
Oh, sure, sure. And I've got to go back to something here, Brian, just because in my head, I guess, I can picture the switch and everything to be able to pull a trigger or even move the gun and everything, but the compound bow, I've got to admit, just because of the way… I've shot one before and everything that goes into it. What kind of accommodations do you have for the compound bow?
Brian Kyler:
Well, our device actually works in tandem with another product. Everybody that uses our compound bow mount for the most part uses a Draw-Loc, And what it does is it actually holds that compound bow at full draw, and then our mount mounts to the front of the compound bow, it holds it by the handle part where your hand would go, and it also utilizes the threaded stabilizer hole on the front of the bow to [inaudible 00:20:08] very well, and then it allows it to be… It pivots at that point, so up and down and left and right. And then that Draw-Loc actually has a release, a hand release, like you would have on… Like you pull on your hand and it has a little trigger. And then people are able to either move it by hand or by mouth and then bump that release to fire it.
Josh Anderson:
That makes sense. For some reason I could not wrap my head around how in the world that could possibly work, but now I know, and I can tell everybody else. So that's absolutely great. Well, Brian, you told me a little bit about Eric, but I'm sure you've got just tons of great stories. Could you tell me a couple of stories maybe about folks that you've been able to help? Maybe some that were a little bit challenging or something you hadn't done before and then how that made a difference in their life and letting them participate?
Brian Kyler:
Oh boy, it's really hard to pick out things. [inaudible 00:21:04] time creeps up on you. I was talking to my wife the other day about this, that next year will actually be 20 years that we've been manufacturing this handicap equipment. It's just amazing that all the people that we've met in the last 19 years that we've been doing this. It was just everything that you could ever imagine. The people that are… You end up with terminally ill people, and [inaudible 00:21:32] especially, it's heartbreaking. And then there's also people that it's a lot more therapeutic, I guess, than what most people realize as far as just being able to… It's not all about hunting and killing and this stuff. A lot of our customers just want to be able to go sit in the backyard and either shoot tin cans, basically. They want to shoot targets and they sit there and they can actually participate in the outing.
Brian Kyler:
And sometimes everybody else can't as good as they can shoot. So everybody else is trying to shoot as good as the guy or the lady that's in the wheelchair just tearing everybody else up. It's been a lot of fun over the years. We've had people come to the shop and we don't always sell the equipment to everybody that we talked to. There are times that we have people that contact us, and we had a young lady a few years ago that her and her dad used to go out and shoot together a lot. And her dad has ALS, which is a miserable disease. He's trapped in a body that just doesn't function. But he's there, so she wanted to be able to shoot with him and wanted him to be able to shoot, and they didn't want to buy a piece of equipment. He didn't feel that he was going to be around long enough to do it.
Brian Kyler:
So they wanted to know if there was somewhere that they could go and actually use the equipment. I said we have some places we could get them in contact with, but I said, "You're always welcome to come to the shop." So they came to the shop and we just shut everything down and we just spent the afternoon, got all the guns we can get out, and we just played around and shot a bunch of stuff. So it's a lot of things like that. Those are the things that I really will remember for the rest of my life. It was just being able to hang out with some people that we feel like we made a difference in their life and they made a difference in ours just getting to spend the afternoon with them and enjoy what they wanted to.
Josh Anderson:
It's amazing how much… Like you said, you get to make a difference in their life, but how much it affects you too, and can really make that huge difference in your life also. Brian, if our listeners want to find out more about Be Adaptive Equipment, LLC, about you, and about the things that you offer, what's the best way for them to do that?
Brian Kyler:
Just get on the website. beadaptive.com. It's a little confusing, sometimes people don't put it in right. It's B-E Adaptive. So the word "be" Adaptive, dot com.
Josh Anderson:
Excellent. And we'll put a link to that over in the show notes as well. Well, Brian, thank you so much for coming on today. This is something that we've never really been able to talk about on the show before and just another great piece of equipment that can just break down some of those barriers and allow individuals with all different abilities to participate in a pastime that's such a joy for so many individuals. So thank you so much for coming on.
Brian Kyler:
Sure. Well, I appreciate it. If anybody goes to the website and sometimes they don't 100% understand what we can do with the equipment, just give us a call. I talk to people daily and walk them through what we have available. We have the hunting and shooting equipment, like we were talking about. We have some fishing equipment. We've done specialized things in the past where we've made things for a drummer, actually. Sorry, I was trying to figure out to say. The gentleman was up here and we actually did a sip-and-pump actuated for his bass drum. [inaudible 00:25:21] his drum by him sipping on a tube. We've done some photography things. We've made some mounts for holding some cameras. I always thought that I would probably… Anybody who uses a mouth stick, we built a tray and a mouth stick holder for Eric so that he could always get ahold of his mouth stick, and they're just little things like that that we don't really have on the website that if people contact us and they're in need of something, we can always work with them.
Josh Anderson:
Excellent. Brian, do you want to give that phone number? I can put it down in the show notes as well.
Brian Kyler:
Yeah. It's area code (260) 244-7031.
Josh Anderson:
Excellent. We'll put that in the show notes as well just so folks can reach out and find out if there's different things that you might be able to make to help them. So Brian, thank you again so much for coming on and telling us all about every thing and the great things that you guys do.
Brian Kyler:
Well, thank you.
Josh Anderson:
Do you have a question about assistive technology? Do you have a suggestion for someone we should interview on Assistive Technology Update? If you do, call our listener line at (317) 721-7124. Shoot us a note on Twitter @INDATAproject, or check us out on Facebook. Are you looking for a transcript or show notes? Head on over to our website at www.eastersealstech.com. Assistive Technology Update is a proud member of the Accessibility Channel. For more shows like this plus so much more, head over to accessibilitychannel.com. The views expressed by our guests are not necessarily that of this host or the INDATA Project. This has been your Assistive Technology Update. I'm Josh Anderson with the INDATA Project at Easter Seals Crossroads in Indianapolis, Indiana. Thank you so much for listening and we'll see you next time.