Podcast: Play in new window | Download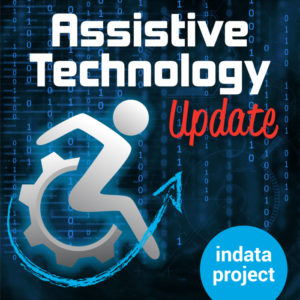 Your weekly dose of information that keeps you up to date on the latest developments in the field of technology designed to assist people with disabilities and special needs.
Special Guest: Nikol Prieto – Community Outreach Coordinator with the INDATA Project
INDATA Project: www.eastersealstech.com
Find your local AT Act: www.eastersealstech.com/states
Full Day Trainings: www.eastersealstech.com/fulldaytrainings
INDATA and AT Staff: www.eastersealstech.com/staff-directory
Inclusive Workforce Story: https://bit.ly/3kI2DY7
Captions and Transcripts brought to you by:
INTRAC – www.relayindiana.com
——————————
If you have an AT question, leave us a voice mail at: 317-721-7124 or email tech@eastersealscrossroads.org
Check out our web site: http://www.eastersealstech.com
Follow us on Twitter: @INDATAproject
Like us on Facebook: www.Facebook.com/INDATA
————- Transcript Starts Here ————–
Nikol Prieto:
Hi, this is Nikol Prieto and I'm the community outreach coordinator of the INDATA Project at Easter Seals Crossroads. And this is your Assistive Technology update.
Josh Anderson:
Hello, and welcome to your Assistive Technology update, a weekly dose of information that keeps you up-to-date on the latest developments in the field of technology designed to assist individuals with disabilities and special needs. I'm your host, Josh Anderson with the INDATA Project at Easter Seals Crossroads in beautiful Indianapolis Indiana. Welcome to episode 503rd. On today's show, we're very excited to have Nikol Prieto, our own community outreach coordinator for the INDATA Project on to talk about the AT Act, the INDATA Project, and some of the amazing things that it can offer besides of course, this wonderful podcast. We also have a news story about the importance of hiring individuals with disabilities and how new and emerging technologies can make that easier for businesses. We want to thank you so much for listening to us today, and let's go ahead and get on with the show.
Josh Anderson:
Now our next story comes to us from Forbes and it's titled, Creating a More Accessible and Inclusive Workplace for People with Disabilities. It's written by Debra Ruh, and you may wonder, "Josh, why are you putting this story in here?" We all know that, creating an accessible and inclusive workplace for people with disabilities is a great idea. Well, I put it in here, because I'm seeing more and more of these kinds of stories. Used to be more of kind of the fluff piece, the piece that they put in there to make people feel good, maybe to say, "Hey, this is an important thing that you should probably do," but that was it. And then you'd see that story come up maybe every year, but I'm starting to see it more and more and more come up in here. And I think it's something that we're going to see probably even more as places really have difficulty with staffing these days as these jobs start to come back, especially here in America and all around the world that may or may not have went away during the pandemic.
Josh Anderson:
People are a little more picky about the jobs that they choose. So, employers having to find all kinds of new ways, new incentives, new pay structures, new other things to actually attract employees to these jobs. And one giant untapped market is individuals with disabilities. For so long, they've been a little bit more overlooked. And I see this in assistive technology. I see this when I used to work in employment, there's always kind of the question of, "Well, you have a disability, how can you do this job?" Is something that's usually pretty well-answered by the individual when they actually get the job, but there's always, you have to get to that point and get the job. So the fact that we're starting to see this come up a lot more in news stories, a lot more on the news, a lot more in the media is a good sign, because it is putting that thought in the minds of a hiring managers who may have been a little hesitant in the past. We always hope that folks aren't, but hey, we know that sometimes those bias and prejudice do live there.
Josh Anderson:
And let's just hope that maybe this is helping them get away. This does not get into specific technology or anythings like that, but it does talk about some things that folks on the show have talked about recently, such as rapid developments in AT devices and emerging technologies such as AI, the internet of things, virtual reality, augmented reality, and other stuff that we may think of as consumer goods, but have amazing assistive technology uses. It's got a quote in the story that actually says, "By 2023, the number of people with disabilities employed will triple due to AI and other emerging technologies, reducing barriers to access of the workplace." Then it also gets into something that, I think we've all been talking about is that so many different places have decided that, "Hey, this working from home thing, isn't that bad." For so many individuals with disabilities, transportation can be a major barrier, especially if you don't live in a major metropolitan area. If you are out in a rural area, there may or may not even be an option for transportation to get you to work.
Josh Anderson:
If you're able to just work from home and already be there, well, a lot of your accommodations are already there. Plus just being able to work from home is a huge accommodation, so that home-based work really opens up the door and could really help with that three times as many employees with disabilities. They're always going to be a whole lot of challenges. And it's very hard. We've talked on this show and I think it even comes up in the interview about folks with disabilities don't always know what is available to them as far as technology, to help them live more independently, work, go to school, do all these other things, businesses fall into that same thing. They don't always know what technology there is out there to help the individual be successful in the job. So, that's a really important thing. And today on the show, we're actually going to talk about the AT Act, INDATA here in Indiana. But if you are in the United States and you are looking to maybe hire more individuals with disabilities, it's very important. Reach out to your local AT Act.
Josh Anderson:
They probably have some tools and that you can use to help you be a more inclusive workplace. If nothing else, they can go over some of the different assistive technology that's available to really get your mind to moving and really make you think about some things that can be put in place in order to allow individuals with disabilities to be successful in your company. Pretty much everyone I talked to is having just a horrible time, trying to find new team members, new employees, new people to fill jobs. And if you can have a very inclusive workforce, that's very accessible to individuals of all abilities, well, your applicant pool just doubled, triple, just really jumped up. It also talks about in the story about just creating an inclusive culture, which I think is very important for any organization, any business, just to ensure that you're inclusive to not just individuals with disabilities, but individuals from all different backgrounds.
Josh Anderson:
And I really do feel like especially, here in the States and different things that have went on the last a year, I feel like that inclusive culture is something that we're getting closer and closer to, because it's actually on people's radars. But you do have to remember as you try to make your business, as you try to make your organization more inclusive, don't forget about making it inclusive for individuals with disabilities as well. We'll put a link to this story from Forbes over in the show notes. But as I said, keep an eye out, because I keep seeing more and more of these coming out, which when that gets to front of mind for businesses, it can mean great things for individuals who use assistive technologies and for individuals with disabilities.
Josh Anderson:
Our guest today has been on the show many times and is working behind the scenes on every show, helping me schedule our great guest. She'd been on our holiday gift giving guide since it started, or at least as long as I've been here, is also the community outreach coordinator for the INDATA Project. I thought that it was important to have her on the show to talk about INDATA, since I mentioned it in the opening of every single show, but don't really take time to dig into what it is, why it's there or how it can help individuals with disabilities in need of technology. It's my pleasure to welcome Nikol Prieto back to the show. Nikol, welcome back.
Nikol Prieto:
Well thank you for having me. I'm glad to be back. It's not a holiday show, but I kind of love this podcast and I do do all the scheduling and I've been there since the inception, when we had another host and you've just taken over and done a wonderful job. So I'm glad to be here.
Josh Anderson:
Well, let's just go ahead and end the episode right there, because that was some great compliments. I'll definitely take that. Well, no, and I figured it's even better to have you on when you don't have to take away from your holiday or your Halloween enjoyment to talk about Christmas.
Nikol Prieto:
Oh, it's too soon.
Josh Anderson:
So it really is, it really is. Well, Nikol, start off by telling us just a little bit about yourself and your background.
Nikol Prieto:
Yeah, I am the community outreach coordinator for the INDATA Project at Easter Seals Crossroads. And I have been there since 2010, and I actually worked for Crossroads years ago. We have a thing called the boomerang-er here, where we've had so many people who have left Crossroads and come back. So I worked there from '98 to gosh, 2013.
Josh Anderson:
Oh, wow.
Nikol Prieto:
I'm sorry. It would have been 2003. And I worked in employment division. I worked in the augmentative communication division. And so, I worked closely in [inaudible 00:08:34] assistive technology. And when I was back out in the job market, I had stayed in touch with folks at Crossroads and I was thrilled to move over to the assistive technology department and come back to Easter Seals Crossroads.
Josh Anderson:
Well, like you said, we do have a lot of folks that we call boomerang-ers who left for greener pastures and realized that it was greener here. So I think that's always a good mark of our organization that so many people leave for something better and come back. I think that's hopefully just none of the folks on our team leave, so we don't have to hope they come back. Well Nikol, the reason we had you on here was to talk kind of about the AT Act and INDATA. So let's just start with the basics. What is the AT Act and INDATA?
Nikol Prieto:
Sure. So the Assistive Technology Act is a grant program that was started by federal government and it's administered through the administration for community living and is to provide federal funds to support state programs that provide assistive technology services to individuals with disabilities. So there are 56 of these projects in the United States and U.S. Territories. And we are the one for the state of Indiana.
Josh Anderson:
Perfect, perfect. And some of the goals of the AT Act to get the word out about AT and to get AT in people's hands. Now let's start off, because you run the AFP program for us. So what is the AFP program?
Nikol Prieto:
Sure. So the AFP program is a low interest bank loan program that people can use to buy assistive technology. Unfortunately, a lot of times we find that these different devices and services are not covered under insurance. So this program is there to help people finance any kind of assistive technology. It could be hearing aids, it could be adapted behaviorals could be home modification. So it's a low-interest extended term bank loan program. The minimum you can borrow is 500 and the maximum was 35,000. And that interest rate's usually around the 3% mark for that program.
Josh Anderson:
Oh, nice. That's a lot better than just trying to go to a bank and get a personal loan, which may or may not even be possible for the kind of devices we're talking about.
Nikol Prieto:
Absolutely.
Josh Anderson:
And you also do all of our community outreach. So talk a little bit about what that is and really just maybe how the pandemic has changed that for you.
Nikol Prieto:
Absolutely. So that's part of getting the word out. We do a lot of things. We do the podcast, which we're doing now. A weekly podcast. We do tech tip videos where we record someone showing a new piece of equipment, kind of the basic, how to use that equipment. And we do a two to five-minute video that posts every Monday and we have a YouTube channel that now has hundreds and hundreds of assistive technology, tech tips. We also do full day trainings. Those are done. We do about four to five of those each year and they're on varied topics, but they're grateful, they're trainings that we provide free. We used to do those in-person and I hope to get back to that next year. But obviously during the pandemic, we had to switch gears and started providing that online. We always streamed our events when we had them live in person at Easter Seals Crossroad, we would also stream them. So we kind of are, we're already used to using the Zoom technology to do that, but we've moved that completely there to keep everybody safe during the pandemic.
Josh Anderson:
Yeah, I really got to admit, I think the online kind of way I know all of us, we're a little scared of it at first, because having that person to person interaction, but it really has seemed great and turned out really well. I know our attendance has been up a little bit or at least kind of stayed steady. And I know for some folks it's so much easier to do online, not having to travel, not having to actually get down here, but man, do I miss the free lunch.
Nikol Prieto:
Absolutely. We do feed them well and then networking opportunities and just every piece of it. But we were just thrilled that we were able to provide this for our folks. A lot of people just shut down and we continued to provide our services throughout the pandemic. Although, it looked a little different, we do do a camp each year for kiddos who have a Muse Communication devices called Gadget Camp. And the last two camps we've that we typically do, in-person on the University of Butler. Then we have had been able to do that via Zoom as well. So even though kiddos, aren't having that camp experience, it's still kind of a break in their day after being kind of locked in the house for a year and a half or so.
Josh Anderson:
Yeah. And that's something I know of all the things that I miss. I mean, a, I finally got to the point where I don't know if I can present when people aren't there any longer, just sitting in a room, talking to yourself as, "Well, I do that in the podcast." So, it's even harder to do it there, but Gadget Camp is a great thing that, that Nikol really helps put on and makes great videos for us every year. And it's just, it's so much fun, especially, because those kids don't get the kind of opportunity to go fishing to have water balloon fights and to see, oh, animals, magicians, the balloon folks, everything else. But you do a great job putting that together and finding lots of fun stuff for us to do every day. And I miss it, because I look forward to it every summer too. It's like camp for me.
Nikol Prieto:
Absolutely, it's the best week of the year. And fortunately, like I said, we've been used to using the Zoom technology. So helping people kind of navigate that has been some of our services as well, writing blogs about accessibility of Zoom and that's really, our whole goal is just to educate people throughout the state of Indiana about what's out there as far as assistive technology that can increase their independence. And that's all about us getting the word out through our, we do blogs Tuesday, Wednesday, and Thursday. So on Monday we have our tech tip videos that go to our blog, Tuesday, Wednesday, Thursday, we're writing blogs and then of course, on Friday, you have your podcasts. So it's all about keeping current on assistive technology and spreading the word about it.
Josh Anderson:
Yep. And that's an almost impossible thing to do. Brian and I had someone reach out and ask about assistive technology training, who said they wanted to know everything about assistive technology, which scared me to death. And I told them that was impossible, because there's no such thing.
Nikol Prieto:
[inaudible 00:14:26] everyday.
Josh Anderson:
It really is. It really is. Well, you kind of mentioned those full day trainings. Now we have one coming up in a few weeks. Can you tell us what's the topic and how people can actually register for that training?
Nikol Prieto:
Absolutely. So we have two more for the grant year. Our grant year ends in September. The one coming up on August 12th is Remote Supports for Independent Living. So that's on August 12th from 9:00 AM to 2:00 PM and that's going to be focused supporting people with disabilities who live in residential settings, or working to live independently and how that technology can play an important role in those settings. That registration is already up. You can go to our website, which is eastersealstech.com and go to under the full day trainings and there will be a link of more information and to register for that event. I will note that we also give continuing education units for that to the AAC Institute. So that's something that has also changed because of the pandemic. We were not able to do that online. We could only provide those in-person. Well, with the changes with the pandemic, we've been able to offer those now for online attendance.
Josh Anderson:
Which has been great and hopefully folks do so come in person. But I know that's always kind of been a big question that you've had to deal with for folks who couldn't make it here or maybe even were out of state and wanting to attend these things. But being able to get to see you as remotely has been great, especially for folks. We'll, we have to keep the ATP and other certifications.
Nikol Prieto:
Absolutely.
Josh Anderson:
I know that took some footwork on your part. So we're very excited about that. And I believe there's also another training coming up later on at the beginning of November, is that correct?
Nikol Prieto:
Correct. So on November 4th, there's the Assistive Technology for Social Isolation, which is of huge importance. Now there's a lot of folks who've been isolated during the pandemic and we're going to talk about all the different types of systems technology to keep them connected with their family members or their doctors, what have you. And again, that's November 4th, the registrations go up at least a month before the event. And you can always find that again on our website, the eastersealstech.com under full day trainings. I will also mention that we do record those trainings and we keep them on our archives. So your listeners can go back and look at years and years of past trainings. A good one to start with is a AT101, but they're all archived in on there for viewing after the fact.
Josh Anderson:
Excellent. And we'll make sure to put a link in the show notes, so folks can get over there very easily. We're looking forward to that training, because we know social isolation is something that has always been out there has always affected different portions of the community. But I believe that after this last year we've had everyone knows what social isolation is, because everyone got a little taste of it, at least some point. So I think that'll make it, it should be a good training. And hopefully, just in case anything like this ever does happen again, it'll give folks some tools to be able to, to kind of help those they love as well as themselves.
Nikol Prieto:
Absolutely.
Josh Anderson:
Well, Nikol, we really talked a lot about getting the word out. Now, the other part that INDATA does and all the AT Act is kind of getting that technology in folks' hands, letting them actually be able to kind of try it out and those kinds of things, what are some of the programs at INDATA that help with that?
Nikol Prieto:
Absolutely. So as far as getting people's hands on equipment, we have an equipment-lending library. We have over 2,500 devices in there and that could a communication device, an iPad loaded with assistive technology apps, amplified phones, you name it. And that library you're able to borrow assistive technology for free if you live in the state of Indiana, so you don't have to have a disability. So a grandparent could check it out, a teacher could check it out to try it with your students. You can borrow those loans for 30 days and every now and then if we have multiple of that equipment and there's no wait, sometimes we can allow people to keep it for a semester, because we often work with students who are needing that technology. It's very useful to determine if that equipment is right for you.
Nikol Prieto:
So you're not wasting your money or possibly when a device is repaired or even for evaluation purposes, which we're fortunate to have our grant through Easter Seals Crossroads, where we have the assistive technology department in as well. And so, they're able to borrow equipment when they go out and do their evaluations and that's been really helpful.
Josh Anderson:
Most definitely. And I know, her talking about that, our clinical team, our assistive technology department, we do borrow that stuff, a ton. It's also great for short term accommodations for folks who maybe are starting a new job and there's a training portion of it that you have to be on the computer that you're never going to be on the computer again. So buying equipment or even having the business, buy equipment just isn't really feasible or cost-effective. So maybe you just need a large screen monitor or something to use for that little bit of time. It can be really great. And it's also just amazing cause for folks, oh, especially folks with maybe an acquired disability of some kind, you don't know what's out there. And there's a lot of, oh, a lot of hopelessness, a lot of worry, a lot of things like that. And if you can actually see that there are these tools that can help you, it can really make a big difference. And you can see that, maybe you're not going to do things the same way, but it doesn't mean you can't do them.
Josh Anderson:
So it's amazing to really get to see those folks. And then, can you tell us a little bit about the demonstrations as well?
Nikol Prieto:
Absolutely. I need to note on the equipment loan library, people can see what we do have in the loan library online. And we have devices for people with visual, cognitive hearing, mobility learning or other needs. And so, you can search our library or give us a call, if you need help finding what kind of equipment you needed. We also do the device demonstrations, which kind of go hand in hand with our loan library, where we have an individual visit someone in their home at work in the community at school. And they show a piece of equipment. It's not a recommendation, it's not an evaluation. It's kind of just, here's the basic features of an assistive technology device. Here's how to turn it on. Here's how to kind of get into some of the menus and what have you. And then, if that's something that they find useful, we can bring multiple things. If they find a few devices that are helpful, they can then borrow that for the 30 days.
Josh Anderson:
Yeah. And that's a great program as well. Kind of like Nikol said, it's not fully an evaluation. It's not, "Hey, this is the one that's going to work for you," but it's, "Hey, here's some things to try out, see what works for you," which can be wonderful. And then, the other part of kind of getting people's hands on it is the Depot. Tell us about that.
Nikol Prieto:
Absolutely. This is a very cool program that we have where we take in donated computers. So, you know folks have old computers laying around and they need to get rid of those and we can help them by either scrapping it, if it's not useful to us or repairing the computers. So we wipe them clean of all data and we get them in working order, putting on Windows 10 and Microsoft software installed on there. And then, we give those away for free to individuals who live in the state of Indiana, have a documented disability and can't afford them any other way. For those folks who donate to us, you do get a text donation receipt. And for those folks who are in need of a computer come our way.
Josh Anderson:
Yeah. And it is a great program. It's amazing. I've worked through all kinds of different programs here at Crossroads and going into folks' homes and maybe helping them with some other piece of technology for work or something else. And it's amazing how many times I can look over and I see that little tag on the computer or they talked to me about how they got the computer from it and just how much it really changed their lives and made a huge difference. So, we really do love that program. So Nikol, INDATA's the Indiana AT Act. So we do provide it here in Indiana. And I know there's 56 other programs, which I didn't know there were 56 states. So that's always a little weird, but-
Nikol Prieto:
And U.S. Territories.
Josh Anderson:
Oh, that's right. That's right. Okay, thew, good. I thought I really was bad at geography. I know I'm not great, but man. So, if folks want to find out about their local AT Act, what's a good way for them to do that?
Nikol Prieto:
So, you can go to our website and that the AT Act are all listed there. It would be the same eastersealstech.com website backslash states. And then, when you go to that page, you'll just have a dropdown box for your state and it will have all the contact information for you.
Josh Anderson:
Excellent. We'll definitely put a link to that over in the show notes for folks too, just to make it a little easier, because yes, just do remember if you are listening to this anywhere else in the United States or Territories that there is an AT Act somewhere close to you. If you're in another country, there are different rules and different laws in every single country. We could spend all day talking about those. Nikol, you also get the pleasure of really seeing how AT can change people's lives through the consumer stories that you get to do. Can you tell us about one of them that really sticks with you or something that really sticks with you about those consumer stories?
Nikol Prieto:
So I am lucky to do the consumer highlights, they're monthly highlights about our consumers that we work with and how assistive technologies increase their independence. It's not one specific person. It's just the joy of going in and seeing people realize that they are able to continue to do something they love. I've seen folks who have gotten vision equipment and they've published books because of the vision equipment that they've been able to have. I had a lady who had a stroke and she had, it happened while she was driving and she had a car accident and she had to relearn to walk, talk all of that again. And she decided she wanted to go back to college and was, she was trained with the assistive technology department on JAWS, which is a speech input system and other things like that. And she's now in college.
Nikol Prieto:
So after a long period of time, she had lost her daughter before her accident. But to go into people's homes and see the joy when they recognize that, "I still can do these things," it's just a great honor to go and be able to learn about their stories and I do those monthly. And you can find those also on the website.
Josh Anderson:
I love that you do that for us, because there's something in assistive technology that I think goes by the wayside a lot. We talk about the technology about how amazing it is about the things that it can kind of do, but really it all comes down to the people, who are they? What do they want to do? And then the technology is just the, I don't know, bridge to the barrier, I guess, just overcoming that little bit, but it's just amazing the folks that we get to work with. And I know at least for me, it's the thing that gets me to continue to come to work and not just be able to spend time with my family constantly at home, which sounds good most days, but it is nice to be able to come in and actually help folks and really just see what they can do.
Nikol Prieto:
Absolutely. Absolutely.
Josh Anderson:
Nikol, if our listeners do want to find out more about you about INDATA, about all that kind of stuff, what's the best way for them to do that?
Nikol Prieto:
So all of our contact information is on our website. So you could find me there. I kind of feel like I am the front door of all things assisted technology. So if you give me a call or shoot me an email, I'm happy to help your listeners get into the right direction and the right department. So eastersealstech.com is our website. You'll find all the information we talked about there today and also on our staff page, you'll find our contact information to be able to reach out to me.
Josh Anderson:
Yep. And we'll put links to all that down in the show notes. Well, Nikol, thank you so much for taking time out of your very busy schedule to come on the show. Thank you so much for always helping me get folks scheduled. I know you're working with folks all over the world, so trying to figure out time zones is impossible for me. So thank you for always helping with those things also, but again, just coming on and really giving everybody a little bit better idea of what the AT Act and INDATA does.
Nikol Prieto:
Oh, and to quote people from Chick-fil-A. It was my pleasure.
Josh Anderson:
Thank you.
Josh Anderson:
Do you have a question about assistive technology? Do you have a suggestion for someone we should interview on assistive technology update? If so, call our listener line at 317-721-7124. Send us an email at tech@eastersealscrossroads.org, or shoot us a note on Twitter @indataproject. Our captions and transcripts for the show are sponsored by the Indiana Telephone Relay Access Corporation or InTRAC. You can find out more about InTRAC at relayindiana.com. A special thanks to Nikol Prieto for scheduling our amazing guests and making a mess of my schedule. Today's show was produced, edited, hosted, and fraught over by yours truly. The opinions expressed by our guests are their own and may or may not reflect those of the INDATA Project, Easter Seals Crossroads, our supporting partners or this host. This was your Assistive Technology update. And I'm Josh Anderson with the INDATA Project at Easter Seals Crossroads in beautiful Indianapolis, Indiana. We look forward to seeing you next time. Bye-bye.