Podcast: Play in new window | Download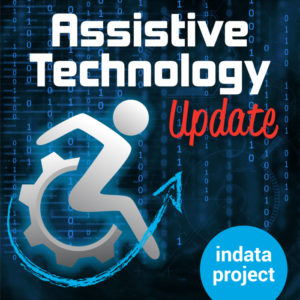 Your weekly dose of information that keeps you up to date on the latest developments in the field of technology designed to assist people with disabilities and special needs.
Special Guest:
Dr. Maria McWhirt – Founder of MPower Me
info@mpm.care or 800-674-2943
Online MyGuide Application: https://intakeq.com/new/j9gLYI
Mailing List/ Request Demo: https://app.smartsheet.com/b/form/8aebd715fd054c0bacb295c1e3a59786
—— Transcript Starts Here ——
Dr. Maria McWhirt:
Hi, this is Maria McWhirt. I'm the founding CEO of MPower Me, and this is your Assistive Technology Update.
Josh Anderson:
Welcome to your Assistive Technology Update, a weekly dose of information that keeps you up to date on the latest developments in the field of technology designed to assist individuals with disabilities and special needs. I'm your host, Josh Anderson with the INDATA project at Easterseals Crossroads in beautiful Indianapolis, Indiana. Welcome to episode 536 of Assistive Technology Update. It's scheduled to be released on September 3rd, 2021.
Josh Anderson:
On today's show, we're super excited to have Dr. Maria McWhirt on. She is the founder and CEO of MPower Me and she's here to tell us all about the technology. Now let's go ahead and dig right into the interview.
Josh Anderson:
So [inaudible 00:01:05] I'll talk many times on the show how I believe that the real job of assistive technology is to foster independence, to allow others to overcome their barriers and accomplish their goals on their own terms with the assistance of technology. Well, our guest today is Dr. Maria McWhirt, founder and CEO of MPower Me. She's here to talk about how their technology can assist individuals in finding their independence. Maria, welcome to the show.
Dr. Maria McWhirt:
Hi. Thanks.
Josh Anderson:
I'm really excited to get into talking about the technology, but before we get into that, could you tell our listeners a little bit about yourself and your background?
Dr. Maria McWhirt:
I sure can. Thank you. By the time I founded MPower Me, I actually had over 25 years of experience in healthcare administration. I was a social worker and I was a regulatory researcher for Medicare and Medicaid and I primarily spent most of that time advising CMS about a variety of service delivery models, including state Medicaid programs that utilize waiver options for people who have long-term medical conditions that cause all kinds of healthcare disparities.
Dr. Maria McWhirt:
During that time, I was also raising two of my five boys were born with disabilities and so most of my field work, experience was as a special needs mom. They had two very different experiences with their different deficits and I believe that they're unique abilities. But the very special part of advocacy that I'm really good at is getting things reimbursed and so I speak in a deficits based language. It's not because I believe my children have deficits, it's because I believe and I understand that the only way I'm going to get resources paid for my children is if I paint their deficits in a problematic sort of way. So I just want to get that out of the way.
Dr. Maria McWhirt:
But I will tell you that Daniel had severe vision impairment and he had like 13 eye disorders and after multiple surgeries, specialized eyeglasses in his first year of life, he learned to use a computer before he was one-year-old. Since then, he's 25 now, he's been able to overcome all of those challenges because of technology and advancements in medicine that he was able to access and today he's living his best life. He's actually our CTO and he has developed an amazing technology that we're going to talk about today.
Dr. Maria McWhirt:
Meanwhile, his younger brother, Dominic, has autism and he had no such resources. There were no surgeries. There was no specialized technology to enable his cognitive functioning the way Daniel was able to improve his physical functioning by using technology. So in the process of trying to find a solution for my own family, I stumbled onto a true breakthrough in technology for people with cognitive deficits and decline. This was because Daniel had become a computer wizard and he was a software developer by the time he was 12. He developed an app for his little brother so that he could play Minecraft online with the rest of the world. There were hundreds of online gamers that had no idea they were playing with my Dominic, who was a 10-year-old with autism and barely even spoke to me, and he was functioning and he was happy.
Dr. Maria McWhirt:
And about seven, eight years later, when Daniel was in college for software development, I was getting ready to lose my job because Dominic was going to graduate from high school and he was 18 and I couldn't leave him alone for a single second. I couldn't communicate with him. Everything caused a meltdown. I'm sure your listeners understand the story. So I turned to Daniel in desperation and I said, "Can you build an app for me that will allow me to prompt Dominic," prompt dependencies is something we're all familiar with, "to prompt Dominic to do the things I want him to do? Not to play Minecraft, but to brush his teeth and take his medicine and not eat things that aren't cooked. And can you also make this app able to translate for me what he's saying?" Because he makes up words and I know what they mean sometimes, but I just want something to communicate with my son and something to get him to do stuff that I can't get him to do myself. And Daniel, thank God, said, "Sure. I'll drop out of college and move into your basement." And as a tribute, he called the next update to MyGuide, Arctic because my basement's cold apparently.
Dr. Maria McWhirt:
The point at which I realized we had something that was truly breakthrough was when for the first time, when Dominic was 20 years old, he told me he loved me and he said, "Happy Mother's Day, mom," in his MyGuide. But that is how we got started. And that was before we introduced that app to a clinical working group that is multi-disciplined, and they said, "You need to sit down because I don't think you realize what you just tapped into." We are actually the first comprehensive cognitive processing intervention that is technology based, and it's been a wild ride ever since. That was in 2017. In 2019, we were enrolled and approved by Virginia Medicaid where we live. And right before the pandemic hit, we launched the Arctic upgrade that allowed all of the interventions and all of the services to work remotely from a safe distance and so it's been pretty fulfilling ever since then.
Josh Anderson:
Tell me what exactly is MPower Me.
Dr. Maria McWhirt:
MPower Me is an LLC. We are a small family-based company in Virginia owned by myself and my son, Daniel. We have a small team of advocates and family members and even people with disabilities, and what we do is we work with local, state and federal payers of assistive technology, durable medical equipment and all these different kinds of benefits. Our mission is to facilitate technology parody in one community at a time. And what we mean by technology parody is that there's a difference that technology makes in everybody's life, but if you have a disability, particularly any cognitive deficits, then there's really no difference whether you have technology or not. So what our team does is we provide access and information and knowledge and education and training to our technology, how it can interact with other technologies and other services, and then we actually provide training so that the individual users of our technology can receive support from the people that they want to receive supports from.
Dr. Maria McWhirt:
A lot of technology companies will only allow programming of their device by the company, and we can't serve everybody who needs it for one thing. For another thing, why would you want the cable guy to show you how to use an app that supports you in some of the most private parts of your life? You don't. So we have a program called the TechMentor Program, and that shows clinicians, professionals and even family members, as well as individual users themselves, how to custom configure our software. So they literally are building their own apps, they're building their own interventions and they're getting reports from it the way they want to receive the reports.
Josh Anderson:
Nice. You touched on it a little bit, but what kinds of solutions are available, what kind of areas of life can MPower Me help to change and impact?
Dr. Maria McWhirt:
Well, that's the wonderful thing because it's up to the individual user.
Josh Anderson:
Nice.
Dr. Maria McWhirt:
So what we've seen so far is there is a prompt dependency that seems to be a universal need and it doesn't matter which personal life skill you're trying to learn or improve or master, there is a learned prompt dependency that happens, whether it's learned or whether it's clinical. It's something that scientists can argue about. But what I know is that when an individual wants to make their own meal, or go to the bathroom by themselves, or order pizza, or prepare for a phone call to that special somebody you have a crush on, where are you going to get that information? If you don't have a disability, you might be able to talk to your friends. If you have a computer, you might be able to look something up on the internet. But if you have a disability and you have lived your life in a system that prompts you to live, then you're going to turn to somebody else to do your thinking for you, to do your communicating for you, to do your deciding for you, to do your tasks for you, or to tell you what to do.
Dr. Maria McWhirt:
So instead what we've done is we've given individuals the tools that they need in an app, maybe on a mobile device, that they can play. I can play a guide, it's a cognitive guide, and it can be a step-by-step guide that provides all of those prompts that they still need but maybe they would just like to get themselves. Maybe you don't want to ask somebody every time you want to look up your schedule or a phone number.
Dr. Maria McWhirt:
So we have the easiest guides to start, and you can tell how someone experienced is with using MyGuide. For one thing, when you get a MyGuide account, it has an XP rating, and that's your experience points. So the more you use MyGuide, the higher your points are. I'm only at a level 35. But when people start, we generally see step-by-step task analysis. What do you want to do more independently? What do you want to rely on yourself to do? And that is mostly, personal living skills.
Dr. Maria McWhirt:
The next level is more of personal regulation, so emotional regulation. I start to get agitated sometimes and I don't know why. But I go to MyGuide and it asks me, do you feel hot? Do you feel cold? Do you feel hungry? What's wrong? How big is your problem? So it helps me kind of become more self-aware and self-assess. And then if you're able to self-assess and become more self-aware then the next level of your MyGuide use might be something like decision support. Is this milk expired? Should I answer the door? Should I call somebody if I'm bleeding? Which medication should I take if my nose won't stop running? These are all things that people can do independently if they are given access to their own cognitive processes. So there are literally endless things you can do with MyGuide and it all is driven by the person who is using it.
Josh Anderson:
And then tell me about MyGuide Care.
Dr. Maria McWhirt:
So MyGuide Care is how we package the technology into all of the required criteria that is covered by health insurance. So health insurance has a very important role in our society and it's not going to pay for everything that everybody needs all the time, but it will pay for a medical device and it will pay for assistive technology, certain waivers and certain programs. So what we do is we go into a state or an area or a health insurance company will call us and we'll say, "We really want to provide this technology as a resource to your whole system. So how does it need to be used?"
Dr. Maria McWhirt:
Usually we have two products under MyGuide Care. One of them is an assistive technology product, and that is a mobile device that a clinician orders after an assessment and a trial. The device is usually a 10-inch tablet, an eight-inch tablet or a five-inch smartphone. That device is person-centered configured to include MyGuide accounts, all of their security features that they need, if they need the internet blocked, if they need parental passwords and controls. We set the whole thing up for them. And then MyGuide Care also covers the initial setup by a technologist, so it's a technical setup. So they show you everything from how to put the case on how to charge it, how to turn it on, how to mute the button or mute the microphone.
Dr. Maria McWhirt:
And then it also has a clinical setup that comes with it. And what the clinician does is that first initial setup is where the clinician really goes through and says, "How do you want to start using MyGuide?" And then the clinician makes some suggestions and we produce what's called a TechMentor protocol. The TechMentor protocol is written by a clinician, of course, but it's written in layman's terms so family members and any caregiver who's coming in can pick up that TechMentor protocol can reference it and they can find out, "You know what? This person has a very positive, emotional response to cherry blossoms. And they have a very negative response to SpongeBob. Please don't bring it up." They can also tell them, "Probably don't put more than three options on a page. Use these colors. This is the vision problems that we have. Use these types of buttons when you're programming MyGuide." So it just gives all of that information in an easy-to-understand protocol that anyone can reference.
Dr. Maria McWhirt:
And then the last thing that MyGuide Care includes is a monthly check-in from someone on our staff to make sure that everything's working okay, nothing needs to be replaced or updated. That monthly check-in is where we connect individual users and their support system with other resources, such as TechMentor training, if they need some clinical services, if they'd like to attend some virtual workshops. That's where a partnership that we have with James Madison University comes in that any MyGuide Care user has access to a number of virtual workshops where they can attend to do bowling, football, yoga, kickboxing, physical activities that are done in the virtual environment. And it includes a trained TechMentor to work one-on-one with the individual.
Josh Anderson:
Tell me a story about someone that's been assisted by some of these solutions.
Dr. Maria McWhirt:
I certainly will. Okay, so one is Cindy. Cindy is a 40-year-old with intellectual and developmental disabilities and she was living in a group home when we met her at her day program. She was very quiet and she was very prompt dependent. She was very agreeable to everything, "How are you today?" Nodding her head. "Hi. What would you like to do? Would you like to color?" "Yes." "Would you like to go to the bathroom?" "Yes." And then you get the picture. When we brought in MyGuide, we asked everybody, including Cindy, "What would you like to do independently?" And she immediately says, and she's not very verbal, it's very difficult to understand her, but what we were able to understand was that she wanted to fold clothes. She wanted to fold laundry. And her group home said she absolutely can not do that. "Listen, we've had her in our group home for 10 years, she can't do that. Not even possible". We said, "Okay. All right."
Dr. Maria McWhirt:
So we built a laundry lesson and we let her build the laundry lesson. The first step is you take it out of the hamper, the second step is that you lay it down flat and the third step is that you fold in the arm and then you fold in the other arm and then you fold it up and then you put it in the pile. She liked building the guide and picking out the pictures. And then we put it in front of her and she was like, "Where's the shirt? I want to do it. I want to do it." We sat there and watched her follow this guide. She had a TechMentor the first time, and the TechMentor showed her, "Tap this button. Swipe. This is the difference between tapping and swiping." And after each picture was her favorite cartoon character giving her a thumbs up and she lit up like fireworks. Cindy has changed so many lives just by doing that laundry lesson that everybody said she couldn't do. Now, she folds the laundry. She doesn't even need the guide. She does all kinds of things and doesn't even need the guide. She's smiling. She's told us that she wanted to get her hair cut. She told us that the reason she's so grumpy every day is because she's really starving hungry because she doesn't get a good enough breakfast at the group home.
Dr. Maria McWhirt:
All of this happened before the pandemic. Then during the pandemic, she was able to, with her MyGuide, virtually connect with her staff that she missed so much. And what they were able to do is they took pictures of the center and now they're starting to be able to go out in the environment. She is a different person because she has a voice and she has choices and what she wants to do really matters.
Dr. Maria McWhirt:
Okay, I'll give you another one. When I give stories, what I'm most worried about is that everybody is going to peg MyGuide as just that population and so I am really worried about that, but MyGuide really is transformative for human relationships, so I'll give you another underdog story. It's the story of John who was in his 30s, and he had a number of conditions.
Dr. Maria McWhirt:
He was not able to do his toileting routine independently. He was completely dependent. So here he is, a 30-something-year-old man who literally had to wear diapers and had to wait until staff had time to change him, and we started working with him for something entirely different. We started working with him because he was obsessed with coffee. So obsessed with coffee he would leave the group home, he would go across the street, he would walk into somebody else's house and he'd pour himself a cup of coffee because he knew they had it. He also had tremors. He had epilepsy, I believe. So when we started working with him, it was about coffee safety because once he stole coffee from somewhere, he would just start gulping it and it would burn him, obviously. So we, with his clinician, started to make a guide that allowed him to tap one button if he wanted coffee and another button if he wanted water, and you could see it in his face that he was causing something to happen in his life.
Dr. Maria McWhirt:
He was so used to, for 30 some years, of making a commotion so that he could get what he needed because he had no way of communicating what he needed. He was also deaf. So he started tapping of course, rapid fire, the coffee button, but then she got tricky because sometimes clinicians do that in order to improve progress and she started to make the buttons smaller and closer together, and we watched this man physically control his tremors so that he could press the coffee button. And then guess what happened? Because he was so successful, one of his day program staff said, "You know what, I wonder what he'd do if we made a guide for the toileting routine." John independently toilets now.
Josh Anderson:
That's awesome.
Dr. Maria McWhirt:
He uses the guide to say, "I'm going to the bathroom." He uses the guide to say, "Hey, I need help. Can you come in here? Otherwise, could you stay out of my private space, please?" He drinks coffee when it's appropriate, at the right temperature and he is loving life because MyGuide gave him a personalized voice and choice.
Josh Anderson:
Well, Maria, if our listeners want to find out more, what's the best way for them to do that?
Dr. Maria McWhirt:
Well, our website, mpm.care, is a great place to find out more information, but it also has a link to an online application. That online application is the best way to begin a person-centered consultation. If you have somebody who's interested in using MyGuide or a clinician who is interested in finding more information, then there's also some clinical resources that we have on the website as well. And info@mpm.care is also a great way to contact us.
Dr. Maria McWhirt:
Anyone can download the MyGuide app from any play store, any app store, it's called MyGuide by MPower Me. Or you can go to app.MyGuide.care on a Chrome browser or Firefox browser and you can sign up for your own account. It's a free account. All you need is an email and you'll be able to have access to our public library. In the public library, you will find samples of cognitive guides that our users, our clinicians and the community has sort of contributed and we found to be pretty popular with all of our users. We currently have about 800 users and they've all started to connect to one another. We have a Facebook presence for clinicians, there's a Facebook group for them, and they started to tell us that they want to show their own guides, what they're building for themselves and what's working in their little communities and their respective areas of the world. So we've put some of those examples in the public library in order to have your own personal library and in order to copy any of those guides or create your own or edit any of those guides, you do need a license. So that's at the point where you would call or email the online application for person-centered configuration to see about how we can get a license for you.
Josh Anderson:
Excellent. We will put all that information down in the show notes. Well, Dr. Maria McWhirt, thank you so much for coming on today, talking about MPower Me, the MyGuide program and everything that you guys have available to help out individuals to be really more independent in all areas of life.
Dr. Maria McWhirt:
Thank you so much.
Josh Anderson:
Do you have a question about assistive technology? Do you have a suggestion for someone we should interview on Assistive Technology Update? If so, call our listener line at 317 721-7124. Send us an email at tech@eastersealscrossroads.org, or shoot us a note on Twitter, @indataproject. Our captions and transcripts for the show are sponsored by the Indiana Telephone Relay Access Corporation or INTRAC. You can find out more about INTRAC at relayindiana.com.
Josh Anderson:
A special thanks to Nicole Prietto for scheduling our amazing guests and making a mess of my schedule. Today's show was produced, edited, hosted and fraught over by yours truly. The opinions expressed by our guests are their own and may or may not reflect those of the INDATA Project, Easterseals Crossroads, our supporting partners, or this host. This was your Assistive Technology Update. I'm Josh Anderson with the INDATA Project at Easterseals Crossroads in beautiful Indianapolis, Indiana. We look forward to seeing you next time. Bye bye.