Individuals of all ages and abilities often forget to take their medications.  If you're looking for an affordable wearable to help remind you, check out the VoiceZone 4-Alarm Medical Watch!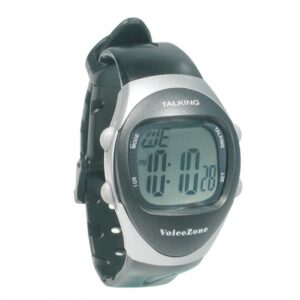 According to its description, this watch helps you "keep your daily routine running efficiently without ever missing a dose of medicine or missing an important appointment."  This talking medical watch lets you set up to 4 daily talking alarms.  Additionally, you can use it as a talking stopwatch to time and track your activities.
The VoiceZone Talking 4-Alarm Medical Watch allows you to view the time and day of the week on its large LCD screen.  You can also choose to have everything announced, making it ideal for individuals with low vision.
VoiceZone Talking 4-Alarm Medical Watch:
An affordable wearable that reminds users when to take their meds or when it's time for an appointment
Announces time and date in a female voice
Large LCD display shows current time and date
Hourly time announcement and talking stopwatch helps you keep track of time spent on activities
Uses one CR2016 lithium battery (included)
Click here to learn more!