Inviting Museum Accessibility Feedback 
In terms of their accessibility, local museums have come a long way from offering the standard wheelchair ramps and automatic doors. They're now tapping into the latest technology and providing online platforms for people with disabilities and their loved ones to give advice and ideas for further accessibility efforts.
The Children's Museum of Indianapolis considers this kind of dialogue vital to the improvement and success of its endeavors.
"As a children's museum, we try to design for a variety of audiences and abilities, since we see everyone from infants through grandparents," said Betsy Lynn, the museum's accessibility coordinator. "However, we recognize that there is always work to do to be accessible, and we are constantly gathering feedback from families and advisors. We have partnerships with several community organizations we reach out to with questions, and they often connect us with families who provide feedback through trial runs and prototyping of new exhibit elements."
In order to create the most inclusive experience for visitors, The Children's Museum is building a network of Accessibility Advisor Families to test out working models or activity prototypes and consult on particular exhibits. This effort is currently geared toward improving youth accessibility, but any changes made for youth should benefit adult visitors as well.
Guiding Visitors Digitally
Both The Children's Museum and the Indiana State Museum have digital resources to help guide visitors through their spaces.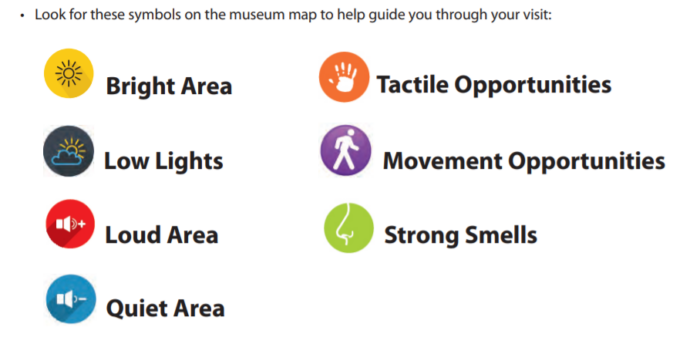 The Children's Museum offers a sensory map to prepare visitors for the various sights, sounds, movements and tactile opportunities they'll experience during their trip. Marked with color-coded symbols, this map is particularly helpful for visitors on the autism spectrum or those with sensory processing disorders. The museum also offers fidget toys and noise-reducing headphones to alleviate any sensory overload visitors may experience.
Since museums are largely feasts for the eyes, many people with visual impairment tend to avoid them. The Indiana State Museum aims to change that with its interactive tour app, which you can download in the App Store under the name Indiana State Museum Guide. (Mobile devices featuring the app are also available for free at the museum.)

The app allows blind or low-vision visitors to navigate the museum independently through audio directions leading to physical maps with braille legends and raised numbers. As it guides them from gallery to gallery, it calls out all obstacles, obstructions and changes in flooring. It also describes what's on display in each exhibit, pointing out any tactile, interactive elements.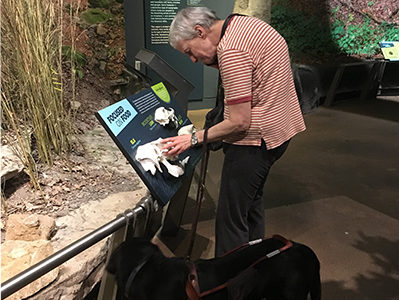 Thanks to this app, visually impaired visitors can glide their hands along the horns of a musk ox in the Frozen Reign exhibit or smell Native American cuisine as a Shawnee chef prepares grape dumplings in the First Nations gallery.
In the Focused on Food panel portion of the Natural Regions gallery, visitors can feel a cross section of herbivore, omnivore and carnivore animal skulls to compare and contrast characteristics of each (teeth, jaws, sagittal crests and zygomatic arches). When visually impaired visitors touch a 3D frog or toad in the Croaking Chorus display, the name of the species is announced before its signature sounds are made.
The museum is continuing to work with community partners and its interactive tour app team on upcoming exhibits.
Inclusive Fun for All Ages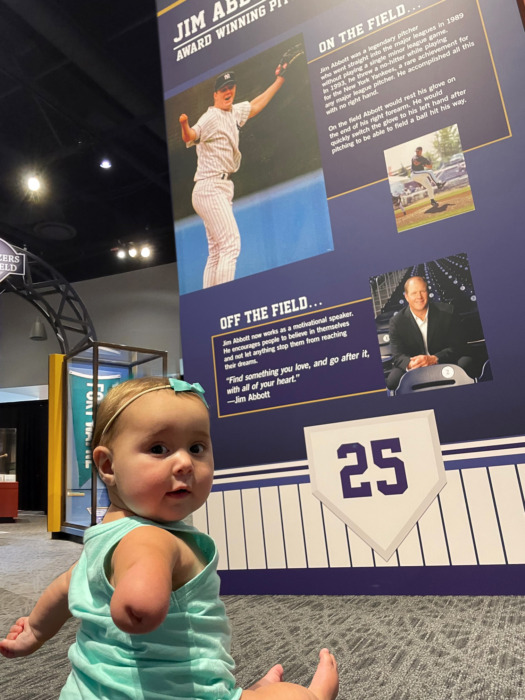 In July of this year, The Children's Museum opened an exhibit that will surely inspire and empower visitors with disabilities. Baseball Boundary Breakers highlights athletes who overcame physical challenges to play in the Major League — players like one-handed pitcher Jim Abbott. It also features information about adaptive baseball and displays of equipment used in beep baseball, which allows visually impaired people to play through baseballs and bases that emit beeping sounds. The exhibit includes a trophy and championship ring from the now five-time Beep Baseball World Series Champions, the Indy Thunder.
While this exhibit showcases successful disabled athletes, the Riley Children's Health Sports Legend Experience encourages kids with disabilities to get out and play themselves.
"The staff and coaches in our Riley Children's Health Sports Legends Experience have done a lot of work to research and acquire adaptive equipment for many of the sports in the outdoor space," Lynn said. "There are items such as soccer balls with bells inside and tennis balls with streamers attached for players who have visual impairments, as well as different-sized footballs made out of different materials that may be better suited for players who need different grip choices. There is also a wheelchair lane on the racing drag strip where visitors can race their family and friends!"
In addition to three indoor exhibits, the Sports Legends Experience offers 12 outdoor sports activities across seven and a half acres. Enjoy them while you can; the outdoor portion will close for the season after Halloween. It will reopen next year in March.
Further Museum Accessibility Efforts
The Indiana State Museum is developing a monthly program for visitors with dementia and their caregivers called The Art Connection, which will take place at the T.C. Steele Historic Site, one of the museum's 11 historic sites across the state. The kind of art activities it will host are known to be therapeutic for people with dementia.
The site is hosting another program for adults and youth with disabilities called Steele Creates + Explores, which features activities related to art, history, paleontology, geology, nature and engineering.
The Children's Museum is currently renovating its Dinosphere exhibit and gathering feedback from community partners to make it more accessible. Conversations are also steering toward possibly opening the museum early or offering late hours for visitors with disabilities to enjoy the museum with smaller crowds and less sensory stimulation.
"All of these efforts require teamwork and knowledgeable staff," Lynn said. "We have a group of staff members who meet monthly to talk through accessibility topics and work on our goals. And we are working on a system of improved staff training as it relates to accessibility. I am very fortunate to work with a lot of people who are dedicated to making the museum experience special for every visitor."