Podcast: Play in new window | Download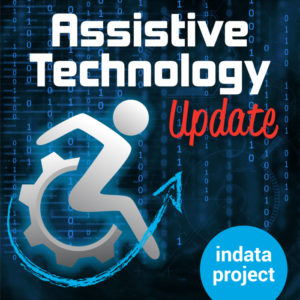 Your weekly dose of information that keeps you up to date on the latest developments in the field of technology designed to assist people with disabilities and special needs.
Special Guest: Henry Johns – Chief Innovator and Founder – Digital FOV
Digital FOV, LLC Equipment Info:
Henry Johns Chief Innovator and Founder of Digital FOV, LLC
Website: www.digitalcrosshairs.com
Phone: 404-590-6513
Accessible Scope: https://digitalcrosshairs.com/scopes_for_disabled_hunters/
Be Adaptive Equipment Info:
Brian Kyler President and CEO of Be Adaptive Equipment LLC
Website: www.beadaptive.com
Phone: 260-244-7031
——- Transcript Starts Here ——
Henry Johns:
Hi, my name is Henry Johns. I am the Founder and Chief Innovator at Digital FOV and this is your Assistive Technology Update.
Josh Anderson:
Hello and welcome to your Assistive Technology Update, a weekly dose of information that keeps you up to date on the latest developments in the field of technology designed to assist individuals with disabilities and special needs. I'm your host, Josh Anderson, with the INDATA Project at Easter Seals Crossroads in beautiful Indianapolis, Indiana. On today's show we're super excited to have Henry Johns from Digital FOV on. He's got a device that can actually help individuals with visual impairments, participate in shooting and hunting. Let's have a little bit of something different today. Since today's interview concerns accessible hunting, right after the interview we will actually have part of our interview from back in may with Brian Kyler from Be Adaptive Equipment. Since both interviews concern accessible hunting, I thought we'd just make this show a one stop shop for those folks who might want to participate in hunting this coming fall.
Josh Anderson:
If you have a great idea for a show or someone that we should interview, we want to know about it. You can call our listener line at (317) 721-7124. Drop us a line on Twitter @INDATAproject, or shoot us an email at tech@eastersealscrossroads.org. We're always looking for great feedback and we're always looking for great guests. So make sure if you've got a good idea or something you'd like to tell us, please get ahold of us. But for now, let's go ahead and get on with the show.
Josh Anderson:
After all these months of lockdown, maybe you're looking for some new podcast to listen to. Well make sure to check out our sister podcast, Accessibility Minute and ATFAQ or Assistive Technology Frequently Asked Questions.
Josh Anderson:
If you're super busy and don't have time to listen to a full podcast, be sure to check out Accessibility Minute, our one minute long podcast that gives you just a little taste of something assistive technology-based so that you're able to get your assistive technology fix without taking up the whole day. Hosted by Tracy Castillo, this show comes out weekly. Our other show is Assistive Technology Frequently Asked Questions or ATFAQ. On Assistive Technology Frequently Asked Questions, Brian Norton leads our panel of experts including myself, Belva Smith and our own Tracy Castillo as we try to answer your assistive technology questions. This show does rely on you, so we're always looking for new questions, comments or even your answers on assistive technology questions. So remember if you're looking for more assistive technology podcast to check out, you can check out our sister shows Accessibility Minute and ATFAQ wherever you get your podcasts, now including Spotify and Amazon Music.
Josh Anderson:
Listeners, as we approach fall here in the US, many hunting seasons open up as well. But what if someone has a visual mobility challenge and wants to participate in hunting? Well today we have Henry Johns from Digital FOV on the show to talk about a solution that they have to help with this problem. Henry, welcome to the show.
Henry Johns:
Thanks, Josh. Thanks for having me.
Josh Anderson:
I am really excited to get into talking about this tech, but before we do that, could you tell our listeners a little bit about yourself?
Henry Johns:
Well, sure. I'm basically a technologist. I've worked in technology for over 25 years, software development, networking and telecom. I started doing some consulting in video surveillance, which led me to create this product. The product is called Digital Crosshairs 1000, which is my vision clip-on product that just attaches to any scope. It's a night vision camera, it attaches to the eye piece on the scope, looks down the scope and displays the scope's field of view on a rail mounted display, so a 4.3 inch display.
Henry Johns:
So I took this product on the road, doing gun shows, doing outdoor product expos and people will walk up to me and say, "Wow, I've got a disabled son or relative. This product will really help them," or "Wow, I've got a friend that we take hunting that's blind and we could use this product," or some other people would say, "Wow, I can't shoot anymore because I have some type of eye disease or eye problem, vision challenge. I can't look through a scope, but with this product, I can just look on the screen and target the gun." So that's how I got into it. I stumbled into it, but the need found me.
Josh Anderson:
Oh, that's excellent. Can you tell us how the Digital Crosshairs work? Without getting too technical of course, I know you've got 25 years in the technology business, but does it magnify everything or how does it work?
Henry Johns:
Well, basically what it is it's a video camera that attaches to the eyepiece of the scope. It's small, it only extends the scope about two inches. It attaches to the eyepiece of the scope. It looks down the barrel of the scope and it displays whatever the scope's field of view is on a rail mounted display. This rail just fits on a Picatinny rail adapter on the gun. But for the disabled market, what we've done is we've created a mount that's got a gooseneck. So they can actually mount the gooseneck on the rail of the gun and then put the display at the end of the gooseneck and position it any place they need to so that the shooter or the person assisting the shooter can actually see it. Our system is modular, so you can actually take the display off of the gun and you can hold it in your hand. Well, when I first started this, I never knew that blind people went hunting.
Henry Johns:
And I got approached by several people that said, "Hey, we take our buddy hunting with us and he's blind and we look over his shoulder and help him point the gun, but with this, we can stand behind them and look at the screen and actually help him, assist him with shooting that way." Matter of fact, I shipped off a unit this morning. A father called me yesterday. He was so excited because he found the product. And his son has got some type of mobility and vision problem, but he's getting ready to be in a deer hunting competition this fall.
Henry Johns:
So it's kind of a father-son activity and he was glad to get the product, that he bought the product, it was the gooseneck because he said he needs both hands free to assist his son. Then with this gooseneck, he can position the display so that they can see it. He said he used other products, but they couldn't handle the recoil of the gun but he was really excited to get ours. So that's basically how it works. It's just looking through the scope, so you don't need any special type of scope and it works with any scope and you just mount it on the scope. It looks down the barrel of the scope and it displays the cross hairs of the scope on a display.
Josh Anderson:
Oh, that's excellent. I love the gooseneck idea. So you can actually get it closer, like you said or even have their friends behind them help them aim and all that. So they can do it more independently with that little bit of assistance, so that's really great.
Henry Johns:
I've got one customer that's really amazing. He's got a wheelchair that's got the tractor treads on it and it'll go any place. And his relatives made a mount so he can mount his gun right on that wheelchair and they actually took my system and they mount the display on the gun, on the side of the gun so he can see it. And this guy has killed, shot bears, deer. He goes deer hunting with his grandson. It just gives him all this independence to go out and hunt by himself or with his friends. Because of the system, we'll mount it, because he has a mobility problem. He can't lean forward and look through a scope, but this gives him that capability.
Josh Anderson:
Oh, that's great. I can see how that could be adaptable to a lot of different abilities and different disabilities. And Henry, while I've kind of got you here, you guys have a couple of other products as I was looking through your different stuff and while they may or may not fit in the disability space, I know they may be able to help some folks. But I saw a scope that's almost like a Google glass kind of thing, can you tell us about that?
Henry Johns:
We're probably the only one that's commercially selling anything like that. It's a near-eye display, similar to Google glasses and it's wireless. We have a unit that transmits the video from the scope wirelessly in with the Google glasses. They wirelessly pick up the video transmission from the clip-on on the scope and the user, just by looking at this near-eye display, they can see the crosshairs perfectly clear. It appears to be about a four-inch frame, but it's really smaller, but it's really amazing, it's really amazing. And that can be used by some disabled people also, because he can just mount. This just clips on to his shooting glasses or reading glasses or any type of glasses. It just clips on and it adds that little display, like a heads-up display on some of the modern cars.
Josh Anderson:
Oh yeah, and I know when I saw it, just especially I didn't really see where it might fit in the disability space until you mentioned the gentleman that couldn't lean over and actually get to the scope and I was like, "Well heck, you wouldn't have to move your head at all. You can have it right there and just move the gun and have the scope there." So that's a pretty darn cool accommodation as well. And Henry, what are some other things that you guys have available?
Henry Johns:
Well, our product was initially designed for the night vision industry, night vision hunting. Night vision equipment can be very expensive. And then we also, in the hunting industry a lot of people like the type of scopes that they have. They may have a Leupold, they may have a Vortex. They like good glass optics. And with this, what our products do is let them keep their good glass optics and use them for night vision hunting at night.
Henry Johns:
So you don't have to give up your Leupold or your Nikon or your Bushnell scope in order to go night vision hunting. So that's the main industry that we're working in.
Josh Anderson:
Thanks. Any of our listeners who want to find out more, about you and about everything that Digital FOV offers, what's the best way for them to do that?
Henry Johns:
Well the best way is to go to www.digitalcrosshairs.com.
Josh Anderson:
Excellent. We'll make sure to put that down in the show notes. Well, we've got a little bit of time left here, Henry. Could you tell me another story about maybe somebody that you worked with and maybe a new way that they used it or just something that really amazed you. I know before we got started here we talked a little bit about why we do this kind of work and things, but can you maybe tell me a story about someone that really changed you with the way that they were using your product?
Henry Johns:
Well, this product is probably, well it's not probably, but it's one of the most rewarding products I've ever worked with for sure. Because I get calls from people that are searching for ways to help their relatives or their friends enjoy hunting again. Hunting is something that people will do with their friends or relatives. I know when I first starting hunting with one of my uncles, he would pick me up and take me out in the woods hunting and we really enjoyed the experience together. But around this time of year, people started getting ready for the hunting season. They're going out to different stores, buying gear, getting ready to go, but it's something that families do. Getting ready to go, father and son or father and his daughter and then they prepare for it, then they go and actually have the experience running out in the woods and they harvest something and they bring it back.
Henry Johns:
And then they have the stories to tell about how they did it together, but it's not something that people typically do with strangers. They typically do it with someone that they're close with. And that's one nice thing about being able to provide this assistance in technology. Because then friends and relatives don't have to leave people at home, they can't go because of a visual disability or mobility disability and I get calls from people that are just so glad to find a product that's because, "Now I can take my son with me," or "Now I can go hunting with my son." I had one father call me and he said, "I'd always gone hunting with my son and then I got this disability, visual disability and I couldn't go any more. But your product lets me go hunting with my son, again. It's just moving.
Henry Johns:
I get calls like that a lot, which makes me say, "I'm glad to be able to provide this product to people." One organization we didn't talk about, there's organizations, and there's one called Seamus Kids. And what they do is they take disabled and sick children out hunting and they use my product for that and we're going to be down helping Buckmasters, which is a big deer hunting organization. They have an annual event where they take disabled children and adults hunting and we're going to down and loan some of our products to help them do that.
Josh Anderson:
Oh, that's awesome. You're right, it is something that very, very rarely do you do it alone and that's great that folks can go out and be able to spend that time with family and friends and their loved ones in something that they all enjoy. Well Henry Johns, thank you so much for coming on the show today and telling us about this amazing accommodation that can really help just open up the whole world of hunting to a whole new group of individuals.
Henry Johns:
Well thanks for having me, Josh.
Josh Anderson:
We're going to do something a little bit different with today's show. We're actually going to replay part of our interview with Brian Kyler from Be Adaptive Equipment. This came out in May, but considering that it does address some different accessible hunting things, I thought it important to go ahead and put it on after our interview with Henry. I thought I'd just fit a little bit. Well, and if somebody is looking for adaptive shooting equipment, mixing these two together can hopefully help them find what they're looking for. So again, please enjoy a slightly condensed version of our interview with Brian Kyler from Be Adaptive Equipment from back in May.
Josh Anderson:
Brian, welcome to the show.
Brian Kyler:
Hi, how are you doing?
Josh Anderson:
I am doing great. Could you tell our listeners a little bit about yourself and your background?
Brian Kyler:
Well, my name is Brian Kyler. I am 51 years old. I grew up basically as a, my family background was fabrication. My Dad was a fabricator. My grandpas were both welders and fabricators. I actually went straight from high school into employment in an automation company and we built [inaudible 00:15:48] feeder bowls, which are parts orientation devices for a special machine. So they feed and orient parts into assembling machines. So this is all stainless steel fabrications. And I met a gentleman named Eric [Derek 00:16:03], who was a C3, C4 complete quad and fixed some stuff on his chair after work, just became friends with him and built a gun mount for him to use. That was clear back in 2001 where everything started from.
Josh Anderson:
Well, excellent. And that leads me to my next question. What is Be Adaptive Equipment, LLC?
Brian Kyler:
We are primarily a manufacturer of, we do a lot of shooting equipment. We do do some fishing. We basically do anything that to support anybody's pastime, hobbies that really aren't covered by anyone else. We manufacturer primarily shooting and fishing and anything to do with outdoor activities.
Josh Anderson:
Very cool. And can you elaborate on that a little bit?
Brian Kyler:
Well all the equipment that we ever build, we try to make sure that we don't have to modify anybody else's equipment as far as wheelchairs or guns, crossbows, compound bows, any of that kind of stuff. None of the guns or the bows or anything get modified themselves. The equipment is built around the normal piece so that nothing has to be modified. So we build a limited mobility mount for what we consider like C5-6 individuals that basically makes the gun or crossbow weightless. It compensates the weight of the weapon itself. We do a high quad mount for complete quads that you put the gun into. You use a chin-operated or hand-operated joystick, whichever they prefer, to move to gun or crossbow left, right, up, down and then set above fire, so they slip on a tube that fires an actuator that fires the gun.
Josh Anderson:
You talked to that you do have those. If someone needed a specific or a custom accommodation, are you able to do that as well?
Brian Kyler:
Sure. Most of the time we have, like I mentioned, those two pieces of equipment. We have other equipment also, but we usually are able to accommodate about any situation with one of those pieces of equipment and just doing slight modifications to that to accommodate for specific individual's ability.
Josh Anderson:
Very cool. And you talked about how you got into this and when. When did that light go off as you helped one individual, when did you decide to turn this into a whole business?
Brian Kyler:
Well, it was kind of the American way where a lot of things don't really start out to be a business. I never looked and said, "Well, I'm going to turn this into a business." It was more I just became friends with Eric. And it was kind of a science fair project type thing. It was something he was interested in, it was something that I was interested in because I was never around somebody in his situation. And neither one of us really went looking for the other to try to do something like this. He just had a problem with his chair. I fixed a piece on the chair, which I had no idea what I was doing there. I was just welding and fabricating. So I fixed what was wrong with it. And then after being around him a little bit and the first thing I actually had made for him before I made the gun mount was I had made a tray to hold his remote control for the TV.
Brian Kyler:
He had a button to open the door, back door of his house and a cordless telephone and he was trying to hold all in his mouth stick. He was trying to hold all this stuff despite hot gluing it fast to things and all kinds of stuff. So I made a tray to go on his chair, a mild stick holder to go on his chair and Velcroed everything fast to it so that he had accessibility to be able to get in and out of the house because he was there a couple of hours a day by himself. And so that was what really started it out. So then it started to get a little more in tune to his life and the things that he was struggling with. So it was just fun for me to try to solve the problems that were plaguing him every day.
Josh Anderson:
Sure. And then it just grew from there as you realize, "Hey, I can help this one individual. I bet there's other folks out there that could use these kind of accommodations."
Brian Kyler:
Absolutely. Then we started playing around with the building the gun mount and I would bring him home with me after work and he'd cone over on weekends and we just did this in the garage of my house. And so then once we actually got that worked out and he was happy with it, then I decided, "Well, there's probably other people out there that we could try to help." And again, it didn't really dawn on me that it was going to be a business eventually, so we started building some of that stuff up a little bit and trying to contact some people and went through some groups that he had dealt with like Buckmasters and some of the hunting groups and that kind of thing. That's basically where it all, how it all started. We started providing equipment to people and then we essentially just built more and more equipment by trying to address things that other people needed as we met people.
Josh Anderson:
Sure. As you see their specific needs, then you find out other folks have those same kind of needs and want to be part of the hunting community as well. And I'm sure that you probably even met some folks that had made their own little accommodations that you could definitely improve upon.
Brian Kyler:
Oh, absolutely. We deal with a lot of people all the time that have their own own devices that they're very happy with, but a lot of times they get stuck on the firing mechanism, the actual, like a [inaudible 00:21:46] mechanism or we make a rubber. We also make a, what we call a bike trigger, which is a cable activated device that has a mouthpiece that you actually bite and it transfers that movement to the trigger guard and moves, it pulls the trigger via cable. And so a lot of people struggle with some of the finer stuff like that, but they may be happy with a mount that somebody in their family or them have put together, but they need something to help fire it. So we provide a lot of trigger mechanisms and bite triggers to people who have setups that they're really happy with already.
Josh Anderson:
Oh sure, sure. And I've got to go back to something here, Brian, just because in my head, I can picture the switch and everything to be able to pull a trigger or even move the gun and everything. But the compound bow, I've got to admit, just because of the way… I've shot one before and everything that goes into it, what kind of accommodations do you have for the compound bow?
Brian Kyler:
Well, our device actually works in tandem with another product. Everybody that uses our compound bow mount for the most part, uses a draw lock. And what it does is it actually holds that compound bow in a full draw. And then our mount mounts to the front of the compound bow, it holds by the handle part where your hand would go and it also utilizes the stabilizer, threaded stabilizer hole on the front of the bow to [inaudible 00:23:21] very well. And then it allows it to be, that pivots at that point. So up and down and left and right. And then that draw lock actually has a release, a typical hand release, like you would have, like you pull on your hand and has a little trigger and then people are able to either move it by hand or by mouth and then bump that, released to fire it.
Josh Anderson:
That makes sense. I, for some reason, I could not wrap my head around how in the world that could possibly work, but now I know and I can tell everybody else. So that's absolutely great. Well Brian, if our listeners want to find out more about Be Adaptive Equipment, LLC, about you and about the things that you offer, what's the best way for them to do that?
Brian Kyler:
Well, just get on the website, beadaptive.com. It's a little confusing. Sometimes people don't put it in right. It's Be Adaptive. So it's the to the word be adaptive.
Josh Anderson:
Excellent. And we'll put a link to that over in the show notes as well. Well Brian, thank you so much for coming on today. This is something that we've never really been able to talk about on the show before and just another great piece of equipment that can just break down some of those barriers and allow individuals with all different abilities to participate in a pastime that's such a joy for so many individuals. So thank you so much for coming on.
Brian Kyler:
Sure. Well, I appreciate it and if anybody goes to the website and sometimes they don't a 100% understand what we can do with equipment, just give us a call. I talk to people daily and walk them through what we have available. We have the hunting and shooting equipment like we were talking about. We have some fishing equipment. We've done specialized things in the past where we've made things for a drummer, actually. Sorry, I was trying to figure out how to say that. The gentleman was there and we actually did a seven pump actuated for his bass drum. His drums, like have him stepping on a tube. We've done some photography things, we've made some mounts for holding some cameras. I always thought that I would probably, anybody who uses a mount stick, we built a tray and a mount stick hold for Eric so that he could always get all of his mount stick. And there's just little things like that that we don't really have on the website that people contact us and they're in need of something, we can always work with them.
Josh Anderson:
Excellent. Brian, do you want to give that phone number? I can put it down in the show notes as well.
Brian Kyler:
It's area code (260) 244-7031.
Josh Anderson:
Brian, thank you again so much for coming on and telling us all about every thing and the great things that you guys do.
Brian Kyler:
Well, thank you.
Josh Anderson:
Do you have a question about assistive technology? Do you have a suggestion for someone we should interview on Assistive Technology Update? If so, call our listener line at (317) 721-7124. Send us an email at tech@eastersealscrossroads.org or shoot us a note on Twitter @INDATAproject. Our captions and transcripts for the show are sponsored by the Indiana Telephone Relay Access Corporation or INTRAC. You can find out more about INTRAC at relayindiana.com. A special thanks to Nicole Prietto for scheduling our amazing guests and making a mess of my schedule. Today's show was produced, edited, hosted and fraught over by yours truly. The opinions expressed by our guests are their own and may or may not reflect those of the INDATA project, Easter Seals Crossroads, our supporting partners or this host. This was your Assistive Technology Update and I'm Josh Anderson with the INDATA project at Easter Seals Crossroads in beautiful Indianapolis, Indiana. We look forward to seeing you next time. Bye-bye.