Podcast: Play in new window | Download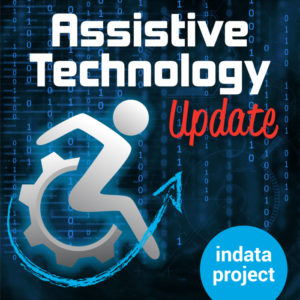 Your weekly dose of information that keeps you up to date on the latest developments in the field of technology designed to assist people with disabilities and special needs.
Special Guest:
Eric Thomas – VP & Global Diversity, Equity & Inclusion Officer, Genesys
www.genesys.com
www.bemyeyes.com
Stories:
AI and AT Story: https://bit.ly/3EFnpze
Windows 11 Accessibility Story: https://bit.ly/3ECSKmf
——————————
If you have an AT question, leave us a voice mail at: 317-721-7124 or email tech@eastersealscrossroads.org
Check out our web site: http://www.eastersealstech.com
Follow us on Twitter: @INDATAproject
Like us on Facebook: www.Facebook.com/INDATA
—–  Transcript Starts Here —–
Eric Thomas:
Hello everyone. This is Eric Thomas, and I'm the global diversity, equity, and inclusion officer at Genesys. And this is your Assistive Technology Update.
Josh Anderson:
Hello, and welcome to your Assistive Technology Update. A weekly dose of information that keeps you up-to-date on the latest developments in the field of technology designed to assist individuals with disabilities and special needs. I'm your host, Josh Anderson with the INDATA Project at Easterseals Crossroads in beautiful Indianapolis, Indiana.
Josh Anderson:
Welcome to episode 540 of Assistive Technology Update. It's scheduled to be released on October 1st, 2021. On today's show, we're super excited to have Eric Thomas, the VP, and global diversity, equity, and inclusion officer for Genesys. And he's going to talk about a super exciting partnership between Genesys and Be My Eyes to help visually impaired individuals get better customer service when they're out and about.
Josh Anderson:
We also have a story about how artificial intelligence is really helping out Assistive Technology and changing that whole landscape. And a quick story about some new accessibility features being built in and change for Windows 11. Don't forget if you have a question or a comment, you can always reach us at tech@eastersealscrossroads.org. Give us a call at (317) 721-7124 or hit us up on Twitter @INDATAproject. We want to thank you so much for listening today, and let's go ahead and get on with a show
Josh Anderson:
After all these months of lockdown, maybe you're looking for some new podcasts to listen to. Well, make sure to check out our sister podcast Accessibility Minute and ATFAQ or Assistive Technology Frequently Asked Questions. If you're super busy and don't have time to listen to a full podcast, be sure to check out Accessibility minute, our one-minute-long podcast, that gives you just a little taste of something Assistive Technology-based so that you're able to get your assistive technology fix without taking up the whole day. Hosted by Tracy Castillo, this show comes out weekly.
Josh Anderson:
Our other show is Assistive Technology Frequently Asked Questions or ATFAQ on Assistive Technology Frequently Asked Questions. Brian Norton leads our panel of experts, including myself, Belva Smith, and our own Tracy Castillo, as we try to answer your assistive technology questions. This show does rely on you, so we're always looking for new questions, comments, or even your answers on assistive technology questions. So remember, if you're looking for more assistive technology podcasts to check out, you can check out our sister shows Accessibility Minute and ATFAQ, wherever you get your podcast now, including Spotify and Amazon Music.
Josh Anderson:
We'll start our show today with a story out of Forbes. It's written by Wendy Gonzales and it's titled, Three Ways AI is improving Assistive Technology. As you probably know, by listening to this show for a while or as a new listener. AI or artificial intelligence and machine learning has made a huge difference in assistive technology from different apps, different ways to learn, and other things. It's made huge steps and huge things possible that really weren't before this technology was really useful and implemented. Well, again, this story over at Forbes does give three different ways that AI is really improving assistive technology. And I thought it was important to highlight these.
Josh Anderson:
Some of these are ones that we definitely don't talk about on the show a whole lot. The first thing it highlights is ensuring education for all. That is something that we do talk about on this show quite a bit. And it talks a little bit about speech-to-text or voice recognition. Actually, I have some stats in here that says students or participants in a study with severe reading disabilities reported an increase in motivation in their schoolwork after a year of incorporating assistive technology at a rate of 75 out of 149 of those participants. So if you think about that, that's just a hair over half, but still, that is very helpful. Also, says here that, "Only about 35% of elementary schools provide any assistive technology." So hopefully as things get a little bit more digital, as schools start to maybe use computers and tablets, Chromebooks, these things a little bit more, hopefully, they'll start integrating these things into the learning environment.
Josh Anderson:
Because these are really stuff that can help anyone, but where the AI comes in it says, the technology behind voice recognition and speech to text really works a whole lot better when it has high-quality AI or Natural Language Processing, NLP. And what these do is they actually improve the accuracy of speech recognition and word predictability. So this helps cut down on the errors. If you're someone who tried to use speech detect, say, I don't know, 10 years ago, you probably notice you're maybe spending more time going back and editing things than you would've had you just typed it out? Or who of us hasn't dictated a text to somebody hit send and looked back at it and thought that is nowhere close to what I said. So that's one way that it says AI is really helping.
Josh Anderson:
Another thing, it highlights here is better outcomes for medical technology. Now, this is something we don't talk about a whole lot on the show, but it is another way that artificial intelligence is really helping. It highlights robot-assisted surgery, which uses artificial intelligence. And it says that these robot-assisted procedures in 2018 accounted for 15.1% of all general surgeries. And of course, that will probably go up. And what's really nice is that these surgeries can tend to leave smaller incisions. And of course, this cuts down on pain, on scarring and less time in the hospital, and less time recovering. Also, talks about AI-powered wearable medical devices. And these can have all kinds of different uses, from female fertility cycle trackers to diabetic tracking, sweat meters, oximeters, and all other kinds of things. And those machine learning and artificial intelligence can interpret those results and give you data almost instantaneously.
Josh Anderson:
And of course, these things are just going to get better and better and better. And then the last thing that highlights here is, "The possibilities in transportation and navigation." Now, these things we have talked about here on the show, quite a bit, some of the things that it talks about on here is, "AI-powered running apps and suitcases that can actually navigate through a whole airport on their own." So if you really think that's pretty darn cool, also talks about project guideline, which is a Google project, helping individuals who are visually impaired navigate through roads and paths with an app that combines computer vision and machine learning to aid the runner alongside a pre-designed path. And we've talked a little bit about that on the show previously.
Josh Anderson:
Though, the story was interesting, especially because it highlights some way that artificial intelligence is helping AT that maybe we don't talk about on this show that much. But definitely if you've listened to this show, whether you a new listener or a listener who has been here a while you know that artificial intelligence and machine learning has just amazing uses in the Assistive Technology space, know that it can really fit in with a lot of technology, come up with all brand new things from helping with prosthetics, to computer vision, to describing the world around us, to understanding voices that maybe aren't more mainstream, just tons and tons of uses. And the great thing is that people are using this artificial intelligence to help individuals with disabilities and make assistive technology more inclusive. So we'll put a link to the story over in the show notes. So you can go check it out for yourself and see just some of the ways that artificial intelligence is completely changing the landscape of the Assistive Technology world.
Josh Anderson:
Our next story comes to us from OnMSFT.com and it's called, A quick guide to Windows 11 accessibility. Turned by Abhishek Baxi, and it talks about some of just the changes coming to Windows 11. Now, this does not get in-depth very much, but of course, until we really get our hands on Windows 11, it'll be hard to find. And as many folks know, Windows 10 did make some really great improvements on the usability, on some of the settings, some of the things we can change over previous versions of Windows. So this highlights a few things that it's doing; it does say, "For Microsoft Windows 11 is a significant step towards achieving seamless accessibility without costly plugins or time-consuming work by IT Administrators." I know that's always been one of the problems that, you put assistive technology on a Windows computer, and it works with some things, not so well with others, but it looks like they're trying to make sure that that doesn't happen.
Josh Anderson:
It says the first thing they do is inclusive design. It says that "Microsoft claims that Windows 11, is the most inclusively designed version of Windows." Says that, "Accessibility was considered from the start at the design phase," says that, "They employed trusted tester conformance test, usability test, and other processes to ensure that it's accessible for people with disabilities." Then, going down, it talks about different assistive technologies. So it talks about the things that are already built-in; narrator magnifier, closed captions, Windows speech recognition, all these different things, but they are trying to make those even more usable. Also, says that "They're working with partners, including popular screen readers, magnification programs, cart services, speech commanding, and other things to ensure that these things will work right out of the box." Also, says that "All the accessibility features are available in the out-of-the-box experience." So basically when you first open that computer and go to log on or do anything else, everything is there for you to use.
Josh Anderson:
So you don't have to have assistance from the very beginning. It says, "Windows voice typing is something that's here, which uses artificial intelligence to recognize speech, transcribe, and automatically punctuate text," which is pretty close to what we just talked about in the last story. And this is very close to that dictate features they've been putting in Word and in other office things. It says, "You can use accessible Linux apps in this." It says, "It supports Linux GUI apps, like GetIt through the Windows subsystem for Linux." So that's another thing that probably wasn't there before. Also, they are completely rebranding. If you've ever used a Windows computer and tried to turn on those accessibility settings, you always have to go to the ease of access center, which does make sense. And if you know what you're looking for, it's not that hard to find, but at the same time, if you don't know what you're looking for, finding an ease of access center, even though it's called, that, could be a little bit challenging.
Josh Anderson:
So they have rebranded the ease of access to just accessibility in the settings section, which is what pretty much every other device calls these settings. So it's really great that they did change that to make it a little bit easier. Here, at the end, it says that, "Microsoft says that, "The company is working closely with assistive technology industry leaders, to co-engineer what it calls the modern accessibility platform." They're doing this to increase application developer agility." And really, what that pretty much means is that they're just doing this to make sure that when a screen reader makes that screen reader to work on Windows 11. They can actually work with Microsoft to help integrate that in there. So we're all pretty excited to be able to see Windows 11 and see what new accessibility features, but as with any new operating system, also see what hiccups and glitches pop up so that those can be addressed.
Josh Anderson:
I do know what's coming out here very, very soon. So hopefully we'll learn even more about the accessibility settings and what Microsoft is doing to keep that inclusive design front of mind. I'll put a link to this over in the show notes. And again, hopefully, we'll hear even more about Windows 11 and their accessibility features as we get closer to that launch.
Josh Anderson:
Listeners, before starting in the disability and accessibility space. I worked a lot in customer service shops. I'll still, to this day, pay a little more for goods and services if it comes with better customer service attached to it. With a shortage of workers and other factors, we find ourselves in now, finding someone to assist when you're out shopping can be even more challenging than ever. If you had a visual impairment, this can become even harder. Well, our guest today is Eric Thomas from Genesys, and he's here to tell us about an exciting partnership between them and Be My Eyes, to offer good timely assistance to individuals with visual impairments when they're out in the community. Eric, welcome to the show.
Eric Thomas:
Thank you, Joshua. It's great to be here with you.
Josh Anderson:
I am super excited to have you on and to talk about this partnership, but before we do that. Could you tell our listeners a little bit about yourself and your background?
Eric Thomas:
Sure. I lead the diversity, equity, and inclusion practice at Genesys. And in this role, I have the responsibility of working to chart a different course for our company's culture, particularly when it looks at increasing the diversity of our workforce.
Josh Anderson:
Mm-hmm (affirmative).
Eric Thomas:
We've set goals over the next five to 10 years to align the demographics of our workforce with the markets we serve. This also includes looking across the workplace and driving and helping to foster an environment of inclusion, where everyone, regardless of what part of the world you're from, how you identify, who you love, you can come to Genesys and feel a sense of belonging. And also, the responsibility of evaluating the various systems processes. And in some cases, policies that are part of our corporate decision-making and they're administered to help us make people and business decisions and ensuring that those systems are administered in a way that's fair and equitable to all of our employees and are done in a way that fosters a sense of inclusion. So it's a very exciting role.
Eric Thomas:
I've been in the role for little over a year now at Genesys. And what we'll be talking about today in terms of our partnership would Be My Eyes is one of the next steps on that journey, which is creating an environment for folk who are differently-abled to have the same type of experience that we, that for most of us that are abled in a different way have on a regular day-to-day basis.
Josh Anderson:
Oh, that's excellent. That sounds like a very, very interesting job. And I do love that you're doing that for well, not just for Genesys and to really help them better themselves, but also just better the whole world by being able to do a little bit more. Well, before we actually get into talking about the partnership. Can you tell us a little bit about Genesys? What is it that you all do?
Eric Thomas:
So Genesys, it's the global leader in cloud customer experience and contact solutions. Every year, Joshua, we orchestrate over 70 billion customer experiences with some of the top brands in over 100 countries. When you think about our solutions spanning across cloud, digital, and various AI technologies. They're designed to create empathetic customer experiences at scale. Just like our employees inside Genesys, making our customers feel remembered, heard, and understood, and at the core part of our go-to-market mission. And Genesys, creating a culture of inclusion and a sense of belonging. Those are two of the cornerstones of our diversity and equity practices, and the idea of getting an individual to bring their whole authentic self is challenging, particularly, when it comes to the realm of folk who are differently-abled.
Josh Anderson:
Excellent. And our listeners probably know that Be My Eyes is an app where, as a visually impaired individual, I might need help with something. I sit there, I open up the app, and a sighted individual will be on the other end and answer simple questions for me. They can look through my phone and things like that. Now, in your partnership with Be My Eyes, what is it that you guys are doing together?
Eric Thomas:
Well, the partnership is one that allows us to bring our two platforms together. This month Genesys announced that for the first, it to be the first and only customer experience vendor to provide accessible experiences through our partnership with the Be My Eyes application. It's the application itself being a mobile app and being the largest global community for the visually impaired. The Be My Eyes platform has over five million individuals that are already registered as volunteers to help solve simple tasks, big and small. They have more than 350,000 blind and visually impaired folk each year, but there are another two million in the world who could also benefit from the platform. And the partnership between Genesys and Be My Eyes will allow over 7,000 Genesys customers using the Genesys platform to connect, in a more seamless way, with their customers, and in turn deliver more empathetic and inclusive experiences.
Josh Anderson:
Oh, that's awesome. Can you elaborate a little bit on that for me, Eric? Just, what does that look like as, let's start off with, what does that look like as perhaps the user of the Be My Eyes app, what would that look like for them?
Eric Thomas:
Well, so with this partnership, Genesys customers will be able to connect with their visually impaired customers in a way that they weren't able to before. Any Genesys customer can enable any number of CX agents to answer Be My Eyes calls specific to their products and services. When a company joins Be My Eyes through Genesys, they'll get a profile in the Be My Eyes app and decide how and what their Be My Eyes service is available. This includes geographical location, open hours, and how many of their agents are actually online in the platform and available to support visually impaired individuals. And then, aside from the partnership, as I mentioned before, Be My Eyes has over five million volunteers to help people who are visibly impaired, and it could be simple questions, specific questions. And so, we're excited about the partnership at Genesys and where we're actually going to be charting a path where we galvanize our 6,000-plus workforce to also become volunteers.
Josh Anderson:
So, Eric, can you give me an example of what a customer might use this for as far as maybe the visually impaired individual opening up Be My Eyes and just what situations, places that might be beneficial and what it might be like?
Eric Thomas:
There are a number of benefits. There's a benefit to the individuals who are using the app. And then, of course, there's benefits to businesses and brands alike by having these services available to individuals. When you think about it through the situation of an individual who's visibly impaired or blind, adding a Be My Eyes support line can make a huge difference in helping them, particularly, when a phone call, text, chat, or email, it falls short for them.
Eric Thomas:
A simple example could be my wife just this morning that she went to the local pharmacy to grab some allergy medicine. And you think about an individual going through an exercise like that, who is visibly impaired, obviously, selecting the right solution can make a huge difference. And the type of experience that you have, and an individual who may be visibly impaired can make a phone call through the Be My Eyes app, get someone, a sighted individual on a call and can help them pick out the medicine or the solution that's right for them. And maybe even recommend other things that may be on sale or that something of that nature.
Josh Anderson:
Very nice. And I really do like that because I know Be My Eyes is great and you do get the volunteers and everything like that. But in this, you're almost getting an actual customer service representative from that business that can really give you a little bit more insights that you might not get from just a regular volunteer on there. That's excellent.
Eric Thomas:
You so. And again, the other side of at is how the businesses and the brands benefit from this. We talked earlier in the call Joshua, about how crucial accessibility is.
Josh Anderson:
Mm-hmm (affirmative).
Eric Thomas:
But it's one of the most overlooked aspects of customer satisfaction and retention. If you think about it, when the consumers who are unable to use a product or service in an easy way, they'll just go find it from someone else.
Josh Anderson:
Mm-hmm (affirmative).
Eric Thomas:
Right?
Josh Anderson:
Mm-hmm (affirmative).
Eric Thomas:
And I think in this case, customers, or companies and brands benefit significantly in getting, Be My app users or Be My Eyes users, excuse me, you'll get calls from visually impaired customers, better, often or not prepared to answer them. It has an adverse impact on the company's ability to connect with the customer and provide the type of experience that is unique to them. It's important that every person who engages with your call center feels that they matter, that the company understands them, and that the representative that they interact with can give them what they need, how they need it, meeting them where they are. And I think this type of empathetic approach and understanding is key to the kinds of great experiences that create loyal customers. And it's something that the partnership between Genesys and Be My Eyes can definitely help foster.
Josh Anderson:
Oh, definitely. You brought up some great points there I've always, because we do a lot of work with businesses and trying to be more accessible and always tell them, "You can look at it from two ways. You can look at it from I'm doing the right thing and I'm allowing everyone to get in my door, but also I'm not sending customers out the door and not allowing them in my store." And I'm sure for the business, that also is nice because you get some customer feedback almost instantaneously in working with your customers, finding out what it is that they're looking for, what questions they have that can probably help you in business decisions that don't just rely on, perhaps your visually impaired customers, but on all your consumers.
Eric Thomas:
Right. Right. I came across some statistics there's a nucleus research, one of the studies that was done, and it says that, "Over two-thirds of e-commerce transactions are abandoned by people who are blind because of lack of accessibility."
Josh Anderson:
Mm-hmm (affirmative).
Eric Thomas:
Over two-thirds. That's a lot of lost opportunity there for businesses and brands online, and when you think about where we are as a society, there's a lot of work that we have to do to catch up, in terms of offering empathetic services via accessibility. There's still less than 10% of all websites are actually accessible, meaning that they don't come with some type of audio assistance or some type of display settings that allow folk who are visually impaired to use them. So there's a lot of work that's still to be done in this space.
Josh Anderson:
There definitely is. But the nice thing is, and I mean, I think us even talking about this helps prove that is, places are starting to think about it. And that's definitely a step in the right direction. The problem is, it's one of those things where you're trying to build it on top, as opposed to building it from the beginning, but, Hey, how does the old saying go, "When's the best time to plant an oak tree? 30 years ago, but the next best time is right now." So-
Eric Thomas:
Right, exactly.
Josh Anderson:
Yep. So it's, like I said, just the simple fact that you and I are talking today and these things that are happening, do show that businesses are thinking about that and trying to just make sure that having a diverse workforce is great. Having a diverse customer base is great, too, because then you can afford to pay that diverse workforce that you keep.
Eric Thomas:
Yeah. And it's one of the many, many things that excites me and the rest of us here about the partnership with Genesys and Be My Eyes is, again, Genesys being one of the first vendors to bring this to the table in terms of the customer experience space. It's exciting to be at the forefront of this.
Josh Anderson:
No, no, it really, and truly is. Eric, if our listeners would want to find out more about this partnership, about Genesys, about Be My Eyes, what's the best way for them to do that?
Eric Thomas:
Well, the best way is, there's two ways, you can go to the Genesys website, www.genesys.com and that's Genesys G-E-N-E-S-Y-S.com. We have a couple of articles and announcements about the partnership, or you can also learn more about it from the Be My Eyes website, which is bemyeyes.com as well. So two sources that you can go through to learn more about the partnership and both about the companies as well.
Josh Anderson:
Excellent. We'll make sure to put those down in the show notes. Eric, can you give me another example? I mean, you gave me the drugstore and everything else. Can you give me another example of how this whole interaction might work for folks?
Eric Thomas:
Sure. Just think about a low vision in person. Who's able to place a video call through Be My Eyes and they can use it to navigate just any day type of experiences. We've had a number of testimonies that you'll see many of them on the Be My Eyes website; one individual uses the platform to navigate the London bus system. So of course, it's a global; it's a platform that's used globally. And we had a young lady from Australia who uses it for her day-to-day tasks, something simple as reading instructions on food, being able to tell the difference between white bread and brown bread, that she may be feeding her kids.
Josh Anderson:
Mm-hmm (affirmative).
Eric Thomas:
And she also talked about using it to guide her to the switch on the electricity box, when the power went out. It could be something as complicated as, my wife and I just switched over new phones and being able to navigate that experience of data transfer or transferring applications. It could be something that complex or something as simple; let's just make sure you're reading the label on food products. So many different ways the application can be used.
Josh Anderson:
Oh, no, there definitely is. And Eric, is there a way for people to find out maybe what businesses are participating in this?
Eric Thomas:
Yeah, yeah. If you go to the Be My Eyes website, you can learn, just like you can learn about the partnership between Genesys and Be My Eyes and what it's going to foster. You can also, there are a number of brands and businesses that Be My Eyes are supporting today that's listed on that website.
Josh Anderson:
Well, Eric, I want to thank you so much for coming on the show today, telling us all about this partnership between Genesys and Be My Eyes. This great thing that's really going to be able to help out folks with visual impairments as they navigate that world around them. And really, just about the initiative that you guys seem to have there at Genesys to just make everything a little bit more accessible. We really do appreciate it, and we appreciate your time.
Eric Thomas:
Thank you. Thank you, Joshua. Thank you very much. It was great to be here today.
Josh Anderson:
Do you have a question about assistive technology? Do you have a suggestion for someone we should interview on Assistive Technology Update? If so, call our listener line at (317) 721-7124. Send us an email at tech@eastersealscrossroads.org, or shoot us a note on Twitter @INDATAproject.
Josh Anderson:
Our captions and transcripts for the show are sponsored by the Indiana Telephone Relay Access Corporation or InTRAC. You can find out more about InTRAC at relayindiana.com. A special thanks to Nicole Prieto for scheduling our amazing guests and making a mess of my schedule. Today's show was produced, edited, hosted, and fraught over by yours truly. The opinions expressed by our guest are their own, and may or may not reflect those of the INDATA Project Easterseals Crossroads, our supporting partners, or this host. This was your Assistive Technology Update, and I'm Josh Anderson with the INDATA Project at Easterseals Crossroads in beautiful Indianapolis, Indiana. We look forward to seeing you next time. Bye-bye