Podcast: Play in new window | Download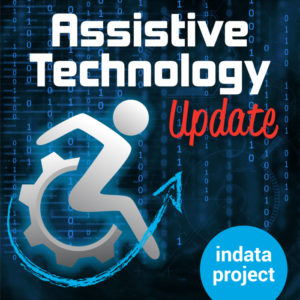 Your weekly dose of information that keeps you up to date on the latest developments in the field of technology designed to assist people with disabilities and special needs.
Special Guest:
Chase Anderson – Business Development – Eyeware Tech
Website: www.eyeware.tech
Email Chase: chase@eyeware.tech
INDATA Full Day Training – AT and Social Isolation – https://bit.ly/3lGaplA
Stories:
Accessible Gaming Database Story: https://bit.ly/3AIhB4L
Gaming Radar Story: https://bit.ly/2YTQarK
——————————
If you have an AT question, leave us a voice mail at: 317-721-7124 or email tech@eastersealscrossroads.org
Check out our web site: http://www.eastersealstech.com
Follow us on Twitter: @INDATAproject
Like us on Facebook: www.Facebook.com/INDATA
—– Transcript Starts Here ——-
Chase Anderson:
Hi, this is Chase, growth manager at Eyeware, and this is Your Assistive Technology Update.
Josh Anderson:
Hello, and welcome to Your Assistive Technology Update, a weekly dose of information that keeps you up to date on the latest developments in the field of technology, designed to assist individuals with disabilities and special needs. I'm your host, Josh Anderson with the Indata Project at Easterseals Crossroads in beautiful Indianapolis, Indiana. Welcome to episode 544 of Assistive Technology Update. It's scheduled to be released on October 29th, 2021. Today, we're super excited to welcome Chase Anderson from Eyeware Tech, to talk about their amazing technology and how it can help businesses, consumers, and really, all individuals.
Josh Anderson:
We've got a couple of stories about gaming, including one about a new accessible gaming database, and one about a new device to help individuals who are deaf or hard of hearing more easily access games. Don't forget, we always love to hear from you. If you'd like to reach out to us with a question, a comment, perhaps somebody we could have on the show, please reach out. You can send us an email at tech@eastersealscrossroads.org. Call our listener line at 317-721-7124, or hit us up on Twitter, @INDATAproject. We look forward to hearing from you, but right now, let's go ahead and get on with the show
Josh Anderson:
Here at the Indata Project, we do full day trainings, and our next one's coming up this next Thursday, November 4th. It's on AT for social isolation. If you'd like to attend online, you can go to eastersealstech.com or check the show notes. After all these months of lockdown, maybe you're looking for some new podcast to listen to. Well make sure to check out our sister podcast, Accessibility Minute and ATFAQ, or Assistive Technology Frequently Asked Questions. If you're super busy and don't have time to listen to a full podcast, be sure to check out Accessibility Minute. Our one minute long podcast that gives you just a little taste of something assistive technology based, so that you're able to get your assistive technology fixed without taking up the whole day. Hosted by Tracy Castillo, the show comes out weekly.
Josh Anderson:
Our other show is Assistive Technology Frequently Asked Questions or ATFAQ. On Assistive Technology Frequently Asked Questions, Brian Norton leads our panel of experts, including myself, Belva Smith, and our own Tracy Castillo, as we try to answer your assistive technology questions. This show does rely on you, so we're always looking for new questions, comments, or even your answers on assistive technology questions. Remember, if you're looking for more assistive technology podcasts to check out, you can check out our sister shows, Accessibility Minute and ATFAQ, wherever you get your podcast. Now, including Spotify and Amazon Music. As Employment and Disability Month winds down here, I thought maybe we'd take a little bit of time and talk about some fun stuff. For one thing, we do talk a little bit about gaming in the interview later, so I thought it was important to maybe talk about accessibility in gaming and just some of the things that are out there.
Josh Anderson:
I found a story kotaku.com; it's written by Isaiah Colbert. It's called New Database; it helps players find games with accessibility features. This story is written about an accessible games' database made by Dager System. Basically, the story talks about this new database that was launched on October 1st. It contains 144 different games and their accessibility options. People can use filters to look for different games by publisher, genre, platform, and can also look for auditory, visual, and fine motor features. Then, they can actually get these down into subcategories. Specify needs, like volume control, adjustable interfaces, colorblind filters, and controller customization. There's been a big push in video games to make them more accessible, and of course, some developers are probably doing this a whole lot better than others, but this is a really great tool for folks to use. If they have a certain impairment and need a certain accommodation for gaming, they can actually search by that accommodation.
Josh Anderson:
"Does this game allow me to access it with the built-in accessibility features?" Says, they're still working on it. They're quite a small team. They're working on adding more games, more filters, and these kind of things. They're also encouraging its followers to suggest games they'd like to add, leave comments, report bugs, and really help them to build this into something that's really useful for all gamers. We'll put a link to this over in the show notes, so that you can read this story and check out that new accessible games database put together by Dager System. Staying in the world of gaming, our next story comes to us from ABC10 News in San Diego. It's titled, "New device levels the playing field for gamers who are deaf or hard of hearing." This talks about a new device called Audio Radar. Now, this was created by Tim Murphy from Michigan, and he says, "It's six LED bars that surround a TV or a monitor."
Josh Anderson:
The idea is that, sounds appear on the screen, so if someone's sneaking up behind you, or over to the side. All these different noises that we have in games, be it shooting, or a vehicle, or a person, or all kinds stuff that's off the screen, but there's sounds so that you know where they are. Well, for individuals who are deaf or hard of hearing, of course, they're probably not going to get that information. There may be captions, subtitles, things like that, that allow them to access the conversations maybe going on around them, but they don't know where that's coming from. What happens is, let's say that something is sneaking up behind you. Well, then one of the light bars on the bottom of the screen will light up so that you know it's coming. How loud it is will depend on how much that LED light bar lights up.
Josh Anderson:
It says that Murphy used to actually be a radar technician in the Navy, and he's always been excited to try to bring something like this to gaming. As we read down here in the story, it actually has an interview with a gentleman named Dom Bearwood. This say Bearwood is hearing impaired and really loves to play games. Says actually, after trying out this device, he'd never really realized there were so many different sounds, like footsteps in shooting or background noises. He always knew they were there, but when he saw the lights going up, he was like, "Oh, there they really are." This could really be a game changer for individuals, who are deaf or hard of hearing, to really get the full experience of a game, to find all the different things that are out there. It could probably help them in multiplayer shooter games, just to know that someone's coming up beside them or out of their field of view. It looks like a crowdfunding site was set up on October 15th, to help Audio Radar try to get it to market.
Josh Anderson:
It's not actually out there yet, but hopefully, this is something that can eventually come to market and really help individuals who are deaf or hard of hearing improve their access to gaming. We'll put a link to the story over in the show notes. Listeners using an individual's eyes and head movement to access computers, AAC devices and other technology is nothing new. It's been around for some time and has made things accessible to many individuals with different motor impairments, and really changed their lives. Well, our guest today is Chase Anderson. He's here to tell us about Eyeware Tech and their new technology, and how it fits into this space and can make things even more accessible to the masses. Chase, welcome to the show.
Chase Anderson:
Yeah. Appreciate you having me, Josh.
Josh Anderson:
Yeah, I'm really excited to get into talking about the technology, but before we do that, could you tell our listeners a little bit about yourself and your background?
Chase Anderson:
Sure. Initially from Montana, small town named Kalispell just outside of Glacier National Park. I think something about growing up in Montana is you grow up with this explorer spirit, more or less, and so I grew up curious about the world. You could say, "Outside the mountains." I went to University of Montana, caught a job in the Middle East. Spent a couple years working there for a research organization. Decided it wasn't so much for me and went back for my MBA in business. I liked the life as an expat. The teacher, or the director, of my MBA program happened to be from Romania. Fast forward a little bit longer, I'm in Romania. That's where I eventually linked up with Eyeware. I wasn't too familiar with eye-tracking technology at the time, but it seemed like another frontier to explore, in a way. And so, for the past couple of years, I've been diving in and learning about eye-tracking technology. Where it is, where it's going, and the many use cases for it.
Josh Anderson:
Excellent. You just led me right into my next question. Tell us about Eyeware Tech.
Chase Anderson:
Yeah. We just celebrated our fifth birthday about a week ago. Let's see. We're a team of about 20, headquartered in Martigny, Switzerland, but a lot of us are located throughout Europe and the U.S. Our core focus is that we develop remote eye tracking software that can be used with everyday consumer devices. There are many use cases, but the driving vision that we're pushing to improve is human-to-human and human-to-computer connectivity. It sounds quite broad, but we can get into details in a bit.
Josh Anderson:
Yeah, most definitely. That's actually going to bring me to my next question. What all can it do?
Chase Anderson:
In broad terms, it allows computers to understand attention. Maybe, what this means is that computers, cars, smartphones can understand where the user or the driver is looking. We also offer head tracking, and then link detection along with that. In terms of what it can do-
Josh Anderson:
I know that's a very, very broad question, so let me break that down just a little bit. Let's say, what could it do for, because you mentioned this, for car makers? For drivers?
Chase Anderson:
We don't offer in solutions per se. You can think of us like a middleware, or a technology that enables other technologies to hold eye tracking. So for, we could say, driver monitoring systems. We're enabling the car to understand if the driver's looking at their cell phone, if they're doing the appropriate mirror checks, if they're still conscious. That can be used for a number of things, but generally speaking, that's what it does.
Josh Anderson:
As someone who has to drive a lot in the state of Indiana, I hope they implement that soon. There's a lot of folks I see that aren't paying any attention to the road, so that would be really good.
Chase Anderson:
Yeah. As I mentioned, I'm from Montana. There's plenty of long highway there. I think if someone were to take our tech and just attach a bell to it if people are falling asleep, or maybe not the most sober state of minds, it would probably be a pretty important piece of tech.
Josh Anderson:
Oh, definitely. I know [inaudible 00:10:48] do that. What about for gamers? I looked at some of your information. I found some pretty interesting stuff about that.
Chase Anderson:
For gamers, what we've done with our core technology is created an app that allows iPhones and iPads to replace a lot of the eye tracking hardware that's out there. What this means is that gamers that are trying to stream, you could say, their attention so that their audience can view where they're looking, or even avatar creators, right? There's a lot of VTubers who just have an avatar showing up. There's some interactivity that eye tracking and head tracking can add to that. What we are doing specifically is replacing that need for them to go out and buy specialized hardware for it. They can just pop out their iPhone or iPad, and have a pretty robust eye tracker in their pocket.
Josh Anderson:
Nice, that's great. You're using the technology that's already there, that most folks probably already have. Something else I saw, interesting as an application for this, is for businesses. Can you tell me about that?
Chase Anderson:
Oh, what business? There's quite a few.
Josh Anderson:
Oh, for sure. To just start, and I'll have you elaborate, for sure. To start with: We're looking at attention, so can businesses this to find out what customers are paying attention to, that kind of thing?
Chase Anderson:
Yeah. Now you're talking a bit into some of our retail applications. Like I mentioned, it doesn't really matter what sensor we're using. We just need the information. What we've seen happen in the past is, shopper insights agencies will take an inexpensive 3D camera, pop it on the shelf, and then you can track basically where shoppers are looking as they consider what cereal to buy or what milk to purchase. And so, that gives you information on how shoppers shop. Is it an impulse buy? Is it as confusing as trying to pick out the best wine, or do they just look for the blue milk cap and they're on their way? Once retailers have that information, there's quite a bit they can do — either to slow down that process or to educate the customer at the time.
Chase Anderson:
Yeah. That's real world 3D eye tracking. I mean, we're currently involved with a lot of U.S. projects that want to do the same thing, except online. Obviously, since that's picked up since COVID. Maybe the core use case there is understanding attention as a shopper navigates an e-commerce store. A lot of ad testing as well. It's quite a mixed bag, but the core of it is just, how are people using and how are they engaging in it before they do anything that's obvious? Like click a key or purchase a product, right? What happens before that, that captures their attention? That's what we can help answer.
Josh Anderson:
I can only imagine, from a business standpoint, how great that data is. To know what folks are looking at. Like you said, what grabs their attention? What actually is working for advertisers for, well, any business or any retail? I could see how that could be really just a huge help. Our show is about assistive technology, so Chase, can you tell me how Eyeware tech fits into the assistive technology space and can be used to help individuals with disabilities?
Chase Anderson:
Yeah. Well, again, it's quite a big can. We feel a little bit overwhelmed, because again, we're not providing the entire solution, right? It's not like we're creating a tablet that has all of the features, and that we can talk directly with customers. What we're doing is basically allowing a lot of the tablets that are out there, specifically aimed at assisting those that have limited motor skills, the ability to say control a tablet or control their screen just by using their gaze or their head position.
Chase Anderson:
I was in a call, in fact, a couple hours ago, this morning. This guy was looking for… Well, he developed a solution, which was basically a tablet that was a bit larger and it had physical buttons on it. The idea was that, where they didn't have the defined motor skills to use a keyboard, they would basically hit the combination of these buttons to replace the keyboard, to give the computer inputs. And so, the idea here was, "Okay. Well, why don't we put a little inexpensive sensor on the top of that — less than a hundred bucks, something like that — integrate our software, and then their users would be able to simply look at one of the areas of interest, and then they can control the screen that way.
Chase Anderson:
That's a bit of a complicated use case. I mean, most of the conversations we're having are on the tablet themselves. Any tablet with a webcam, we can basically enable to have eye tracking, head tracking by just adding our SDK into their existing software. That's opening quite a few conversations, a few dozen at this time, and we're more or less along for the ride to see what these companies, these manufacturers, these software developers really do with it.
Josh Anderson:
That's excellent. Many times, not to discount anyone that I've ever spoke to on this show, but it seems things are one solution. It's one little thing. But, the fact that your technology can be used for so many different things without having to buy more expensive stuff, and more things like that, that's great. That's great. I can see how that can open up the door for many, many, many different assistive technology applications for individuals.
Chase Anderson:
Yeah, that's the hope, that's the goal. When Kenneth first founded the company, maybe about five years ago, that was his first idea. Is, this could be used to really solve problems for those that don't have it, because eye trackers themselves… I mean, they can range, the powerful ones, up to 10, 20 000. At least in the hundreds for the lower tier ones. He really wanted to make this work specifically for assistive technology. At the time, the technology just wasn't there. In other words, our software just wasn't good enough. The ad tracking wasn't. Now that we're starting to put it back in the hands of a lot of these tablet manufacturers and assistive technology developers, they're being quite impressed. We're getting these green lights left and rights, to tell us that, "Yeah. We might be ready to be integrated and to be used." So, we're quite excited to see green where we used to be seeing red.
Josh Anderson:
No, that is great. I'm sure that we'll hopefully see it in more stuff. Well, I want to talk about just a few more things about Eyeware Tech. It's because I found them, and I just want to know more about them. Can you tell me about GazeSense?
Chase Anderson:
Yeah. Well, you can think that our main business is selling the core technology, right? Which is basically like a library, the SDK itself. GazeSense is a user interface. If you're an automotive manufacturer, or even if you're an assistive technology tablet manufacturer, in order to use the core technology, you have to go through an integration process, which costs developer time. It's time, brain power, money. It's cost resources. So, we've developed this quick prototyping app, that's quite easy to download, that basically gives you access to that core technology. It's just made for simple prototyping. It's just to prove the concept, to test the accuracy. To get access to the API, and to maybe do some quick integrations. It's not usually used as an in-product itself, although it has been for, we could say, some creative applications, such as museum displays and these things. But, for the most part, it's just that quick, rapid prototyping tool.
Josh Anderson:
Oh, very cool. Very cool. That's great for folks that are trying to make other things, and just see if this is something that's going to work and everything else. Can you also tell us about Beam?
Chase Anderson:
As GazeSense is for our core technology, Beam is for our SDK that allows iPhones and iPads to basically replace those eye-trackers, right? It was initially formed for gamers, and I believe we're up around a thousand downloads. The whole idea was, we can test the market and test the product with gamers, because they're a little bit tech savvy to begin with. There's a lot of them, and they're quite innovative. Yeah. That was the beta program that we had earlier this year that helped us fix all of the bugs and minor problems with it, and leading us up to the release of the SDK, which was a couple of weeks ago.
Josh Anderson:
Chase, can you tell us a story about someone who's used this technology? How they've maybe used it, and maybe how it's made a change in their life?
Chase Anderson:
Yeah, yeah. Absolutely. I don't think she'd mind me sharing, but there's this amazing woman that I met a couple of years ago — Lisa Armstrong of Emporia, a university in Kansas. She's a nurse and missionary by trade to Honduras, and she actually adopted a son there who happened to have autism. She attended trade shows and did a lot of research about assistive technology that could, basically, improve the quality of life and the educational development of her son. But, what she found was that, as usual, it's quite expensive, therefore quite limiting. Here's the cool thing about Lisa: Again, she's not a developer by trade, but she taught herself a programming language, Python, in her spare time and started to develop her own solutions for her son. When she found out about us, she was one of our earliest adopters, basically in the assistive technology space.
Chase Anderson:
I'll never forget the words that she said. "When you tell your son that you love him and he is not making eye contact, it's like it's going into space." We gave her our tech, and she basically used our technology to track the progression of her son, and also to automate programs to reward him when he makes eye contact with an avatar. I think she was working with the fur hat robot at the time. It's basically this robot head, more or less, but the whole idea was to automate this immediate feedback, right? And that allowed for the progression of her son to speed up quite a bit. Incredible woman. I mean, just very, you could say, passionate and a wonderful heart. It was just really cool to see our tech being used for exactly what we're trying to get at, which is trying to connect people and allow that to improve however we can. And so, I was very happy to meet Lisa and that she reached out. Yeah. Continue to be curious to see what she's going to build.
Josh Anderson:
Now that is awesome. Chase, what is next for Eyeware Tech?
Chase Anderson:
Yeah. We're going through the initial stages of any new technology in a new space, which is contacting new companies and validating with assistive technology manufacturers, for the most part. So, the companies that creates the hardware — and the software, specifically — we're having a lot of conversations with. I mean, the hope is that they use us, very simply said. We can take a little bit bigger picture with Eyeware, as well. I mean, we're also in a few talks with some of the big device manufacturers. I mean, the goal here would be to offer eye tracking as a standard in your laptops, or within the iPhone itself. All of those things are going on at once, and we're aiming, we could say, at a few industries at the same time.
Josh Anderson:
Well, that's awesome. We can't wait to see it in more technology. It's just a built-in. It's always great whenever you can have more accessible features, as a built-in. I mean, I know it's not completely new assistive technology. There's been Eye Gaze and stuff like that, but man, some of it is such… I mean, I've worked with it with folks, and some of it, it's like you got to aim everything just perfectly. And then, if they shift, move, someone bumps, it's off again. It's like, "All right, we're wiping."
Chase Anderson:
There's a few big barriers with eye tracking, right? The price. I mean, the price of the hardware itself. The accuracy, and also the calibration, right? Especially with those with cerebral palsy or something like that. You can't expect them to sit quite still. When we use a 3D sensor in those cases, that problem is solved. We can do automatic calibration. It's updated in real time; it's nothing at all. In regards to calibration with 2D sensors or webcams, it is an industry problem. It's something that we are paying special attention and focus to, and working hard to solve that in a few ways. I think we'll have something interesting within the next three to six months for webcam-based or 2D eye tracking that helps address that calibration issues.
Josh Anderson:
Excellent. Chase, how can our listeners find out more?
Chase Anderson:
Yeah, very simply. You can shoot me an email at chase@eyeware.tech. You can also visit us online at eyeware.tech. I think, Josh, you mentioned you might be able to include a link as well?
Josh Anderson:
Yes, sir. I will definitely put that down in the show notes. Well, Chase, thank you so much for coming on the show today. Telling us all about Eyeware Tech, the amazing things they can do. We can't wait to see it showing up more and more in the assistive technology space, as well as other places.
Chase Anderson:
Yeah. I really appreciate you having me. I mean, we work in quite a few industries. I [inaudible 00:25:07] a special thanks to the assistive tech community overall, specifically because, I mean, they tend to be quite collaborative and helpful. I mean, if you consider working with an automotive manufacturer, who need NDAs just to pick up the phone. I mean, assistive technology, even with competitors, there seems to be just this real environment of community and sharing, and all working for some greater goal or some greater goods. Special thanks to Steven Sutter from CreateAbility concepts for connecting you and I, Josh. Yeah. It's a really cool industry to get involved in a little bit.
Josh Anderson:
It really is, I'd recommend it to anybody. I never even knew this industry existed until I started working in it, and I don't think I could imagine ever working anywhere else. Chase, welcome to the assistive technology world. I'm happy to have you here and glad you're a part of it, but again, thank you so much again for coming on the show.
Chase Anderson:
Yeah. Thank you, Josh. It's been fun.
Josh Anderson:
Do you have a question about assistive technology? Do you have a suggestion for someone we should interview on Assistive Technology Update? If so, call our listener line at (317) 721-7124. Send us an email at tech@eastersealscrossroads.org, or shoot us a note on Twitter, @INDATAproject. Our captions and transcripts for the show are sponsored by the Indiana Telephone Relay Access Corporation, or InTRAC. You can find out more about InTRAC at relayindiana.com.
Josh Anderson:
A special thanks to Nicole Prieto for scheduling our amazing guests and making a mess of my schedule. Today's show was produced, edited, hosted, and fraught over by yours truly. The opinions expressed by our guest are their own and may, or may not, reflect those of the Indata Project, Easterseals Crossroads, our supporting partners, or this host. This was your Assistive Technology Update, and I'm Josh Anderson with the Indata Project at Easterseals Crossroads in beautiful Indianapolis, Indiana. We look forward to seeing you next time. Bye-bye.