If you're in the market for a smart pen, Neo Smartpen offers a variety of options!  Their Neo Smartpen M1 is the "lightest, smartest smartpen" that feels similar to a traditional writing pen.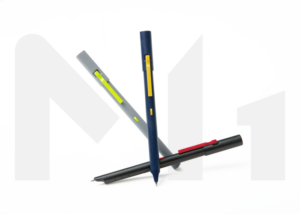 Here's more about the pen's design:
"The compact and simple design of Neo Smartpen M1 provides an uninterrupted writing experience. The vibrant color combinations present young and trendy product personality…"
Even though it's smaller in comparison to other smartpens, it still offers the same features of its predecessors.  If you aren't familiar with smartpens, in sum, they allow users to write notes on Digital Paper.  Next, these notes are digitized so your notes will be available in a convenient digital format!
It does this using Ncode technology. Ncode is the "combination of lines and symbols which create a pattern that expresses a unique code for every location of the page."
Here's how it works:
Take notes with Neo Smartpen M1 on Digital Paper

M1 captures the Ncode of the page you write on

M1 transfers the code data to the connected smart device. You can edit and share your handwritten notes with the developer's Neo Notes app!
Overview of the Neo Smartpen M1:
M1 is made of fiber glass material, making it both sturdy and shock-resistant

Has automatic ON/OFF feature: it will automatically turn on whenever the pen cap is removed. It will convert to standby mode when cap is back on.

Charges via micro-USB cable and takes about 90 minutes to charge

Will last in standby mode up to 125 days; allows up to 6 hours of continuous use
Click here to learn more!