If you're looking for a device to help you or a loved one stay safe on the go, check out the MPG Sirensafe device. In sum, the MPG Sirensafe is a portable safety alarm keychain device that can notify others when help is necessary.
Whenever someone needs help, they simply need to pull out the small bolt from the device.  Pulling out the small bolt will produce an "extremely loud 130dB ear-piercing panic alarm that can be heard in the range of 1,200 feet (or 381 meters)."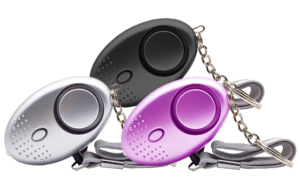 Here's more from the product's description:
"The device is ideal for taking with you wherever you go. MPG Sirensafe is a portable device that may be attached to women's handbags, school bags, suitcases, and other items. You could even take it on the plane with you. We want to make sure you're safe no matter where you go!"
Overview of MPG Sirensafe:
A user-friendly product that is easy for individuals of all ages to use
Easily attaches to purses, bags, keys, and more!
Users simply need to pull out the bolt to trigger a very loud 130dB panic alarm that can be heard up to 1,200 feet away
Made from high-quality ABS material so it can be used for many years
Comes in a variety of colors
Users can replace the battery whenever the battery dies
Click here to learn more about this safety device!