There have been countless robot vacuums to hit the market since the first Roomba came out.  There are many that also mop floors in addition to vacuuming.  If you're in the market for a new robot vacuum and mop, check out the Roborock S7!
Here's more about the company behind this revolutionary robot:
"Founded in July 2014, Roborock specializes in the research, development, and production of products that make people's lives more comfortable. We design our range of robot vacuums, and our cordless stick vacuum to work so effectively that people are empowered to spend more time on the things they love and less time on chores."
According to its description, the Roborock S7 is the winner of 17 Best of CES 2021 Awards, from Business Insider, Digital Trends, Newsweek, How to Geek, and many more.  The robot's VibraRise mop lifts whenever it detects a carpet, "so you can mop hard floors and vacuum carpets in a single clean."  It also raises when cleaning is finished to avoid spreading dirt, and when it's on the dock so "you can say goodbye to ugly plastic mats and dirty streaks."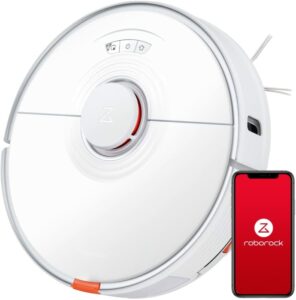 Further, Roborock's S7 sonic technology scrubs floors up to 3000 times per minute.  With this technology, stains from coffee to mud and more can be cleaned deeply and effectively.  
Overview of Roborock S7:
Roborock's "most powerful and convenient robot vacuum"
VibraRise system is the first in the world to combine intense sonic mopping with automatic mop lifting
Using its powerful 5200mAh Lithium polymer battery, the Roborock S7 delivers up to 180 minutes of nonstop cleaning on a single charge
Accurately identifies carpets using ultrasonic sound; once it recognizes a carpet, the S7 will automatically boost the suction power for deeper carpet cleaning
Noise dampening acoustic design minimizes unpleasant noise, freeing you to clean whenever you want
Multi-directional floating brush keeps the brush closer to the ground for deeper cleaning even on uneven surfaces
Amazon Alexa, Google Home, and Siri Shortcuts allow users to command the robot using your voice

You can also control it using an app!
Click here to learn more!