For those families who have a member with a physical disability, sometimes the idea of a road trip doesn't seem possible. But Winnebago has accessibility on wheels with its accessibility enhanced (AE) line of RVs, including the Inspire and the Adventurer AE.
Now, mobility issues won't keep you from getting on the road for your own adventure!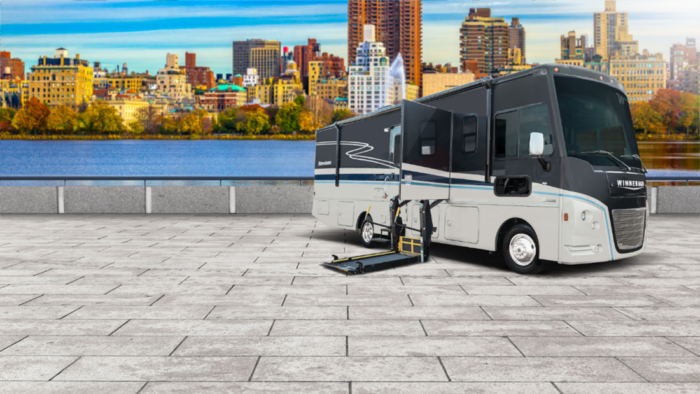 Winnebago Builds for Wheelchair Comfort
Winnebago has been modifying their standard vehicles for individual customers with mobility challenges for more than 40 years. Now, the company is building accessibility enhancements into their line of RVs from the ground up — the only manufacturer doing so.
These features help to make wheelchair movement safer, easier and more comfortable throughout the vehicle.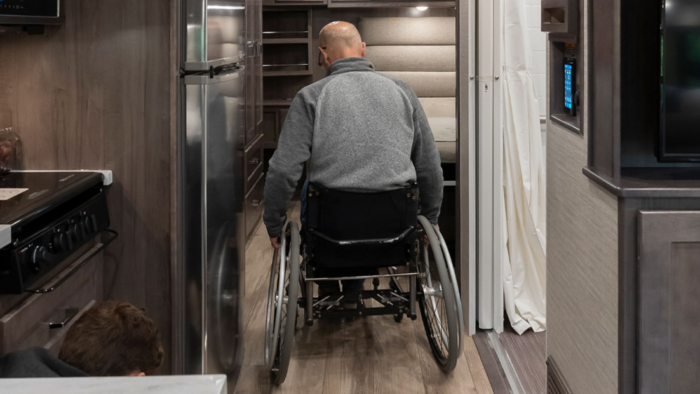 There is a BraunAbility® Century-2 wheelchair lift to make entry and exit easy. In addition, there is an air-assisted, power swing-style wheelchair lift door with remote controls. Also, the vehicle offers integrated wheelchair tie downs built into the floor.
Light switches and the systems monitor area have all been moved for greater accessibility. Moreover, there is a wider hallway to accommodate a wheelchair. Further, there is an expanded toilet area with a large roll-in shower that has an assist bar for getting in and out with greater ease.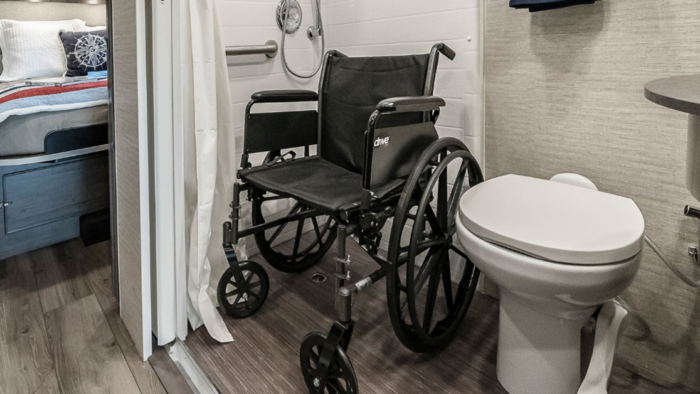 Interior Conveniences with Exterior Power
Just because Winnebago's AE line is built for accessibility doesn't mean it loses any of its luxury, convenience or power. A fridge and freezer, stove, 39-inch HDTV and LED ceiling lights are all available in the dining area. Plus, there are removable pedestals for more dining room.
The BraunAbility lift takes up a few feet of wall space, and there is room for that and more inside the RV.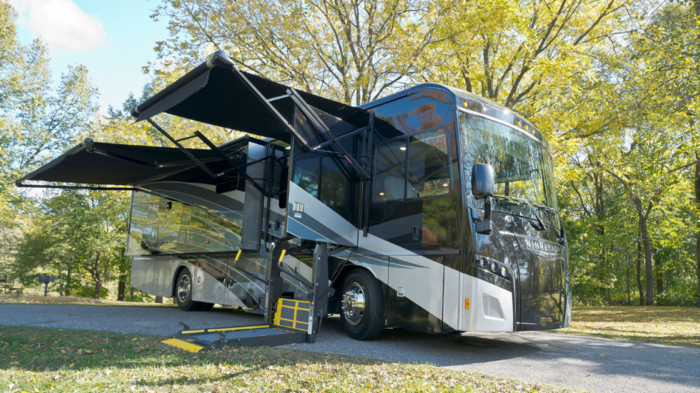 The Inspire vehicle is more than 35 feet long and 11 feet high. The Adventurer is 31 feet long and 12 feet high. Both RVs deliver a smooth, well-mannered ride. And all of the accessibility features are offered in a beautiful, spacious vehicle.
It gives people in wheelchairs the chance to take to the road and enjoy the time with family and friends.
Get a look at the Winnebago AE line here: