Podcast: Play in new window | Download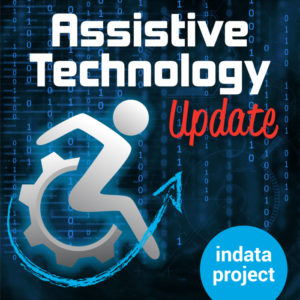 Your weekly dose of information that keeps you up to date on the latest developments in the field of technology designed to assist people with disabilities and special needs.
Special Guest:
Michael Lauf with Laufware Accessible Windows Software
Bridging Apps: https://bridgingapps.org/
Special Education Story: https://bit.ly/39jyISH
——————————
If you have an AT question, leave us a voice mail at: 317-721-7124 or email tech@eastersealscrossroads.org
Check out our web site: http://www.eastersealstech.com
Follow us on Twitter: @INDATAproject
Like us on Facebook: www.Facebook.com/INDATA
—– Transcript Starts Here —–
Michael Lauf:
Hello, this is Michael Lauf with Laufware Accessible Windows Software, and you are listening to the Assistive Technology Update.
Josh Anderson:
Hello, and welcome to your Assistive Technology Update, a weekly dose of information that keeps you up to date on the latest developments in the field of technology designed to assist individuals with disabilities and special needs. I'm your host, Josh Anderson with the INDATA Project at Easter Seals Crossroads in beautiful Indianapolis, Indiana. Welcome episode 570 of Assistive Technology Update, it's scheduled to be released on April 29th, 2022. On today's show, we're super excited to welcome special guest Michael Lauf back to the show. He's on to talk about Laufware, an Accessible Windows Software website, where you can go and find all kinds of great stuff and we can't wait for room to tell us all about it. We've got Amy Barry on with An App Worth Mentioning from BridgingApps, as well as a story about some creative ways that individuals are using special education to help individuals with special needs, learn, excel, and grow.
Josh Anderson:
Don't forget if you've ever got an idea of someone we should have on the show, a question, a comment or anything else you can reach us by email at tech@eastersealscrossroads.org. Call our listener line at 317-721-7124 or drop us a line on Twitter @INDATAproject. As always, thank you so much for taking time out of your day to give us a listen, now let's go ahead and get on with the show.
Josh Anderson:
Our story today comes from over at smartbrief.com and it's written by Diane Benson Harrington. It's titled Special education: Technology can allow inclusion and advances. Now, if listeners of this show probably realize that assistive technology can really help with inclusion and of course advances in learning, but not everyone out there knows this. If you don't have a disability or a special need, or you don't have someone in your life that does, you probably don't realize is that a lot of these things even exist. The story talks about some different things. Of course, it begins starting by some of the issues that are out there. One, of course is the shortage of special education teachers, which has been ongoing issue that was exacerbated by the pandemic, but also talks about some of the good things that maybe have came out over the last few years.
Josh Anderson:
It talks about families and special education students found that having video chat meetings with teachers about the IEPs and other needs has really and truly helped. It's helped with scheduling, it's helped them stay involved and connected. These video chats, texting, and other ways to communicate really lets them stay on pace to help the individuals get to where they need to go. There's a whole part of this article called schools get creative to assist special-ed students. This part's what I really like because I think the creativity is something that we all have to have. I think in the assistive technology community, creativity is the reason that many of these things were created. It's the creativity of these makers of these individuals that see a problem and find a creative way to overcome it. If you're an individual with a disability or know an individual with a disability, realize that they've probably been pretty creative most of their life of finding their own way to be independent and to get things done, but this has some examples of some different things.
Josh Anderson:
It talks about students in San Andreas High School have a program called Growing Hope. In this they use smartphones, tablets, and video editing software along with sensors to monitor and manage a high-tech greenhouse. Of course this gives you all kinds of different skills that you can use. You're using technology to maintain and keep everything going. You're learning horticulture, farming, all other kinds of transferable skills that really, and truly will allow you to transfer those into the working world after school. It says that in a Georgia school district, they've introduced touch screens to help students with disabilities respond easier and faster. Being able to do that, gives them more time with their OTs and speech language pathologist in order to help them improve their outcomes. A New Hampshire school is using virtual reality headsets to help some kids with trouble regulating emotions, physiology, and senses, as well as students with limited mobilities.
Josh Anderson:
It says that the instructors have found that pre-teaching the students about what the VR experience looks like helps to improve the success on this. This talks about putting more aids in the reach of students. Some of things like 3D printing tools that allows individual, the visual impairments to study different STEM things, that we've talked about this before, try to describe a mitochondria, a Golgi apparatus, these kind of things. Try to describe that, but then if you can actually put something in someone's hand where they can feel it, where they can feel the different parts and have some different things that they can have, can really, and truly assist them. Of course, it all starts with UDLs, with Universal Designs for Learning. As we actually make everything inclusive, but then we sometimes need the special technology or the special ways of going about things for students who have some more advanced needs.
Josh Anderson:
Really it's just about finding how the student learns best, where the barrier is, and what we can put in place in order to overcome that barrier. There may be some new stuff in this story, there may be some stuff that you already knew, but I'll put a link to it over the show notes that you can go check it out. But I do always love the different creative ways that are special education teachers or special education programs come up with to really, and truly try to help each and every student in any way that they can. Many times these programs are underfunded, understaffed, but whenever they get those really great team members in there, it's amazing the outcomes they can have and the things that they can work with these students to achieve. Next up on the show, we welcome Amy Barry from BridgingApps with An App Worth Mentioning. Find out more about BridgingApps, check them out at bridgingapps.org or click on the link in the show notes. Take it away. Amy,
Amy Barry:
This is Amy Barry with BridgingApps, and this is an App Worth Mentioning. This week's featured app is called BlindSquare. BlindSquare is pioneering accessible navigation both indoors and outdoors. Know where you are, know where you're going and travel with confidence. This app is a new solution that combines the latest technology to help the blind with their daily lives. It has been developed in collaboration with blind people and carefully field tested. You need either an iPhone or an iPad to get started. It also supports some additional accessories to enhance the experience. As the primary focus is providing information about the environment, it is best paired with another GPS app such as Google or Apple Maps, which can provide turn by turn directions that supplement the information. The app is very powerful and customizable, allowing you to choose exactly how much information you would like to receive, as well as how that information is conveyed. By default, BlindSquare will report points of interest around you.
Amy Barry:
This includes businesses and intersections, as well as how far away they are from your current location. The radius setting can be used to control how much information you wish to receive. Some of the many features you can customize include setting the direction style, distance, unit measurement, changing text to speech options, customizing sounds used to convey different pieces of information, customizing the audio menu and customizing Bluetooth settings required to use the indoor navigation feature. While we have not reached the point where AI can guide a blind person independently and accurately, BlindSquare provides lots of information about the environment, which can be extremely helpful and boost confidence while traveling. Since it is using GPS, it should not be taken literally and assumed to be fully accurate at all times, but it is a nice supplement to other tools such as existing mobility skills. BlindSquare is currently available for iOS devices and is free to download. For more information on this app and others like it, visit bridgingapps.org.
Josh Anderson:
Listeners, many years ago, we had Michael Lauf on the show and we've asked to have him back today to talk about his new website Laufwear.com and how it can assist individuals with visual impairments to find accessible programs and so much more. Michael, welcome back to the show.
Michael Lauf:
Ah, glad to be back.
Josh Anderson:
Yeah, I'm really excited. Last time, I think you had to talk to Wade, so I'm excited that you get to me this time, but could you start off by telling our listeners a little bit about yourself and your background?
Michael Lauf:
Okay. Well, my name is Michael Lauf. My degree and initial work was in radio-television broadcasting, mainly radio, and worked in commercial radio in Vincennes Washington, Indiana for nine years. I worked for the Better Business Bureau for over 12 years, helping with the consumer and business advocacy. We worked for a company called Serotek, where we made screen readers and specialized software for the blind and low vision community. That's why I was on speaking with Wade about 12 years ago, and I started building websites in 2012, mainly with WordPress, but also Drupal and that's what led me to this project Laufware Software.
Josh Anderson:
Excellent. I think our listeners can probably tell from your voice that you were in radio before, just because you definitely sound good on here. Well, let's go ahead and tell us about Laufware.com. First of all, just start off with the basics. What exactly is it?
Michael Lauf:
Okay. Well, first of all, the name Laufware, my last name, which could also be pronounced Lauf from the German word, which means to run, so software to run your computer. Laufware.com, what I'm doing is putting together over 200 programs that are accessible with screen meters, for folks to navigate and use Windows. What we've done, as I said, we have 28 categories to help you break down and get in the ballpark of what you're looking for, be it web browsers, email, software for recording, video. It's amazing how many different video programs are out there and audio players and just a wealth of different software, but also some categories that may help you. We have one called the Software Top 40, where I have 40 of my favorite pieces of Windows software. We have a portable software section, so these are 50 programs that you can basically download.
Michael Lauf:
You don't really have to install them, you can just have maybe a USB drive, if you need to go work on someone's computer or take your email and work on another machine without having to install it or go online or to a cloud based service, so that's a very popular feature. We also have a keyboard shortcuts page and that is really taken off. That was a suggestion when I first launched the site on March 31st. Right now we have over 52 programs, keyboard shortcuts that you can use with those programs. I've also gone back and added many of them adjacent to the actual software. When you go in there and find a linked Office, you can also find the Word and Excel and PowerPoint and Outlook keyboard shortcuts right beside it. That seems to help folks. We also have a podcast section, so podcasts of interest to the blind and low vision community.
Michael Lauf:
Now there's about 36 there, we may add a few more. We don't want to go too crazy with it, but if you're interested in other podcasts like this one that address the blind and low vision community, you can find that there as well. We've also started an email list that people can subscribe to. It is a low traffic announce only list where I will post links to how-to articles and new features that I'm adding to the website. I've also created a podcast over at Pinecast, so just about to launch my first episode. Trying to hone in on exactly what we're going to do, but I think it's going to be a situation where maybe we'll have a weekly Zoom meeting and do Windows Q&A, and then I will add a software review, maybe either a category of software or a very specific program, and we'll show people how to use it in the benefits of that software. That is the 10,000 foot view of what we're doing.
Josh Anderson:
Very nice. Well, let's dig in just a little bit. Let's say that I go there and I'm finding this software, what information is available to me about those different accessible softwares that are mentioned on the website?
Michael Lauf:
Okay. Well, as of now it just basically gives you a link to the actual download page where the software resides and there is a description explaining what this software does. For example, if you're looking for MP3 tools, I point to something called MP3 Tag Studio. I tell you before you go there that this program lets you properly tag your MP3s, it lets you look at a database to maybe update and correct the titles of your songs. I just try to give you a very basic description, the actual resources and training is something that I'm building out. I want first to get input from people on the information that they need. Right now it's just basically a link and a description of what you're going to find, what this software does.
Michael Lauf:
Then we're also creating blog posts, so I'm calling news articles. I'm planning to do one for each piece of software, then I can go into greater detail and maybe up to 500 words exactly what that software does and that will help get the website better index with Google, because Google indexes the first 55 words or first 400 characters of your blog posts. That's a little hint for all of you doing websites and marketing. That's what you get now is just a software categorized and a basic description of what you can expect that software to do.
Josh Anderson:
Nice. I know you mentioned that adding the keyboard shortcuts and everything came from feedback. Is there a way that users can submit their favorite programs? I know it's impossible to know all the accessible programs and everything and folks have different favorites. Is there a way for them to get that information to you so they can be added to the website?
Michael Lauf:
Yes, right on the front page, there is a link that says, share accessible software, did we miss something? By all means there's a form you can use, you can either just send an email to info@laufware.com or there's a contact form, or there's a specific software submission form where you can name the software, give a basic description, the website of it and then there's three check boxes. If you've used it with specific screen readers, you can check those for JAWS, NVDA and Microsoft Narrator, so we know what tools you've used to access it.
Josh Anderson:
Sure. I'm sure that'll end up being a great place to share the ups and downs because even accessible programs, there's always that one trick or that one thing that it doesn't work or always seems to have to work around. I'm sure actually having a community of folks sharing, they can share that information and hopefully help folks in the future not hit those pitfalls.
Michael Lauf:
Yeah. That's the biggest question right now is what is access? What is accessible? What does that mean? It's different things to different people. Would some people expect that to mean it's 100% usable or it's okay, it's mostly usable, you can get around it, but maybe it has a few unlabeled buttons. I had one scenario of some screen sharing software. This is what you would use to record your computer screen maybe if you wanted to make a YouTube video or teach someone how to use a piece of software. In my thinking I'm taking a hobby, I've been collecting software for over 10 years and turning it into something more for the public. To me it was accessible because I knew how to use it, but when you ran the tool, you would see nothing on a screen because since it's sharing the screen, it's hidden so that it doesn't become a part of the presentation.
Michael Lauf:
Then you have to know to go to your system tray and right click, and then you can set the keyboard shortcuts to start and stop recording and what parts of the screen you want recorded. Is that accessible? Many would say it's not, or is it accessible if yours truly takes time and writes a couple of paragraphs explaining to you how to make that happen? I suppose if people really call me out and question the term accessible, then maybe we'll rethink that to something like usable. But that is the big question is one's definition of or great example because people will specifically ask, "Is it accessible with JAWS?" Most things are if they work with JAWS, they work with NVDA, but some times one will work with one and maybe not as well with the other.
Michael Lauf:
Yeah, those are all questions to be asked, but we welcome input. That is really what's going to drive this website going forward. The people that take time to write to me, ask for things, I'd request, I'm going to add it even though it's not software per se, people wanted weather radio. The blind community has some, at least have a fascination with weather. I thought we can do that because that's another thing we have on that website is an experimental project, a radio software page and what it is it's called SDR, a software-defined radio. People can actually tune radios throughout the world and listen to different stations. Many folks have gravitated toward that. Right now it seems to be more of AM and short wave up to about 30 megahertz. I know some of us would like to find FM radios.
Michael Lauf:
I have to work a little bit more on that because that's not something that people are doing in Windows and you can listen in Windows, so you can listen on your iPhone, but the people broadcasting seem to be doing it with Linux or a Raspberry Pie or something like that. That's on one of my long term projects to figure out how to make that even more accessible because visually there is what they call a waterfall. It shows visually where the strong signals are and you can just click on it and jump right to those frequencies. I'd like to find a way that the blind community can take advantage of that so that you still have the fun of manually tuning up and down the dial, but then you can also see where the action the activity is.
Josh Anderson:
Sure. Yeah, sure. If it's just fully a visual interface, that's not real helpful and I'm pretty sure that the screen reader's probably not reading that real well as far as the visual interface that it's showing you. Michael, I got to have to ask, where did the idea for this come from?
Michael Lauf:
Well, it started in 2012. I wanted to learn to build websites. I'd been coding writing pages by hand since 1998, but I wanted to go to the next level and start using a content management system. I already been collecting software, that's something that started when I worked at Serotek because we made a screen reader and we wanted to compile a list of accessible window software, at least at work with that technology. In 2012, I just bought the domain Laufware.com and just basically put links to software that I was using. This really has been there for over 10 years, but it was very basic. It just said Winamp or VLC or Notepad plus. You would just click on it, it's what I used to build websites. It had over 100 visits per day from Microsoft and different entities looking for accessible software, so that's where it started.
Michael Lauf:
It's been on the back burner. Most of the links still work, but I went through it in the last two months and just updated everything and put better descriptions and made sure that links went directly to the download pages. I'd get you as close as I could without directly linking to the software which I didn't want to do because I want to make sure you get the latest and greatest version. I have been fortunate in my life that I have turned hobbies into careers. As a kid, I was passionate about radio, then I went into radio broadcasting. I was always interested in consumer advocacy and that led me to the Better Business Bureau. Of course my love of music also led me to running a DJ service for over 18 years. I've been very fortunate in life to take hobbies and turn them into careers or at least something that I don't plan to make a lot of money on this one.
Michael Lauf:
Although I do have a donation link, I hope to get some revenue to help me pursue some other goals of this. Some of those things would include, I would love to be able to have accessibility awards and actually reach out to software developers and give them some recognition for making their software accessible and maybe expanding into other areas. We've had requests for building links and resources for Android. Of course, iOS is pretty well covered with websites, but that's not to say we couldn't do our own, but AppleVis does a great job of iOS and the Mac. Accessible TVs, many television sets talk, and people don't know that, so highlighting that. Google has their operating system to talk, Amazon with the Fire OS. There's a lot of accessible technology out there, but one person and to really make this work, it's going to require a team effort.
Michael Lauf:
We'll see how far the project goes. Even if I don't collect a dime, you'll have what we have right now, things that I can do myself and have all this great software there to hopefully make people's lives, easier, find out how to pursue their hobbies and even employment. That's one of the things I hope that this website would do was give you tools that you could use to make it and be more successful in the workplace. Because now even if the primary piece of software that your employer uses is successful, there's usually five or six pieces of software that you will need to do your job, whether it be training, onboarding. That's something that we hope that this website can help people to accomplish.
Josh Anderson:
Ah, it's great. That could be great for employers too, as they look to maybe institute something new, a new program or a new piece of software, something to give them a tool to find something that would be accessible from the beginning. Instead of having to think about that later down the road.
Michael Lauf:
Exactly. That's what I hope is it isn't just for the blind community, but also other folks to realize and I have to make sure that I word that correctly, that this doesn't mean this is software that only used by the blind. This is great software, mainstream software that just happens to be usable by the blind so that people who build software can look at examples of related programs that you work. Yeah, it's the training and resources part that I'm really giving thought to. How do I want to build that out? How do I manage it in such a way that it doesn't become overwhelming to maybe I set up a network of trainers? People who want to assist people who want one on one assistance, but also do a lot myself again, through the podcast, even dabbling into YouTube videos.
Michael Lauf:
It seems to take me a long time to actually write out what I want to say, but maybe something like Windows 11, where you have greatly improved voice recognition where I can just speak it and just do a little bit of editing and actually come up with some great how-to articles. All the things in the works going forward.
Josh Anderson:
Sounds good. We can't wait to see all those. Well, I do have to ask Michael, do you have a favorite piece of feedback or maybe a story about someone that's been assisted by your site that you can share with us?
Michael Lauf:
Well, I did have a 68 year old singer and musician and she was just blown away. The keyboard shortcuts was really helpful to her. She wanted to learn to do more with her software and she said it has been helpful for her. She could go to the next level of making recordings and sharing them via Dropbox. I have another gentleman who's reached out, asked me to help him. He's created two CDs as a musician and he would like to have people be able to buy those. I'm really excited, like I said, this and help hobbyists to pursue what they're interested in and take it to the next level.
Josh Anderson:
Well, like you said, you've been blessed to have hobbies turn into careers and be able to do something you love just, oh, it's so much easier to do it. It's so much easier to get up in the morning and go to work when it's something you actually love and really truly do enjoy doing. Well, Michael, if our listeners want to find out more and become part of this community and everything, what's the best way for them to do that?
Michael Lauf:
Well, the best way is to go visit the website at Laufware.com loud and usually funny. It's my acronym, L-A-U-F-W-A-R-E.com. There you can use the contact form to give me your feedback, or if it's specifically software, you can use that form and tell me about your favorite software, something that we haven't included. I've already received at least five new pieces of software that I wasn't aware of. That excites me. That's how I do know I have the passion for this. You can email, there's also a podcast submission form, so if there's a great podcast you're aware of that we're not covering that's on the podcast page. Just visit Laufware.com or email info@laufware.com, and I look forward to talking to you and believe me, if I can implement it, I will. Everyone is listened to and all comments and suggestions are given consideration.
Josh Anderson:
Excellent. Excellent. You brought up a good point because I know no matter how long I do this job, I learned something new almost every day or piece of software, device that I've never heard of before, that's helping somebody out there. It's always good, if you can share that information because just because you might know it's out there, it doesn't mean that Michael, myself, or anybody else knows that those things are available. We'll put links to those down in the show notes so that folks can easily get to them. Well, Michael, thank you so much for coming on today, and telling us about Laufware.com and just all the great things that you're doing to help get the word out and help folks be able to find that software and things that are accessible to help them in their daily lives and work and play and in really everything they do.
Michael Lauf:
Well, thank you for sharing. You have great podcasts and I think we have to network and share our resources to help improve the community. I thank you.
Josh Anderson:
Thank you. Do you have a question about assistive technology? Do you have a suggestion for someone we should interview on an Assistive Technology Update? If so, call our listener line at 317-721-7124. Send us an email at tech@eastersealscrossroads.org, or shoot us a note on Twitter @INDATAproject. Our captions and transcripts for the show are sponsored by the Indian Telephone Relay Access Corporation or InTRAC. You can find out more about InTRAC at relayindiana.com. A special thanks to Nicole Prieto for scheduling our amazing guests and making a mess of my schedule. Today's show was produced, edited, hosted, and fraught over by yours truly. The opinions expressed by our guests are their own and may or may not reflect those of the INDATA Project, Easter Seals Crossroads, our supporting partners or this host. This was your Assistive Technology Update. I'm Josh Anderson with the INDATA Project at Easter Seals Crossroads in beautiful Indianapolis, Indiana. We look forward to seeing you next time. Bye-bye.