Podcast: Play in new window | Download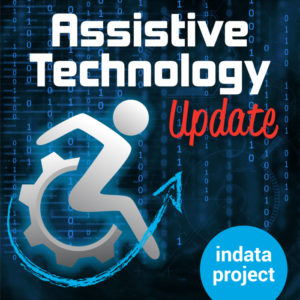 Your weekly dose of information that keeps you up to date on the latest developments in the field of technology designed to assist people with disabilities and special needs.
Special Guests:
Dustin Wright – Co-Founder and Chief Marketing Officer – NextGen Assistive Technology Inc
Pat Opat – Business Development Manager – NextGen Assistive Technology Inc
Check out NextGen AT: https://www.nextgenat.com
Email Dustin: dustin@nextgenat.com
INDATA Full Day Trainings: https://www.eastersealstech.com/our-services/fulldaytraining/
——————————
If you have an AT question, leave us a voice mail at: 317-721-7124 or email tech@eastersealscrossroads.org
Check out our web site: http://www.eastersealstech.com
Follow us on Twitter: @INDATAproject
Like us on Facebook: www.Facebook.com/INDATA
—– Transcript Starts Here ——
Pat Opat:
Hi, this is Pat Opat. I am the Business Development Manager for NextGen AT.
Dustin Wright:
And this is Dustin Wright. I'm a Co-founder in CMO of NextGen AT as well. And this is your Assistive Technology Update.
Josh Anderson:
Hello and welcome to your Assistive Technology Update, a weekly dose of information that keeps you up to date on the latest developments in the field of technology designed to assist individuals with disabilities and special needs. I'm your host, Josh Anderson, with the INDATA Project at Easterseals Crossroads in beautiful Indianapolis, Indiana. Welcome to Episode 578 of Assistive Technology Update. It is scheduled to be released on June 24th, 2022.
Josh Anderson:
Today's show, we're super excited to welcome Dustin Wright and Pat Opat on the show. They're here to talk all about NextGen Assistive Technology and how they can help providers with remote supports. We also have a story about something I experienced while visiting a concert venue to see one of my favorite bands play just a few weeks ago.
Josh Anderson:
Don't forget. We're always looking for your stories, for your comments, for your questions, or for your suggestions for folks that we might have on the show. You can always drop us an email at tech@eastersealscrossroads.org. Call our listener line at (317) 721-7124, or hit us up on Twitter @INDATAProject. We look forward to hearing from you. We thank you for listening, and let's go ahead and get on with the show.
Josh Anderson:
Listeners, I'm excited to announce that our next full-day training is coming up just about a month from now. Tools, devices, and apps for everyday living will be presented by the clinical staff here at Easterseals Crossroads on Thursday, July 21st. I'll put a link down in the show notes where you can find out more information and register for this all-online training to learn all about some really cool tools, devices, and apps for everyday living. Our INDATA full trainings are completely free to attend, and you can receive CEUs for attending. Again, I'll put a link down in the show notes so that you can easily get over to our full-day training page, register for the event, find out more information, and even visit our full-day training archives if you want to check out one of our older trainings. We look forward to seeing you virtually there.
Josh Anderson:
You find yourself with a little bit more time on your hands. Maybe you're really busy and only have a little bit of time to listen to podcasts, or maybe listening to this has you thinking. Well, what about this? Well, what about that? Well, if you're short on time, or if you have questions about assistive technology, we have other podcasts that might just fit your needs. The first one is Accessibility Minute. This one-minute long podcast gives you a little taste of assistive technology and really wets your whistle to have you go out and find out more about a piece of technology and how it might help those you work with, yourself, or maybe a friend or family member.
Josh Anderson:
If you happen to have questions about assistive technology, we have Assistive Technology Frequently Asked Questions or ATFAQ. This show is hosted by Brian Norton and features yours truly along with Belva Smith and Tracy Castillo as we all talk about assistive technology with questions that come in from email, phone calls, and other means. We also don't always know the answer so it's very important that we have listeners that can help us out with some of those questions, because while we like to think every once in a while that we may know everything, we're proven wrong almost daily on that one. So if you're looking for more podcasts to listen to, if you're short on time and need a really quick podcast, or if you have questions about assistive technology, make sure to check out Accessibility Minute and Assistive Technology Frequently Asked Questions wherever you get your podcasts.
Josh Anderson:
Listeners, our first story today isn't really a story. There's no link, there's nothing to go read or follow up on. It's really and truly just something that I observed, an experienced that I had that really made me think about some things. Also, just looking at my friends' reaction and well, you know what? Instead of explaining it, let me just jump right in.
Josh Anderson:
A few weeks ago I went to a concert at a local concert venue called Deer Creek in Noblesville, Indiana. It's actually called something else now. I suppose it hasn't been Deer Creek for a good 20 years, but to those of us that have been going there for a long time, we still call it Deer Creek. But anyway, as you get there, and you hang out in the lot, see people and everything, and we're having a great time, went in and went up to purchase a beverage at the concession stand. As we walked up, it became pretty clear that the two individuals that were there to help us were both deaf. So the two individuals, one individual works the cash register and the credit card machine and everything. And then the other one pours the drinks, grabs the food, does all those kind of things. And both individuals were using ASL to communicate with each other.
Josh Anderson:
Even though I've worked in this field for a very long time, I've worked with many of our deaf and hard of hearing consumers, I know very little ASL. I know thank you. I know a few other words enough to probably have a pretty boring conversation, I suppose, would be about all that I would have. But "May I have a beer?" is not something that I knew.
Josh Anderson:
As we walked up, and these two individuals… As a service provider, as you all probably know, I definitely host this show. I also am lucky enough to get to manage our clinical AT services with some really amazing AT specialists. But then I also get the pleasure of actually working with a lot of our consumers on job place and work site accommodations. So I was in there thinking, "Okay, what kind of accommodations do these individuals have? What would benefit them? What kind of technology could be put in place? What kind of high tech, really cool stuff could we put in here?"
Josh Anderson:
And then the young lady behind the counter just pointed down, and there's a laminated sheet right there on top of the bar top, counter, whatever you might want to call it, that has all the items available: the different draft beers, the different foods, the different sodas, all the different stuff. Essentially you just point to what you want, and they get it. I was buying my friend there a drink as well so I just pointed to it, put up two fingers. Next thing I know I've got it. I paid, we all said thank you, and walked off.
Josh Anderson:
As I walked off, I thought about that accommodation of a laminated piece of paper that you point to. And then I started thinking about the surroundings, where I was. I'm at a concert venue where half an hour, 45 minutes after the time that I'd went up and had my interaction, it was going to be extremely loud, to the point that even a hearing individual would have a very hard time maybe making out what that individual is saying that they want.
Josh Anderson:
It made me think about, and it really made me remember the whole Occam's razor, that sometimes the easiest answer is the best answer. Sometimes the easiest solution is the one that is correct. The interaction took a few seconds probably. I would say that it took probably the exact same amount, if not a little quicker, than it would've been with an individual if we were communicating verbally. As we walked away, my friend turned to me and said, "Well, that was pretty cool. And I got to admit, I liked that more. I don't want to talk to the people behind the counter. I just want to come, get what I want, get back to my friends, and get on with my day."
Josh Anderson:
So I don't know if there's really a point to this story, except for that my head went to the technology, went to what kind of things could be put in place, and truthfully, the best accommodation to make the whole thing run smoothly, to ensure the success of the individual behind the counter as well as their customer service to the individuals on the other side of the counter, who are trying to make purchases and buy things, this laminated piece of paper with pictures on it had to be the best accommodation that I could see, because not only are those pictures great because it's super easy for me, super easy for them. If I have problems with reading, with any kind of print disability, I can just point to what I want and easily convey that message. In fact, if I spoke another language… The individuals behind the counter use ASL to communicate. But also, if I spoke another language, I could easily point down, say two by holding up two fingers, and really it just aided in communication. And it was really an all around great experience.
Josh Anderson:
So kudos to Deer Creek for hiring individuals with disabilities, looking past those barriers, and actually making the entire experience of buying a, goodness gracious, $20 beer a whole lot more enjoyable. If we could just get those prices down to normal human levels, that would be even better.
Josh Anderson:
But anyway, listeners, thanks for letting me share that story. I suppose it's just one of those things that even working in this field, you don't notice much. But when that accommodation's done well, it's a really, really awesome thing. So again, kudos to the venue for making the accommodations so that they can hire great staff with great abilities to really and truly make it a really wonderful concert experience.
Josh Anderson:
All right, listeners, both Dustin Wright and Pat Opat have been guests on the show previously. But now they're teamed up to tell us about NextGen Assistive Technology. And we're very happy to welcome them back and learn all about it. Pat, Dustin, welcome to the show.
Pat Opat:
Thanks for having us.
Dustin Wright:
Yeah. Glad to be here. Thank you.
Josh Anderson:
Yeah, guys, it's always good to have folks back, especially when we get to talk about all brand new stuff. But before we get into talking about NextGen AT, could you both tell our listeners a little bit about yourselves?
Pat Opat:
Yeah, of course. I guess I'll go first since I'm the new guy in a way to the disability services world. My name is Pat. I've been a DSP for about five years and fell in love with the industry and then have a business entrepreneurial itch in me. I've always gravitated towards finding people in the disability space that are doing cool and innovative things, since that's how I met Dustin. And now we're working together into bringing NextGen AT to the provider world. That's a little bit about me.
Dustin Wright:
Yeah. My name is Dustin Wright. Just like Pat, I also started in this field as a DSP. Absolutely loved it. Ended up running a provider organization for three or four years after graduating from college, started a company called Rest Assured with some other amazing folks that does remote supports and was there for 13 years running that. Left there to start a company called Disability Cocoon, which is an enabling technology resource hub and catalyst. And in the course of operating Disability Cocoon, met some co-founders with the concept of NextGen. Now I'm involved with NextGen with Pat.
Josh Anderson:
Awesome. Well, you guys did a great job of leading me straight into my next question, which is what is NextGen AT?
Pat Opat:
Yeah. What we do is whenever remote supports comes up, providers have had really two options, and the first option is to work with a subcontractor. You more than likely know who a remote support subcontractor is, or you hack together something yourself, where you get some money, some special grant funding to build a remote support software. And usually that works. And then usually there's snags along the line of scaling. It just becomes more difficult.
Pat Opat:
What we did is we partnered with provider organizations, and we created a third option, which is doing remote supports yourself in-house, but not having to go through the building blocks of creating the software, finding the hardware that integrates well, building out the training, and all those things that go into launching a big service like remote supports. What we do is we partner with organizations and do exactly that and break down the barriers that allows them to do remote supports in-house, but do it with confidence in a way that they don't feel like they're going into the unknown without someone that's done it before.
Josh Anderson:
Oh, sure. And I know a lot of places that seem to want to do it on their own. It might work great for a while, but then an update or a piece of hardware fails, or suddenly something's not supported, and they're left… Well, nothing else works. So I know that can definitely, definitely be an issue. So Pat, Dustin, who exactly would this service be best suited for?
Pat Opat:
Yeah. Dustin, you want to field that one?
Dustin Wright:
Sure, absolutely. We are not providing remote supports directly to any specific individuals. We are really, again, working with service providers. A part of what we're doing with those service providers is teaching them how to identify individuals that may or may not be appropriate for remote supports that they're serving. We're teaching them how to talk to individuals about remote supports, to help that person that they're serving determine if remote supports is something that they want in their life. It's very difficult to say who is and who isn't appropriate for remote supports, because I've seen a pretty broad range of individuals utilize remote supports, from individuals that are very independent and high-functioning to individuals that have some significant medical behavioral needs as well. I guess our approach is slightly different from a typical remote support vendor in that we aren't actually going out and identifying these individuals. We're teaching the local providers how to do that themselves.
Josh Anderson:
Nice. And guys, especially for our listeners who maybe don't know a whole lot about remote supports, most people think of the camera as the big one. And that's probably one of the main parts. But what other kind of technology can be implemented in remote supports?
Pat Opat:
Yeah yeah, exactly. It's pretty much any sensor or thing that you would maybe even have in your home, just maybe with a little bit more geared towards providing some clarity on what's going on. So yeah, everyone, when they hear remote supports, they immediately think cameras. Well, that's just one part of it, and those aren't always even used. More of a door sensor, carbon monoxide detectors, smoke detectors, just the things that not only can help with the monitoring and those types of things, but just the things that also go into safety practices as well.
Dustin Wright:
The way I always like to describe remote supports is it's direct care, meaning it's a caregiver providing support to the person. It's just that the caregiver is no longer physically present in the home. They're doing it remotely through all of those technologies that Pat was describing.
Josh Anderson:
Sure, sure. I remember the first time I really learned just how amazing remote supports was was when I found out about the – what is it? – the refrigerator sensor, because some people just have… You need to A, make sure that people are actually going to the refrigerator and eating. But also, if that's an issue, you need to make sure they're not going there too awful often. So it's just something you don't think of until you work in that world and know that those things really exist.
Josh Anderson:
Dustin, you touched on this a little bit. That you're kind of – I don't want to say training the trainer because I feel like that's get used gets used way too much – but you're helping them, helping the service provider figure out what's needed. So what exactly does the process of implementation look like from your end and from those service providers' ends?
Dustin Wright:
Yes. Really, what we're doing is we're giving that local service provider all of the technology that they need, all of the training and ongoing support that they would need to begin to operate a remote support business line themselves.
Josh Anderson:
Nice.
Dustin Wright:
We work with that provider to identify, where is your support center going to be located? What infrastructure do you need? Who within your organization can manage this? What other roles would you need to identify to manage this new service line that you're starting, essentially? We hold their hands and walk them through that entire process of, from start to finish, including giving them all the technology that they would need along the way. What we've tried to build is a turnkey solution that any provider can use to quickly begin doing remote supports in-house and do it the right way and avoid the common mistakes that we were lucky enough to learn in previous roles.
Josh Anderson:
Sure. Sometimes you can't pay for that experience, because yeah, when you find out what doesn't work or where those hiccups and glitches come from, that can be an amazing, amazing tool.
Pat Opat:
Exactly. Exactly.
Josh Anderson:
Guys, tell me a little bit just about, oh, maybe scalability. So let's say that I'm a service provider, and this is just fully a, not thought exercise, but maybe an example. I've got maybe three, four people that I want to get into remote supports and to do this with NextGen AT, and then I figure out, "Hey, this works great. I want to do eight. I want to do 10. I want to do 12." How easy is it to scale up that system?
Pat Opat:
Yeah. That's one thing that we really position our solution towards as well is because once you get the gas and the engine and you get things turning, the last thing we want is to be a bottleneck for that agency. So within the first few implementations, what we're doing is we're training those leaders in the organization, so that way, when they decide that they want to start introducing this into other areas, they can do it themselves. We're going to be the backbone. We're going to make sure the software and the hardware and the training is there. But the overall putting the screws in the wall to make this happen, they're not waiting on us to do that, because we empower them to make those decisions themselves. It's just a very different solution that's not really out there yet. That's where we, like Dustin said, we go through this hand holding in a way of this is each step of our process.
Josh Anderson:
Nice. And guys, where all are you guys able to offer this? I know I keep saying service, and I realize that really you're helping them set up the service, but I'm just going to, just for the sake of the podcast, I'm going to call it service, but where all is this available now?
Pat Opat:
Yeah. So that's a great… Dustin, I'm convinced, is one of the few people in the entire United States that has figured out how the state disability services works. There are these key states that remote supports is widely supported and is very easy for providers to go out and do this. Those states are… Dustin, I know four off the top of my head, but…
Dustin Wright:
Yeah, I mean, that's where we're focusing our attention right now are those states that have Medicaid Waiver funding in the regulatory environment for remote supports. But from a technical perspective, this service, the service that we're offering to providers, is available pretty much anywhere in the US.
Josh Anderson:
Nice. Very nice. And Dustin, if you ever do want to come on and explain all the different laws and rules from state to state on here, we can mark off a month or so, because I'm sure a lot of people would like to tune in and try to figure that stuff out.
Dustin Wright:
Oh, I bet that would be a hot topic for people to listen to. They'd tune in and listen for hours.
Josh Anderson:
There are some people who would, just because it'd be nice to nice to know. The problem is by the time we got to the end of the month, some of those rules would've probably have changed.
Dustin Wright:
Good point.
Josh Anderson:
Guys, can you tell me a success story that you've had with one of the providers you've been able to work with?
Dustin Wright:
Yeah, absolutely. The first provider that we started working with was an agency up in the state of Maine. They had decided to roll this out in, I believe, six or seven homes initially. These were homes where individuals had had 24×7 staff, around the clock, most of their lives. They made the decision with the teams and the individuals, decided that they all wanted to try remote supports during the overnight hours. So this agency from…
Dustin Wright:
The success from the agency's perspective is that they were able to take, let's say those seven homes, those seven overnight staff, pull them out, have one remote staff person in their new remote support center support all seven of those homes. And then they were able to filter those seven DSPs into other open positions within their organization. So right out of the gate, they were able to address the DSP workforce shortage in a pretty powerful way. They had essentially seven shifts filled immediately through this.
Dustin Wright:
The individuals, they're now able to live, a lot of them, alone in their own homes or with their roommates and have that special alone time, I think, that we all take for granted in late evening, where I can sit in my bed and read a book, or I can sit in my couch and watch television, and not have a staff person in my space. From the individual's perspective, there were seven homes with multiple individuals in each home. They were able to experience that new form of independence.
Dustin Wright:
Since they've implemented those seven homes just during the overnights, they've branched out and are now providing remote supports basically 24 hours a day. And many more individuals within their organization are starting to take advantage of it. So we see it as a win-win, a win for the agency because they're able to address the DSP issues and a win for the people that they're serving. Now they have another choice in service, and a choice that offers them more independence and options for autonomy.
Josh Anderson:
Oh, definitely. You brought up a couple great points there. One is, of course, the DSP shortage, and I think we've talked about that on this show quite often, just because it's been an issue that was always there, it seems like. You both know. You both were direct service professionals, so I'm sure you've definitely seen it, had to pick up extra shifts and do extra things. But then also that independence part. Yeah, Dustin, you said it perfectly, not having someone in your space, being able to have a little bit of autonomy.
Josh Anderson:
Sometimes, at least I've noticed with folks, they always seem to… Not everyone, of course, but some folks really seem to excel when they get that little bit of autonomy. They can end up doing a little bit more for themselves, and it's really nice, but to still have the safety and security of that remote support is a great thing.
Josh Anderson:
So guys, what's next for NextGen AT?
Pat Opat:
Yeah, really just general awareness. Everyone right now is just… No matter where you are East Coast, West Coast, middle, middle of the road, is everyone has got their heads down, trying just to get through. Really, what our next steps are is just making sure that as many providers out there know that this solution exists, because the organizations we have partnered with has had just such great, just really an overall great experience with it. And we just want to try to bring it to as many eyes and ears as possible.
Dustin Wright:
Yeah. And that's exactly right. The other thing, from a technical perspective, as more and more agencies start using this, we are already getting feedback from our current customers saying, "Hey, can your system do this for us?" Or "Can we add this new feature, because it would really benefit this person that we're serving?" We're really excited to have more agencies using this, because we're essentially going to be crowdsourcing the development ideas for future technologies and future use cases in our platform, directly from the people that are using it. That's the other thing that we're really, I think, laser-focused on is collecting feedback from the agencies that are actually using this to enhance the platform, so that it can do more, serve more, and provide more opportunities for people.
Josh Anderson:
Excellent. And that's great. Yeah, you get that input of what do folks need? What do they need this system to do to be able to help them? And being able to implement it that way is so much better than just saying, "Hey, this is what you need," and hope that somebody finds use out of it. That is really great. Well, guys, as we get the word out there and stuff, how could our listeners find out more about NextGen AT?
Pat Opat:
Yeah, right now we're getting the marketing and things underneath of us, so really the best thing right now is just go to our website, which is NextGenAT.com. We're going to get more active on our social pages coming up here soon, but that's where if you're interested in this, you're like, "Pat and Dustin, this sounds interesting, but I need a little bit more. What is this exactly?" Go on our website, and it will actually show you, in the middle of the site, a step by step of what exactly we're talking about at a little bit more nitty gritty than it probably should be. But we did that with the intention of you're figuring this out, you're trying to get… You're wrapping your head around, you've heard remote supports a hundred times, but what are we actually talking about? The website, I think, would be a great place to start.
Josh Anderson:
Excellent. Yeah. Some people, sometimes you do have to talk folks through it, because like you said, for so long, there's been two options. You have someone do it all, or you do it all. There really hasn't been that middle ground, where you actually have someone assisting you to be able to set it all up on your own.
Josh Anderson:
Well, Pat, Dustin, it's always a pleasure to talk to you both, especially with new and great ideas coming out. So we really appreciate you coming on the show today to talk all about NextGen AT.
Pat Opat:
Yeah. Thank you. Thank you so much for having us.
Dustin Wright:
Yeah. Thanks, Josh.
Josh Anderson:
Do you have a question about assistive technology? Do you have a suggestion for someone we should interview on Assistive Technology Update? If so, call our listener line at (317) 721-7124. Send us an email at tech@eastersealscrossroads.org, or shoot us a note on Twitter @INDATAProject.
Josh Anderson:
Our captions and transcripts for the show are sponsored by the Indiana Telephone Relay Access Corporation or INTRAC. You can find out more about INTRAC at relayindiana.com.
Josh Anderson:
A special thanks to Nikol Prieto for scheduling our amazing guests and making a mess of my schedule. Today's show was produced, edited, hosted, and fraught over by yours truly. The opinions expressed by our guests are their own and may or may not reflect those of the INDATA Project, Easterseals Crossroads, our supporting partners, or this host.
Josh Anderson:
This was your Assistive Technology Update, and I'm Josh Anderson with the INDATA Project at Easterseals Crossroads in beautiful Indianapolis, Indiana. We look forward to seeing you next time. Bye-bye.