Podcast: Play in new window | Download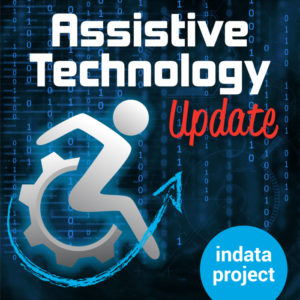 Your weekly dose of information that keeps you up to date on the latest developments in the field of technology designed to assist people with disabilities and special needs.
Special Guest:
Tom Shovelton – CEO – Connect a Voice
Website: www.connectavoice.com
Email: info@connectavoice.com
INDATA Full Day Trainings: https://www.eastersealstech.com/our-services/fulldaytraining/
Bridging Apps: www.bridgingapps.org
Stories:
Department of Justice Access Story: https://n.pr/3yqmDnB
——————————
If you have an AT question, leave us a voice mail at: 317-721-7124 or email tech@eastersealscrossroads.org
Check out our web site: http://www.eastersealstech.com
Follow us on Twitter: @INDATAproject
Like us on Facebook: www.Facebook.com/INDATA
—– Transcript Starts Here —–
Tom Shovelton:
Hi, I'm Tom Shovelton. I'm the founder of Connect a Voice. And this is your Assistive Technology Update.
Josh Anderson:
Hello, and welcome to your Assistive Technology Update, a weekly dose of information that keeps you up to date on the latest developments in the field of technology designed to assist individuals with disabilities and special needs. I'm your host, Josh Anderson with the Indata Project at Easterseals Crossroads in beautiful Indianapolis, Indiana. Welcome to Episode 581 of Assistive Technology Update. It's scheduled to be released on July 15th, 2022.
Josh Anderson:
On today's show, we're super excited to have Tom Shovelton on. He is the CEO of Connect a Voice. And he's here to talk about how this technology can make reporting, documentation and other tasks much easier for direct service professionals or DSPs. We've got a story about digital access within the Department of Justice and a biennial report they're supposed to be issuing that hasn't shown up for the last 10 years and just what that might mean for access to federal websites. We also have Amy Barry on from BridgingApps with an app worth mentioning. And finally, folks, if you're looking for a transcript of today's show, it's available at Eastersealstech.com. Our transcripts are generously sponsored by InTRAC. If you're interested in finding out more about InTRAC, you can check them out at Indianarelay.com. But for now, let's go ahead and get on with the show.
Josh Anderson:
Maybe you're looking for some new podcast to listen to. Well, make sure to check out our sister podcast, Accessibility Minute at ATFAQ, or Assistive Technology Frequently Asked Questions. If you're super busy and don't have time to listen to a full podcast, be sure to check out Accessibility Minute, our one-minute long podcast that gives you just a little taste of something assistive technology-based so that you're able to get your Assistive Technology fix without taking up the whole day. Hosted by Tracy Castillo, this show comes out weekly.
Josh Anderson:
Our other show is Assistive Technology Frequently Asked Questions, or ATFAQ. On Assistive Technology Frequently Asked Questions, Brian Norton leads our panel of experts, including myself, Belva Smith and our own Tracy Castillo, as we try to answer your Assistive Technology questions. This show does rely on you, so we're always looking for new questions, comments, or even your answers on assistive technology questions. So remember if you're looking for more Assistive Technology Podcast to check out, you can check out our sister shows, Accessibility Minute and ATFAQ, wherever you get your podcasts. Now, including Spotify and Amazon Music.
Josh Anderson:
I'm very excited to announce that our next full-day training will be coming up on Thursday, July 21st from 9:00 AM to 2:00 PM Eastern time. This training is called Tools, Devices and Apps for Everyday Living. And it's put on by none other than our clinical Assistive Technology team. So those wonderful people that I get to work with on a daily basis. You learn some things about speech keyboarding and skills building apps, accessible gardening, lighting and other considerations, improving executive functioning and how I use Alexa. And again, this will all be presented by our wonderful clinical Assistive Technology staff, Craig Burns, Jim Reinhardt, Anna Leung, Lisa Becker and Belva Smith will all be presenting throughout the day.
Josh Anderson:
So if you ever do want to learn more about these different things and take a deep dive into some different assistive technologies and how it can help folks with everyday needs, check out our next full-day training, Tools, Devices and Apps for Everyday Living coming up on Thursday, July 21st from 9:00 AM to 2:00 PM Eastern. We'll put a link down in the show notes so that you can go and register for this event. And while you're on the website, go ahead and check out our archives. That's right. You can check out all of our other full-day trainings.
Josh Anderson:
Now, I will say they haven't always been fully online. Many of these, at least pre-2020, were done in person. And we did have an online component, but you notice a big difference between videotaping somebody up presenting as opposed to having someone fully present online. But when you go there, you can always check out all of our archives for our old full-day trainings, as well as register for Tools, Devices and Apps for Everyday Living coming up on Thursday, July 21st from 9:00 AM to 2:00 PM Eastern.
Josh Anderson:
Folks, it's July here in Indiana and that means a couple of different things. A, it's really hot. But also, it means the State Fair is right around the corner. This year at the State Fair on Sunday, July 31st, they're celebrating Ability Awareness Day sponsored by Easterseals Crossroads. The Indiana State Fair is showcasing another year of iconic Hoosier tradition, and now celebrating the first ever Ability Awareness Day, a day to help everyone become more compassionate and understanding of the challenges faced by individuals with disabilities and some of the tools to overcome those challenges. Easterseals Crossroads, along with many community partners, will take over State Fair Boulevard on the 31st to recognize the accomplishments and challenges faced by individuals with disabilities.
Josh Anderson:
You can enjoy sensory friendly midway hours, visit a sensory garden, play an adaptive sport, grab a funnel cake or meet with yours truly, who will be recording for the podcast right there on the midway. Whatever you choose to do, there will be something fun for everyone of every ability this year at the fair. A few of our partners for this event are Bosma, Noble, RHI, Superior Mobility, BraunAbility, Special Needs Living Magazine, JP Morgan Chase, United Healthcare, Safe at Home, InTRAC, Indiabel, Westpoint Financial and many others. So if you are heading to the fair here at the end of July, especially on Sunday, July 31st, come out and celebrate Ability Awareness day with Easterseals Crossroads and our partners. You can find us on Stat Fair Boulevard.
Josh Anderson:
And again, I will be there recording different things for the podcast. You'll be hearing those recordings coming out sometime in August. So grab yourself a turkey leg, get yourself a funnel cake, loosen up those pants for all the great food and come on out and check us out on July 31st at the Indiana State Fair at the Indiana State Fairgrounds. Can't wait to see you there.
Josh Anderson:
Listeners, our story today comes from npr.org. It's titled DOJ Fails to Report on Making Federal Websites Accessible to Disabled People. It's written by Shruti Rajkumar. It talks about a Department of Justice biennial report on the federal government's compliance with accessibility standards for information technology. It says this report is actually required by Section 508 of the Rehabilitation Act. But the last one was actually filed in 2012. This talks about seven senators who are asking the DOJ, once again, to start issuing these reports and also trying to find out why in the world they haven't. To quote Senator Bob Casey from Pennsylvania here saying that, "To have no reporting at all in a decade is just plain unacceptable."
Josh Anderson:
It goes on down here to say that, "Under Section 508 of the Rehabilitation Act, the federal government's required to make all of its website accessible to individuals with disabilities and to publicly report on its compliance with accessibility standards every two years." Well, if you do the math, it's 2022. The last one was in 2012. They're not really meeting that standard. Now, if we go back to the last report from 2012, it said that it identified substantial gaps in Section 508 compliance across the federal government and included recommendations for agencies to meet their accessibility requirements. But since we haven't really had any reports in 10 years, it's hard to see whether those things were actually changed.
Josh Anderson:
Now, an independent report from 2021 by the Information Technology and Innovation Foundation found that 30% of the most popular federal websites did not pass an automated accessibility test. And 48% of those sites failed the test on at least one of their three most popular pages. And if we really dig into what this means for individuals living in the United States with a documented disability, which it says here in the story, makes up 26% of Americans are living with some form of a disability, it means they may not be able to access these websites.
Josh Anderson:
Now, this could have varying degrees of impact on their lives. I mean, if you think there may be some federal programs that they are a part of, be it from housing, to food assistance, to heck, Social Security or other things like that, if these sites are not accessible for individuals with disabilities, they may be missing out on services that they need. They may need to file paperwork in order to keep benefits or other services. And if they're not able to access these websites, then they're not going to be able to know that these things are due.Not only that, things change in government so often that maybe these changes aren't being communicated and there's other things that need done.
Josh Anderson:
So navigating anything in the government isn't easy anyway, but then putting such a barrier in place of not having your things be accessible is just another barrier and another roadblock. So anyway, it does say that some senators have reached out. It's got bipartisan support really to try to figure out why in the world these reports are not coming out, has anything been improved and really and truly just kind of start getting them. So we'll keep an eye on the story as we get a chance. And maybe one of those reports will come out here sometime soon. But I got to admit, my boss would be pretty mad at me if I had to do something every two years and I'd put it off for the last 10.
Josh Anderson:
Now, that I think of it, that reminds me, I probably better get back to work and do a couple things. We'll go ahead and drop a link to the story over in the show notes so that you can go and read all about it. Next up on the show, please join me in welcoming Amy Barry from BridgingApps with an app worth mentioning. Take it away, Amy.
Amy Barry:
This is Amy Barry with BridgingApps, and this is an app worth mentioning. This week's featured app is called Translate. Traveling abroad and needing a way to communicate in another language on the fly? Apple has released a great app called Translate that currently has nine languages built in. The Translate app is free and it's already on iPhones and iPads running iOS 15 or above. The app can be used offline and does not require the internet.
Amy Barry:
Translate has a clean and simple interface, making it easy to use. Simply select the language that you're wanting to translate and select what language you're wanting to translate it to. There are two main options within this utility app. The translation button allows you to enter text to have it translated into the language of your choice, where you have the option to type it into the box or use the microphone at the bottom of the screen. When you press enter, you will see the translation and the language you selected come up on the screen. And the app will also speak the translation aloud. You can choose to replay it if needed. Translate is currently available for iOS devices and it is free. For more information on this app and others like it, visit bridgingapps.org.
Josh Anderson:
Listeners, we've talked on this show about some of the challenges presented by the current DSP shortage and other issues related to compliance and the cost of service delivery. Well, our guest today is Tom Shovelton. He's CEO and founder of Connect a Voice. And he's here to tell us about the technology and how it might be able to assist with some of these issues. Tom, welcome to the show.
Tom Shovelton:
Thanks, Josh. Thanks for having me.
Josh Anderson:
Yeah, I'm really excited to get into talking about the technology, but before we do that, could you tell our listeners just a little bit about yourself?
Tom Shovelton:
Well, I always like to start with I'm a parent and a father of a, well, she's no longer very young, she's 31, daughter on the autism spectrum. And it's my experience as a parent of a child with a disability is that I watch what my caregivers did and do for her and help her have a full life. And when she first moved into a supported living environment I would notice that kind of state of the art from a technology standpoint was paper and pencil. And that was kind of the genesis of my idea for Connect a Voice. It's like, we can do better than that.
Tom Shovelton:
And so I created a small system that is Connect a Voice, which really is an information service. It allows caregivers, DSPs, to record their service delivery and keep up with what they do for an individual. And the thought is we try to make that as simple and easy as possible so that the DSPs, the staff, can spend more time helping the individual have a full, successful life and kind of minimize the administrative challenges they have.
Josh Anderson:
Can this work for other things like my job? No, we'll get into that later. But Tom, for folks who maybe don't know a whole lot about that DSP service delivery, what's some of the information that they could put in to Connect a Voice in order to, like you said, kind of make this a little bit easier on the administrative side? What is some of the information that they have to track and keep track of?
Tom Shovelton:
It really depends on the individual. And the system Connect a Voice is very focused on individuals. It's a very customizable solution. But for instance, on services, it could be as simple as the individual, we need to know that their teeth were brushed several times a day. My daughter, for instance, does therapeutic horseback riding. So that's one of her activities. It's part of her service plan. But it also needs to be documented that staff helped her accomplish that. Other things we keep up inside the system are money management, so petty cash for individuals. We also track behavior data, which can be very important to setting the right service plan. Instant reporting and transportation, which kind of helps the staff get reimbursed for mileage if they had to take a consumer somewhere.
Josh Anderson:
Oh, definitely. Definitely. And I know some of this stuff actually is kind of compliance-based. This has to be kind of done. Can you talk a little bit about some of the, oh, I don't know, the compliance rules and things? And I know they changed state by state, rule by rule, but just kind of maybe kind of an overarching idea of what that compliance is.
Tom Shovelton:
Yeah. Two areas there one, and as you indicated, it varies really state by state, but somewhat consistent. Individuals have, again, what I'm referring to as a service plan. And you need to document was that plan fulfilled? And so again, the variety of ways to do that. What we do with our mobile app and the cloud-based database that catches that information is provide an easy way for that to be captured. And then it's shared with whoever, the governing authorities, or guardians, or whatnot.
Tom Shovelton:
The other piece that has come in and gets a lot of attention these days is electronic visit verification, or EVV is the acronym that I just hear about. I never like to talk about that too much, because I'd prefer to talk about service delivery and helping people have good lives. But EVV is a federal government regulation that went in place several years ago. And lots of states are in the midst of implementing that. And that's one of the things we do. And we designed that feature kind of behind the scenes. So again, allowing staff… They don't even know they've done that. But it's very much a compliance thing.
Josh Anderson:
Excellent. And I've got to ask you, Tom, what about security and privacy? Because we are putting some information in here and some of that stuff is kind of sensitive. So what are you guys doing on the security and privacy, just to make sure that people's information doesn't kind of get out there?
Tom Shovelton:
Right. Well, first of all, not just anybody can get into the system. So while we're an app on the Apple App Store or Google Play Store, there is a sign on secured way you have to be secured into the system. And then all the information, and I'm stretching myself beyond my development capability, but it's all encrypted, secured with the latest security mechanisms. And long story short is, if you don't belong in the system, you can't get in. Data collected into the system is secured and protected. As you're indicating, that's important information and we don't want that in the wrong hands.
Josh Anderson:
Oh, definitely. Tom, let's dig in just a little bit to kind of what it looks like. And I know there's some different kind of components. So as far as the app, if I'm a DSP, kind of what does my user interface look like?
Tom Shovelton:
One of the things we did there, and it was kind of my experience as a parent watching DSPs work, we made this really, really simple. So you log on. You have the option of if you're serving multiple individuals, the different locations those individuals may be in. But then, you select that. You're logged in. Again, all the compliance stuff, time recording, the EVV is all behind the scenes. You don't need to put in anything special. And then, you kind of select what you're doing there. You need to record a service you perform, maybe some money was spent, maybe there was a behavior and you want to document what happened, how that was resolved, it's all kind of set up there.
Tom Shovelton:
So as what we call a shift happens, you're able just to pop in the app, make some quick notes, save that and then get back to working with the individual. At the end of that shift, you simply complete the shift. Log off. That handles all that administrative billing and the finalizing of the EVV records. And staff is able to go about their day. And the individual does what they need to do, or a new staff member comes in.
Josh Anderson:
That's perfect, because like you said, you're spending so much more time actually with the individual doing your job and not doing all the behind the scenes, all the paperwork, everything else, which form do I fill out for this? What do I need to do for this? And I'm sure that really just has to help, just give you so much more time and a lot less frustration.
Tom Shovelton:
Well, it's funny you mention, one of the things we noticed is a lot of the documentation was very simple. So it's a form. Did you do it? Yes. And these are things that are common in mobile technology, so voice to text. And a very big feature there, particularly where we have staff that are not native English speakers, so they're able to dictate in their notes, behaviors, for instance, complex activities gone on here. You're able to kind of tell the story of what happened and how it was resolved in much more robust documentation than check marks and yes-or-no type questions.
Josh Anderson:
Oh, sure. And we always reply to it as pencil whipping. I can write you a great case note for everything I did today if I do it right after. But when I'm doing it tomorrow in between meetings, "Well, I did this and this and that's it." And you're not going to get quite as much. So that's great that so much more information can kind of be shared that way. And Tom, we talked a little bit about kind of the user experience from the DSP side, but you also mentioned that there's kind of a dashboard that maybe guardians or other folks can kind of look at. What is that like?
Tom Shovelton:
Yeah. It's behind the scenes. There's what I call the admin portal. It's a website. But that's kind of the control mechanism. So that's where staff or individuals are set up, from an individual standpoint, what services they need, what behaviors they may have happen. And also, where an administrator, which is in a lot of cases, a service agency, but it could be an individual's guardian is able to kind of get the reporting they need and kind of look into, okay, here's what's going on, the input from the staff. And there's a variety of reports that are there that can be easily printed out and shared with whomever.
Josh Anderson:
Nice, very nice. And I know that this kind of is an app and everything. Now, can a DSP utilize their personal phone? I know some employers do provide phones for DSPs, but not all of them are able to do that. Are they able to use their personal Android or iPhone in order to access this?
Tom Shovelton:
I'm glad you asked me that, a very common question I get. And we've found that, yes is the answer. Most staff prefer to use their own phone, because they're comfortable with it. One of the things we keep up with is the amount of obviously, there's data plans exposed here and the records we're sending back and forth are very small. And I always kind of compare that to have you ever watched a YouTube video? Well, the traffic on Connect a Voice is just minuscule compared to a few minutes of a YouTube video. So that's how that works.
Josh Anderson:
Excellent. Well, Tom, I'm sure you probably have plenty of these, but can you tell me a story about someone using Connect a Voice and kind of how it made a difference in their service delivery or their lives?
Tom Shovelton:
A lot of our customers, they hear who I am and kind of what we're trying to do. It's similar to that. They're able to, two things, one is kind of take care of the required reporting, I'll say. And so that becomes simple. I've had cases where before it was all this paper, "Hey, I need to know what was going on two months ago about somebody," just many, many hours to go dig that up. Copy it. Mail it in. However, now, that's basically a report that can be emailed, a matter of minutes.
Tom Shovelton:
But the bigger story is really the analysis of here's the service being executed. What is going on? So the use of the electronic record to kind of evaluate is it working? So it's one thing to document it all. But the bigger question that we hope we're helping solve is, what's working? What isn't? What needs to be changed? And a lot of our customers are doing that kind of analysis. And they're having better interactions, not only with the individuals, but their guardians and their loved ones.
Josh Anderson:
Nice. Well, I'm sure it also gives you some great data if behaviors pop up, where you can kind of A, probably notice them a little bit quicker and then notice that change. But then also maybe pinpoint what changed during that time, as opposed to like, "Oh, wow, this is really becoming a problem," like you said, having to go back through all this paperwork forever, whereas you could probably actually kind of notice it, notice it's becoming something. And then, hopefully, pinpoint what that was much, much quicker. So I'm sure that's a huge benefit.
Tom Shovelton:
Exactly. You're nailing it. Again, when things happen, again, not to be critical of anything, but some staff at some times, I know in my personal case, there's that four o'clock in the afternoon time. People are kind of tired and then they get a little cranky. And so we've noticed that, because it's like, "Oh, why is it all always around four o'clock?" "Well, we're tired before dinner." "Okay. That's kind of to be expected. What can we do to kind of get through that timeframe?" So.
Josh Anderson:
Tom, what's next? What's next for Connect a Voice. What's next for Tom Shovelton?
Tom Shovelton:
Well, we're continuing to work. Connect a Voice, I'm based in Ohio. We've been founded there and successful in Ohio. In fact, we're starting to get customers outside of Ohio. So the big plan is to more states and serve more people, help more people. One of the things we've talked about a little bit here today is being more family centered. And of course, again, given my background, that's an area we're really looking to exploit. Again, we do a lot of work with agencies. But also feel like there's individuals just like me, who have a loved one that our system would be a benefit to.
Josh Anderson:
Oh, definitely. And if our listeners would want to find out more, what's the best way for them to do that?
Tom Shovelton:
A couple of ways. Probably the easiest, our website. And that is connectavoice.com. So just like it sounds. Or you can send a quick email to info@connectavoice.com and somebody will get right back to you. And the website obviously, will give you a little bit of sample of what the system looks like and hopefully, answer some questions. But if you have further questions or would like to see a quick demo, like I said, shoot me an email.
Josh Anderson:
Cool. We'll definitely put all that information down in the show notes. Well, Tom, thank you so much for coming on today, telling us about Connect a Voice, how it can help service providers, individuals, really just a lot of folks with information, with service delivery and with a lot of other things.
Tom Shovelton:
Thanks for having me, Josh. It's been my pleasure.
Josh Anderson:
Do you have a question about Assistive Technology? Do you have a suggestion for someone we should interview on an Assistive Technology Update? If so, call our listener line at (317) 721-7124. Send us an email at tech@eastersealscrossroads.org, or shoot us a note on Twitter at Indata Project. Our captions and transcripts for the show are sponsored by the Indiana Telephone Relay Access Corporation or InTRAC. You can find out more about InTRAC at relayindiana.com.
Josh Anderson:
A special thanks to Nicole Prieto for scheduling our amazing guests and making a mess of my schedule. Today's show was produced, edited, hosted and fraught over by yours truly. The opinions expressed by our guests are their own and may or may not reflect those of the Indata Project, Easterseals Crossroads, our supporting partners, or this host. This was your Assistive Technology Update. And I'm Josh Anderson with the Indata Project at Easterseals Crossroads in beautiful Indianapolis, Indiana. We look forward to seeing you next time. Bye-bye!