Studies show that just 10 minutes of reading a day makes a world of difference for students.  Spark Reading for Kids is an app designed to help improve the reading skills of students ages 6 to 16.  The app features hundreds of topics as well as thousands of questions to help improve critical thinking skills and reading comprehension.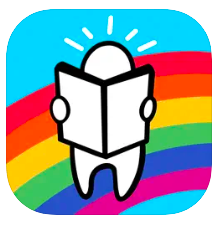 Spark Reading highlights the "best stories" for your child's reading level and interests, "empowering them to pick the perfect story to stay engaged with their learning."  Some of the categories include sports, history, science, inventions, food and nutrition, mythology, biographies, animals, and more.
Overview of Spark Reading for Kids:
Expertly curated by teachers and educators, with content across all topics and grade levels
Age-appropriate books that children love to read
A vast collection of fiction and nonfiction titles
Learner-centered STEM topics
Aligns with school curriculum, works great for homeschooling
Recommendations to match your student's reading level and promote accelerated reading
Easy to monitor the progress of multiple student profiles, track their scores, how much time they're spending reading, and their favorite topics
Safe and kid-friendly environment to explore and learn
Click here to learn more!