Podcast: Play in new window | Download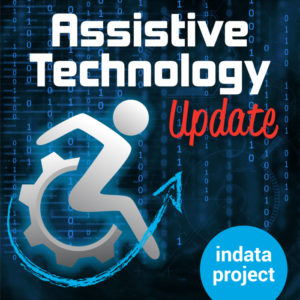 Your weekly dose of information that keeps you up to date on the latest developments in the field of technology designed to assist people with disabilities and special needs.
Special Guest: Swapnil Nandeshwar – Marketing Manager – Glassouse
www.glassouse.com
Stories:
Voice Banking Stories:
I Will Always Be Me Story: https://bit.ly/3fbb0L3
My Legacy Voice and Ice-T Story: https://prn.to/3qYgT11
——————————
If you have an AT question, leave us a voice mail at: 317-721-7124 or email tech@eastersealscrossroads.org
Check out our web site: http://www.eastersealstech.com
Follow us on Twitter: @INDATAproject
Like us on Facebook: www.Facebook.com/INDATA
—– Transcript Starts Here —–
Swapnil Nandeshwar:
Hi, this is Swapnil Nandeshwar from GlassOuse Assistive Device and this is Your Assistive Technology Update.
Josh Anderson:
Hello and welcome to Your Assistive Technology Update, a weekly dose of information that keeps you up to date on the latest developments in the field of technology designed to assist individuals with disabilities and special needs. I'm your host, Josh Anderson with the Indata Project at Easterseals Crossroads in beautiful Indianapolis, Indiana. Welcome to episode 591 of Assistive Technology Update. It's scheduled to be released on September 23rd, 2022. On today's show, we're super excited to welcome Swapnil Nandeshwar, marketing manager for GlassOuse. He's going to tell us about GlassOuse's assistive device and how it can help individuals control the world around them.
Josh Anderson:
We have two different stories about two different organizations and companies helping with voice banking and using artificial intelligence so that individuals with ALS and other needs can bank their voices and actually talk to their loved ones, even when they're not able to do that independently. Don't forget, listeners, we always love hearing from you. If you got an idea for a guest, a question, a comment, anything that you'd like to know, go ahead and give us a call at 317-721-7124. Hit us up on Twitter @indataproject, or shoot us an email at tech@ eastersealscrossroads.org. We thank you so much for listening. Now, let's go ahead and get on with the show.
Josh Anderson:
Make sure to check out our sister podcast, Accessibility Minute and ATFAQ, or Assistive Technology Frequently Asked Questions. If you're super busy and don't have time to listen to a full podcast, be sure to check out Accessibility Minute, our one minute long podcast that gives you just a little taste of something assistive technology-based. The show comes out weekly. Our other show is Assistive Technology Frequently Asked Questions, or ATFAQ. On Assistive Technology Frequently Asked Questions, Brian Norton leads our panel of experts, including myself, Velva Smith and our own Tracy Castillo, as we try to answer your assistive technology questions. This show does rely on you, so we're always looking for new questions, comments, or even your answers on assistive technology questions. Check out our sister shows, Accessibility Minute and ATFAQ wherever you get your podcasts, now including Spotify and Amazon Music.
Josh Anderson:
I'm going to start us off today with a couple of stories that are related to voice banking. Now, if you don't know what voice banking is, basically, this is you read off a ton of words and they're kind of saved up in the cloud or on devices or kind of anywhere that you might need them. But with new technology, this has kind of progressed pretty quickly. So, instead of just having a bank of different things you've said, so think of how many words maybe you say in a day, a week, a month, a year, it's a lot, it's a whole heck of a lot. And then actually trying to put those together into coherent sentences can be a little bit challenging. Voice banking can be really great, especially for folks who maybe have a progressive disability, something like ALS or something like that, so that whenever they get to the point where they might need an augmented communication device, they are able to have their own voice in there.
Josh Anderson:
But again, the limitations were pretty much it's whatever I have recorded. Well, with artificial intelligence, that is no longer the case. Basically, with artificial intelligence, different companies can kind of take the different words that you use and use artificial intelligence to fill in the blanks, so to speak, or fill up the time or fill up the sentences, words, paragraphs, phrases in order to make a conversational style, a device. So, as I said, I've got a couple of different stories here. And the first one is about a company called VO Capsule, LLC, which is launching something called My Legacy Voice, with Ice-T on board as the brand advocate. Now I will kind of disclose I'm in my early forties. And when I was younger, Ice-T was a rapper and pretty much that's just about all that he kind of did. And since then he's become a philanthropist, an actor, and many kind of other things.
Josh Anderson:
And he's actually the brand advocate and user for this My Legacy Voice. Says hear in the story that My Legacy Voice creates highly realistic voice clones with a combination of proprietary techniques, prompt engineering methods and licensed artificial intelligence programs. And this was made for the reason of being able to hear someone's voice again. So when you lose a loved one, you actually can kind of hear their voice and maybe even talk to them and have two way conversation, even though they are gone. So a little bit of a different idea than what usually we see voice banking for. This could also have a ton of assistive technology uses, especially when we kind of look at ALS and some other progressive diseases such as that, as we call down on the story, it actually says that My Legacy Voice also supports those suffering from regenerative neurological diseases like ALS.
Josh Anderson:
So they have actually kind of thought of that. There's a quote here from Brock Daley, founder and CEO. He says, we help store voices for early diagnosed ALS patients from Washington State University's Gleason Institute for Neuroscience. We edit and deliver up to 400 assistive audio clone phrases the patients can use on their eye tracking tablets. These phrases were developed for the company by Eastern Washington University's Lindsay Williams and a team of student researchers. So it looks like they're already kind of being able to help input some of these things in place. So I'll put a link to this story over in the show notes, and there is actually a link on there where you can listen to a clone of Ice-T's voice. So you kind of get an idea of how realistic of the clone can sound. The other story is from over at Forbes, it's written by Gus Alexiou, and I believe we've had some of his stories on here before, and it's called, Game-changing Voice Banking Technology Ensures ALS Patients Maintain Their Individuality. Very close to the last story.
Josh Anderson:
Although this one is from a different company, this is about something called, I Will Always Be Me. This was launched earlier this year, and it's a collaboration between Intel, Dell Rolls-Royce and the UK-based Motor Neuron Disease Association. And this one was actually created in order to kind of overcome losing one's voice because of progressive ALS. And kind of, as we talked to the beginning, this is one of the main kind of issues with trying to keep one's voice, especially on the devices and things is to actually be able to read out a sufficient number of phrases to create a large enough database of words, sounds and vocalizations, to actually replicate a voice. This, I Will Always Be Me says that it can actually break down the barriers of this by condensing target phrases into a 1000 word book. And this allows folks to just read 1000 words off and put them in an online portal.
Josh Anderson:
And then it actually can go from there in order to make a lot more phrases. So we will put links to both of these stories over in the show notes, but very, very cool. Two kind of totally different organizations, two totally different companies, using technology in brand new ways to really and truly help folks out. And again, one of these was created exactly for the purpose of helping folks with those progressive motor neuron diseases that eventually are going to more than likely lose their voice. I believe, in ALS patients, it's something like 80, 85% of individuals diagnosed with ALS will eventually be relying on a device to speak for them. So being able to actually have your own voice, especially for family members, friends loved ones and everything else, can really make a huge change.
Josh Anderson:
And then, as I said, the first one I talked about was created with something else completely in mind of being able to hear a loved one's voice after they're gone or after they've passed, but they don't even realize that it does also have use in the AT space. So very, very cool. And I know that voice banking's been around for a long time, but it's great that artificial intelligence and these other technologies are really catching up to make it so much easier for folks to be able to use. So we'll put that link down in the show notes so you can go and check it out for yourself. Listeners. I can't remember the first time that I saw the device that our latest guest will be talking about today, but I do remember just how cool I thought it was. Well, I feel like that's been many years ago, but I'm very excited to welcome Swapnil here to the show to talk about GlassOuse. Swapnil, welcome to the show.
Swapnil Nandeshwar:
Hi. Hello, everyone. And thank you, Josh, for introducing me.
Josh Anderson:
Yes. Thank you so much for coming on, taking time out of your day here to talk all about GlassOuse. But before we get into talking about the tech, could you tell our listeners a little bit about yourself?
Swapnil Nandeshwar:
Yeah. Hi, my name is Swapnil Nandeshwar. I'm the marketing manager at GlassOuse Assisted Device.
Josh Anderson:
All right. Awesome. Awesome. Well, let's get into talking about the technology. What is GlassOuse?
Swapnil Nandeshwar:
Yeah. So, GlassOuse is a customizable assistance wireless device that designed for people with the physical disability or limited mobility, to help them control common devices like mobile phone, tablet or computer hands-free using non-conventional ways like assisted switches and softwares.
Josh Anderson:
Awesome. And Swapnil, when was GlassOuse started? I know as I said kind of in the opening, I know it's been around for a little while, but when was it actually first created?
Swapnil Nandeshwar:
So actually GlassOuse was a brain child of Mehmet Turker. It was 2014 when one of his best friend, he went for a sea diving in the UK and he met a very serious accident, which left him paralyzed body down. And that time Nemo, the founder, he was studying in China and he decided to build a device which would at least allow his friend to control a mobile phone or computer, to at least let him communicate with him, without the use of hand. And since then, he has been brainstorming, coming up with many prototype, getting a lot of information from people. Because generally this kind of thing, people know that they're disabled people, but they know very less about how these people come around in daily task, which, for us, it's a very normal thing, but for them it's a very, very big deal to come across them and get it done.
Swapnil Nandeshwar:
So when he was learning about everything like this, he realized the device that he is looking to design, it can help so, so many people around the world. So he actually made a small team of technicians and engineers, and he designed and come up with a very simple looking and very easy to use device we call the GlassOuse One. It was the first prototype and it is basically like your glasswear which you can wear over your forehead. It connects using to your device, mobile phone, computer tablet, simply using Bluetooth. Like your AirPods or any Bluetooth device gets connected. It does not need any software. It does not need any external connector. It connects, you wear it.
Swapnil Nandeshwar:
You simply move your head and there will be a mouse cursor, which will appear on the screen of your device. Whichever you are controlling, which will very, very accurately track your head movement simply. And using a system switch. So a system switch basically is a button that give input to the device whenever to make a click. So there are many kind of assisted switch. For the very first prototype, we made a bite switch, which basically it's, you just bite on it and it'll make a click. So you move your head and wherever you want to click, you just bite on it. That's it. Straightforward. That's something, very simple device, was so much appreciated and accepted by the community all over the world.
Josh Anderson:
Oh, definitely. And I know that that was kind of the, like you said, the GlassOuse kind of the number one, what other kinds of switch devices are available besides just the bite switch?
Swapnil Nandeshwar:
So there are, after in 2016 to 2018, we realized that disability is of so many kinds. One person disabled, his body or her body functions in a very different way from another disabled person. And to make GlassOuse more easily available to use by much, much larger group of people with disability, we designed many different assistive switches. And right now, we have around nine of them.
Josh Anderson:
Oh, wow.
Swapnil Nandeshwar:
And one is the bite switch. One is a puff switch, which you can simply puff air in it. One is a foot switch. If you ave a workable foot, you can use your foot to make a click. One of four of them are like a press switch. So it's like a big red button which you can connect to your wheelchair, your bag, your bed, wherever your body allows you to use, simply move and make a small press click. You can connect that. And we have a touch and proximity switch. These are both the very last and latest, which launch in 2019.
Swapnil Nandeshwar:
These switches, touch switch, you don't even need to press. Just simply touch it like a touch screen, and it will activate. And the proximity switch, you don't even need to touch it. Just over any part of your body in its surrounding and it will activate itself. So the idea is customizability. GlassOuse is like a Lego. You decide how you want to connect, whatever makes work works for you, will just do it. We are not telling you. We are just telling you what we have. You pick up. I have this kind of things working best for me. Go ahead with it.
Josh Anderson:
Nice. I like that you offer a lot of different options. And I think you said it best, that disability affects so many people differently and they have different input methods. So I'm glad that you give them the choice of what actually works for them, and can get them to where they want to be.
Swapnil Nandeshwar:
Yeah.
Josh Anderson:
So you talked a little bit about this, but kind of what different devices, items, technology, things can I control using GlassOuse?
Swapnil Nandeshwar:
So GlassOuse allows you to connect devices like mobile phone, computer, tablet, or even smart TV. It simply uses a Bluetooth module to connect and doesn't need any software. And because if you have earphone, it can connect to Android, can connect to Windows, it can connect to iOS, same thing, almost all globally known for OS. They have a Bluetooth module and GlassOuse work with them very, very smoothly without any problem. It's as easy as if you buy a wireless mouse or AirPods, any, it'll connect. You know that. Same as GlassOuse. It'll connect, it will work very smoothly. The device itself have a nine extra gyroscope inside it, which very, very precisely track your head movement and offer the lowest latency possible.
Josh Anderson:
Nice.
Swapnil Nandeshwar:
Plus it has a battery inside. So the GlassOuse version 1.4, it has a 150+ hour of battery. So single charge almost for a month, you are good. And the latest GlassOuse Pro, which we launched, it has around 30 to 40 hours of battery life.
Josh Anderson:
Nice. So that will get you through pretty much all the things that you need to do without having to worry about that battery or losing your technology at some time.
Swapnil Nandeshwar:
Yeah.
Josh Anderson:
Something I always love, to have folks kind of tell me a story. I'm sure that you've kind of seen some folks use GlassOuse. Can you tell me a story about someone who was maybe able to access something that they wouldn't have been able to without GlassOuse and the technology?
Swapnil Nandeshwar:
Actually, there are many, many users and we actually don't get directly connect with them, but some of them, which we do get to connect. So there was a kid from Cambodia. She basically has lost both her limbs and she was very enthusiastic to study, go forward and study a lot. And that there was this organization who help her to get education, whatever is needed for her. And they contacted us and they felt like GlassOuse can really help her to go to school and take down notes and catch up with all the students. So we did actually sent her GlassOuse and it worked super amazingly for her. She was so happy. We had a very short call with her and she told me, she never thought that she would be able to go to school. Because after certain age, people with disability, they are kind of forced to join a different kind of school.
Swapnil Nandeshwar:
But because of GlassOuse, she was able to continue in a regular kind of school a little bit longer. And she was really happy for that. And apart from that, a lot of users we have around the world with every kind of different story. So in today's world, I can not imagine a life without a mobile phone or a computer. Really can not. It's a way to connect to your friends, family. It is a way of life right now. But for a person who does not have a normally functionally hand or their body doesn't allow them to, it is almost impossible. GlassOuse, we come with an aim that everyone should have access to technology, a very common technology of a mobile phone and a computer. And every user who uses GlassOuse, we really hope that that is the basic something that they're getting from GlassOuse.
Josh Anderson:
No, that's awesome. And yeah, you kind of said it, right? And I'm just looking around here, just thinking, we're talking over Zoom, being recorded on a computer, and you were talking about how it's really hard to get without access to a cell phone, a computer. And I was just thinking that, yeah, we couldn't do what we're doing right now without access to those devices, and just opening up the world of communication, like you said, of education, and I know disability is handled so differently across the world that, yeah, if you can break down any of those barriers, it can really open up a lot of opportunity for individuals.
Swapnil Nandeshwar:
Yes.
Josh Anderson:
So this is one I always do have to ask, is there anything on the horizon? Is GlassOuse working on anything new or anything kind of for the future?
Swapnil Nandeshwar:
Yeah, so we actually recently launched GlassOuse Pro, and it's like a operated version of GlassOuse 1.4. Basically, technology is changing. What your mobile phone was able to do five years before, it can do so much more right now. So to catch up with that technology and to be able for our users to catch up with all the new functions off your devices, whatever it is, laptop, tablet, or a computer, GlassOuse basically just allows you to do more at the same time. It simply connects to three devices at the same time. Instead of once assisted switch, you can connect eight assisted switch simultaneously. And apart from just being a wireless mouse, it is also a switch control necessary. Switch control, in very short terms, it is basically scanning inbuilt software function in iPad and Android, which people can use if they can not even move their head.
Swapnil Nandeshwar:
You need to move your head for mouse to work. But if you can not move your mouth, switch control is a way to go ahead with it. And GlassOuse helps you making the click and selection. And the third one, GlassOuse can work as a joystick. And joystick basically… So our community, they have been long waiting to be able to be part of a regular gaming arena, because they want to play games. They want to play games and nowadays, games are so inclusive. You have to be, in terms of sound, in terms of eyes, in terms of ear, there's every part of your body that's needed to play big games today. So we are working to make GlassOuse Pro a device which will enable our users to play games more inclusively, basically with more functions.
Josh Anderson:
Nice.
Swapnil Nandeshwar:
We have been testing it out at [VeryGames 00:21:46] and it has been quite successful. And very soon we actually will be launching a lot more information about how to use GlassOuse Pro to play this game or that game or many kinds of any game.
Josh Anderson:
Oh, that's awesome. And I see a big push for that in a lot of the kind of assistive technology community, as far as, not a push towards gaming, but just, it's not just a great pastime, but if you're playing online, no one knows if you have a disability and it kind of evens the playing field, especially with devices such as GlassOuse that actually make it accessible for individuals with disabilities. So very, very cool.
Swapnil Nandeshwar:
Exactly. Exactly.
Josh Anderson:
And then having exactly having the eight different controls, that really opens the door. And then, even being able to do the switch control and the scanning so that you don't even have to have the head movement. Or, that's a great backup if I'm doing a whole lot of work with just head movements, that gets a little exhausting and kind of tired after a while, so it'd be nice if you can switch back and forth and access that in other ways. So that's great.
Swapnil Nandeshwar:
Yes. Yes, exactly. Exactly. Like Legos, find your way, what suits you best and go ahead.
Josh Anderson:
Oh, yeah. Most definitely. Was wondering, if our listeners would want to find out more about GlassOuse and everything that's kind of available and how it might be able to help them out, what's the best way for them to do that?
Swapnil Nandeshwar:
So you can directly visit our website, www.glassouse.com. And we have a live chat there. You can chat with us, we are always available. And if not immediately, we will reply within 24 hours. If you are interested in our device, just talk to our concern person and you can book a live product demo on a Zoom meeting, a day of your choice and time. And we can answer all your questions. Because, again, we understand that disability is different and you might have questions that might this device be good for you or useful for you or not. So to answer that question, you tell us what is your requirement? And we help you to… And together we find out that if GlassOuse solving your problem or no to make you assured that it's the perfect thing for you.
Josh Anderson:
Oh, definitely. And I love that, that you can do the Zoom meeting with folks and actually let them kind of see it. Because yeah, it's very hard, especially with a disability, because everything looks great, or it's definitely better than where I am without using that technology. But that's great that you can really show them just how it can meet that need. And I'm sure that probably helps with a little bit of training folks on how it can be used also.
Swapnil Nandeshwar:
Definitely. So I just want to ask everyone a very small thing, spread the words. Most of our users, they don't directly go so much on social media or have access to everything. So if you've come across someone for whom GlassOuse can be very useful, please let them know.
Josh Anderson:
Yes, definitely. Definitely. And hopefully our listeners will definitely do that, because yeah, really the goal of the show, goal of doing this is just to hopefully, even if we can find that one person out there that can really benefit from it, letting them have that information so that they can find out those things that can help. So yeah, definitely listeners, if you do know of anyone that could benefit, definitely get them in touch. Just because, again, it may be the right solution, it may not, but just being able to have that information is so powerful. And I know for some of the folks that I've worked with, sometimes that have a lot of challenges trying to access technology, especially, just knowing that there are items out there that can assist can really, really open some doors and really just kind of give you that motivation and let you know that these things are possible.
Swapnil Nandeshwar:
Yeah.
Josh Anderson:
Very cool. Well, Swapnil, thank you so much for coming on here today. We will put down the website down in the show notes so folks can get on their live chat or find out some more information. But again, just thank you for coming on, talking about GlassOuse, all the great things that you guys do, and just all the different ways that it can really help people with access to technology.
Swapnil Nandeshwar:
Thank you. Thank you for inviting me, Josh.
Josh Anderson:
Do you have a question about assistive technology? Do you have a suggestion for someone we should interview on Assistive Technology Update? If so, call our listener line at 317-721-7124. Send us an email at tech@eastersealscrossroads.org or shoot us a note on Twitter @indataproject. Our captions in transcripts for the show or sponsored by the Indiana Telephone Relay Access Corporation, or INTRAC. You can find out more about INTRAC at relayindiana.com. A special thanks to Nikol Prieto for scheduling our amazing guests and making a mess of my schedule. Today's show was produced, edited, hosted, and fraught over by yours truly. The opinions expressed by our guests are their own and may or may not reflect those of the Indata Project, Easterseals Crossroads, our supporting partners or this host. This was your Assistive Technology Update and I'm Josh Anderson with the Indata Project at Easterseals Crossroads in beautiful Indianapolis, Indiana. We look forward to seeing you next time. Bye-bye.