I've recently written about a couple different music players available for individuals with dementia, Alzheimer's, and more.  Another available option is the Relish Music Player.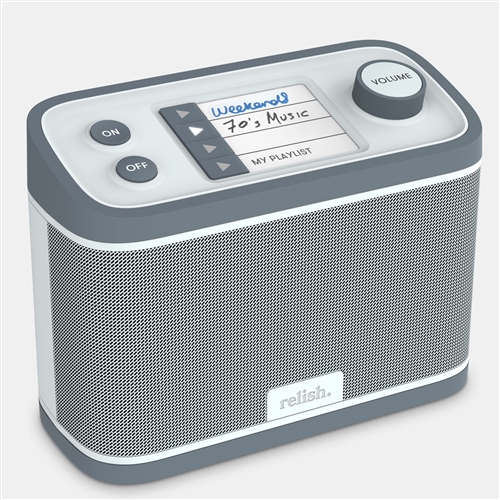 According to the AlzStore's description:
"Blending a retro-nostalgic aesthetic with a contemporary modern finish, this radio is a family favorite. Every detail represents research and refinement. From the stark white color against grey accents that provides greater visibility and ease of use, to unique button tones that help people identify features based on sound, Relish Radio minimizes confusion and maximizes independence…"
This music player features a personalization panel on top of the radio allows for unique station pre-sets to be programmed.  Some station examples include "Swingin' Sixties," "Talk Radio," and more!
Overview of the Relish Music Player:
Easy-to-use control panel with large buttons, a volume dial that never reaches zero so your loved one knows it's always on, and a 3-Watt speaker system

Personalization panel – pre-set and save channels

DAB radio with retractable antenna

Can be battery operated w/ 4 x 'D' Batteries (not included)

FM & Digital mode

Headphone socket

DC power socket for adaptor

High sound quality with (2) 3-watt speakers

Lightweight and durable material

Contemporary aesthetic with a nostalgic edge

Large letters for greater visibility

Large buttons & volume dial for better control

USB port for their favorite MP3 playlist
Click here to learn more!