Podcast: Play in new window | Download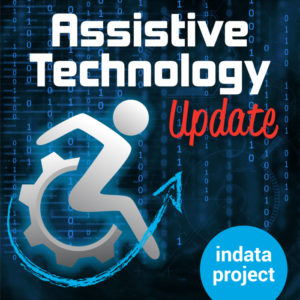 Your weekly dose of information that keeps you up to date on the latest developments in the field of technology designed to assist people with disabilities and special needs.
Kimberly Hill – Director of Operations – Rest Assured
Follow us on Twitter: @INDATAproject
—– Transcript Starts Here —–
Kimberly Hill:
Hi, this is Kimberly Hill and I'm the Director of Operations of Rest Assured, and this is your Assistive Technology Update.
Josh Anderson:
Hello and welcome to your Assistive Technology Update, a weekly dose of information that keeps you up to date on the latest developments in the field of technology, designed to assist individuals with disabilities and special needs. I'm your host, Josh Anderson with the INDATA Project at Easter Seals Crossroads in beautiful Indianapolis, Indiana. Welcome to episode 603 of Assistive Technology Update. It's scheduled to be released on December 16th, 2022.
On today's show, we're super excited to welcome Kim Hill to the show and she's the Director of Operations for Rest Assured and going to tell us about all the great things they do. We've got a whole mess of stories, including a new AT facility built by Google in the UK. Story about research, University of Maryland, looking to relay big data to individuals with visual impairments and a call for nominations for some Disability Smart Awards through AT today. As always, we thank you all for listening and don't forget, we love to hear from you because you hear from me every week. So, send us an email at tech@eastersealscrossroads.org. Call our listener line at (317) 721-7124, or hit us up on Twitter @INDATAproject. But for now, let's go ahead and get on with the show.
Maybe you're looking for some new podcast to listen to. Well, make sure to check out our sister podcast, Accessibility Minute and ATFAQ or Assistive Technology Frequently Asked Questions. If you're super busy and don't have time to listen to a full podcast, be sure to check out Accessibility Minute, our one-minute-long podcast that gives you just a little taste of something assistive technology based, so that you're able to get your assistive technology fixed without taking up the whole day. Hosted by Tracy Castillo. This show comes out weekly. Our other show is Assistive Technology Frequently Asked Questions or ATFAQ. On Assistive Technology Frequently Asked Questions, Brian Norton leads our panel of experts, including myself, Belva Smith, and our own, Tracy Castillo, as we try to answer your assistive technology questions. This show does rely on you, so we're always looking for new questions, comments, or even your answers on assistive technology questions. So remember, if you're looking for more Assistive Technology podcast to check out, you can check out our sister shows Accessibility Minute and ATFAQ, wherever you get your podcast, now including Spotify and Amazon Music.
Listeners, our first story today comes to us from innovation-village.com, and it's titled "Google Launches first UK facility dedicated to creating assistive technology for the disabled." Written by Smart Megwai. This story talks about Google, who you may have heard of, and they opened a new research and development center in the UK solely for the purpose of making tech for individuals with disabilities. They call it the Accessibility Discovery Center and call it a place where our engineers, researchers, product teams and partners can build new kinds of accessible technologies to remove more of the barriers that people with disabilities face every day. Now, we all know Google has done some pretty cool things with their platform, with their services and things, to try to make things a little bit more accessible. They've also definitely made some strides in artificial intelligence and some other technology that can definitely have some beneficial uses to individuals with disabilities.
I think the idea behind this is to kind of bring all these ideas together… And not only bring them together, but it also looks like they're trying their best to include individuals with disabilities in the entire process, be that as some of the designers or at least getting their input as they work through some of the challenges that face individuals with disabilities. So, the first thing that they're doing here is, they're working on a pilot app called "Project Relate." This is part of its helpful tech endeavor and it's made to help people who have conditions that make their speech difficult to interpret. Project Relate is able to allow individuals with non-standard speech to teach the app to understand their unique speech patterns. Says it uses three features. Feature one is 'Listen', which will transcribe their speech into text. It can 'Repeat', which will repeat what is said in a clear voice and their 'Assistant', which connects with Google Assistant to help people get things done. So, this Project Relate is really made to help individuals with non-standard speech in order to be understood and use things like the Google Assistant.
It says this app has launched in the beta form in the UK and it has shown promise and really been able to help some of the early kind of adopters. It has a quote here from a user named, Deborah… Shared that she was having less than 10% of what she was saying being understood with using the app. That's up to about 90% of folks are understanding what it is that she is saying. So, very cool that as Google puts together all of its technology and everything else, that it's kind of putting all of their accessibility stuff in this Accessibility Discovery Center to really get some thoughts together, as well as probably just do some testing and hopefully, and it sounds like at least from what I can gather from this story, they are listening to the disability community, as well. So, just to make sure that they are fixing problems that are there with solutions that do help. So, I'll put a link to this over in the show notes so that you can go check out about Google's new accessible discovery center for yourself.
Our next story comes to us from Maryland Today, which is out of the University of Maryland. It's written by Maria Herd. The story's called "Project Aims to Convey Big Data With Sound and Touch." Says the NSF-funded research would expand employment and education opportunities for blind data users. So, think about all the data that you get in a day, and I don't just mean maybe pictures of the most amazing tacos someone has ever had on Instagram… I mean, think of all the news that you get coming across your feed, coming across your television, on everything else that you just kind of have. So, that's all inputs that you're getting, kind of, every day. That's sort of what this story is talking about, but it's kind of coming back to the charts and the infographics and all these other things that are extremely visual.
Think of a map or a globe. Suppose if you got one of the globes that kind of has the topography raised on there, maybe not as much… But just think of a globe or a map or something like that. Think of all the information that's relayed on this… On a flat surface. To feel it, it just feels like a crinkly piece of paper or a big round spinny thing, if you would. So, if you're visually impaired or blind, it can be very challenging to really get that information. So, this story kind of centers on [inaudible 00:07:05] professors at the University of Maryland, Niklas Elmqvist and Jonathan Lazar. And they're trying to figure out a way to take all this big data, all this information, and relay it to individuals who are blind or visually impaired in different ways. So, with sound, with feel, and with some other things like that.
It says here, the overarching goal is to develop high bandwidth data representations based on sound touch and physical computing that will enable blind users to view, analyze, and understand large data sets as easily as cited users. Says that the underlying approach of this work is called "sensory substitution" or using general assistive technology to functionally sub in one sense for another. For example, Lazar and some other faculty built a tool called 'iSonic', which creates an audio version of a map that allows a user to execute sweeps from left to right and hear various pitches that represent the different data. Says that Elmqvist has extensive experience in this area and actually led the development of an essential oil diffuser that conveys data through smell. I must admit, I really want to see that one and see exactly how that kind of works. But really, it talks about… This isn't a completely new technique. Sensory substitution is something that's kind of been there for a while.
I mean, truthfully, if you think about it, braille would almost be a sensory substitution as I'm not visually seeing the letters, but I am touching them and feeling them, as well. So, I'm using a different kind of sense. But it says that the techniques that are available now aren't scalable because they just take too much time to create. It can be too costly and/or not widely available. So, what they're trying to do here, and their fundamental goal will be designing inexpensive solutions that are compatible with blind users existing software and equipment. So, basically, things that will work on the equipment, the AT tools and the things that the individuals might already be using. So, very cool story and a great way to really make everything more accessible.
I mean, if you think about it, when we make presentations or do these kinds of things where we're really relaying a lot of data, if there is a chart, a table, something with just a lot of data on there, you really should explain that to the individuals in the audience or at least make sure you put that alt text behind it to really kind of break down and explain what it is. And like most technology, I'm sure this will probably have some really great real world applications for individuals who are not just blind and visually impaired, but maybe have other print disabilities, learning disabilities, cognitive impairments or other needs, and just ways to really make sure that they're getting all of the data out there, all the information they need to be successful in school and work and in life. But we'll put a link to this over in the show notes so that you can check out what they're doing there at the University of Maryland to make things a little bit more accessible, especially when it comes to big data.
Listeners, our final story today comes from AT Today out of the UK… Used this quite a few times for different information. It's written Sarah Sarsby. It's titled "Disability Smart Awards 2023 search for innovative assistive tech that changes lives." And it says here that the Business Disability Forum is looking for an organization that has used technology to improve the life of opportunities and experiences of disabled people in the workplace as a consumer or in wider society for a chance to win a technology award. Says it can be for a lot of different things. Says it can be through an innovative use of existing technology, through the development of a new digital or assistive technology product that's been created within the last 18 months, and a few other things. So, these awards open on December 1st, so they are already open and are completely free to enter.
They're open to any UK and global organization of any size in any sector. They say the closing date for all nominations is 5:00 PM (GMT) on January 19th of 2023. So, you still got a little bit of time if you do want to nominate someone, some organization, some developer or something like that, for one of these awards. Says there are 10 Disabilities Smart Award categories for 2023. The full list is 'Disability Smart Diversity and Inclusion Professional', 'Disability Smart Leader', 'Disability Smart Technology', 'Disability Smart Inclusive Workplace Experience', 'Disability Smart Inclusive Recruitment', 'Disability Smart Inclusive Communication', 'Disability Smart Inclusive Customer Service', 'Disability Smart Accessible Built Environment', 'Disability Smart Learning and Development' and 'Disability Smart Inclusive Product Design'.
Says the last year's winners include Skipton Building Society, Unilever, University of Warwick, HSBC, Microsoft, Oliver James, Signly, GSK, KPMG and British Land. There are three additional awards, and these are just for organizations registered for the UK Government's Disability Confidence employer scheme. And they are 'Disability Confident in Mental Health and Wellbeing at Work', in 'Impact' or in 'Small Business'. Just a little bit more information on the award and everything, says the Business Disability Forum is a business membership organization focusing on disability inclusion. There's also a helpful guide here and a link to it outlining how all businesses can make their built environments more accessible to individuals with disabilities.
So, very, very cool awards and everything. And really, I'm just sharing this with you because if you do maybe know a device, an organization, something that's helped you… Again, they just have to be in the UK or global. If you happen to know any of those, please nominate those for the awards here. Because I'm sure that if it's something you use or if it's something you like, if it's something that's changed your life or someone, get them some recognition, throw that stuff in there. Nobody does this kind of work for awards, but still it's nice to know that the work you do makes a little bit of a difference in the world around you.
So, we'll put a link to this and all the other stories down in the show notes so that you can check them out for yourself. Listeners, independence can mean a lot of different things to different people. It can be staying in one's own home, working independently, learning independently, and all the things in between. Our guest today is Kim Hill and she's the Director of Operations for Rest Assured. And she's here to talk about Rest Assured and some of the ways that they assist individuals with disabilities in becoming and staying independent. Kim, welcome to the show.
Kimberly Hill:
Thank you, Josh. It's great to be here. Appreciate you guys inviting us.
Josh Anderson:
Yeah, I am really excited to get into talking about everything Rest Assured. But before we do that, could you tell us a little bit about yourself and your background?
Kimberly Hill:
Yes, absolutely. I'd be happy to. Well, my name is Kimberly Hill. I am the Director of Operations here at Rest Assured. I have been in the business in the IDD field for over 22 years. I have an autistic brother, which is kind of what got me into this field. So, I'm really super passionate about what we do and how we're helping folks with disabilities live their best lives every day. So, thank you so much for allowing us to be here today.
Josh Anderson:
Oh, definitely. And again, thank you for coming on just to tell us about everything. Now, on to, kind of, the real reason we have you on, what is Rest Assured?
Kimberly Hill:
So, what Rest Assured is, is we are a provider, a technology company, that provides remote supports. So, what remote supports are, is it's a system of sensors and/or cameras, which allows one of our remote tele-caregivers to deliver support to the individual via the internet.
Josh Anderson:
Awesome. And what kind of support can be, I guess for lack of better terms, provided remotely?
Kimberly Hill:
Well, that's a great question. So, there is a variety of supports that can be provided. A few examples, we provide visitor safety… Some folks like to have visitors come over, so having that additional layer of security is helpful. Folks that like to cook in the kitchen, our cameras will allow our tele-caregivers to zoom in and make sure that they're cooking safely, that they remember to turn off the stove. If we have folks that are an elopement watch, the cameras are a great idea… Especially some folks, they just don't want to stack with them all the time and they want to be more independent. In addition to that, we also offer medication reminders, just general medication oversight, as well as bathroom safety. We also have pendants if someone is a fall risk and they need assistance in the bathroom. And even just general reminders. I mean, we've even had tele-caregivers that have assisted folks in feeding their guinea pigs, so…
Josh Anderson:
Kimberly Hill:
A little bit of everything.
Josh Anderson:
A little bit of… Yeah, pretty much anything you need and want to do independently, it sounds like it can help with.
Kimberly Hill:
Josh Anderson:
Kim, you kind of mentioned it a little bit… You mentioned some of the technology. We talked a little bit about the pendant, a little bit about the cameras. What are some of the other sensors or things that can be kind of put in someone's house to help them with independence?
Kimberly Hill:
Yeah, so we have a variety of equipment. I'll start with our Smart Box. So, our smart box is, it's basically a wooden cabinet that houses the actual internal components. In addition to the smart box, there's a two-way link screen which sits on top of the smart box, and that is the device where the two-way communication can take place between the individual and the tele-caregiver. In addition to that, the smart box also has an emergency button on the side. So, in the event of an emergency, the individual can just press that button and the tele-caregiver will automatically come up and assist them with whatever it is that they need. In addition to that, we use a variety of different cameras. We have a PTZ camera, which will pivot and tilt and zoom in.
Those are particularly good to use for folks where we are doing a medication pass and we want to make sure that they're popping that pill out and that we're able to actually monitor that administration. It also works great for visitors. If somebody comes to the door and the individual opens the door, we can actually zoom in and see who that is there at the door. We also have the capability to be able to take pictures if needed to. We also use a fixed camera and we also have door breaks, motion detectors, carbon monoxide detectors, wearable pendants, like I had mentioned previously. That's really more for the folks that are a fall risk… Smoke detector, things like that.
Josh Anderson:
Nice. So, pretty much anything that you might want to monitor or might need that peace of mind on, it sounds like Rest Assured might be able to help with?
Kimberly Hill:
Absolutely, absolutely. Yeah, we really customize a plan tailored to the individual's needs.
Josh Anderson:
Excellent. And this is a question that hopefully you can answer for me. What are some of the benefits of using the remote supports using Rest Assured, as opposed to having in-house staff? What are some of the benefits of it?
Kimberly Hill:
Yeah, well, a few of the benefits that come to mind, we have a lot of folks, or there are a lot of folks who kind of struggle with having that hand-on-hand staff with them, just with them every single day in and out. And for folks that are a little more independent, it really gets them that level of independence where they can just have the monitoring with the cameras and the medication reminders, things like that, just so that they can be more independent and not have to have a staff. So, for some of the folks that struggle with having staff all the time, this is definitely a great benefit for them. People…
This is obviously something that is good for individuals that are comfortable with technology. Because I know initially it seems kind of scary when we're telling the folks we're putting cameras and sensors in their home, but we do a very in-depth meeting with them and just kind of explain it on… Make sure that they're comfortable with the system. The other thing would be folks that, like I said, are interested in gaining more independence and responsibility. For folks that eventually want to live on their own, this is a great stepping stone for them. It gives them the ability to be able to still have staff and be safe, but still have a level of independence that they deserve.
Josh Anderson:
Kim, I want to jump back just a little bit. You talked about your motivation for your career and for being here and everything. Can you tell me why was Rest Assured started?
Kimberly Hill:
Well, actually, Rest Assured was started back in 2006, so we've been around for a while. And there was a need for technology. With the staffing… The DSPs struggle with staffing is a very real crisis, especially now so than even back then. But this was originally created to help with that, as well as to assist individuals with living more independently. And like I said, this really gives them the ability to reach the point where one day maybe they can live on their own. It's kind of that in between from having staff to eventually just living independently. And that really helps folks really shine and learn a lot about what it's like to be like everyone else in the world and be able to live independently and do it comfortably.
Josh Anderson:
Almost definitely, while still having that peace of mind of having the assistance if you needed, I'm sure is also a huge thing and a huge benefit to the individuals.
Kimberly Hill:
Absolutely, yes. And we do build in their care plans. Like I said, we tailor their individual care plans to meet their specific needs, but we also make sure that there's a safety plan built in there as well, if there is a tornado, a fire, that type of thing. So, it's all those layers of safety and security.
Josh Anderson:
Wow, nice. No, I didn't even know that they did that. So, yeah, that's even more than I thought you'd be getting from the service, so that's really great. Kim, I'm sure you probably have quite a few of these or have heard quite a few, but could you tell us a story of someone who's maybe benefited from the service of Rest Assured or gained some independence, or really and truly just really had a good experience using Rest Assured?
Kimberly Hill:
Yes, absolutely. Well, we have an individual that is out west and she had previously had some behavioral issues and things like that. And her team just rallied together to create some strategies for her to become more independent. And it started with a little bit of her wanting to have some more alone time and things like that. And so, they reached out to us because obviously, just having alone time with some of her behavioral histories and things, that seemed a little scary. So, they reached out to Rest Assured, and we were able to actually discuss the doors, the sensors, the cameras, things that we could actually put into place that would make her feel safe, but also have that level of independence. And really, that's just how we started it. We started it kind of slow. So, at first it was just maybe a couple hours a day and then gradually building up to eight to 10 hours a day.
And she, now, is doing very, very well. I mean, her level of independence and her confidence has just skyrocketed. She's able to cook in her home, she takes her medications, and all with minimal support with the electronic monitoring. So, it's still that layer of safety, but she's able to be more independent. And it's worked very, very well for her, to the point, now, that they're talking about even doing alone time. So, that's the kind of success that I'm really passionate about and the success stories that we see here at Rest Assured, I mean, every day.
Josh Anderson:
That is awesome, and I'm sure you probably have stories that we could talk about forever, but that is a really great one. Well, Kim, what is next for Rest Assured? Is there anything that you guys are working on or are moving into? What's next or what is the horizon… What does the future hold for Rest assured?
Kimberly Hill:
Well, as you know, technology continues to change. You always have to learn new ways of adapting and changing with the times and with the technology. So, we are looking into other types of technology equipment and things that maybe we could possibly add to our array of equipment. One example is like a medication device that would actually dispense the medication. So, we're having conversations about that. I don't really have a timeline, but the right conversations are happening currently within Rest Assured so that we can stay in the forefront of this technology evolution. So, that is one of the things that we are definitely working on.
Josh Anderson:
Excellent. So, just more things to let folks be independent and be able to independently do things while still having the safety and peace of mind, and know that they actually are doing it correctly and when it needs to be done.
Kimberly Hill:
Yes, absolutely. And I would also say, Josh, branching out to more states. Currently, right now, we're in 14 different states… And just branching out to more states so that we can help more people.
Josh Anderson:
Oh, for sure, for sure. Well, Kim, if our listeners would want to find out more about Rest Assured, what's the best way for them to do that?
Kimberly Hill:
Yes, they can contact us at www.restassuredsystem, that's R-E-S-T-A-S-S-U-R-E-D-S-Y-S-T-E-M.com, restassuredsystem.com. And you can click on our website and there's a variety of videos that you can watch and some material. You can also email me at khill, that's K-H-I-L-L, @restassuredsystem.com. Or contact us at (877) 338-9193.
Josh Anderson:
All right. And we will put that email address, the website, and the phone number all down in the show notes so that folks can easily get down to that. Well, Kim, thank you so much for coming on the show today and telling us about all the cool things that you do at Rest Assured, just to really help folks be able to live more independently while still being safe and secure.
Kimberly Hill:
Thank you. We really appreciate the opportunity. Thank you, Josh.
Josh Anderson:
Do you have a question about assistive technology? Do you have a suggestion for someone we should interview on Assistive Technology Update? If so, call our listener line at (317) 721-7124. Send us an email at tech@eastersealscrossroads.org or shoot us a note on Twitter @INDATAproject. Our captions and transcripts for the show are sponsored by the Indiana Telephone Relay Access Corporation or InTRAC. You can find out more about InTRAC at relayindiana.com.
A special thanks to Nicole [inaudible 00:26:37] for scheduling our amazing guests and making a mess of my schedule. Today's show was produced, edited, hosted, and thought over by yours truly. The opinions expressed by our guest are their own and may or may not reflect those of the INDATA Project, Easterseals Crossroads or supporting partners, or this host. This was your Assistive Technology Update, and I'm Josh Anderson with the INDATA Project at Easterseals Crossroads in beautiful Indianapolis, Indiana. We look forward to seeing you next time. Bye-bye.