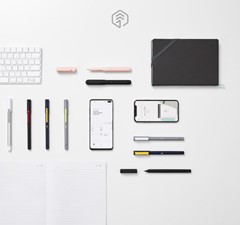 Neo Smartpens are writing devices that give you something you could never do before — digital writing. Your writing now has a digital twin. Just use the Neo Smartpen to copy and paste the words in your handwriting to any digital device — your mobile phone, tablet or PC. You can also record meetings or lectures with accompanying apps. The compact and simple design of the pen provides users with an uninterrupted and smooth writing and saving experience.
The Neo Smartpen can be helpful for individuals who have difficulty staying focused as well as those who might have hand mobility challenges or hearing-related disabilities.
Using the Neo Smartpen
The Neo Smartpen has an internal camera that captures your handwritten texts and converts them to digital documents when the pen syncs with the Neo Studio app. The Neo Smartpen automatically digitizes and stores your work on your mobile devices as soon as the ink comes out. Even if you don't have a stable internet connection, all data can be securely stored within the pen itself when in offline mode.
You can customize your notes by adding color and personality through the NeoNotes app as well. Search by date, tags or keywords — and it even supports up to 15 languages.
Neo Smartpen Dimo
Do you often take notes? Your handwriting can be searchable and shareable! The Neo Smartpen Dimo has 2MB of internal storage so you can transfer your stored handwriting at a later time. You can export your handwritten notes to various formats and share them on social media and email.
Neo Smartpen M1
The Neo Smartpen M1 has 100MB of internal storage in case you need to transfer your stored data at another time. M1 has a thinner and lighter design to write smoothly along any surface. Each pen comes with a replaceable ink cartridge with simple D1 refills.
Neo Smartpen M2
The Neo Smartpen M2 design is more sleek and heavy duty, made of aluminum and stainless steel to withstand shocks and scratches with an ergonomic grip. The M2 has 90MB of internal storage and transfers with the N-Code notebooks only. It is compatible with the Neo Studio app along with Evernote, Google Drive Manager, OneNote and Creative Cloud.
Check out the Neo Smartpen YouTube Channel for tutorial videos here: https://www.youtube.com/user/neosmartpen.