Podcast: Play in new window | Download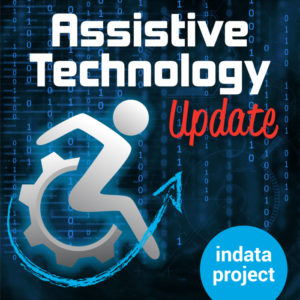 Your weekly dose of information that keeps you up to date on the latest developments in the field of technology designed to assist people with disabilities and special needs.
Alex Westner – Co-Founder and CEO – Xander
____________________________________________________________
Follow us on Twitter: @INDATAproject
—– Transcript Starts Here ——
Alex Westner:
Hi, this is Alex Westner. I am the co-founder and CEO of Xander, and this is your Assistive Technology Update.
Josh Anderson:
Hello and welcome to your Assistive Technology Update, a weekly dose of information that keeps you up to date on the latest developments in the field of technology designed to assist individuals with disabilities and special needs. I'm your host, Josh Anderson, with the INDATA Project at Easterseals Crossroads in beautiful Indianapolis, Indiana. Welcome to episode 615 of Assistive Technology Update. It is scheduled to be released on March 10th, 2023. On today's show, we're excited to welcome Alex Westner. He's the co-founder and CEO of Xander and he's here to tell us about Xander Glasses and how they can help individuals with real-time captioning during conversations. We also have Amy Berry on the show with an app worth mentioning from Bridging Apps. As always, folks, don't forget, you can always reach out to us if you have a question, a comment, or someone who'd make a great guest. Send us an email at tech@eastersealscrossroads.org or call our listener line at (317) 721-7124. We thank you so much for listening. Let's go ahead and get on with the show.
If you love Assistive Technology and podcasts, then you should check out our sister shows, Assistive Technology Frequently Asked Questions and Accessibility Minute, so if you love AT and you love podcasts as much as I do, don't forget to check out our sister shows, ATFAQ and Accessibility Minute, available wherever you get your podcast.
Listeners, I'd like to invite you all to our Web Accessibility Webinar for Developers on May 10th, 2023. Renowned web accessibility professional Dennis Lembree covers an array of topics for developing accessible websites. The training begins with disability and assistive technology basics and an overview of guidelines and laws. Main topics include content structure, images, forms, tables, video, CSS, and ARIA. Techniques on writing for accessibility and testing for accessibility are also covered. If you're interested in registering for this free training on web accessibility for developers, please click on the link down in the show notes or visit eastersealstech.com.
Listeners, next up, we are lucky enough to have Amy Barry from Bridging Apps on with an app worth mentioning. Make sure to check out bridging apps at www.bridgingapps.org. Take it away, Amy.
Amy Barry:
This is Amy Barry and this is an app worth mentioning. This week's featured app is called Tip Calculator% Top Tip. The app is a tipping calculator that allows you to quickly and easily calculate how much you should tip based on your bill and how good service was. The app is great for quick calculations. You could figure out tips on the fly without worrying about over-tipping or under-tipping. It's simple to use and also a perfect tool for teaching and visualizing tipping. Due to its straightforward formatting and everything being available on one page, it makes it easy to use for individuals who struggle following steps. The app also works well with voiceover and spoken content.
Some of our favorite app features include you can calculate service-based tipping, up to a hundred people can split the bill, which is very convenient with per-person billing and tipping, just a simple tap and swipe action to operate, you can exclude sales TA taxes from tipping, you can round the tip or the total, you can switch the currency very easily, oh, and if you want, you can even share results by text or email. You can tip even faster with the companion Apple Watch app and it's fully compatible with dark mode. This app is currently available for iOS and it's free to download with optional in-app purchases. For more information on this app and others like it, visit bridgingapps.org.
Josh Anderson:
Listeners' captions, they're the accommodation that most folks who don't work in the field of accessibility actually know about. They're on our TVs, available at movie theaters, and built into our constant Zoom meetings, but they really don't exist in our normal day-to-day lives and conversations. Or do they? My guest today is Alex Westner, founder and CEO of Xander, and he's here to tell us about their technology that can provide captions to our daily lives and the communication that happens throughout the day. Alex, welcome to the show.
Alex Westner:
Thank you so much for having me. I really appreciate it.
Josh Anderson:
Yeah, I am really excited to get into talking about the technology, but before we do that, could you tell our listeners just a little bit about you?
Alex Westner:
Sure, I'm happy to. I have spent maybe 18, 20 years in audio technology trying to help computers to understand sound, essentially. I guess my personal story is about nine years ago I was diagnosed with macular degeneration, so I have some distortion in my central vision. It's mild, and it's progressing very slowly, so I do okay with the technology I have, but as a product guy, I was kind of interested in, and as an audio guy, if I start to lose my vision, are there audio and sound products I could use to help supplement?
I did a lot of research and I learned, well, yes, there's a lot of interesting options. There's a lot of smart people working in this space and I had nothing else to add, so I thought, "Well, what about the opposite? What about people with hearing loss? Can we take that same idea of sensory substitution and add visual information for people losing their hearing?" I learned more about hearing loss and I learned more that there's almost nobody really working on this specific solution. I thought, "Well, this is probably what I was supposed to be doing." Instead of helping computers understand sound, we're going to help people understand sound through using visual information.
Josh Anderson:
Awesome. That is how Xander was founded the company, is that correct?
Alex Westner:
Josh Anderson:
Awesome. Well, the reason we've got you on here today is to talk about some technology you've come out with called the Xander Glasses. Tell us, what are they?
Alex Westner:
Xander Glasses are a pair of smart glasses with built-in microphones and a built-in display that's integrated right into the glasses that essentially lets you see real-time captions of in-person conversations. The way it works is you put on the glasses and the glasses take care of everything for you. As you're having a conversation, the glasses will be able to listen to the other people speaking, translate that speech into text and render the text right in your glasses. With some optical tricks, the text appears maybe about two or three feet in front of you near where the head of the face of the person talking, so it really does feel like you are getting captions or subtitles of whatever somebody is saying to you.
Josh Anderson:
Well, that's nice, and that way, you can stay engaged in the conversation. I know there's different things apps on your phone or something, but that requires you to look away and look down and maybe not feel quite as engaged, but with this, you can really keep your eyes on the speaker and see everything they're saying, correct?
Alex Westner:
That is exactly right. We have seen people using smartphone apps and they're free or inexpensive and they do provide that extra assistance for when you're out and about and are having trouble hearing someone. Those apps are great. But like you said, glancing down at your phone during a conversation is a pretty horrible user experience. It's not good for you because you can't see what their facial expressions and the other person doesn't understand what you're doing. They think you're checked out and playing with your phone instead of trying to listen. What's nice about this augmented reality, smart glasses technology, it basically takes the screen of your phone and puts a simple amount of information in front of you so that you really don't have to look away. You can stay engaged with the people that you're talking to.
Josh Anderson:
That's really awesome. I got to ask, Alex, do they have to be connected to wifi or something like that in order to get the captions to work?
Alex Westner:
That is a great question. That's sort of where we are standing out is that we're designing our glasses so that everything you need is on the glasses themselves, so the speech-to-text technology, everything is on the glasses so that you don't have to pair them to a smartphone, you don't have to connect them to a cloud, you don't have to have bars on your phone in order to use it. You can use them anytime, anywhere, or any place, and they're always just going to work. But that's how we're differentiating. We learned that by just going out and testing with people.
Our initial prototype was cloud-connected and we were really surprised to experience how often you don't actually have a good connection to the cloud when you're moving around. I mean, think about a common scenario was we were in hospitals and clinics where the walls are very thick and insulated with materials that really makes it hard to connect, and so it was a pretty essential move for us to do this. Then the fact that all the technologies on the glasses just makes it easy to use. The idea is you get the glasses, you open up the box, you turn on the power button, and that's it. They just work. We get that nice simplicity, we get reliability, and then there's no privacy concerns. We're not sending conversations to some cloud database to mine for ads. All your conversations are as private as possible.
Josh Anderson:
Ah, that's great. Yeah, and you brought up different places, the hospital, the commissary, I mean, I always think of large events or anything where there's a big group of people weighing down the network and everything seems to slow down, so that's great. Just ease of use, which you brought up, you bring them out, you turn them on, you don't have to worry about updating an app or the next big update to the phone, maybe knocking it out. That's great that that's a concern that you don't have to really worry about. That user-friendliness really makes it probably a whole lot easier and just a little bit more accessible, especially probably to maybe older folks with some hearing loss and just the folks that can really be able to benefit from it.
Alex Westner:
Yeah, that is exactly right. I mean, our baseline is, it's interesting when we look at some vendors and other places, their assumption is always that you're connected to the cloud, but there is so many steps to do that. I mean, audiologists have told us half of their patients can't remember or don't know their app store password, so they can't even download the app that's supposed to work with their hearing aids because it's just not something they do, so our baseline is, "Well, let's assume that they're not connected." Then for maybe if half of our customers are tech-savvy enough to go further, we can provide additional services if they're willing and able to connect. Of course, we can do more, but we're starting from a place of minimum tech dependency.
Josh Anderson:
Sure. Yeah, and like I said, that's just great because it does give you just more access to more folks. I do love that the folks who might be more tech-savvy can do more, but the folks who maybe are not as tech-savvy can still do what it's made for and aren't out of that.
Alex Westner:
Josh Anderson:
Well, Alex, you brought up just a point in my head. You mentioned that you got your own visual impairment slowly kind of coming on, so if I have a slight visual impairment, can I change maybe the size of the font or the contrast or anything to make it a little bit more accessible while I'm reading?
Alex Westner:
Yeah, that's a great question. You should be able to adjust a few things. You can change the size of the text, you can make it bigger or smaller. You can change the number of lines of text that you see on the screen at any given time. We all process information differently and some people having too much text is confusing and a distraction and hard to keep up. For some people, they want as much of the background of the conversation as possible, so they want more lines of text. I actually tested with somebody this morning who has a bit of a cognitive disability and has trouble keeping up in conversations. For him, he wanted more of that history and more text so he could make sure that he was getting everything that people were saying. Then you'd be able to position the text up and down in the space. But yeah, we're definitely finding that everybody's different and unique in how they want to get this information.
Josh Anderson:
Definitely, definitely. But yeah, I love that it is opened up to different folks there. Now, I'm just thinking of different situations, if I'm in kind of a noisy area, so I'm talking to somebody at a table, at a crowded bar, a concert, a restaurant, are they going to be able to focus on to that person I'm trying to listen to, or how do they work with the background sound, and other things?
Alex Westner:
They do very well in background noise.
Josh Anderson:
Alex Westner:
We were at the CES show where I believe we met one of your colleagues for the first. The CES show floor was so noisy and at our booth we had three or four people having conversations with people at the same time and the glasses worked pretty well. The easiest way I can explain it is if a typical average hearing person is following along in a noisy room, the glasses will, too, so as long as the people you're speaking with are talking louder than the noise, which most people do, and they're not talking at exactly the same time, and at same distance from you, which oftentimes social behaviors take care of that so we can all understand each other, then the glasses do pretty well.
Josh Anderson:
Ah, that's awesome. For our listeners, and this is always the hardest part of the podcast, can you give me a description of what the glasses physically look like?
Alex Westner:
Sure. Other people have described them in the media as sort of thick-looking. I would say they look like a sporty pair of sunglasses, a little bit solid rims, kind of a cool textile sunglasses is what they look like except the lenses aren't dark, they're clear. Imagine a cool pair of clear glasses with thick black rims. That's how I can describe them.
Josh Anderson:
Alex Westner:
That's the base model. There is a more advanced model we are able to launch with that from the front. They look a lot more like a normal pair of black-rimmed glasses. All of the technology is embedded on the sides, on the arms of the glasses. For many people, as we look at them wearing glasses, a lot of times those arms, the size of the glasses are actually under their hair, so even for people who are conscious about what they might look like, for half the people we talk to, they're not even visible. Then over time, the technology will even get smaller and lighter and become such that you won't even notice whether someone's wearing a normal pair of eyeglasses or pair of smart glasses.
Josh Anderson:
Oh, for sure. For technology like this to all be housed in it, this probably no more, no less than five years ago, you would've had to have a giant brick weight connected to it and probably have them connected to each other, so yeah, as time goes, things always do seem to just get smaller and smaller and more technologically advanced, so that's awesome.
Alex Westner:
Yeah, and for people who are aware of the glasses you get in movie theaters for captioning glasses, they often have a wired component, so you put on the glasses, and the glasses are wired to this hockey puck that you have to carry. I mean, it's great that it works, but it's a little cumbersome, so we're definitely coming a long way even from a few years ago, which is great.
Josh Anderson:
Alex, you mentioned that there were two different models. Could you tell me about the differences between them?
Alex Westner:
Yeah. Well, just to get to market, we're not actually making our own glasses. That is so complicated. We found a great partner in Rochester, New York. The company is called Vuzix, V-U-Z-I-X. They've been making smart glasses and AR glasses for 20 years.
Josh Anderson:
Alex Westner:
They're ex-Kodak engineers and so they're into the optics side and making this experience great. They have two glasses that we're using and rewriting the software essentially to take their technology and transform it into something for this specific use case. They have two models. The differences are the higher-end model has two projectors instead of one, so the base model has one projector and one lens in your right eye. The higher-end one has both eyes, so you can use left eye or your right eye, or both eyes actually gives you a really big, nice, beautiful display in the middle. You can control depth. The display technology in the higher-end version also consumes about a third of the battery life, so you get much longer battery life with the higher-end version. It has more powerful processors and memories so we can get higher accuracy for our captions and they look nicer.
Josh Anderson:
Alex Westner:
Those are the differences. That'll be about twice the price. But for some people who can afford it, they have said to us it's a no-brainer for them, but we have to create options for everyone that has different needs, and different budgets.
Josh Anderson:
Oh, most definitely. There's nothing worse than making something that makes things accessible that isn't accessible to the people who need it. It really doesn't do a whole lot of good.
Alex Westner:
Josh Anderson:
Well, Alex, speaking about that and doing good, can you tell me a story about maybe a couple of folks' reaction to using the glasses? I know that's got to be one of the better parts of the job is seeing people actually be able to use these, so can you just tell me maybe a couple of stories of those folks?
Alex Westner:
Yeah, I'll the story from just last week. Our company has partnered with the VA. They have an innovation program where they work with startups. From their perspective, they're trying to work with startups to help influence the companies to make their products better for their own veterans. We were onsite in the Pittsburgh location last week and we met with a couple of veterans with severe hearing loss that they got from their time serving. One of them in particular, they sat with us for about an hour and a half in a big group conversation wearing the glasses. One of them in particular took them off and he was wrapping up and he just looked at us and he said, "I feel really sad that I don't have this anymore."
I think especially in a group conversation where there's so many people talking and you don't know who's saying what and they can check out really fast in those situations. I think for him, it was one of those first moments in a long time where he could sit with a group of people and really be a part of the whole group conversation. He really felt included and he was the star of the conversation and I think that was really moving for him. Well, we'll stay connected to him. The nice thing about the VA is the VA will just purchase the products for the veterans, so when we're all ready, the VA can just buy him a pair of glasses, and he'll be thrilled. That was the most recent story.
Josh Anderson:
Nice, nice. Yeah, I'm sure we could probably spend the whole rest of the day talking about some other user experiences and things like that.
Alex Westner:
I could share one more quick one, which was-
Josh Anderson:
Alex Westner:
… one of the very first interview we ever did, it was a woman with cochlear implant and hearing aids, and we put the glasses on her. Had a 45-minute conversation and she didn't really seem impressed and we thought, "Huh, maybe this isn't as useful as we thought." We walked away feeling a little down. But then when we got home about an hour later, she sent us an email, and she said, "I thought the glasses were fine. Normally, if you and I were talking like that for 45 minutes, I would've been exhausted. I would've felt a headache coming on because it takes so much work for me to pay attention and hear what you're saying, but I don't feel that right now. I don't feel tired, I don't feel that fatigue. I feel fine because it was just easy to talk." She was convinced after the fact that we're really onto something and she didn't realize how much cognitive load and strain she's under when she's just participating in daily regular conversations.
Josh Anderson:
Ah, that's cool. That's really cool because yeah, like you said, you walked away, and were like, "Oh, well, it didn't even do anything for her," not even knowing that, no, it actually did make a heck of a difference.
Alex Westner:
Josh Anderson:
Well, Alex, I was going to ask kind of what's next? Where does Xander go from here in Xander Glasses?
Alex Westner:
We have our prototypes now that we're testing with anyone and everyone we can while we get the product ready for sales. We're targeting mid-year, so June, July where our glasses will be available to people to purchase. We're just sort of heads down on that right now. That's the next step. We will be offering them direct to customers. We're also talking to audiologists who are interested, and like I said, the VA, hoping to bring the VA as on as another partner.
Josh Anderson:
Awesome. If our listeners want to find out more about everything, what's the best way for them to do that?
Alex Westner:
Best way is to go to our website. It's xander.tech. I'll spell that out. Xander is X-A-N-D-E-R, Xander, and the extension is .tech, dot T-E-C-H, xander.tech. Oh, I guess the YouTube channel would be good. It's youtube.com/atxanderglasses goes right to our channel. I think we try to populate with videos. The product is such a visual product that we do try to point people to that site because then they can see people using it. We have a behind-the-glasses video to show what it's like to wear them. I think it helps people to actually just see it. When we started the company a month before COVID lockdown and you can't, so it took us 18 months before we could really try out these glasses with people, and you just can't test this over a Zoom call. It has to be in-person experience.
Josh Anderson:
Yeah, 'cause I mean, that's the difference. That's the piece that's never really been that accessible because yeah, I've used the little apps and things a lot just because, well, I don't do as much of the hands-on workplace accommodations, but I always worked with a lot of our deaf and hard of hearing folks, and it was always the in a pinch, you know what I mean, kind of thing of, "Hey, the interpreter's not here. Let's do it this kind of way."
Alex Westner:
Josh Anderson:
But no, having something mean, especially I think of in the workplace for folks with hearing impairments, that'd just be great because, yeah, now I'm not looking away from my work. I'm not doing something like that. I can still keep eye contact, keep communication, and truthfully, unless you notice my glasses look a little bit different, you're not even going to notice I'm using anything.
Alex Westner:
Josh Anderson:
That's always a good thing, isn't it?
Alex Westner:
We've heard it from, we also spoke with surgeons who, when you go in for surgery, you have to take your hearing aids out, but you have to ask patients critical questions about anesthesia, and allergies. There's things that you… They all use pen and paper, they use whiteboards. That's how they communicate when their person's hearing aids are out. But if they could have a pair of glasses there that they could say, "Hey, can you put these on because we need to talk to you?", and then just take them off, it's a lot easier to do that than with their hearing aids in and out, so that's another interesting area.
Josh Anderson:
Alex, I wouldn't normally do this, but I read your bio and everything on there, so for our listeners who don't know, can you tell them what a keytar is?
Alex Westner:
My keytar. Yeah, I used to play keytar in a band out of grad school. It's like an electric keyboard that you can wear and play like a guitar. Normally, the keyboard players are just standing behind keyboards looking kind of boring, and I wanted to figure out, "How do we get the keyboard player to be the rockstar in the front of the stage?" They make these keyboards that you can strap on like a guitar and play them like a guitar and so they call it a keytar.
Josh Anderson:
Yeah, I have never got to ask anyone that question, so I could not pass up the opportunity. Plus, I figure any of our listeners that were probably born past 1990 or so may or may not know what they are. I still remember them from growing up on MTV, our generation watching every music video that came out, but I never got to ask that question. I guess that that's probably something that maybe led you to that audio world as well. We're very glad it did. Well, Alex, thank you so much for coming on today for telling us about Xander, for the Xander Glasses. We're very excited to see them come out and really get to check them out. I think they can really help a lot of people with communication on the day-to-day.
Alex Westner:
Thanks, Josh. I appreciate it.
Josh Anderson:
Do you have a question about assistive technology? Do you have a suggestion for someone we should interview on Assistive Technology Update? If so, call our listener line at (317) 721-7124. Send us an email at tech@eastersealscrossroads.org, or shoot us a note on Twitter at INDATA Project. Our captions and transcripts for the show are sponsored by the Indiana Telephone Relay Access Corporation, or INTRAC. You can find out more about INTRAC at relayindiana.com. A special thanks to Nikol Prieto for scheduling our amazing guests and making a mess of my schedule. Today's show was produced, produced, edited, hosted, and fraught over by yours truly. The opinions expressed by our guests are their own and may or may not reflect those of the INDATA Project, Easters Hills Crossroads, our supporting partners, or this host. This was your Assistive Technology Update and I'm Josh Anderson with the INDATA Project at Easterseals Crossroads in beautiful Indianapolis, Indiana. We look forward to seeing you next time. Bye-bye.