Podcast: Play in new window | Download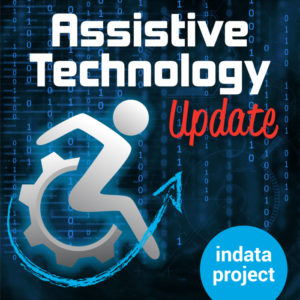 Your weekly dose of information that keeps you up to date on the latest developments in the field of technology designed to assist people with disabilities and special needs.
Follow us on Twitter: @INDATAproject
—– Transcript Starts Here —–
Kimberly Cline:
Hi, welcome. This is Kimberly Cline. I'm the Director of Sales for LVI America, and this is your Assistive Technology Update.
Josh Anderson:
Hello and welcome to your Assistive Technology update, a weekly dose of information that keeps you up to date on the latest developments in the field of technology designed to assist individuals with disabilities and special needs. I'm your host, Josh Anderson, with the INDATA Project at Easter Seals Crossroads in beautiful Indianapolis, Indiana. Welcome to episode 617 of Assistive Technology Update. It's scheduled to be released on March 24th, 2023. Today's show, we're super excited to welcome Kimberly Cline, the director of Sales for LVI America. She's here to talk about some of their great offerings, including the MagniLink AIR. Thank you for listening today and let's go ahead and get on with the show.
Maybe you're looking for some new podcast to listen to. Well, make sure to check out our sister podcast, Accessibility Minute, and ATFAQ, or Assistive Technology Frequently Asked Questions. If you're super busy and don't have time to listen to a full podcast, be sure to check out Accessibility Minute, our one-minute long podcast that gives you just a little taste of something assistive technology based, so that you're able to get your assistive technology fix without taking up the whole day.
Our other show is Assistive Technology Frequently Asked Questions, or ATFAQ. On Assistive Technology Frequently Asked Questions, Brian Norton leads our panel of experts, including myself, Belva Smith, and our own Tracy Castillo, as we try to answer your assistive technology questions. This show does rely on you, so we're always looking for new questions, comments, or even your answers on assistive technology questions. So remember, if you're looking for more Assistive Technology podcasts to check out, you can check out our sister shows Accessibility Minute and ATFAQ, wherever you get your podcast now, including Spotify and Amazon Music.
Listeners, I'd like to invite you all to our web accessibility webinar for developers on May 10th, 2023. Renowned web accessibility Professional Dennis Lembri covers an array of topics for developing accessible websites. The training begins with disability and assistive technology basics and an overview of guidelines and laws. Main topics include content structure, images, forms, tables, video, CSS, and ARIA. Techniques on writing for accessibility and testing for accessibility are also covered. If you're interested in registering for this free training on web accessibility for developers, please click on the link down in the show notes or visit eastersealstech.com.
So, longtime listeners of this show will know that I have not always been the host. I took over the show on episode 378, way back on August 24th, 2018. So while this year will mark five years and close to 250 episodes, for our first 377 episodes Wade Wingler was our host and the creator of this show. Wade handed over the keys to the studio when his position changed to vice president here at Easter Seals Crossroads. It was a far larger task than I thought it was when I took over because, well, I guess that's what you'll find out in this story.
This last month, Wade bid farewell to Easter Seals Crossroads after being a part of the organization for a few months short of 30 years. He's off to become the CEO of another disability services organization in Indianapolis, and we are all very happy for him, his new home, his new team, and all the individuals they serve. We're very grateful that he will still be working to make the world more accessible for individuals with disabilities in Indiana, even if it's not for this organization.
Of course, we're also a little sad here as well. You don't lose a leader with almost 30 years invested without some feeling of loss. When the biggest waves recede, they leave the most change in their wake, right? Well, in this case, that analogy would not be fully fitting, as a receding wave brings forth mental images of destruction and chaos. I would argue that this change leaves the land stronger, more resilient, and more able to face even the largest of storms to come.
When I say that this podcast is a far larger task than I thought it was, that is not because Wade told me it'd be easy. He did not. I believe he actually called it a gigantic time sucker, something colorful along those lines. He gave me just enough training to be able to record and post, to prepare for interviews, but not much more. He gave me what I needed, then sent me out to succeed. He had an innate ability to lead, partially by example, partially by assisting, but mostly by seeing the potential in others and just letting them be them.
While he probably had more ideas, opinions, and thoughts than most, he did not always need to be right. He took all of the tools at his disposal, forged them into things that were stronger and better than anyone thought they could be. He provided guidance, assistance, and mentorship, but most of all, he realized that while he had a lot of knowledge to share, his way was not the only way to success. He knew that making others do things his way would lead to slowing innovation, stifling creativity, and, well, just holding people back.
He was always happy to help when asked, but always seemed happier to sit back and just watch others succeed. He gave constructed criticism when needed, but mostly just gave encouragement. Sometimes to a point where you really thought he was just blowing smoke up your backside, but it was always genuine, or at least it always seemed that way to me.
Some of you may know, in the other side of my role and about 90% of my time here at Easter Seals Crossroads, I manage our clinical assistive technology division. I get to lead an amazing team of AT specialists, trainers, and technicians, and would not be half as strong of a leader without Wade's influence. He helped to create, build, and advance the program that I now have the pleasure of leading. His guidance, humor, and assistance will be greatly missed around here, for sure.
I suppose all that I can really say is thank you, Wade. If you're listening to the show today, thank you for your leadership, your vision, your humor, your guidance, and your friendship. Thank you for seeing something in me and others that many of us may have never seen in ourselves. Thank you for providing us the tools we needed to succeed, then just sitting back and watching us do so. For taking the skills and abilities we came with, sharpening and molding them to better serve our consumers, our agency, and ourselves.
To the folks at Wade's new organization, if you happen to be listening, you have a great new leader and I'm looking forward to watching the whole organization flourish within his leadership. To our listeners, thank you for your continued support of our podcast and for allowing me to go on this journey into the world of AT and accessibility with you. I learned a lot about from our guests, but I learned a lot about leadership from Wade Wingler. Best of luck on your new endeavors. Now let's get on with the show.
Listeners, our guest today is Kimberly Cline from LVI America. A little over a month ago, Wade mentioned the MagniLink AIR on our ATIA takeaway show. And we're lucky enough to have Kimberly with us today to talk a bit about it and some of the other cool devices available from LVI. Kimberly, welcome to the show.
Kimberly Cline:
Thank you. Thank you for having me. It was great to see Wade a month ago and great to be here in person today.
Josh Anderson:
It is so nice to actually have someone in here in the studio. It's a rare treat that we don't get very much, and I'm glad everything actually worked. That's always a nice thing. Now, before we get into talking about LVI and all the cool things that they offer, can you tell our listeners a little bit about yourself?
Kimberly Cline:
Sure. My name is Kimberly Cline. I live in Las Vegas, Nevada, but I tell everybody I live at the airport, because pretty much every week I'm in a different city or town. And been in the assistive technology industry going on, I think this is going on my 35th year. So I've known Wade back when we were puppies, very, very young.
And my favorite thing about this industry is and always has been, is every single day we change lives and we see smiles on faces and we see people realize, "Wow, I'm going to be able to do things that I thought I could never do again because of vision loss." And it's what gets me up every day and it's what keeps me going. Because we work long hours, but I love what I do, but it's great to change lives every single day.
Josh Anderson:
It is, it is. That's definitely what keeps, I think all of us, all of our guests and all the folks I know here at Crossroads, getting up every morning and actually doing these kind of things. And I know I've met you in many different roles, but I'm very excited to talk about this one. So let's start with big picture. Tell us about LIV.
Kimberly Cline:
Sure. So we are LVI America, but LVI is our mothership. And it's in Sweden, and that's where we go back to. As fact, we spoke to our mothership on the way here this morning. Christopher Caswell is our main contact from there. He works 50% for US and 50% over in Europe. I was fortunate enough, I've been with the company going on four years in May, and they had me come over right away when I started, which I thought was incredible.
Because for them, the main thing is they're very, very proud of their products, but they're very proud of their process. The process is quite a bit different than any company I've worked for. Everything is literally hand-built and hand put together. They do things modularly, so they may have hundreds and hundreds of certain modules built up and ready to go. So when we get orders for 50 or a hundred of something, it's not like we're starting from scratch, but those modules are then assembled and put together.
I got to meet the folks that's literally said, "I hand-screwed this and I've been doing this for 27 years. Kimberly, if you go out and the zip breaks, which is one of our products in this capacity, call me because that means a low vision person can't go to school or do their job, and that cannot happen on my watch." So they're very proud of the products that they make. We do all of our testing in-house, everything is built in-house, our shipping center is there. And then we ship out to different countries that we work with, and the US happens to be one of the countries.
What happened was people would come over to ATIA CSUN, see the products and literally purchase from Sweden. And the popularity grew so much that about six years ago we started LVI America so we could have a real presence in America.
Josh Anderson:
Awesome, awesome. And I can't wait to get into talking about a lot of the different solutions, but the real reason we had you on is Wade kind of mentioned the MagniLink AIR. So tell us what is the MagniLink AIR?
Kimberly Cline:
Sure. So the MagniLink AIR is a very interesting product. Over in Sweden, guess what? Kiddos are just like kiddos are here in the US. They don't want to bring their assistive technology to school, and that's exactly what happens. So they will get certain funding, it's a little bit different. So if you have a visual impairment, you get so much funding to be able to go to school effectively and get the good grades and even that playing field with your sighted student that's next to you.
And they were getting different products, some of our products, some of other people's products. And the government came and said, "This isn't working. We don't mind spending the money. We want to invest in these kids, but it does no good to invest, and we go to these schools and we don't see any of the technology. They're embarrassed. They don't want to look different. So we have a task for you guys, you need to come up with a solution that they're going to be excited about, that's going to change their lives, that's going to be able to do everything that every other kiddo can do, but that is there for them on a regular basis."
And so, it wasn't just our company. There were several companies went together and had to create technology. We were fortunate enough to win and the government came and said, "This is the winning product." And the product is ML AIR.
The product is really an interesting product. It's product in the ceiling. So, guess what? Kiddos can walk into a classroom, bring their, whether it's their PC, whether it's their Mac, whether it's their Chromebook, whether it's their Surface Pro tablet, and be able to connect to this technology. And everybody that's in the room doesn't even know that it's there because it's literally up in the ceiling.
Josh Anderson:
That is awesome. And what kind of things can it do?
Kimberly Cline:
So it can do everything that our other products can do. So the cool thing is there's a couple different philosophies behind our company. First of all, we hand-build everything, very unique. Everything has to be extremely lightweight, and the camera quality is incredible. I mean, yes, I work for the company, but I've looked around at cameras on the market and we have what I would say is the best products on the market camera-wise, and also just durability and lightweight-wise.
But students and teachers, so our biggest market is schools, and teachers have a big job. And we didn't want them to have to learn something new just because we put something up in the ceiling. So we said, "This should work with our regular software," which is called PCViewer, or we also have MacViewer and ChromeViewer. So it's exactly the same software, but the software is smart, it's intuitive, and if it gets turned on and there's cameras in the ceiling, it adds a few features that's not there if those cameras are not there.
So it has the ability to change size, to change color. It also has the ability to do text to speech. Yes, text to speech. It can be 30, 50 feet up in the air and literally do text to speech, do as good of a job as it would with our camera that's right over the document. And the reason for that is these are 30X optical zoom cameras.
Josh Anderson:
Wow. Nice. Very nice. Now, can I look at the kid's paper next to me?
Kimberly Cline:
So that was the number one thing that they were concerned about. So what they did is we have three different variations. There's the Uno, the Duo, and the ML AIR distance. So the Uno is one camera that faces downward that can go left or right, but it's measured by desk space. So we've actually locked it in. It cannot look over. So if I'm sitting here and I've got Kimberly's paper, but Cheryl's next door to me, I can't zoom over to Cheryl's paper. Maybe she's an A++ student, and I'm just a B student. So we really did lock the camera in.
Now, if you have the Duo camera, you have a dedicated camera facing down that's locked in. Again, desk space. And then you have a roving camera that can go around the room. So the Uno has the ability to go down and go around the room, but when it's downward, it's locked into that desk space, so it's not going to be cheating at the student next door.
Josh Anderson:
Very cool. Well, and you talked a lot about the downward facing. So the one that can go around the room, what all kind of information can that pick up?
Kimberly Cline:
So it can literally do 360 around the room. You can zoom in. Literally, I was at a conference, and this is such new technology, everybody loves to come over and see it, but they still, in their head, think, "Wow, that's 50 feet up in the ceiling. It's going to be terrible. You're not going to be able to look across the room." And I zeroed in on a thermostat, which you know how small that print is on that thermostat. And we literally could look at the controls as if we were standing there touching it, and we were 50 feet away from that.
So you can zoom in, you can look at a picture, you can take a picture. So if you're in a classroom setting and you've got the distance camera facing on the board, and this teacher's getting ready to erase the board, you can take snapshots. I always tell people when you're doing video and recording, of course, get permission from the teacher and/or if someone's presenting, you would need their permission. But our software does allow you to take pictures. It allows you to do video and, of course, change color and size. So really, anything that a CCTV or a video magnifier would allow you to do, this allows you to do that as well.
You can even do form filling. So if there is a situation where a teacher has a assignment, but they didn't think and go, "Oh gosh, someone in the class is visually impaired, I should have made this larger." They can take that same assignment, they can magnify on that. They can take a picture of it, put it what color they want, and then they can hand-write, they can type, and they can highlight. And then they can save it up to Google Docs, if it's a class assignment where there's group people working on it, send it to everybody in an email, print it out, get it over to the teacher in whatever format that she wants.
Josh Anderson:
Wow, nice. Now, let's say I have a class, I'm teaching social studies. I have a visually impaired student second period and fourth period. Could they use the same device?
Kimberly Cline:
Exactly. So it's really incredible. So multiple students can use the device at the same time. So, literally, if three students walk into the classroom and they all have visual impairments, one could be on a Mac, one could be on a PC, one could be on a Chromebook, they just log in.
So, how we have it set up is it literally replaces a ceiling tile in the ceiling. So the setup of it's very simple. A lot of times maintenance will get involved at the school, because you're putting something up in the ceiling. All it needs is a plug. But in that system is a closed router. It's literally closed out, so it has nothing to do with the school. You're not trying to connect to their wifi. So all three of those students could connect. They connect to it, they're able to then have the software on their computer and they're able to utilize it.
Now, they are motorized cameras. So if three kiddos are connected to it, that's great, but only one kiddo can actually control the camera because you don't want the camera, "Well, I want it to the left, I want it to the right," and the camera's just moving all over the place. That's ineffective. So a lot of times when you have situations like that, the teacher will control the camera. She'll say, "I want one on the board, that's where I'm going to be lecturing. And I want one down in this general area." If it's a Duo.
So multiple kiddos can use it. The cool thing is it's based on software. So if one person wants it white on black, another person wants it black on yellow, that's fine, because all their software choices are their own. That's all individually set on their computer system.
Josh Anderson:
Oh, nice. So yeah, that's not controlled by the camera I guess at all. I guess the camera's just bringing the information and then they can manipulate it however they need on their device.
Kimberly Cline:
Absolutely. Absolutely. So it's really a cost-effective measure when you've got multiple kiddos using it. We currently, right now, have some quotes out to some deaf and blind schools that are looking at putting one in their auditorium area, one in their STEM classrooms, and one in their general studies area.
So, to them, it's an effective way for multiple kiddos to use it. For them, it's not so much, "Oh gosh, I don't want to bring this to school because everyone in the school has a visual impairment," but it just makes sense to be able to offer that new type of technology and kiddos don't have to carry around stuff.
Josh Anderson:
Oh, well, and like you said, cost-effectiveness, if it gets used, that's pretty cost-effective compared to-
Kimberly Cline:
Josh Anderson:
… a very expensive giant CCTV that I'm just leaving at home all the time.
Kimberly Cline:
Josh Anderson:
That makes a huge difference. Well, Kimberly, I'm sure you probably have quite a few of these, but tell me a story about somebody using the MagniLink AIR and how it kind of made a change for them.
Kimberly Cline:
Yeah, absolutely. So thank you for asking. So, interestingly enough, when we brought this technology on, we weren't going to bring it to America. It was built for Europe. They invested the money in it. That was where it was made for. So it's actually launched there for about a year and a half sooner than here, so it is fairly new to the US. But I'll tell you a story that was really touching to me, that they just told me recently about a student over in Germany.
There was a student over in Germany, straight A type of kid. But he got up into the high school grades and he was too cool for school, just like all of us, and didn't want to bring anything. So he refused, he told his parents, "I'm just not going to bring this anymore." Well, he went from A all the way down to he was starting to fail his classes in a short period of time because the kiddo couldn't see. And they said, "We have to come up with a solution."
So we gave him, first of all, our tablet solution because that's a pretty cool solution, and most kiddos are fine with that. And he was good with it for a bit, but he still just didn't want to bring anything that any attention to himself. And the school looked at this option. Well, he literally went from being an A student all the way down to almost failing, to coming back up to he's an A student again.
But it's not even just that he's an A student, it's that he's confident. He's going to his classes, he's fine, he's great with himself. He's not feeling that pressure of, "Oh my gosh, I've got all this stuff that I'm bringing to draw attention to myself." So that is what it was designed for. That is what I can see it really happening also, of course, in America as well as now that we're introducing it.
And I'll talk a little bit about why I made the issue to bring it here to America, because I'm the one that basically just said, "No, we're bringing it here. I know it wasn't made for here, but we're bringing it here." I see it as opening up jobs and career opportunities that just weren't there. Think about a lawyer's office, think about an architect, think about some of those professional jobs that maybe it's not so much I don't want this on the desk, it's, "Boy, it could be much more effective if that was in my ceiling in my office."
So that's what I saw. So we are starting to see [inaudible 00:21:15] rehab agencies look at this. They're putting it in their ceilings to where different people could come through and see, "Hey, you could hire this person. They could do this job with this type of technology." And so, that, to me, is a whole nother interesting aspect for the product.
Josh Anderson:
Oh, definitely. And not just those professional jobs, also manufacturing.
Kimberly Cline:
Josh Anderson:
I can see all kinds of things like that, especially as America tries to become more technologically advanced with some different things. That could open up some doors for all kinds of stuff. Because I know, a lot of times, the challenge is where do I put the camera? Where do I put this thing so that's not in the person's way, they can still do their job effectively?
And like you said, there's nothing probably better than not having to bring a device. No teenager, visual impairment or not, wants to stand out in that kind of way.
Kimberly Cline:
Josh Anderson:
They all want to be unique by blending in together. So you definitely don't want to do that. Well, Kimberly, we got a little bit of time and I know we can't go over everything that LVI America offers, but kind of highlight to some of the other solutions that you guys do offer.
Kimberly Cline:
Sure. One more thing I wanted to say about the ML AIR is we have something called Frame Grabber, and this allows the student to be able to tie into those smart boards that automatically change and update. And also, if there's a video being shown in the classroom, yes, we have great cameras, but when you have that camera going to another screen that's playing a video, you're going to get a good image, but you're not going to get a perfect image. So you can also tie into that.
Recently, we now have opened that up, so you don't even have to use the Uno or Duo. You can just get Frame Grabber, and so that is a solution. And I'll be honest, this just happened and I just have done two tours since then, and we've got about 10 schools ready just to grab Frame Grabber. And we're really excited about the solution that that's going to solve as well.
Josh Anderson:
Kimberly Cline:
Other products. Well, we have a variety of products. We don't have a ton. We probably have about 10 different products, but they all do similar things, but they have specific things that set them apart. Our tablet product, it's called the Microsoft Surface Tab. It is a Surface Pro Tablet 8. So the cool thing about that is if somebody already has a Surface Pro, then they're just buying our distance camera and getting our software. So it's foldable, it's portable, it's under nine pounds, and it's an all-in-one solution. So you have your video magnifier, you have your computer system, you also then have your text to speech. You could add ZoomText, you could add JAWS, you could put SuperNova, whatever your other assistive technology is. And, of course, you have what's built into Windows right there because you're using Windows. So that's a cool piece of technology.
Our newest, our latest and greatest technology that we're getting ready to release, probably by June this year, is our iPad solution. So that's one of the reasons I was excited to come to show you guys the iPad solution. So we have an all-in-one iPad solution that's similar to our tablet product.
And then when we built the AIR products, we said, "You know what? We want to build an ecosystem. We want to make sure that people that have already invested in our other products can now use them." So with the AIR products, you can have up to three cameras. The motorized cameras, if you're using the ceiling ones or the distance camera, can be controlled with an Xbox controller. So the kiddos love that. Or you can control it with just the software that's built in as well.
But our other products also pair with that or actually compliment it. So if you have our MagniLink Student, is what it used to be called, it's now called the Magna Link S, that could be a second or a third camera input as well. And that's a portable solution that you can use PC, Mac, Chrome, and very soon to be iPads.
So we have kind of something that goes across the board for all gamuts, I would say we cover everything from soup to nuts, and we are always developing new products. We actually will be releasing two more products this year that I can't talk about or they said they'd shoot me.
Josh Anderson:
Well, we'll make sure we don't want to get you shot, but maybe we'll have you back on here later in the year so we can let everybody know about those. Kimberly, if our listeners want to find out more about the MagniLink AIR or all the other great things that LVI America offers, what's the best way for them to do that?
Kimberly Cline:
Sure. Thank you so much. So we have a website, of course. So it's www.lviamerica.com. We have an 800 number, but I always tell everybody, "I'm going to give you my cell number, it's on the bathroom wall." So it's (702) 468-6611. That's (702) 468-6611. That's my cell. You can call, text me, or email me. And you can email me directly at Kimberly, K-I-M-B-E-R-L-Y, dot Cline, C-L-I-N-E, @lviamerica.com.
Josh Anderson:
We will put all that information down on the show notes so folks can easily get ahold of you and find out all the great things that you offer. Well, Kimberly, thank you so much for coming on today. I really enjoyed it. I can't wait to go take a look at these products right after we get done here. But we'll definitely have to have you back on sometime, maybe to talk about the new things as well. But thank you so much.
Kimberly Cline:
Thank you. Have a great day.
Josh Anderson:
Do you have a question about assistive technology? Do you have a suggestion for someone we should interview on an Assistive Technology Update? If so, call our listener line at (317) 721-7124. Send us an email at tech@eastersealscrossroads.org or shoot us a note on Twitter at INDATA Project. Our captions and transcripts for the show are sponsored by the Indiana Telephone Relay Access Corporation or INTRAC. You can find out more about INTRAC at relayindiana.com.
A special thanks to Nikol Prieto for scheduling our amazing guests and making a mess of my schedule. Today's show was produced, edited, hosted, and fraught over by yours truly. The opinions expressed by our guests are their own and may or may not reflect those of the INDATA Project, Easter Seals Crossroads, our supporting partners, or this host. This was your Assistive Technology Update, and I'm Josh Anderson with the INDATA Project at Easter Seals Crossroads in beautiful Indianapolis, Indiana. We look forward to seeing you next time. Bye-bye.