Podcast: Play in new window | Download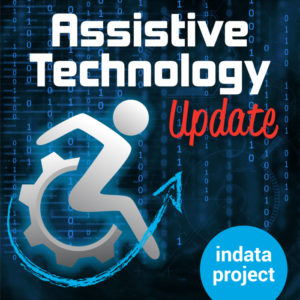 Your weekly dose of information that keeps you up to date on the latest developments in the field of technology designed to assist people with disabilities and special needs.
Mike Garra – Assistive Technology Specialist – Central Reach
Follow us on Twitter: @INDATAproject
—– Transcript Starts Here —–
Mike Garra:
Hi. This is Mike, and I'm an assistive technology specialist with CentralReach, and this is your Assistive Technology Update.
Josh Anderson:
Hello, and welcome to your Assistive Technology Update, a weekly dose of information that keeps you up to date on the latest developments in the field of technology, designed to assist individuals with disabilities and special needs. I'm your host, Josh Anderson with the INDATA Project at Easterseals Crossroads from beautiful Indianapolis, Indiana. Welcome to Episode 628 of Assistive Technology Update. It is scheduled to be released on June 9, 2023. On today's show, we're super excited to welcome Mike Garra. He is here to tell us about Avail by CentralReach and some of the great things it can do to really and truly just help folks with goal planning and a bunch of other really great things. We also have a story from Apple with some of the really cool new accessibility features that will be coming out here in the coming months, probably with a newer operating system. Once again, we are joined by Amy Barry over at Bridging Apps with an app worth mentioning.
Listeners, don't forget, there are many, many ways to reach us. If you have a question, a comment, someone we should have on the show, a topic that you'd like discussed, anything at all, please feel free to reach out. You can hit us up on Twitter at INDATA Project. Give us a call on our listener line at 317-721-7124 or send us an email at tech@eastersealscrossroads.org. We always love hearing from you, and that really helps us make this show even better and just make sure that we are addressing the needs of the folks who like to listen. So as always, folks, I do thank you so much for taking time out of your day to give our show a listen. For right now, let's go ahead and hand it over to Amy Barry from BridgingApps with an app worth mentioning. Take it away, Amy.
Amy Barry:
This is Amy Barry with Bridging Apps and this is an app worth mentioning. This week's featured app is called GoodMaps Explore GoodMaps Explore is a navigation tool that provides accurate indoor and outdoor information and navigation for people who are blind or visually impaired. It describes streets, intersections, your current direction and other points of interest as you travel. The app can also be used to navigate indoor spaces using your camera, but floor plans must be added to the GoodMaps database. The app can tell you about interesting places around you, which could be very helpful when traveling or just finding somewhere new to go in your local area. GoodMaps Explore is currently available for iOS and Android devices and it's free to download. For more information on this app and others like it, visit bridgingapps.org.
Josh Anderson:
Listeners, I thought we'd start today by taking a little deeper dive into the new accessibility features that are going to be coming out from Apple. Many of these were announced last month, and we're just getting some information on what they're going to look like, but there's definitely some really cool updates and it says here for individuals with cognitive impairments, visual impairments who are hard of hearing and have challenges with mobility. It starts off by talking about assistive access. Now this uses innovations and design to distill apps and experiences to their essential features in order to lighten cognitive load. So if you really think about some of the apps on your iPad or your iPhone, there's a lot of information, a lot of things going on there. So what this does is basically strip all that away and make it a little bit easier to focus on what it is you're actually doing; works across different apps on the phone.
So if you think of the camera, photos, music, calls, messages, as well as others changes to a whole new interface, has high contrast buttons, large text labels, and other tools that individuals and their trusted supporters can use in order just to make it much easier to access the things that you want to on your phone. You can even set up messages to have just an emoji-only keyboard as well as an option to record a video message to share with loved ones. So if talking on the phone, texting, those things aren't really good, this is something that they could use. You can also get a visual more grid-based layout for the home screen and apps or a row-based layout for the folks who prefer having text there. But really, it's just streamlining the phone.
If you really think sometimes I'm sure it would be nice to maybe get rid of all those other apps that you don't use that much and just have the five or six that you really want show up, especially if they're larger. You don't have to think of all the other pictures, all the other distractions and all the other things that can really get in the way, so very, very cool. I'm excited to see that and see how it works. I can see how it can help a whole lot of folks. Guided access has always been a nice thing. Being able to lock folks into some stuff, especially at work or other places where the temptation to get into those other apps can be there. This is a great way to be able to do it. It looks like it's pretty easy to set up and pretty easy to tailor to the individual.
Another really cool new feature coming is live speech and personal voice advanced speech. So these are a couple of things that are going to be coming out for iPhone, iPad, and iMac, at least with a live speech. What that does is users can type what they want to say and have it spoken out loud during phone and FaceTime calls as well as in-person conversations. So think of it using it as a text-based AAC device, and then the users can actually save things and phrases that they use a whole lot so they can quickly jump in during conversation with family, friends or others. Personal voice is the other thing. We've had some folks on the show to talk about some of these programs, not so much with Apple, but just some of the different ones, but with the personal voice, it's made for individuals who are at risk of losing their ability to speech.
So folks with ALS, other progressive conditions, personal voice is a simple and secure way to create a voice that sounds like you. It says that you just read along with a randomized set of text, about 15 minutes of audio on an iPad or iPhone. It uses the on-device machine learning to keep your information private and secure and integrates seamlessly with that live speech feature, so you could actually have your own voice saying what you type into conversation, into FaceTime calls or just in face-to-face conversation with folks, so very cool that that's actually being built in. I must admit, I didn't know the machine learning on an iPhone or iPad was smart enough to be able to use 15 minutes of random words and string that together into an actual natural-sounding voice. So very, very cool and a really amazing way of being able to use that technology in a great way that can really and truly help folks.
This next one's pretty darn cool. It's detection mode in Magnifier, which has been there a little while. This is what could maybe find writing and some other things like that, but now it has point-and- speak in there. So this will work on phones and devices that do have the LiDAR scanner. So you usually have to go a little bit higher end. Who knows when the new iPhone comes out if it'll have to be a high end one or if LiDAR's just on all of them. But basically what it's using is it's using input from the camera and the LiDAR scanner as well as that on-device machine learning, and it'll actually announce text that is under your finger. So the example it gives here is if I'm looking at my microwave and I sit there and I move my finger across, it will actually read what is underneath my finger.
So if I need cook power, cook time, popcorn, whatever it is, it will actually read that as it's under, because if you ever really used something with OCR to get that sort of information such as a microwave or something with a whole heck of a lot of buttons, they're pretty good about picking up the text and maybe even giving it to you in an order, but it really doesn't help that much to know, "Okay, great, all these buttons are there, but which one is this? Which one is this? Which one is this?" It can really be a little bit challenging. It says that point-and-speak is being built into the Magnifier app on the iPhone and the iPad. It'll work with voiceover and can be used with other Magnifier features such as people detection, door detection and image descriptions to really get a great idea of what's going on in the world around you.
Just a couple of other things that are coming out, I guess smaller when compared to those, but still really great things. The made-for- iPhone hearing devices, which have been around for a little while are now going to be able to connect directly to a Mac and you can actually customize all their settings and everything in there. Voice control is adding phonetic suggestions for text editing. So folks that use their voice to dictate and type and do everything in there will actually get a dropdown menu to be able to pick. If you got words that sound the same but are spelled completely different and have different meanings, there's also going to be a voice control guide built in where you can learn tips and tricks about using voice commands in iPhone, iPad and Mac. It says switch control is being updated so that individuals can turn any switch they use into a virtual game controller to play games on iPhone and iPad.
For folks with low vision, text size is now easier to adjust across Mac apps such as finder messengers, mail, calendar and notes. You'll be able to pause images with moving elements. So for individuals who are sensitive to rapid animations, they can turn these off. So GIFs messages, Safari, anything with that little bit of a moving graphic, it will pause them. For voiceover users, they're updating Siri so that they sound natural and expressive even at those high rates of speech feedback. It says the users can also customize the rate at which Siri speaks with them with options ranging from .8X to 2X. So very, very cool things coming out of Apple on the accessibility front, which they've always been towards the front there, and you just wonder what are they going to do next? But it looks like they're still making sure that the things that they have continue to work, but just continuing to make them better and just to add new things.
It makes me wonder especially, oh, with just the way technology's going with AI, with machine learning, where will it go? What'll happen when this kind of technology gets in the hands of the folks that try to make things more accessible, and just how far exactly will it go? I'll put a link to this over in the show notes from over@apple.com just talking a little bit about the new accessibility features that are planned. I'm sure as we get closer to the drop of the newest operating system, we will probably hear about maybe even some more surprises in store. Listeners, today our guest is Mike Garra, assistive technology specialist for CentralReach. He's here to tell us all about Avail and CentralReach and how it can help individuals meet their goals in life, education and employment. Mike, welcome to the show.
Mike Garra:
Hey, Josh, thanks for having me today.
Josh Anderson:
Yeah, I am really excited to get into talking about the tech and everything, but before we do that, can you tell our listeners a little bit of about yourself?
Mike Garra:
Yeah, happy to. So I live in New Jersey, lived here just about my whole life. I've been in the human services field for over 10 years. I worked for an adult services agency for about eight years, wearing a multitude of hats, but working in supported employment, program management, mental health counseling. Then I spent a couple of years working as a VR counselor for the state of New Jersey; really, really passionate about helping others. What I love about working for CentralReach is it gives me the chance to do that, but just on a much broader scale.
Josh Anderson:
Oh, that's awesome. Well, I know most folks that work in direct service wear a many, many hats. So I'm glad you traveled to where you have. Well, Mike, just to start off big picture, what is CentralReach?
Mike Garra:
Yeah, so CentralReach right now we're actually the number-one provider of autism and IDD Care softwares and services. So we have a wide, wide array of services, everything from practice management for small and large agencies. We've got special education platforms to help with some data tracking and behavior tracking. We've got online assessments that can be utilized for private agencies as well as schools, parent training software. Then of course, we've got Avail, which is our digital prompting and task analysis tool.
Josh Anderson:
Awesome. That is a lot of stuff and don't worry listeners, we're not going to get into all that today, 'cause the main reason we had you on was to talk about Avail. So let's just start with what is it?
Mike Garra:
Yeah. So Avail is our digital prompting tool. So it is designed to build towards levels of independence on anything that the learner was looking to be more independent on. So the tool itself is an app and it's compatible on anything on the Apple operating system, the Android operating system on Chromebooks. So it can just be pulled up readily accessible and just help supplement any of that in-person instruction that that learner might be getting from a parent or a school or an agency.
Josh Anderson:
Awesome, and you talked about that. So let's break it down how it assists, all the different steps. So let's start with how does it assist the individual who needs that queuing and prompting?
Mike Garra:
So what it does is it breaks any task down into fully-customized step-by-step prompts. So I mentioned it's an app, so it's touchscreen compatible. So they would just touch the task from the menu of the assigned task to them, and this is going to open up that step-by-step prompting. Each step can have its own learning style, so it could be picture, video, audio or text-to-screen. Now the really cool part about it is it could be individualized. So rather than seeing stock photos or images or videos of somebody that they've never met, the learner can see pictures or videos of themselves accomplishing every step in their task. Then the learner would just fully navigate their way through at their own pace and use the prompts to fully learn that task and help them be more independent on each task they're working on.
Josh Anderson:
Oh, that's awesome. I like the way that you can completely, I don't know, work the video modeling in there at the same time. It seems like usually you have to choose one or the other to do video modeling or the queuing and prompting. So I like that you can actually work those in there. In my experience, it's always better if someone can see themselves doing it than, yeah, like you said, some stock photo from Google or something like that.
Mike Garra:
Josh Anderson:
Then what about from the service provider side? What does it look like from there?
Mike Garra:
Yeah, so the benefit for the service provider is what's nice about it, there's a lot of backend reporting there. So it's going to alert when a learner finishes a task and let's face, no agencies are immune to any of the staff shorting that exists right now. So a tool like Avail allows that staff to be multiple places at once and allows agencies to meet the demand for the current service with their current staff because again, if anything that demand for service has gone up not down.
Josh Anderson:
Oh, amen. I know that DSPs, job coaches, all those different places always seem to be short-staffed and shorthanded, and it makes it even harder now that places are hiring and all that. But as a former job coach, you go through those areas where it seems like no one gets a job, then one week everyone does. Like you said, just trying to be there and be able to assist and learn those job skills can be a major challenge. Well, I know that this is a very, very broad question, Mike, but just as an example, what kinds of skills can it assist in teaching or prompting? I know there's a ton, but maybe just some examples so our listeners get a little bit better idea.
Mike Garra:
Yeah, and like you said, it can be a ton because it's so customized, it can help in really almost every area of life. So obviously you think about it, it can work on some of those hard skills from everything from a work-related task to a home-based task such as getting ready in the morning or morning routine or brushing teeth. You can also work on soft skills in there, such as something like what to do if I'm feeling frustrated. Now because it can be personalized rather than again, just having that stock audio or stock video, you can have a parent or a staff that that learner feels connected to coaching them through some of those relaxation or breathing techniques. We've seen it be used in everything from helping somebody file for social security on a monthly basis-
Josh Anderson:
Mike Garra:
… to something like learning to tie shoes or personal hygiene. Another really nice part about it is what it does is it allows them to have that instruction right on their own personal device. So if you have a learner or somebody that might not like having a job coach or a DSP or whoever standing behind them to give them that step-by-step instruction, this allows them to get that same level of learning simply by looking at their smart device. This is the same thing that their peers are doing hundreds of times a day. So in addition to providing that support, it can also help them feel more inclusive in whatever environment they're in utilizing the platform.
Josh Anderson:
That is awesome. Yeah, I'm just sitting here thinking of all the different things I can think of that might be beneficial.
Mike Garra:
Yeah, my wife keeps saying she wants to put me on it first off because apparently I do a lot of things wrong, so …
Josh Anderson:
Now I know it's very customizable and I can do that, but let's say, just to play devil's advocate here that I'm a little bit busy, are there preloaded ones or any that I can go pull from without having to create all my own?
Mike Garra:
Absolutely. So it comes set with an avail library, and that's content that we've created just based off of the feedback we've gotten from users and those supporting them. So that content can be used just as- is. That content can also be seen as a jumping off point so you can edit that pre-created content for the specific learners. As well tasks can be created from scratch very simply. It's really, really user-friendly, and because of that we've seen a really flat learning curve with agencies and families and users getting up and running on it.
Josh Anderson:
You just answered what was going to be my follow-up question, which was what is the learning curve for folks? 'Cause I know sometimes, oh, service providers, family members, support staff, those folks are more scared of technology than the actual individual using it.
Mike Garra:
Yeah. The really nice part about CentralReach and the Avail team and the education team is that everybody is from the field in some capacity or another. So we all know firsthand how spread thin some of the support staff the DSPs might be. If it was complicated to create or edit content, it probably wouldn't get done. So the nice part about it being so simple is it removes any barrier to fully customizing that content for the learner.
Josh Anderson:
Yeah. As you were saying that, I was just sitting there thinking of, "Oh, good, one more thing I have to do to make my job easier." So I'm glad you guys thought about that 'cause that's a wonderful thing. It's going to take me two weeks to set it up. That doesn't help at all. So I love that it's actually simple and able to do that. So with this, so let's say I'm really a caregiver, anybody that that's doing that, what kind of data and reporting's available that I can look at to see maybe trends or how my person's doing, just what kind of information can I get?
Mike Garra:
Oh, there's lots of great data and that's for the things that makes Avail such a useful support tool, so you can see and when the task was completed. You can see how long it took to complete that task. You can gauge the level of independence on each task through objective assessments that are built into the platform. You can also run a report to see how the prompting levels have been decreased, which allows you to track the progress of how someone is working their way off the software in their effort to be truly independent on a task. So it's going to give you just this wide array of objective, measurable data on how somebody is progressing through their day and how somebody is progressing through their tasks.
Josh Anderson:
Oh, nice. That's great, and I love that the end goal is the independence. It seems like a few times that's something that gets forgotten in all of this, that I've got this great tool that can really help this individual, but the eventual goal is that they don't need that tool.
Mike Garra:
Yeah. Probably my favorite report that you can run is the one that I referenced, but again, it's that reduction of prompts graph because the ultimate goal of Avail just the ultimate goal of anybody who's working with that learner is to build towards that independence. So a graph like this is going to allow you to see, okay, exactly are they building towards that level of independence? Which again, is the key goal of a platform like Avail.
Josh Anderson:
Well, and I'm sure that can actually give you some other information. If somebody's really building towards independence and you see a drop or that they need more prompting, then maybe you could see something else is going on and even be able to address those issues even outside of it, so that's great. That's great that it gives you that and like you said, just that data and you can actually show, 'cause especially for nonprofits, for some of these agencies, it's not always easy to justify a cost, so it's nice if you can actually show the improvement and show where it works in the long run whenever you're trying to get to budget time and justify having different things in place.
Mike Garra:
Without question. Having worked as a VR counselor myself for the state, I'm all too familiar with sometimes you get those notes back and is, there's all subjectivity, right?
Josh Anderson:
Mike Garra:
Like, "Mike did good today," or," Mike did well," these vague terms, getting something like this back that is purely objective, you can go through it and see, "Okay, if I'm going to issue another 20 hour authorization or if I'm going to continue to fund job coaching services for Mike, the learner, I can go through and see exactly, well, what is the job coach working with this learner on, and where are those areas of continued needed support?"
Josh Anderson:
Oh, yeah. Yeah, that is just great information. Like you said, as a VR counselor, that's invaluable 'cause you get notes for the, gosh, who knows, sometimes probably, 100 130 folks you're seeing just. It's not that bad, but I know sometimes that's an area where you get some turnover as well. So just being able to look at that real quick and really see, but "Well last month he was doing good. This month he's doing well. Is that worse? Is that better? Or, I don't really know which one goes that way." Mike, you've probably got tons of these, but can you tell me someone's story about using Avail and just how it made a difference in their life and their goals?
Mike Garra:
Yes. By far and away my favorite part of the job is just getting all these great stories that we have. So we have a number of families who have used Avail for their child that have overcome speak on our behalf at conferences about the impact it has had on the learner's everyday life. We've got a number of case study videos that we'd love to share where families in the learner's support team talk about how they're able to be more independent on their job or at their program. We hear from agencies across the country about how Avail has allowed them to provide more complete service to those that they're working with, and that it helps with things like staff retention, program management, customer satisfaction.
But honestly, my favorite story just come from parents who they share their experience about using Avail as the reminder and instructional tool instead of they themselves having to be the one to do that. This allows them to stop having to be the teacher or the support staff and lets them get back to being mom or dad again. You hear stories like that and how it's having such an immediate and positive impact, it's such a great motivation day to day, and I love it.
Josh Anderson:
It really is, 'cause yeah, you don't want to be the parent who, "Did you do this?" "Now don't forget to do this," "Now don't forget to do this." For some kids, especially with different needs, not having the parent be the one doing that probably really helps them do things correctly as well, 'cause sometimes, let's not lie, none of us like to be harped at. So actually having a tool, especially if it's their device that they're already using, they're already familiar with, maybe they're using it for some other kind of supports, to be able to use that as the prompting and queuing tool as opposed to mom or dad behind you, or, "Did you do this? Did you do this?" So that's great.
Mike Garra:
Yeah, it's all about confidence, and then just having it on that device that they're familiar with, not having, as you said, somebody just constantly harping on it, but you have that right in your own device and you're watching yourself succeed, it just builds that level of comfort and builds that level of confidence.
Josh Anderson:
Oh, yeah, it definitely does. Mike, I got a little bit of time left, so real quick, can you give me, just maybe talk a little bit about some of those other services that CentralReach offers, just maybe the 30,000-foot view?
Mike Garra:
Yeah. Yeah. So we've got lots and lots of other tools and solutions. We've got everything from professional support and practice management to special education tools to families support. We try to have a different type of tool or different type of solution depending on the industry or the need or the opportunity. So what I would say is just if somebody does have questions or wants more information, just they can reach out to me. They can go on the website and they could just try to source that information out because there's a lot, and chances are, depending on the situation, we might have a tool or solution for you.
Josh Anderson:
Awesome. Well, Mike, can you go ahead and give me your contact info or how else they might get on the web or find out more about CentralReach and about Avail?
Mike Garra:
Yeah, of course. So you could go to CentralReach.com. You could also go to availsupport.com. That's A-V-A-I-L support.com, or if you wanted to reach out to me directly, my direct line is 732-253-4870 or my email is Mike, M-I-K-E.garra, G-A-R-R-A @centralreach.com.
Josh Anderson:
Awesome. We will put all that information down in the show notes. Well, Mike, I might need queuing and prompting to get through all that information that you gave us today, because that was just an absolute love. But thank you so much for coming on, for sharing, well, for giving us an overview of the things the CentralReach does, but really digging into Avail and how that can really help folks just really gain more independence.
Mike Garra:
Yeah, Josh, thanks for having me. This was a lot of fun.
Josh Anderson:
Do you have a question about assistive technology? Do you have a suggestion for someone we should interview on an Assistive Technology Update? If so, call our listener line at 317-721-7124. Send us an email at tech@eastersealscrossroads.org, or shoot us a note on Twitter at INDATA Project. Our captions and transcripts for the show are sponsored by the Indiana Telephone Relay Access Corporation or INTRAC. You can find out more about INTRAC at relayindiana.com. A special thanks to Nicole Prieto for scheduling our amazing guests and making a mess of my schedule. Today's show was produced, edited, hosted, and fraught over by yours truly. The opinions expressed by our guests are their own and may or may not reflect those of the INDATA Project, Easterseals Crossroads are supporting partners or this host. This was your Assistive Technology Update, and I'm Josh Anderson with the INDATA Project at Easterseals Crossroads in beautiful Indianapolis, Indiana. We look forward to seeing you next time.