Many individuals aging in place may have difficulty remembering and taking their medications when they're supposed to.  The original MedReady Automatic Medication Dispenser can help with that!
According to the product's website, "MedReady increases medication compliance up to 96.7% by virtually eliminating missed doses and overdosing medication.  If the medication is prescribed correctly, the effectiveness of the drugs remains high because the blood plasma levels do not fluctuate outside of required tolerances."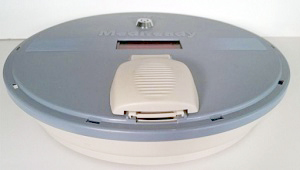 The MedReady automatically dispenses medication to patients up to 4 times per day, and their available monitored devices transmit compliance data to MedReady's data center when the patient misses their medication.
Overview of MedReady Automatic Medication Dispenser:
If the patient doesn't take their medication at designated time, the device notifies MedReady's data center which then notifies caregivers via text message, phone call, or email
Low frequency alarm notifies patient when it's time to take medication
Holds up to 28 doses
Can dispense 1 to 4 times per day
Each compartment can hold up to 9 M&M size pills
Click here to learn more!