Help Tech is a world leader in the design and manufacture of Braille devices.  The company offers quite a variety of different Braille displays, keyboards, and more.  One of their available devices is the Activator Braille Display.
According to the device's description:
"The Activator extends the proven features of Help Tech's Braille displays – such as the concave Braille cells and the patented ATC technology for automatic switching – with forward-looking innovations from unprecedented hardware and software solutions in a modern design. Combining the potential of the iPhone, the Activator offers a next-generation Braille experience…"
One neat feature of the Activator is its patent-pending folding keyboard with Braille input.  With just one flick of the wrist, this ergonomic Braille keyboard becomes a "fully-fledged computer keyboard" with tactile-switching characteristics.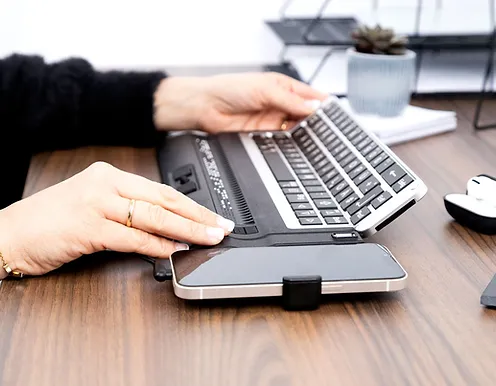 Another cool feature is the SmartDock, which can be connected to the Activator magnetically.  When connected to the Activator, the SmartDock creates a "groundbreaking symbiosis of Braille display and iPhone that offers completely new possibilities."  The SmartDock features a USB port on the top so that users can open and edit files from a USB stick via the iPhone.
Overview of Activator Braille Display:
40 concave Braille elements with cursor routing and adjustable pen thickness

Integrated shorthand translation and reverse translation (RTFC)

2-in-1 folding keyboard with Braille and text input

SmartDock with charging function and integrated USB-A port

Free Help Tech+ app (available in the AppStore) with the following functions: Braille monitor, voice input, voice output, and much more.

The device makes it easier than ever to open your favorite apps on your iPhone. You can customize the Activator's internal menu and add your own app favorites

Battery life: over 30 hours
Click here to learn more!