As I mentioned a few weeks ago, Help Tech is a world leader in the design and manufacture of Braille devices.  The company offers a wide range of Braille displays, keyboards, and more.  One of the Braille displays available from Help Tech is Actilino.
Actilino is a super compact portable notetaker for individuals who are blind.  Since it is so compact, users can conveniently take notes anywhere at any time.  Further, "the 16 piezo ceramic Braille cells and the silent Braille keyboard make the Actilino your reliable everyday companion."  Once you're done typing your notes on the Actilino, you can easily send it to your smartphone or PC. 
Actilino also features a built-in microphone and loudspeakers so users can make calls with apps such as FaceTime, Skype, and WhatsApp when connected to their smartphone.  Other functions include an easy-to-use editor, calculator, scheduler, timer, or alarm clock.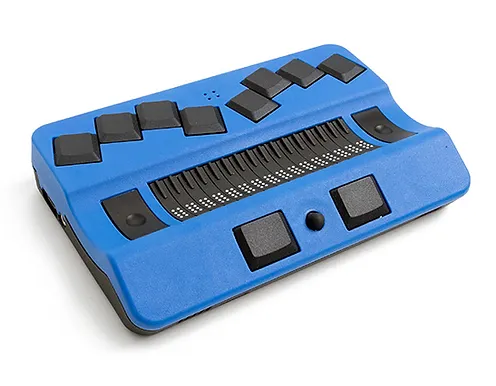 Here's more from Help Tech:
"Actilino has something for everyone. Whether you are just learning to read Braille or you are an avid reader. Enjoy reading a book cover to cover without ever pushing a button. Actilino's memory card (micro SD) can hold literally thousands of books. You will never run out of reading material.

The touch control technology of Actilino makes reading a pleasure. The ATC technology detects your reading position on the Braille display in real-time. The sensitivity of the ATC is adjustable, so it is ideal for Braille readers at all levels…"
Overview of Actilino Braille Display:
Braille display that allows users to take notes anywhere at any time
Display offers Braille output, speech output, text input, and PC control
With wireless Bluetooth connection, the integrated headphones and microphone let you stay in touch with the world
Up to 4 devices can be connected simultaneously: up to 3 Bluetooth devices and 1 USB device
The Braille input keys are ergonomically placed: The control stick, located in the front center, can be comfortably reached with the thumbs
16 concave piezoelectric Braille cells with cursor routing
8 function keys/Braille keys
2 space keys
Active Tactile Control (ATC) technology
Mini loudspeaker
Memory: 16 GB micro SD card
Weighs 420g (or 0.92lb)
Click here to learn more!