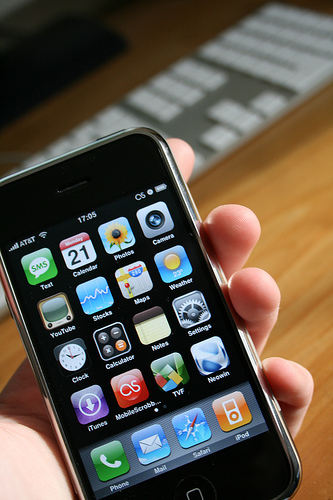 Recently I've noticed that large businesses have been adding accessibility or disability sections to their websites.  One really good example is AT&T's commitment to disabilities page. Here you can see that AT&T has put some time and effort into making sure that they offer communication services such as phone and Internet to people that might experience it differently than you or I.
As an iPhone user I was particularly interested in the iPhone accessibility details page.  The link on AT&T's site is a redirect to Apple's website on iPhone accessibility.
Vision: If you have a vision impairment, you might think that a touch screen cellphone would be the last thing you wanted.  Apple assures you that this is not a problem. The iPhone 3GS (the most recent version of the phone) offers a screen reader called VoiceOver.  Touch the screen and it will read what's under your finger, "then gesture with a double-tap, drag, or flick to control the phone."
Apple suggests that this screen reader works differently compared to the one you might use on your computer.  Here's what they have to say about that:
Because VoiceOver works with iPhone's touchscreen, you interact directly with objects on the screen and can naturally understand their location and context. So, when you touch the upper-left corner of the screen, you'll hear what's in the upper left corner of a web page, and as you drag your finger around the screen, you'll learn what's nearby, providing an amazing new sense of context and relationship between the items you hear. For many, VoiceOver on iPhone will provide, perhaps for the first time, a true sense of how things appear on screen, not just descriptions of what they are.
Now if you've seen an iPhone in action, you're probably starting to wonder how a person would enter text off the on-screen keyboard.  Put your finger on the keyboard and VoiceOver will tell you what that key is.  You can also set it up to echo each word that you type to ensure it is spelled correctly.  If this seems like a daunting task, turn on the word prediction.  This is when you start typing a word and the phone will attempt to figure out what word you are starting to write.
VoiceOver works with all standard apps that come on the iPhone: Maps, Safari, Mail, Notes, Stocks, Weather, Calendar, and more.
Want to make a phone call without searching through all of your contacts?  Simply hold the home button down and Voice Control will prompt you to speak the name of the person you want to call.  You can also use this feature when searching for music in iTunes.
It will take some time to get used to the VoiceOver screen reader.  I tried to use this on my iPhone, but I found the finger taps and commands slightly difficult to understand and manipulate.  Have you used this feature? Let us know what you think in the comments. For more information about iPhone accessibility for vision, visit their web site.
Check back for future posts on other accessibility aspects of the Apple iPhone.