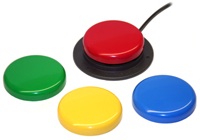 Many people with severe physical or cognitive impairment use one or more switches to access computers or access other types of technology. A switch is an assistive technology device that replaces a different need. AbleNet offers a broad array of switch technology options to meet the wide-ranging needs of persons with disabilities.
Dual switches offer two distinct switch clicks when used with compatible devices. Some switches offer unique features and/or activation methods and are useful for individuals with severely limited motor abilities. When choosing a switch, consider where it will be positioned, how it will be accessed, and what type of use it will endure. For example, switches with a low activation force or travel will be more sensitive than those with higher ratings in these same areas.
Considered my many to be the standard in the industry, AbleNet's Jelly Bean switch features a 2.5 inch activation surface and is recommended for users who are able to access a smaller target area. You can remove and replace the switch tops with the color of your choice: red, blue, yellow, or green. It depends on your own style, tastes, or specific vision needs.
If you'd like more information about choosing a switch that's right for you or a loved one, you downloads AbleNet Inc's Switch Selection Guide.