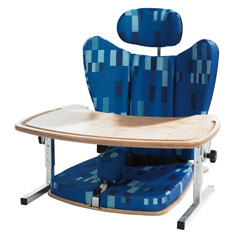 Some chairs and seats are designed for use by children with neurological and/or severe physical disabilities. These assistive technology devices are available at AbleData.com.
Corner Sitter
The Corner Sitter is designed to help improve posture and promote upper body control. It includes a reclining backrest with adjustable sides for lateral support. The backrest angle is adjustable from a 20 degree recline to 15 degrees prone. It has a hip belt and an adjustable depth, removable pommel. The chair folds flat for storage. This assistive device has an option for high-back head support that provides 4 to 7 inches of additional height and a height and angle-adjustable removable tray.
Corner Seat
The Corner Seat is portable for use anywhere indoors or outdoors and can also be used in a bathtub. It has an H-strap and hip belt to stabilize the shoulders, pelvis, and trunk and a built-in abductor to help maintain leg extension and reduce thrust. Features include a broad, stable base and easy-to-wash polyethylene surface. This seat can hold a person up to 200 pounds and maximum user height is 60 inches. It is the color aqua.
Koala Corner Chair
The Koala Corner Chair aims to provide seating and positioning for a child with microcephaly, epilepsy, and developmental disabilities. Made to dimensions specified by a therapist, this unit includes a chair with a footrest and a table that enable the child to be seated in a posturally and functionally correct position for learning, eating and playing. It's made of plywood and includes a pedestal seat with a winged back for shoulder protraction. The seat and back panels are equipped with fabric-covered foam cushions. Other positioning aids include a pelvic belt, a pommel, and footcups on the footrest.