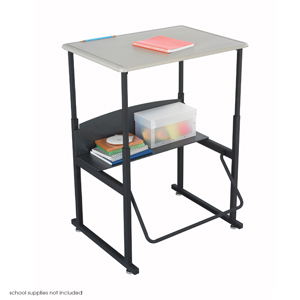 Students with physical limitations may benefit from using a desk that is specifically designed for them. Here are a few options of desks that are pieces of assistive technology. You can learn more about all these desks and other options at AbleData.com.
Classroom Positioner Desk
The Classroom Positioner Desk/Stander is height-adjustable and is designed for use by children with mobility or neurological disabilities. This desk can be used with the Classroom Positioner Chair or independently. Features include height and angle adjustability, a multi-adjustable desktop, adjustable knee block, and lateral pelvic pads for standing positions. The desk can be used to enable the user to experiment with the sit-to-stand movement or the child can be supported in the standing position.
ADA Compliant Wheelchair Accessible Desk
The ADA Compliant Wheelchair Accessible Desk is also height adjustable, but is purposefully designed for use by children who use wheelchairs. This table has a polyester powdercoated frame, nickel-chrome plated legs, and either a laminate or plastic desktop. The telescoping legs are adustable by sliding the lower leg inserts into the upper legs and tightening a set screw. The lower leg inserts have adjustable nylon glides and optional locking wheels.
AlphaBetter Desk
The AlphaBetter Desk (pictured above) is an adapted student desk designed for use by children with attention deficit/hyperactivity disorder (DHD). This height-adjustable desk allows students to sit or stand and to swing their legs based on their natural energy levels, so they can learn in a way that is more consistent with the developmental needs of their minds and bodies. The desk has a swinging pendulum footrest, allowing students a noise-free outlet for expending their natural energy, burning calories, and fidgeting. The desk has a steel frame with powder-coat finish, and a desktop covered with 3D thermoplastic laminate. A lower shelf provides additional storage space for books and supplies.