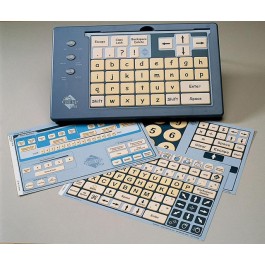 IntelliKeys USB is an intelligent, programmable keyboard that provides access to the computer for people who have difficulty using a mouse or standard keyboard. It enables users with physical, visual, or cognitive disabilities to easily type, enter numbers, navigate on-screen displays, and execute menu commands.
This assistive technology device is a versatile enlarged keyboard that plugs into any Macintosh or Windows computer with only the change of a cable.  Overlays for numbers, mouse movement, and alphabetical and QWERTY key layouts slide into the IntelliKeys for instant use. The keyboard is flexible enough to meet a variety of access and learning needs. Unlike a keyboard normally attached to a computer, the IntelliKeys look and functionality is changeable by sliding in different overlays.
The universal design of the overlays provides large, well-spaced keys in high contrast colors to help students locate letters, numbers, words, and directional arrows. Concepts are broken down into manageable components, with streamlined choices, fewer concepts at a time, pictures to support learning – even student photographs for personalization. A special setup overlay allows you to customize keyboard settings such as the response rate and the repeat rate to facilitate access for students who tend to press unwanted keys or keep their finger on a key too long. IntelliKeys USB also works with switch-accessible software and helps the transition from switch-scanning to direct-select access.
IntelliKeys Features include:
Works alongside standard keyboards
Works with any keyboard-accessible software
Customizable settings with Set-up Overlay or control panel
Convenient and flexible switch interface
Plugs and unplugs without disruption
Turns on or off while connected
Includes carrying case
Macintosh and Windows compatible