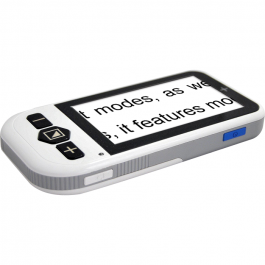 The Snow Portable Video Magnifier is an assistive technology device that is useful for people who are Blind or have low vision. This high-powered magnifier features 10 color contrast modes, large easy-see buttons, a writing stand for journaling or signing documents and the ability to connect to your television for larger magnification. This lightweight magnifier features magnification from 2x-16x on a 4.3″ screen and includes and can even connect to your television with the RCA cable included in the package.  It can be used a few inches above or laid directly on top of your reading material which makes it easy to navigate with a steady hand.
Features include:
9 levels of magnification: 2x to 16X
4.3″ wide screen TFT LCD
Image freeze feature
Smooth autofocus and magnification adjustment
Simple 3 button operation with large, easy to find buttons
Intelligent memory – remembers last used settings
Writing Stand
Power saving turns off after 3 minutes of no use
Weight & Dimensions: 5.7 oz- 6.3″x3.15″x.08″
With the purchase of the Snow Magnifier, you'll also RCA cables for connecting to a television screen, a soft protective case, a wrist lanyard, a wall charging cord and a cleaning cloth.