Welcome to the future… a world of countless technology, gadgets, and products to simplify daily tasks.  To many, the door of one's home announces a visitor by a simple knock or the ding dong of a bell.  But what if no one's home?  Or what if someone wants to see the visitor and speak to him or her before opening the door?  With the DoorBot, this is possible!
The DoorBot, a new Wi-Fi enabled video doorbell, allows users to answer the door from their smartphone while they're home–or even all the way across the globe!  Not only does this doorbell work while your phone is connected to Wi-Fi, but it will also work when your phone is roaming on cellular networks.  The DoorBot involves the use of a free app (available on both iTunes and Google Play) which can be used on both smartphones and tablets.
The DoorBot works like a typical doorbell, but with much more exciting features. When
an individual rings the doorbell once the DoorBot is installed, it will ring the doorbell
inside the house as it did prior to the installation, as well as the phones and
tablets that are synced with it.  There is no limit to the amount of devices users can
pair the DoorBot with. With the DoorBot, users will be able to see and speak with
whoever is at the door. This is especially useful for individuals who aren't able to
physically go answer the door.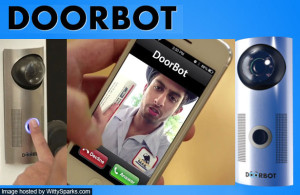 The DoorBot does not lock or unlock the door but only allows you to speak and see your visitor.  However, if your DoorBot device is paired with the Lockitron, a keyless lock system which also operates via Wi-Fi, then users are able to unlock the door no matter where they are.
There are many devices now available that allow individuals with disabilities to live more independently.  The Lockitron and further devices will be discussed in upcoming blogs.