Do you have trouble using a standard key to lock and unlock your door?  Do you ever struggle reaching for your keys in your pocket or purse?  Kwikset's Kevo is a solution to these problems!  With Kevo, users are able to open the door with the single tap of a finger.  It is engineered with maximum security, offering military grade encryption.  The lock has a unique feature to detect if the authorized user is inside or outside of the house so the door won't unlock when a stranger bumps the door, for example.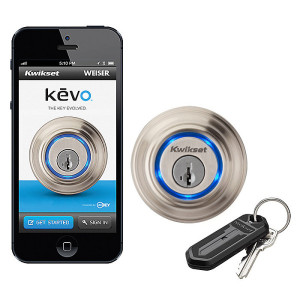 Kwikset's Kevo is easy to install and includes everything required for installation–Philips head screwdriver and 4 AA batteries.  Upon installation, users calibrate their smart phone and key fob(s) with the lock to help fine-tune Kevo's sensor, thus prohibiting unauthorized users from unlocking the door.
The Kevo also comes with one key fob and 2 eKeys.  No smart phone?  No problem!  The key fob functions much like the app on the phone will– users only need to keep the fob in their pocket, purse or backpack to enjoy the same one-touch convenience.  The 2 eKeys included are electronic encrypted keys, which move your physical key into the digital world (in the free Kevo App) thus improving your home access experience.  Users may purchase more fobs or eKeys as needed.  The app is free to download through the App Store for the iPhone 4s, 5, 5c, and 5s.