September 25, 2006 was the reopening night of the New Orleans Superdome after Hurricane Katrina had devastated the area.  Former NFL player Steve Gleason will always be remembered for this night, one of the most dramatic moments in New Orleans Saints' history, when he blocked a punt against the Atlanta Falcons, which was recovered in the Falcons' end zone becoming the Saints' first home game touchdown after 21 months.
In 2008, Gleason retired from football and attended Tulane University to obtain a Master of Business Administration degree.  In January 2011, he was diagnosed with Amyotrophic Lateral Sclerosis (ALS), considered a terminal neuromuscular disease which stops individuals from being able to move and breathe on their own.  Nearly a year after the diagnosis, Steve, along with his family and friends, founded Team Gleason, an organization whose mission is not only to raise awareness of ALS, but to also raise funds to empower those with ALS (and other muscular degenerative diseases) to live a rewarding, productive life.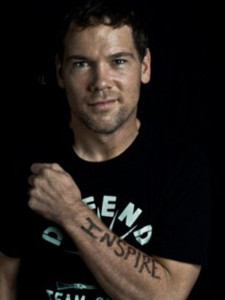 Steve quotes, "I do not believe in complaining.  I believe in doing.  I do not believe in calling for change.  I believe in making change…"  Steve became determined to inspire others by continuing to pursue life adventures and has challenged the world of technology and science to identify their most promising developments toward a cure, as well as helping pALS (persons with ALS) live a productive life.  He says, "Until there is a cure, I believe with the help of technology, pALS can live for decades.  Maybe more importantly, I believe these pALS will make a productive impact on the world."
Communication is a key element to our quality of life and shortly after his diagnosis Steve lost the ability to do so.  However, technology gave him the ability to verbally communicate again with eye tracking technology which runs on Microsoft Surface.  "They say your eyes are the window to your soul.  I suppose this means that technology allows me to bear my soul.  Although I am hopeful for a medical cure for ALS, I have always said until there is one, technology is my cure."
In October 2011, (the same year as his diagnosis,) he and his wife Michel had their first child, Rivers.  Steve uses technology daily to communicate with those around him.  Technology also allows him to build a video journal library for Rivers.  Steve has demonstrated how technology can benefit one's quality of life and strives to make it more accessible for others living with ALS.  Team Gleason is currently partnering with leading technology companies to purchase eye tracking portable computers in bulk to benefit more pALS, more quickly.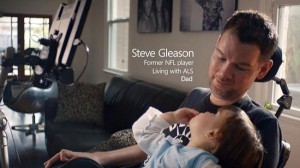 For more information, be sure to check out Team Gleason's website and social media sites:
FlickR: TeamGleason37
Twitter: @TeamGleason
Facebook: Team Gleason