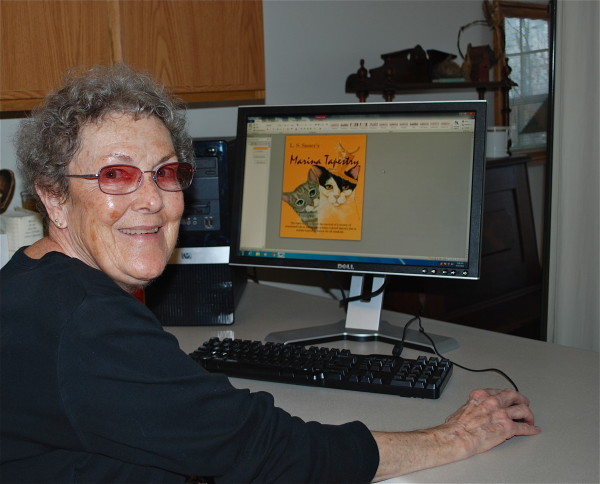 Outside of a three-story red brick senior citizen apartment building on a gorgeous spring day, I met Suzanne Sasser. She greeted me with a big warm smile. I instantly liked Suzanne and over the next couple of hours I learned that she was a very open and interesting person.
Five years ago Suzanne was diagnosed with polio. Polio is very infections disease that is caused by an air-borne virus. Polio invades the nervous system and can cause paralysis. There is no cure for polio. It is reported that approximately 40% of people who survive paralytic polio may develop additional symptoms 15-40 years after the original illness. This is called post-polio syndrome. Symptoms are typically progressive muscle weakness, severe fatigue and pain in the muscles and joints.
Suzanne shares with me that the symptoms that she really struggles with are chronic exhaustion, cold sensitivity, sleep disorders, swallowing issues and muscle soreness. She also tells me she suffers from depression over her frustration of losing her strength. Suzanne has always been an active person and she is very frustrated that she can no longer walk long distances.
Suzanne did not remember having polio until she was diagnosed five years ago. She started to remember being sick when she was around a year old. She remembers that she was walking and then got sick and couldn't walk again. She slowly learned how to walk again, but always had nerve pain throughout her life. She never realized it was a serious medical condition until she started to become very ill five years ago.
Suzanne is 74 years old. She no longer works outside of the home and is on a fixed income. She has always been an artist and a writer. Her goal is to publish her book to earn extra income in hopes to move to Florida, wher the warm weather would improve her health.  Her hopes were feigning when she started to have computer problems.
I visited Suzanne to discuss her experience in using the Indata project's computer reutilization program. I asked her how she had learned about our program and she indicated that she was writing a book and her computer crashed. She was feeling helpless and did not know where to turn. She is on a very limited income and was unable to buy a new computer. She contacted 2-1-1 helpline center to determine if there  were any programs that could help her obtain a computer so she could complete her book. The Helpline Center offers support for folks to find resources in their community. They can be reached by dialing 211 or 605-339-4357 or via e-mail at 211@hellplinecenter.org. Suzanne told me that she got a very helpful staff member at 211 hotline who found information about Indata project's reutilization program. This agent even contacted Indata on her behalf to make sure she got the information she needed.
Indata's reutilization program provides refurbished computers at no charge to people with a disability who live in Indiana and have no other means of obtaining a computer. These computers are received from donors, wiped of all previous data and repaired if necessary and installed with Microsoft Office.
Suzanne was mailed an application after contacting Indata. She was approved in November 2013 to receive a computer after submitting the application and documentation of her disability. Suzanne indicated that the application was so simple and "the hardest part was getting information from the doctor's office sent".
Once her application was approved a desktop computer was designated for her. Due to high demand, there is a waiting list for computers. The wait time for a desktop is much shorter than for a laptop computer. Because Suzanne had a computer to donate, our Reuse Coordinator, Alvin Alviar, was able to drive to her home in Muncie and deliver her "new" desktop computer to her.
All of Suzanne's writing were stored on floppy discs and Suzanne had though her information on them was gone forever since she had no way of getting the information off the floppy.  She indicated that she was overjoyed when she looked up at the desktop from Indata and there was a functioning floppy harddrive. She said, "I could not believe how lucky I was to not only receive a computer, but one with a floppy drive".
Suzanne has been in the process of getting all of her writings transferred from the floppy disc to a zip drive and can now continue to work on her novel. She has always been passionate about animals and even worked as a Manager of the Indianapolis Humane Society when she worked outside of the home. She has combined her passion for writing and animals by writing about displaced cats.
Suzanne is very excited about completing her book now that she has an functional computer and would like to have it published this year. If she can get her book published, she is going to use her money to move to Florida and would like to rescue more animals.
Her book Marina Tapestry is a fantasy-fiction with "80% of it being true". She combines her love for writing and rescue animals with a story about abandoned cats. Marina Tapestry synopsis:
Once loved, now abandoned cats find a safe place to build a society based on love, peace and equality under an old house overlooking a marina in Florida. Their leader, Love, the story teller, Tut, the warrior leader, Cooper, and many more struggle to survive the torment of a war with feral cats, a great hurricane and murderous shark fishermen who capture them for bait.. The anguish they experience from the loss of loved ones pushes them to be a stronger, more honorable family of unbreakable bonds and empathy. Join their adventures, their efforts, their laughter and tears as they create a sounder, more loving civilization than that of mankind. One woven together by their many colors and kinds into a tapestry that becomes marina legend.  
Suzanne was so thrilled to receive a computer through Indata Project's reutilization program to allow her to finish her book. Here is a video of Suzanne discussing her experience and how the process worked for her. 
Click here f you would like additional information about receiving or donating a computer to the Indata Project. If you have additional questions about the program contact Alvin Alviar at aalviar@eastersealscrossroads.org or via telephone at 317-466-2013 x2526.
We wish Suzanne the very best in completing her book and hope she achieves her dreams of moving to Florida.
Author's Biography- Marina Tapestry- L.S. Sasser
The bond between human and feline was established at the age of six in Sasser's life when her mother's Siamese cat gave birth to three precious kittens.  The tiny tomcat grew to be great in size and her best friend for eleven years.  Yahme remained an indelible part of her memory until she found the enormous Siamese cat of Marina Tapestry in the dumpster at her apartment overlooking a Florida marina.  His tragic death put into motion the words of her book, which exemplifies the calamitous connection between abandoned humans and cats and the abuse, disease and fears both face in their every-day lives. 
In 1963 Sasser graduated from the College of Design, Art and Architecture at the University of Cincinnati with a BS in Design.  In 1972, Sasser began volunteering at the Indianapolis Humane Society.  The reality of the unwanted became her utmost concern.  After studying shelter management with Phyllis Wright of the Humane Society of the United States, Sasser became the shelter manager of the Humane Society in Indianapolis in 1973.  After leaving Indianapolis her primary goal became the creation of a shelter in her hometown of Anderson, Indiana.  With two friends she founded the Madison County S.P.C.A.-Humane Society in 1975.
In 1974 Sasser's father committed suicide.  She has struggled with his loss and her feelings of abandonment since. 
From 1983 until 1991 Sasser lived in Florida overlooking the marina where the events of Marina Tapestry took place. In 1999 Sasser's brother was tragically killed followed ten months later by the death of her mother.  Two years later as a healing tool the adventures of the wondrous extended family of cats began.  The process of healing and restoring faith in one's self and her Creator continues to this day.  This is Sasser's first book of spiritual enlightenment and her profound belief in life after death.