While reflecting on youth, oftentimes one will reminisce the warm days of summer and kicking or throwing a ball around with friends.  Some even threw or kicked a ball outside of their driveway while competing in local baseball, basketball or soccer teams.  According to recent statistics, 35 million children (ages 5-18) play some form of organized sport.  Why are so many children involved in sports?  Besides the obvious physical ones, what other benefits does playing a sport provide?
After decades of scientific studies, it has been proven that actively participating in such recreational activities is essential to one's overall health and wellbeing.  Being active and playing a sport is said to have the following benefits:
Higher grades, expectations, and attainment: sports help develop discipline because by playing sports, children learn to set goals and work hard to achieve those goals.  They learn that by working hard  they can accomplish set goals.
Mental health benefits: helps increase one's self-esteem, reduces stress and likeliness of depression.
Motivates children, improves social skills and builds stronger peer relationships: when playing sports, children are motivated because they have something to do and are able to build relationships with peers who have similar interests.
Motor skills, strategic thinking and even math skills are learned by playing sports.  Participants develop strategic thinking as they figure out plays and the best way to score.
Sports help develop teamwork and leadership skills: by participating in a sport, individuals learn that in order to succeed, they must work together as a team.
So many individuals grow up participating in sports in some form or another, after all it has become the social norm across the globe to kick or throw a ball around competitively or just for fun.  Because it is such a common pastime, many don't reflect on the significance of sports, or how sports remain inaccessible to some; this holds especially true for persons with disabilities.  Throughout the decades, people have adapted sports: basketball, baseball, rugby, etc.  However, some of these sports still require able-bodied help or remain inaccessible to some individuals with disabilities, especially power wheelchair users.  Certainly there is something power wheelchair users can do besides kick a ball around with their wheels. Thanks to the development of power soccer, said individuals can play an exciting sport both independently and competitively!  With this being said, let's cover some basics of power soccer.
OBJECT OF THE GAME: According to the Laws of the United States Power Soccer Association (USPSA), power soccer is played by two teams of differently-abled athletes using special footguards attached to powered wheelchairs as "feet" to kick a larger-than-average soccer ball.  The object of the game is to maneuver the ball over the goal line of an opposing team while preventing them from doing the same.
Law I: The Field
The basic size of the court that the game is played on is a standard-sized basketball court (94 ft x 50 ft).
The surface of the court must be hard, smooth and level for easy maneuverability of power wheelchairs.
Goals consist of two, securely fastened upright posts (either pylons or cones) placed equidistant from the corners of the court.
A figure found in the rule book for USPSA demonstrates the field of play: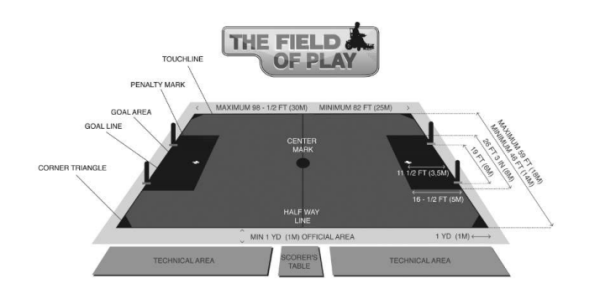 Law II: The Ball
Spherical
Made of leather, vinyl or other durable, low-friction material
13 inches in diameter
Must be of appropriate pressure so as to minimize bouncing yet prevent power wheelchairs from riding over it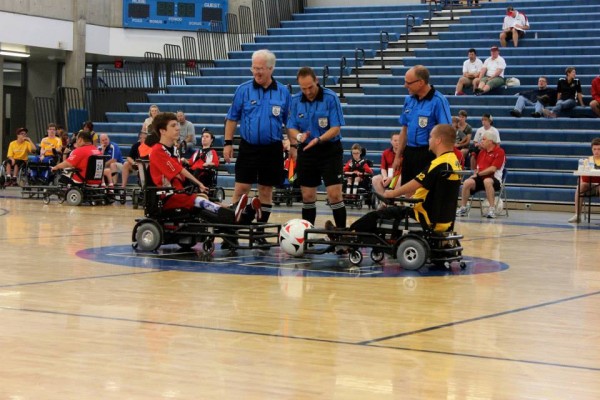 Law III: The Players
Each match is played by two teams, each consisting of no more than four players, one of whom must be a goalkeeper.  A match may not start if either team consists of fewer than two players.
Players must be at least five years old and have adequate control of their power wheelchairs.
The referee has the authority to stop a player who is not in full control.
During official matches, teams consist of 4 players with up to 4 substitute players; the rules of the competition may allow a greater number of substitutes.
Law IV: Equipment
Powered wheelchair:
Must have four or more wheels
Maximum permissible speed of 6.2 mph
Backpacks, bags, etc. are not allowed on wheelchairs during matches
Must have lap seatbelt; chest, shoulder, arm, leg, head restraints are required for those who need them
Footguards:
Consist of unbreakable material and must be securely attached to the powerchair
Bottom of footguards should be no more than 5 inches and no less than 2 inches from the floor
Front of footguards should be at least 8 inches high, but no more than 20 inches from the ground
To read more specifics for the game of power soccer, check out the Law Book of USPSA
.
HOW THE SPORT IMPACTS LIVES:
Anyone who has been involved with this sport, either as a spectator or athlete, will indubitably be affected one way or another. To many, a sport is just something to do, a pastime.  However, to the majority of individuals involved with power soccer, this isn't solely a sport.  It is a support system, a motivator, a life changer.   The familial bond of power soccer players goes beyond the court.  By finally having the ability to play a sport, the athletes' pride and sense of accomplishment reaches a level previously inexperienced. It consists of a family of persons with disabilities working hard together to succeed.  Perhaps a common fault of our society is viewing what others cannot do rather than what they can do, but once we see what's possible the world is a more equal and inclusive place.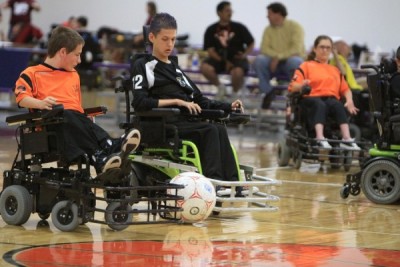 Before this sport, I sadly admit I grew discouraged as I wasn't able to participate in activities like my siblings and peers.  I recall sitting by the large front window of my childhood home watching everyone running about and playing kickball.  I often recall going to the games of my siblings with a heavy heart wishing I was the one out on the field, wishing I could be a part of a team.  I was finally given this opportunity through power soccer.  After joining the sport over 8 years ago, I would smile while telling my siblings and friends, "It's time for me to go to soccer practice!" (and I'd think to myself, "Is this real life?! Did I really just say that?!")  or "Our games are this weekend–time to kick some bootie!"
When I first joined the sport, I was quiet and full of doubt.  My very first tournament took place in Illinois, and I begged my coach to just let me watch because I was absolutely not ready to participate.  I doubted myself to great lengths.  Against my own wishes, I got thrown out on the court and within a few moments I scored my first goal!  I had made myself–and my family–proud; such a feeling catalyzed the necessary confidence for me to get through the rest of high school, college and to pursue a career.  I can't imagine what life would be without power soccer because it's what got me to where I am today.
See what others have to say about the sport:
"Power soccer is great because it encourages a high level of competition and teamwork no matter the level of disability of individual players.  Some teams compensate for a player's limited head movement by using timing plays, and other teams come up with a communication system for their nonverbal players.  No two teams play the same, but everyone feels included and focused on competing not just participating."  -Kevin Williams
"Power soccer is hands down the greatest thing that has ever happened to me.  I owe most of my best memories and achievements to this sport and I could be more thankful.  Along with finally being able to play a competitive sport and excel at it, I've met the most amazing people from all around the world.  I don't know where I would be if I never found power soccer."  -Natalie Russo
"Power soccer is amazing because it allows me to compete in an environment where I am surrounded by friends and family.  I love to compete and take on new challenges and power soccer gives me both."  -Michael Archer
"Power soccer gives disabled athletes, who would otherwise stay home, a reason to go out into the world and meet new people.  It also gives the athletes a feeling of independence and freedom."  -Oliver Huston
"Power soccer has given me the high competition that I've always wanted and needed from a sport.  I am a better person from this sport.  It has changed my life!  The ability to completely control what I do on the court without any help gives me a thrill that no other thing can.  I am the best I can be because I work hard at it by my own drive and determination.  Love seems like a small word for describing how I feel about power soccer."  -Case Calvert
"It allows me to fulfill my sporting ambitions and travel the globe to play a sport.  It gets me, and many people like me, into the game as opposed to just watching it."  -Chris Turnbull
"Power soccer has given me a chance to play a sport.  I enjoy going to tournaments and meeting new people."  -Andrew Seever
"Power soccer has allowed me to achieve things that would otherwise not be possible and change people's perception of what is possible."  -Luke Labas
" I have loved sports my entire life, especially soccer and power soccer allows me to play my favorite sport on a team with like-minded individuals.  It is truly my biggest passion in life."  -Kent Romy
"Power soccer allows me to connect with an entirely new community of amazing individuals who inspire me to be the best version of myself that I can be."  -Brandon Stump
"Power soccer has changed my life in so many ways!  Apart from teaching me team working skills, it has lead to so many opportunities to travel, compete and make the friends of a lifetime!"  -Caitlin Haines