In last Thursday's blog, I covered a few apps from Smarty Ears that may help individuals with aphasia, a condition which affects an individual's ability to express and understand both written and spoken language.  Further, the company also offers helpful tools for individuals with other communication conditions including apraxia and dysphagia.
APRAXIA
The first few apps are helpful resources for apraxia, which is considered a "poorly understood neurological condition," according to WebMD.  Apraxia affects an individual's ability to effectively produce speech–the words are there in the brain but may make it out of the mouth.   Apraxia differs from other motor speech conditions as it is not caused by muscle weakness, limited range of motion, or paralysis of any muscles.  It can go by many other labels including childhood apraxia of speech (CAS), dyspraxia, developmental apraxia of speech, developmental verbal apraxia or verbal dyspraxia.  Many children are able to progress with consistent practice and repetition.  Smarty Ears offers many helpful apps to help:
Articulation Scenes is available on iTunes for $29.99.  It offers 1,200 practice words using 72 scenes and provides engaging opportunities to work on articulation.  It differs from similar apps as it practices articulation in a more exciting way in lieu of the flashcard method.  Many individuals work best with a positive reinforcement system; this app offers that by awarding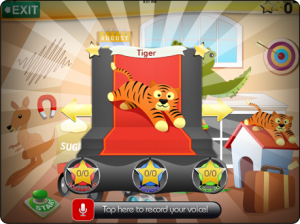 trophies upon mastering sounds.
Features:
Compatible with the Therapy Report Center
Four activities:
I.) find hidden objects;
II.) tap and say it;
III.) the movie theater which allows children to listen to each story and target sound in connected speech;
IV.) the production room which allows children to create their own stories, record them, or continue to practice.
Data tracking capabilities
Track student's progress over time
Students win trophies as they master sounds
Auditory bombardment activity
Practice words at the word, reading, and conversation level
Built-in voice recorder
Voice files are saved and may be accessed at any time
Offers homework files at no additional cost.
Apraxia Ville is available for the iPad for $29.99.  It is unique and created specifically to help individuals with childhood apraxia of speech and severe speech-sound disorders.  The application offers multiple levels, with both vowel and consonant targets, as well as the ability to create custom words.  Within the app, users will find these three activities:
The Sound Windows: perfect for individuals needing sound and syllable practice.  Each window contains animations for vowels and consonants which provide an animated
visual aid for phoneme production.  The sound window activity also provides visual feedback by allowing the student to activate the iPad camera and monitor his or her own productions.
The Farm House: this activity is the intermediate step between syllables and multi-syllabic words.  During this, players can practice single-syllable word production at various levels.  The activity is fully customizable by sound groups, vowels, and syllable structure.
Articulate It! is available on the App Store for both the iPad and iPhone for $39.99.  It is a powerful tool filled with constructive content to help a child with articulation delays practice his or her pronunciation skills.  There are two activities: flashcards and matching, with an array of goals: phonological processes, manner of articulation, phonemes, and number of syllables.  Within each activity, the user will find three levels of practice: word level, phrase level, and sentence level.
Word Level: 

Phrase Level: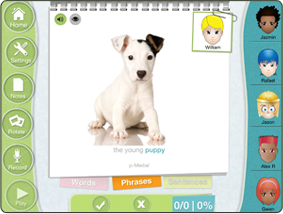 Sentence Level: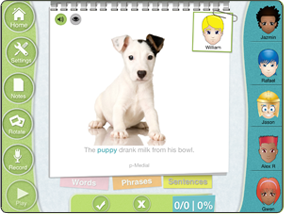 Features:
High-quality images: this application features over 1,000 high-quality images, each presented at the word, phrase, or sentence level.
Provides audio examples of each word, sentence, and phrase which allow the child to practice stating each sound independently.
Contains all phonemes of the English language as well as R, L, and S clusters.
Ability to track up to 6 children at the same time each with their own separate targets, tracking and results.
Allows the parent or speech-language pathologist to deselect images he or she doesn't wish to practice prior to beginning the game, and offers the option to skip any image during the game.
Almost 200 built-in homework sheets which can be emailed or printed.
Includes ability to create and save custom words, phrases, sentences and images.
Features a "Repeat Last Session" button to make it easier getting started.
---
DYSPHAGIA
Dysphagia is defined as a feeding and swallowing disorder that affects both children and adults, and is caused from different conditions.  Generally speaking though, the affected individual has problems gathering food and getting ready to suck, chew, or swallow it.
Speech-language pathologists play an essential role in the evaluation of infants, children, and adults with dysphagia.
Dysphagia2Go is a helpful, portable tool for speech-language pathologists and is available for the iPad for $39.99. The app eliminates the need for pen and paper during a dysphagia evaluation and replaces that need with the portability and convenience of an iPad.  Throughout the evaluation on Dysphagia2Go, individuals are reminded to asses medications, cranial nerves and all the areas on which any good dysphagia evaluation should focus.  The app provides a thorough evaluation report template to record chart reviews, assessment data, and recommendations in a single document.  The document can then be printed or emailed directly from the user's iPad.
There is no standardized method of clinical dysphagia evaluation, so this app offers a unique, secure* method for professionals.
For the evaluation, the speech-language pathologist:
Add new patient information which is immediately *encrypted to HIPAA standards ONCE the iPad is locked; **to ensure full confidentiality the user must create an iPad password over a secure network.
Adjust settings on the app
Administer the evaluation beginning with chart review.
I.) The review includes: reason for referral, physician order, diagnosis, current method of nutrition, consistency, respiratory status, and much more.
II.) The second part of evaluation includes the oral mech exam (reviews specifics of teeth, lips, tongue, etc.)
III.) Next includes a review for bedside swallow trials.
IV.) Lastly one will find the recommendations section, in which the professional can add some recommendations based on the unique need of patient.
After entering the above information, the professional may then email, print, save or delete the evaluation from his or her iPad.
For further information on these apps and more, visit the Smarty Ears website here.