Author: Laura Medcalf
There is no denying that technology plays a major part in our lives.  (In fact, if you're reading this right now, you are likely doing so on a smartphone, tablet, or computer, thus further proving my former statement.)  Although these technologies provide us with a world of possibilities, they may also often disengage us from the real world by lacking any real interactive experiences.  These devices often require pointing and touching a screen, but ultimately there is no real world experience while touching a flatscreen.  The creators behind Osmo have incorporated real-life objects to create a more interactive, engaging experience on the iPad. In brief, the Osmo Game system is a new innovative way to use one's iPad.
Upon opening the Osmo box, users will find three boxes:
Colorful set of tangram pieces made of real wood (and no sensors!)
Two sets of 26 letters: 26 red letters, 26 blue letters.
A box holding the sleek white base and the red attachment with the mirror.
The system's setup is rather simple: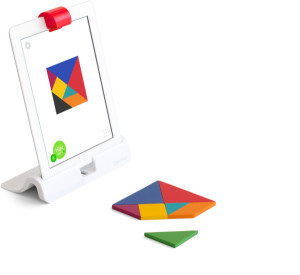 Simply place iPad on the provided white base.
Place red attachment holding mirror on front of front-facing camera.  This placement will allow Osmo to see everything on the tabletop.
Download the three free apps Tangram, Newton and Words from the App Store.
No internet connection required (once apps are downloaded)
It doesn't need to be plugged in–no messy wires!
The three applications available for free on the App Store are:
Tangram: users will use provided solid wood pieces to create the puzzle found on the iPad's screen.  This app provides realtime feedback, letting users know if they're on the right track or not.
Words: for this particular game, the players will use the two provided sets of letters: one set red and the other blue to differentiate between players.  This is an exciting fast-paced game which shows images as word clues.  This game includes competitive mode (Versus) in which players play against one another; it also includes cooperative mode (Together) in which players can play together.  This game gets people interacting, bonding and strategizing together.  It also encourages players to think outside the box.
Newton: this game allows individuals to use nearby objects (hands, pens, paper, etc.) to create a path for balls to reach the target.  This fun, creative game helps teach children about gravity, hence its title "Newton."
For more information on this innovative new system, visit the Osmo website here.